I still remember the first bowl of Massaman curry I ever had. My wife and I were on the southern island of Koh Lanta in Thailand and we ordered this bowl of magic. Game changer. The sweet, deep heat of this dish makes it so craveable and comforting.
A warm bowl of comfort. Vegetable Massaman curry. The type of dish that hugs you from the inside.
Print Recipe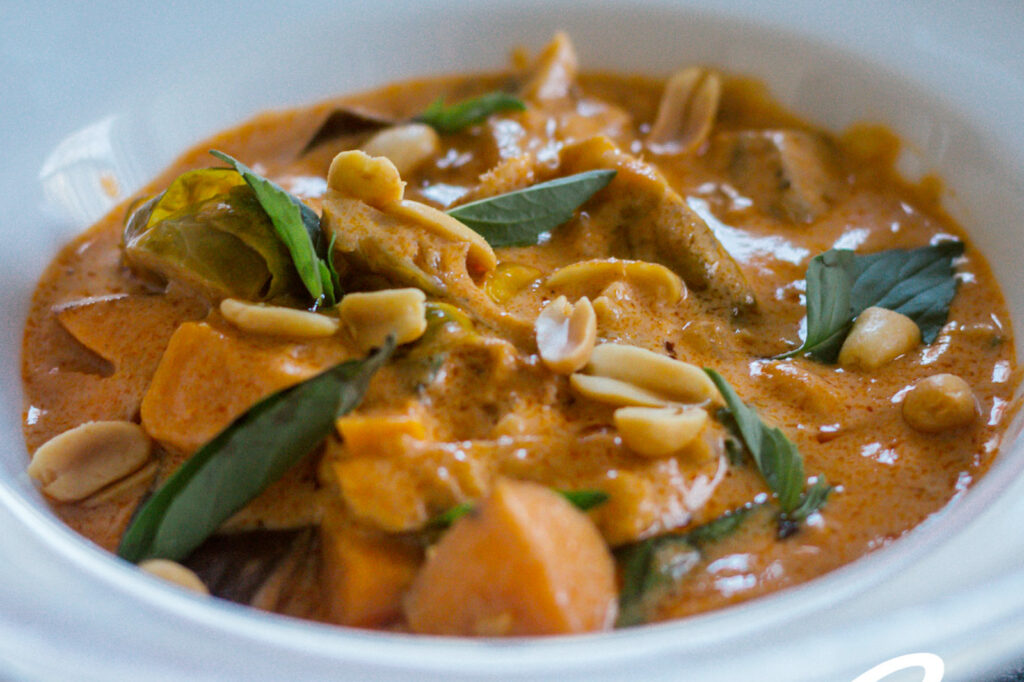 Ingredients
2

tbsp

vegetable oil

3

cloves

garlic, minced

1½

inches

ginger, minced

½

large

red onion, diced

1

thai chilli

3

tbsp

curry paste (Photo of my favourite brand included)

2

cans

high fat content coconut milk

⅓

cup

peanut butter

2

tbsp

fish sauce

1

sweet potato cut into bite sized cubes

12

brussel sprouts cut into quarters

1

Chinese eggplant

juice of 1 lime

⅓

cup

roasted peanuts

¼

cup

fresh cilantro

¼

fresh thai basil
Instructions
Add veg oil to large pot and turn heat to medium high. Add in the garlic, onions, ginger and thai chilli. Keep mixture moving to avoid burning.

Once onions begin to soften slightly add in curry paste to wake up those spices! This will fill your kitchen with some amazing smells. Take a deep breath and pretend you are in Thailand on a beach. Stir the curry paste for about 30 seconds.

Add in coconut milk and bring whole mixture to a boil. Add in the peanut butter and fish sauce. Stir aggressively to make sure the curry paste and peanut butter properly dissolves into the coconut milk.

Add in the vegetables and reduce heat to medium low. This would be the same time you could add in chicken, beef, or pork. If you want to add fish or shrimp make sure to do this about 5-10 mins before serving to avoid overcooking the seafood.

Allow the curry to simmer for 20 minutes. Before serving I enjoy adding in fresh cilantro and thai basic to give the curry a "high note" to balance out the depth of flavour.
Andy's Notes
This is a great weeknight meal and stays very very well. Put it in the fridge and enjoy for lunch the next day!
*I sometimes I add in a dash of soy sauce depending on if I feel the flavour needs a bit of umami. Taste taste taste. Trust the fact that what you think tastes great likely DOES!*
Print Recipe
(Visited 12,735 times, 1 visits today)