This is a very easy 3 ingredient strawberry jam that is perfectly tart and just a lovely treat to smear on your morning toast. If you are able to get your hands on fresh local strawberries it makes this jam all the better. I love heading to the U-Pick in early summer to stock up some beautiful local strawberries, and then making a batch of this preservative free strawberry jam to last me for the months ahead!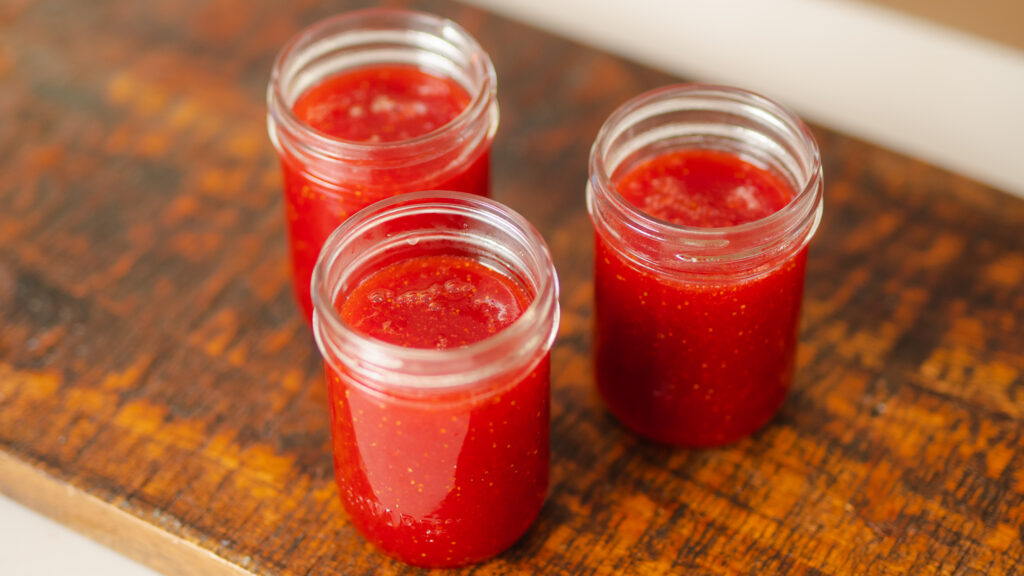 Why is this preservative free?
What's super cool about this recipe is that it is made using only 3 ingredients; strawberries, lemon juice, and sugar. Lemon juice plays two parts in a strawberry jam recipe. First, it prohibits bacteria growth, so your jam lasts longer. Second, it is a natural pectin booster. Fresh berries have pectin that's released when we heat the jam. However it's not able to help the jam set without the addition of an acid, enter lemon juice! I love food science!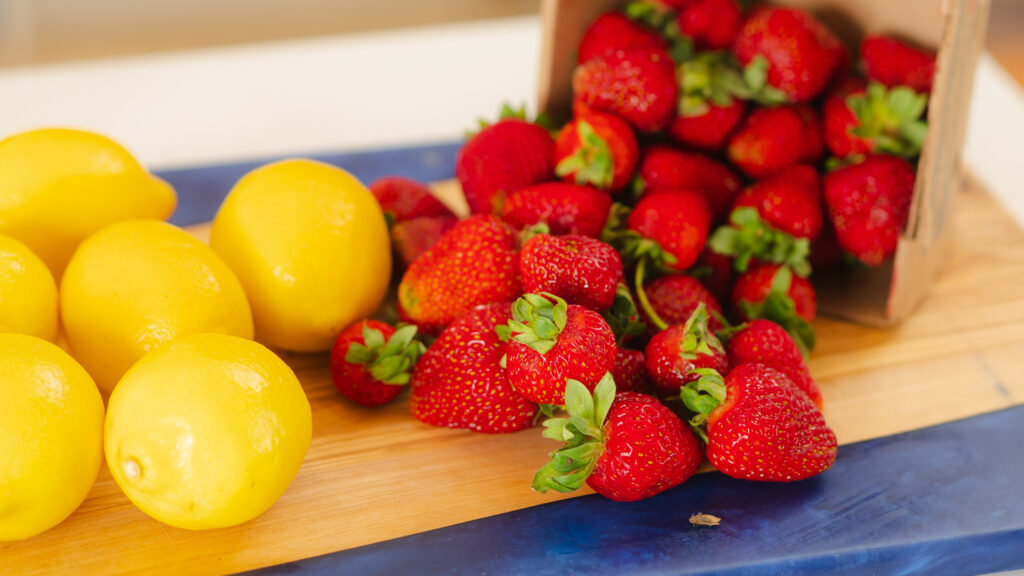 What if I don't have fresh strawberries? Can I use frozen?
Definately. No big issue here if you have to use frozen fruit., Frozen fruit will release more water so simply add on an addition 5-10 minutes of cooking time to allow some of that water to burn off.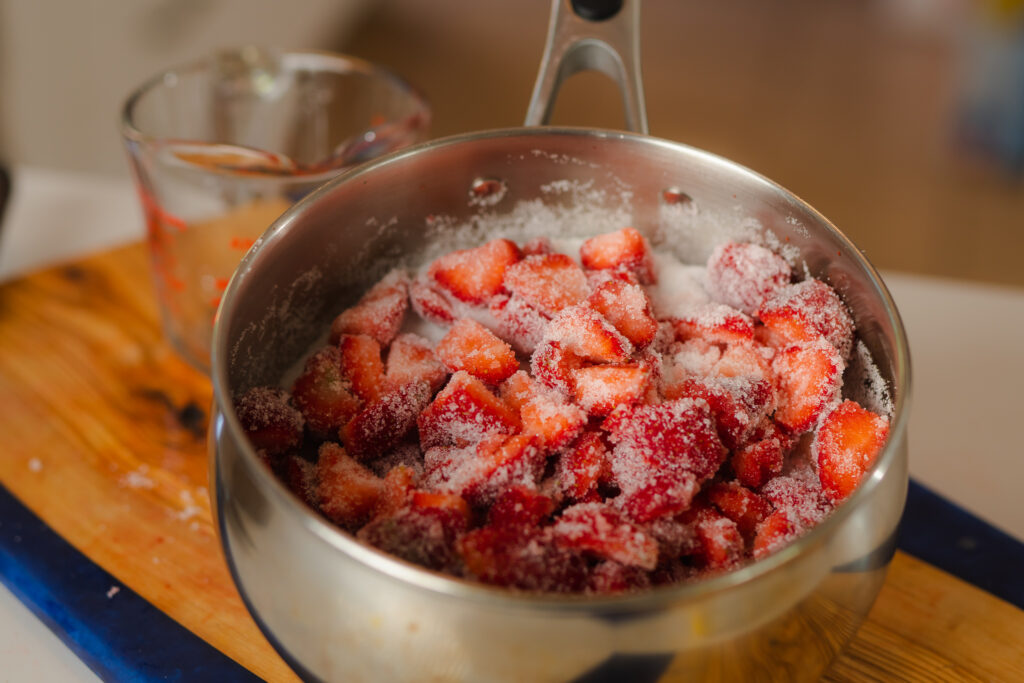 Is the consistency of the jam the same?
This jam takes about 24-48 hours to fully set. Since we are not adding any pectin or gelatine it may be a slightly loser of a jam than you see in store bough jams. You never know the exact amount of pectin that will come in each fruit so some batches may vary. Don't worry, it will still taste amazing.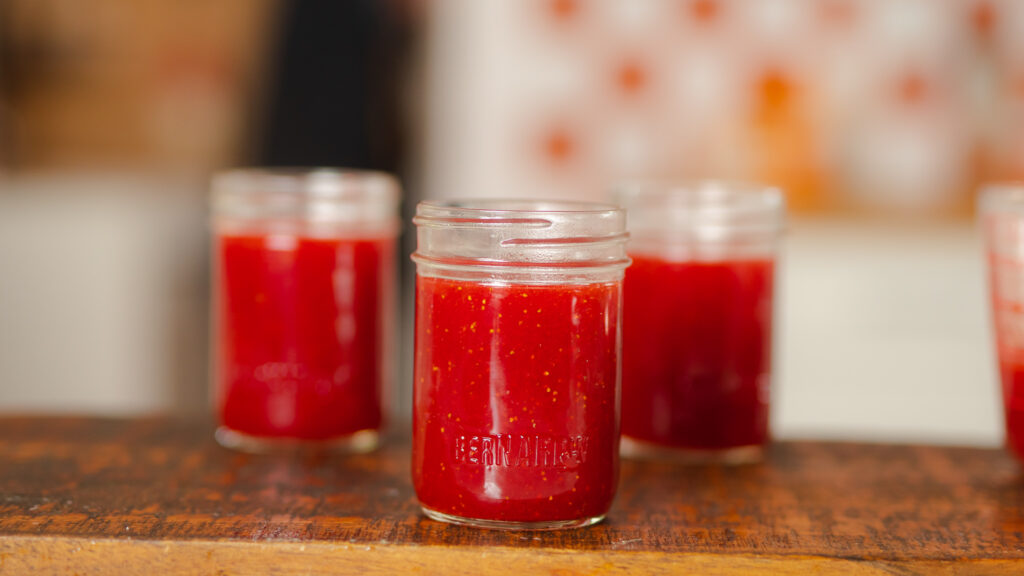 Let's break down the ingredients
There are only three ingredients for this natural preservative free jam. Here is what you will need
Strawberries– Fresh or frozen, but I suggest getting local ones at the hight of the season.
Lemon juice– Fresh lemons add acid to the jam and also brightens up the flavour
Sugar– White sugar!
3 ingredient pectin free strawberry jam
Print Recipe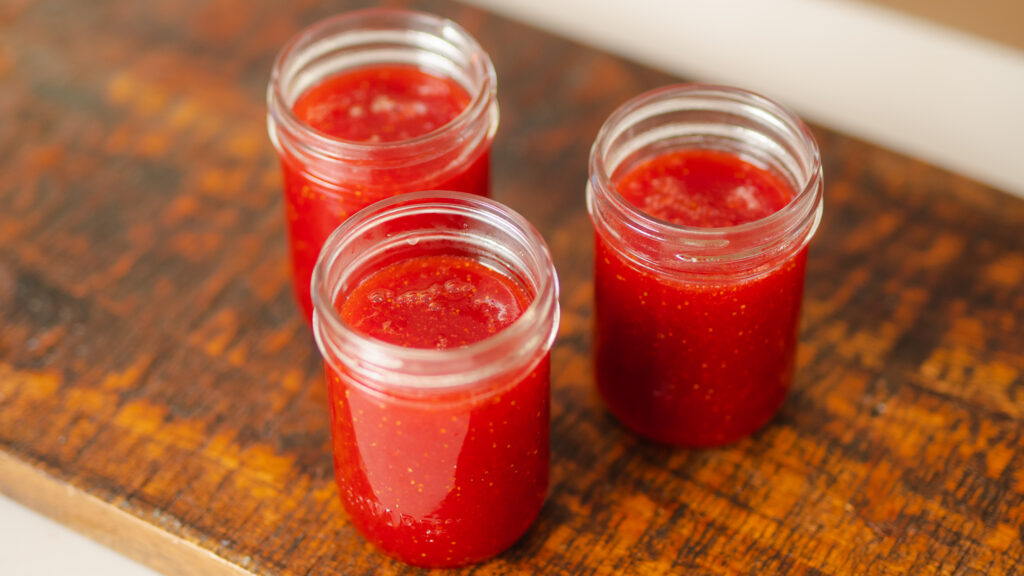 Ingredients
4

cups

strawberries, chopped

1/4

cup

lemon juice

3 1/2

cups

sugar
Instructions
Place the chopped strawberries into a large pot and mash them with the back of a spoon or potato masher. Pour in the lemon juice, and the sugar. Place pot on the stove over medium high heat until mixture comes to a boil. Once a boil has been reached, reduce heat to medium low and allow to cook for around 20-23 minutes. The liquid should turn a deeper colour. *warning, keep an eye on the pot while it boils as is can over boil and make a mess*

After the cooking is done, pour the jar into the 4 jars leaving about a 1/2 inch of space at the top of the jar. Place on jar in the fridge and the other three in the freezer. The jam will remain loose for the first 24-48 hours but will stiffen up. The jam in fridge will last 3 weeks and the jam in the freezer is good for 6 months. Enjoy!
Print Recipe
(Visited 36,105 times, 1 visits today)