This is one of those recipes that I make constantly. Frankly I am even excited to have it written down so I can come back to it over and over again. This Chickpea Green Goddess Salad is amazing. Bright, fresh, clean, salty, crunchy.. it really hits a lot of notes. What I also love about this recipe is it is filled with loads of plant based proteins, light on fats, and heavy on flavour. You are going to fall in love with this recipe!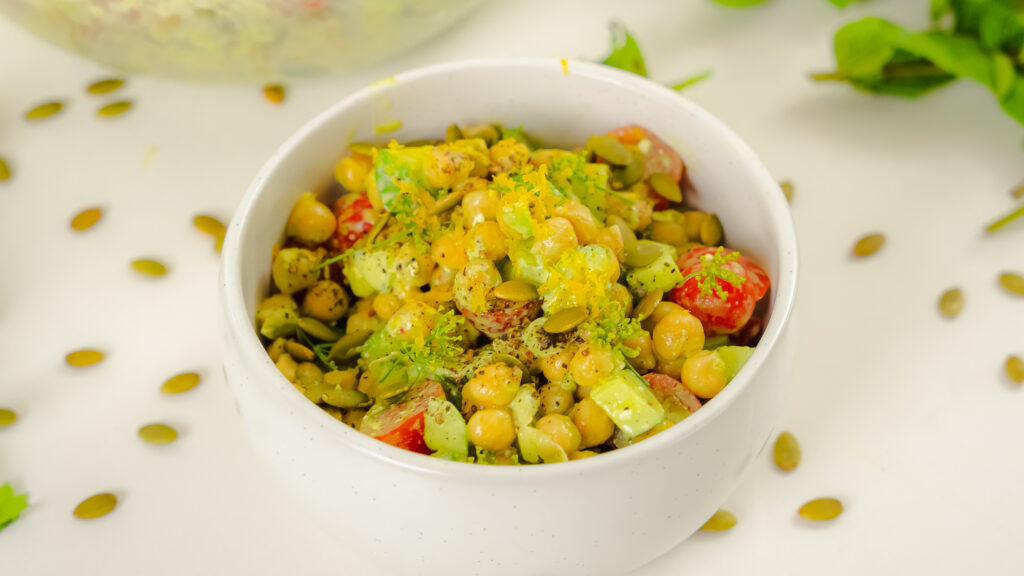 Meal prep or potluck this salad is perfect!
This salad can wear a lot of hats. I make this very frequently at home on Sunday as a great meal prep option. It stays in the fridge amazingly well and in fact may even be better on day two. This salad is also and incredible dish to bring with you to a potluck! Travels well, huge flavour, and I can guarantee people will be asking you for the recipe!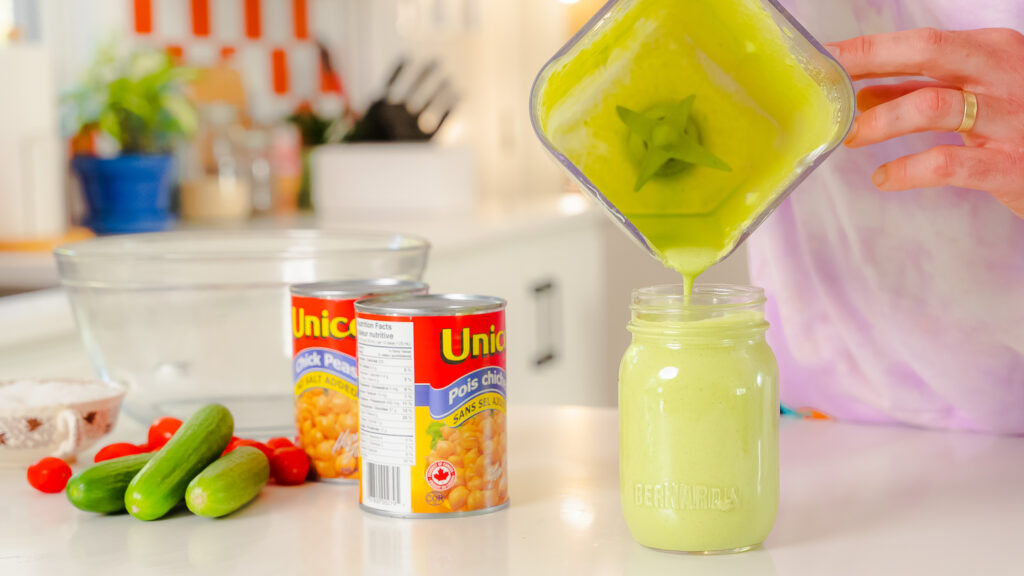 Herbs, Herbs, and more Herbs.
If you have followed my recipes you know I love fresh herbs in my cooking. Adding herbs to a dish adds beautiful freshness and brightness that can be very addicting. This Green Goddess dressing is a melody of my favour herbs; Basil, cilantro, dill, and mint. Beyond having an amazing bright flavour, the colour is so pleasing and just reminds me of a nice summer day. You can make this dressing alone to keep in your fridge, but adding it to this Chickpea Salad makes the whole dish sing!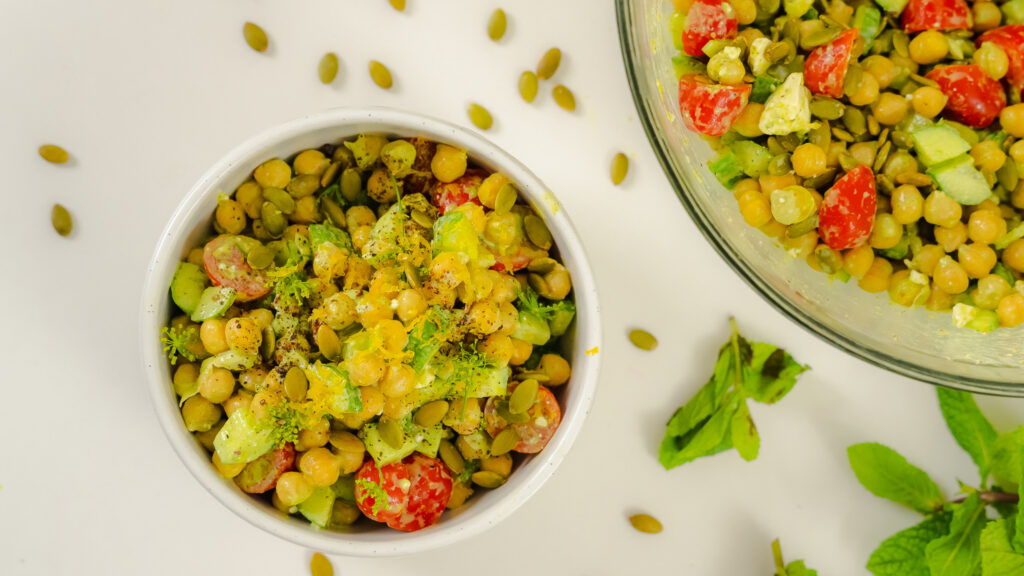 Let's breakdown the ingredients!
If you want to explore exactly what goes into the green goddess dressing you can check the list of ingredients below or head to full recipe of the dressing here: Green Goddess Salad Dressing
The bulk of this salad is made using chickpeas. I love chickpeas as an ingredients as they are healthy for you and can be prepared in so many unique ways. For this recipe I use canned chickpeas, but if you prefer using dried that is great and will work perfectly!
When it comes to vegetables, you can really use whatever you have on hand. I love adding in cucumbers and cherry tomatoes as they add a beautiful freshness and juiciness that counter balances the chickpeas and the feta. Feta adds a lovely saltyness that plays really well with the freshness of the dressing.
To add additional crunch to the salad I included a small handful of pumpkin seeds which gives fantastic texture as well as additional nutrients to the dish.
Finally, I have been on a real freshly ground black pepper kick these days so I added a heaping tablespoon of peppercorns to give the salad a bit of a kick!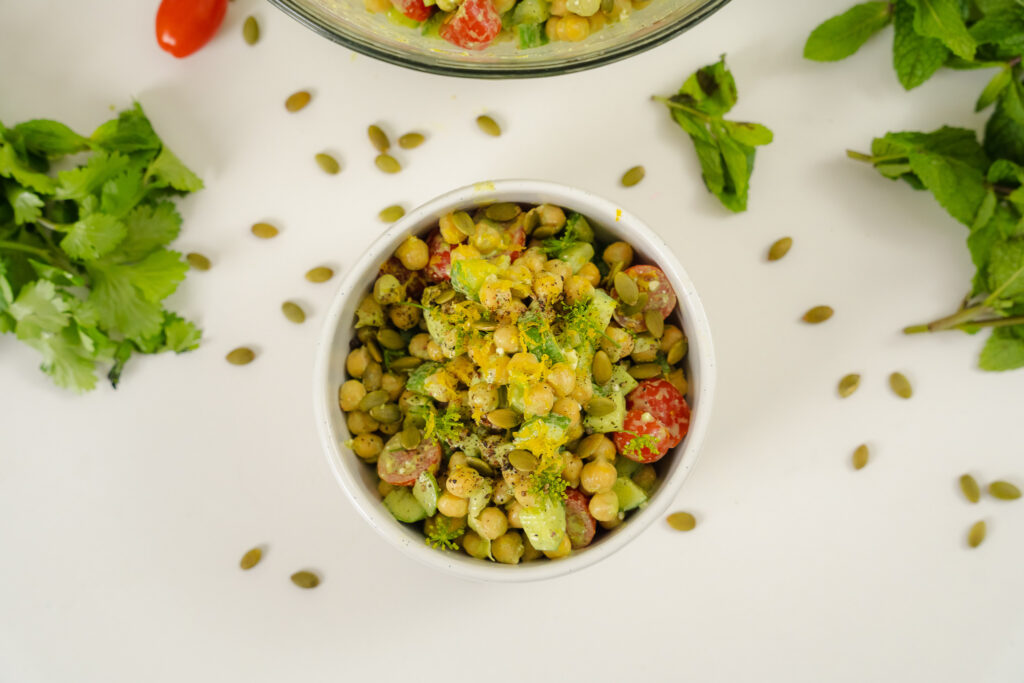 How long with this salad last in the fridge?
This salad gets better after sitting in the fridge over night. This gives the flavours time to develop and make the flavour that much better! I suggest storing this salad in the fridge and you can eat it for up to 5 days after making it.. although you will likely finish it much quicker than that!
Chickpea Green Goddess Salad
Print Recipe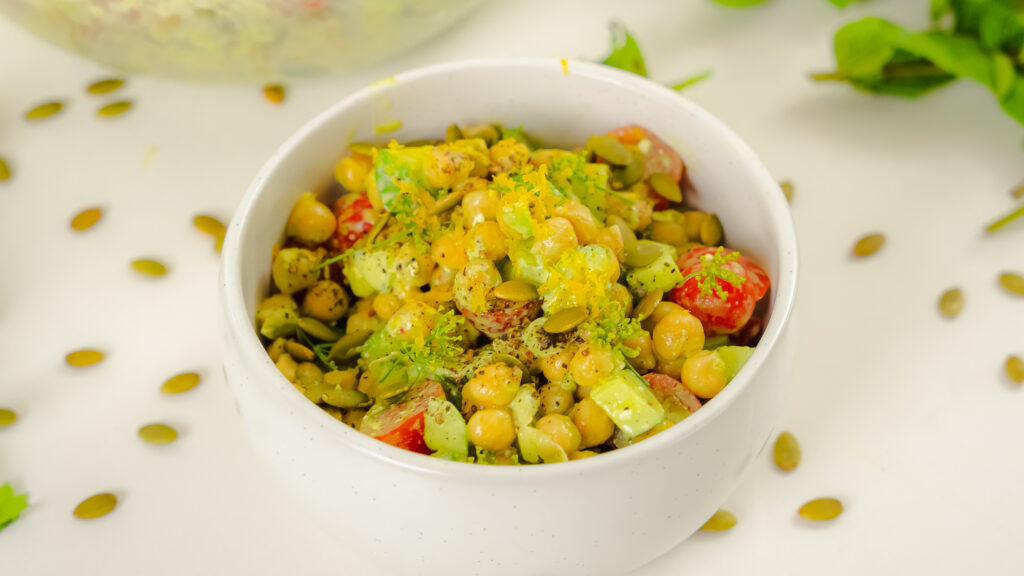 Ingredients
Green Goddess Dressing
1

cup

greek yogurt

1

cup

cilantro or parsely

1/2

cup

basil

1/2

cup

dill

1/2

cup

mint

1/2

cup

green onions

1

lemon, juiced and zested

1

tbs

olive oil

2

tbs

capers

2

cloves

garlic

1

tsp

salt

1

tbs

black pepper
Salad Ingredients
2

cans

Chickpeas, rinsed

1

cup

cucumbers, chopped

1

cup

cherry tomatoes, sliced

1

tbs

lemon zest

1/2

cup

feta

1

tbs

black pepper

1

tsp

salt

1/2

cup

pumpkin seeds
Instructions
Let's start with the dressing. In a blender mix together all of the ingredients and blend on high until smooth. Pour into a clean container. We will use about 1 cup of the dressing and the rest can be stored in the fridge for up to 10 days.

Next, in a large bowl mix together chickpeas, cucumbers, tomatoes, lemon zest, feta, pumpkin seeds, black pepper, and salt. Pour in 1 cup of the dressing and mix thoroughly. Serve immediately or store in the fridge!
Print Recipe
(Visited 39,776 times, 5 visits today)