This Crunchy Ramen and Sesame Salad is a recipe that you can make every day. Full of flavours and ingredients that I know I'll never get sick of. It's a bit unconventional, but those recipes always turn out to be my family's favourites. Grab your favourite bag of ramen because we're making a salad!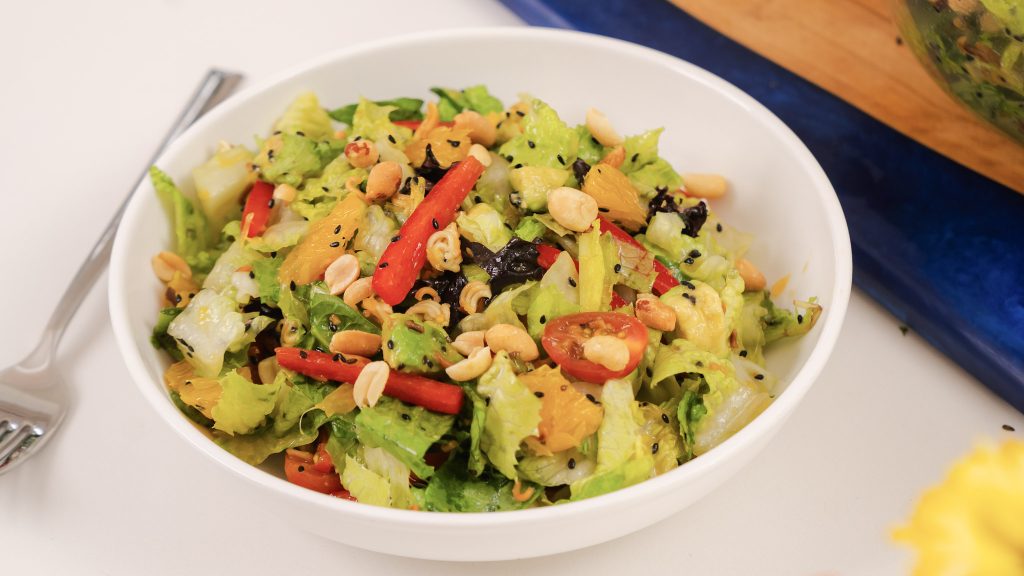 Key ingredients for this Crunchy Ramen and Sesame Salad.
The lettuce- You can use whatever you want or have on hand. For the greens, I used a mix of lettuce for the texture. Super crunchy romaine and softer spring mix is a good balance.
Avacado- This salad is all about texture. The perfect mix of creaminess from the avocado and the crunch from the ramen.
Peanuts- This is an optional ingredient. However, it's a perfect addition to this salad. Give them a quick chop and toss them in!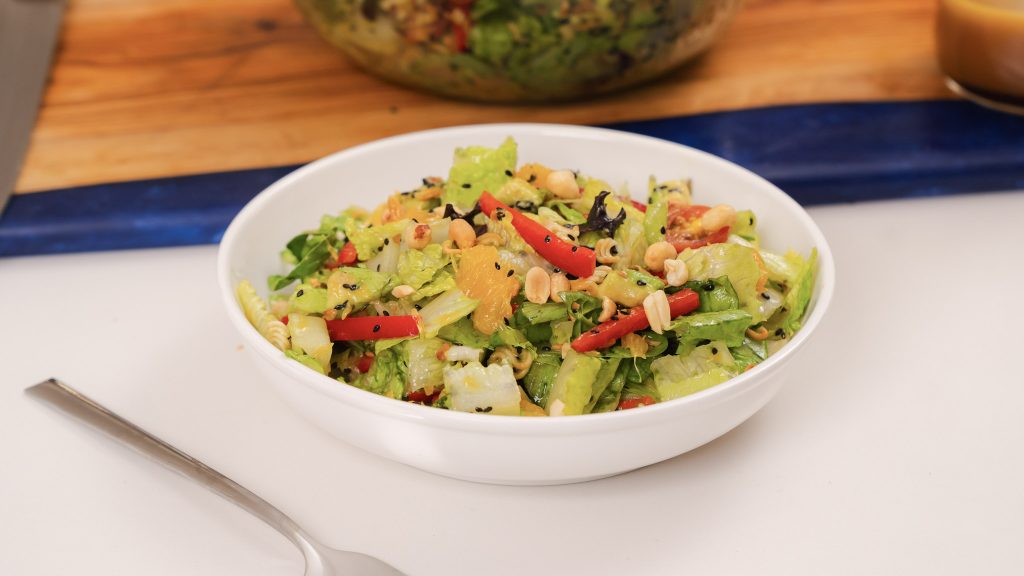 Nailing the Salad dressing.
This salad dressing should be a blog post in and of its own. It hits all the marks for me. Sweet, acidic, nutty and salty are the descriptions of my perfect salad dressing. But here's a tip to make sure yours comes out just as delicious as mine.
1) No need for a bowl and a whisk. A large mason jar and some elbow grease will do that trick every time. Store it for up to a week in the fridge; if it splits, give it another shake, and you're good to go!
2) Honey can be tough to work with. To make it easier on yourself, gently heat your honey; it'll dissolve much easier. Heating honey also changes the flavour, making it richer and more rounder.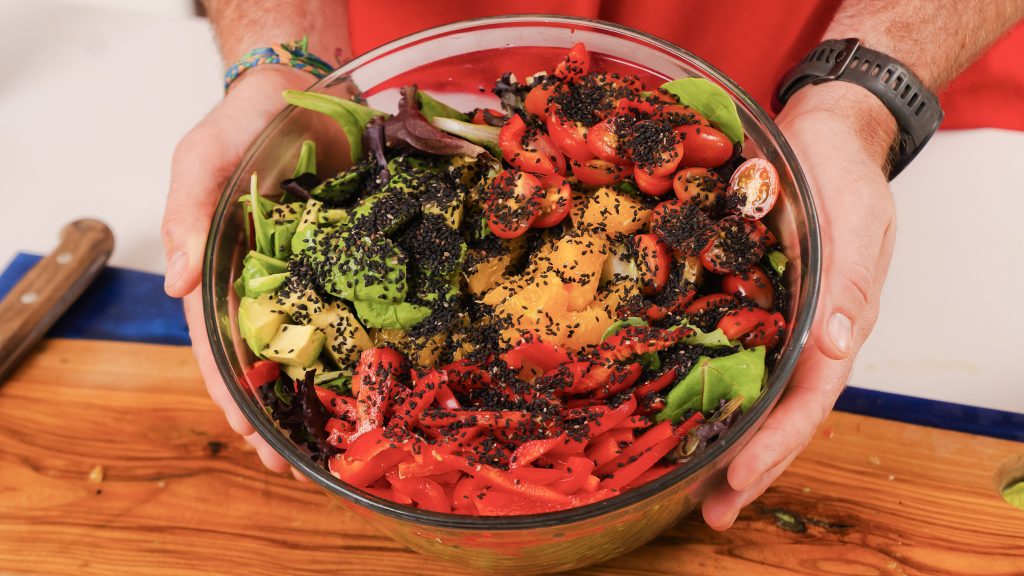 Toasting the ramen.
The key to getting the best-tasting ramen is keeping the chunks and bits around the same size. Your pan should be on medium heat with a touch of oil. Make sure to keep your pan moving to prevent any of the chunks from burning.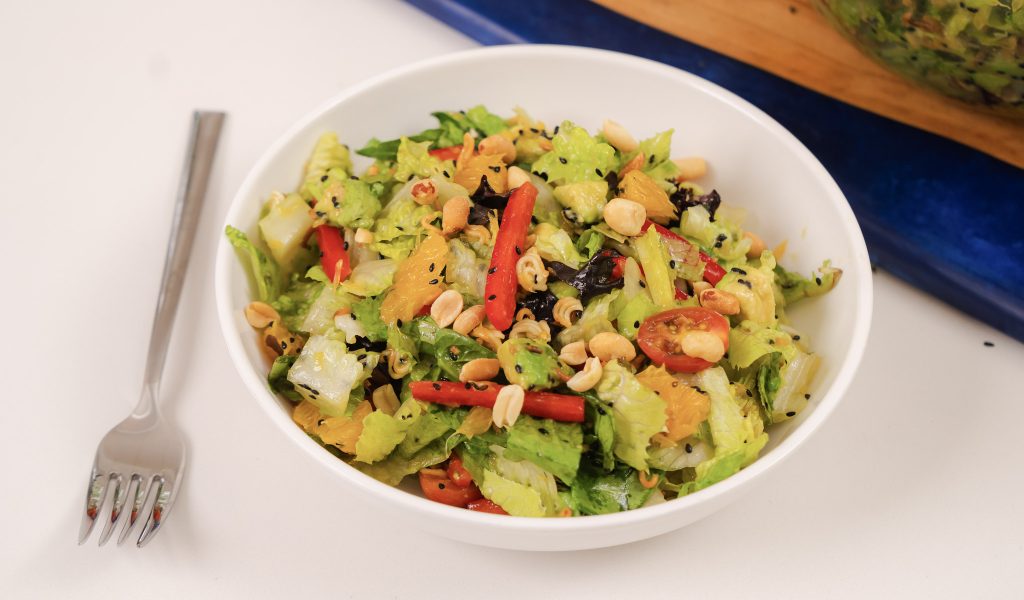 Other salads you should check out!
If you liked the sound of this Crunchy Ramen and Sesame Salad, here are a few other recipes I think you should check out!
Roasted Veggie Salad with whipped Boursin and quick granola
Peach, Burrata, Basil, and Prosciutto Salad
Sushi Restaurant Salad Dressing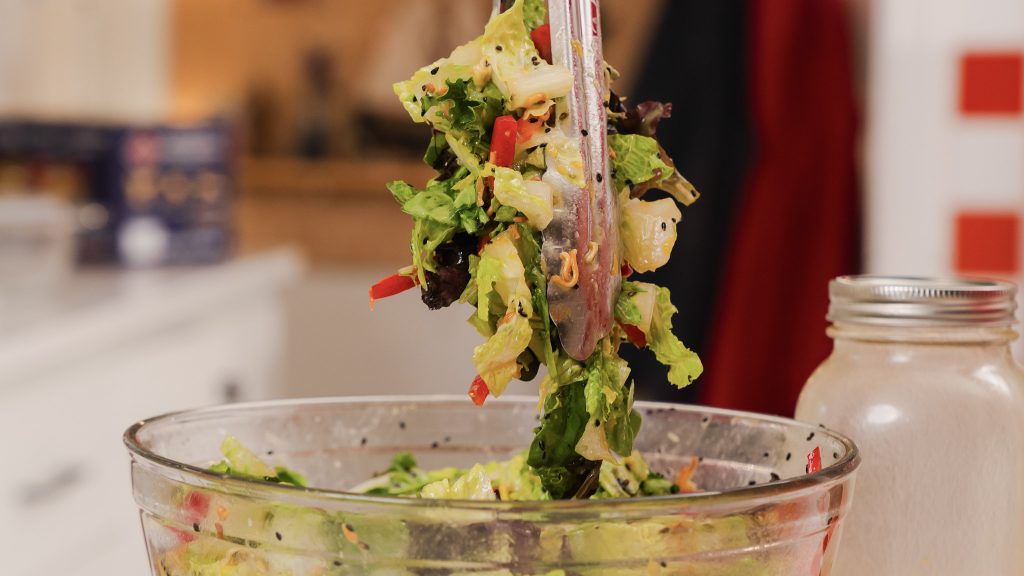 Crunchy Ramen and Sesame Salad
Print Recipe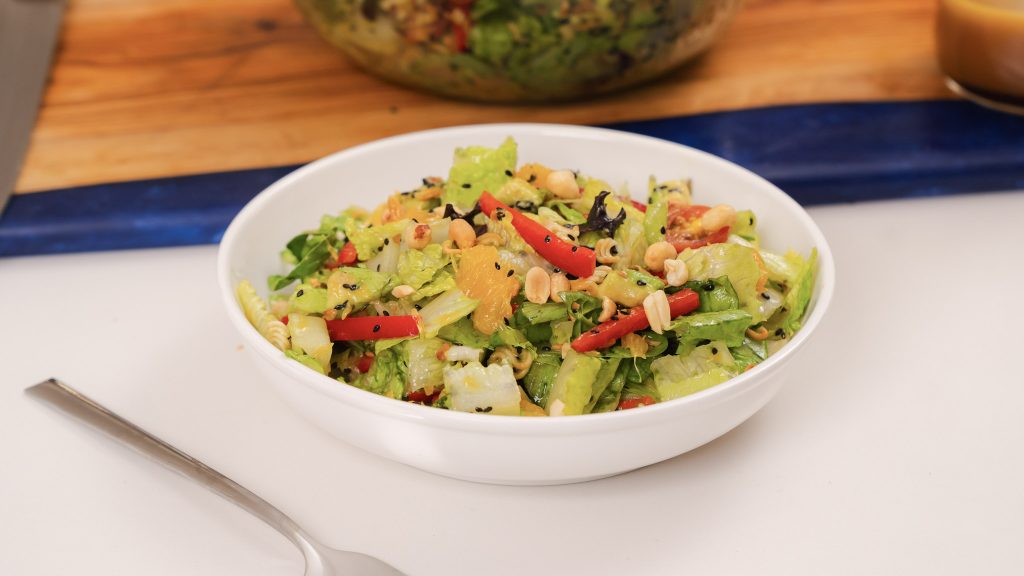 Ingredients
4

cups

Romaine

Chopped

2

cups

Mixed greens

2

Oranges

Segmented

1

Red pepper

Sliced

1

cup

Cherry tomatoes

Halved

1

Avocado

Diced

1

pack

Ramen noodles

Crushed

1/4

cup

Black or white sesame seeds

1/2

cup

Chopped Peanuts

Optional
For the dressing
1/2

cup

Honey

Slightly warmed in the microwave or in a pot.

1/2

cup

Apple cider vinegar

3

tbs

Soy sauce

Low sodium

2

tbs

Sesame oil

1

cup

olive oil

1/2

tsp

Salt
Instructions
Start by chopping all of your veg and placing it into a large mixing bowl.

Set a frying pan over medium heat with a touch of oil. Crunch up the ramen and place toast in the pan until golden brown. Keep an eye on the pan, the dry noodles will toast quickly.

Remove the noodles from the heat and let cool slightly.
For the dressing
In a microwave safe bowl, heat 1/2 a cup of honey until slightly warm. 10 seconds.

Next add your honey, 1/2 cup apple cider, 3 tbs soy sauce, 2 tbsp sesame oil, 1 cup olive oil and 1/2 tsp of salt to a large mason jar and shake until fully mixed. Keep in the fridge for up to 1 week.
Print Recipe
(Visited 10,995 times, 16 visits today)