This one is for all of you who need help with what to do with your leftover roasted veg. There's no need to do a sad re-heat in the microwave and suffer through a mushy plate of carrots, squash or whatever you have left. Transforming your day-old veg into an incredible, creamy and crunchy Roasted Veggie Salad with whipped Boursin and quick granola.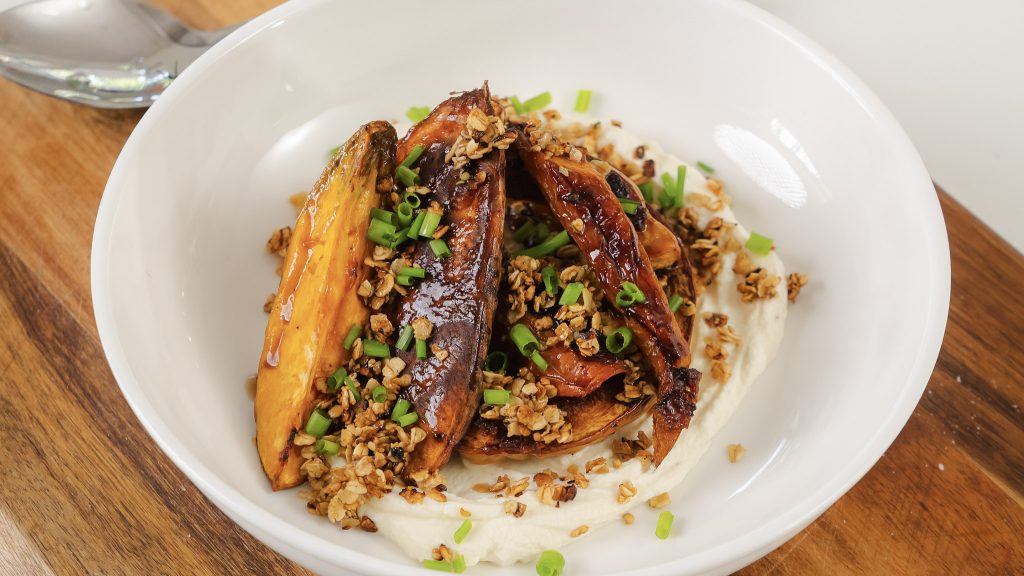 Key Ingredients for this Boursin Salad.
Of course, this dish will depend on what veg you have on hand, but we'll talk about that in a bit. First, I want to talk about a few of the other ingredients.
Boursin- You won't find another cheese that will give you this much flavour and body. I used the truffle and black pepper because it pairs so well with the rich flavours of balsamic and the deep char of many roasted vegetables!
Oats- You can make a granola out of a million different things; I like to use dry oats as the base for many of mine. They have a great flavour that rounds out the sweetness and, when toasted, give an almost nutty flavour.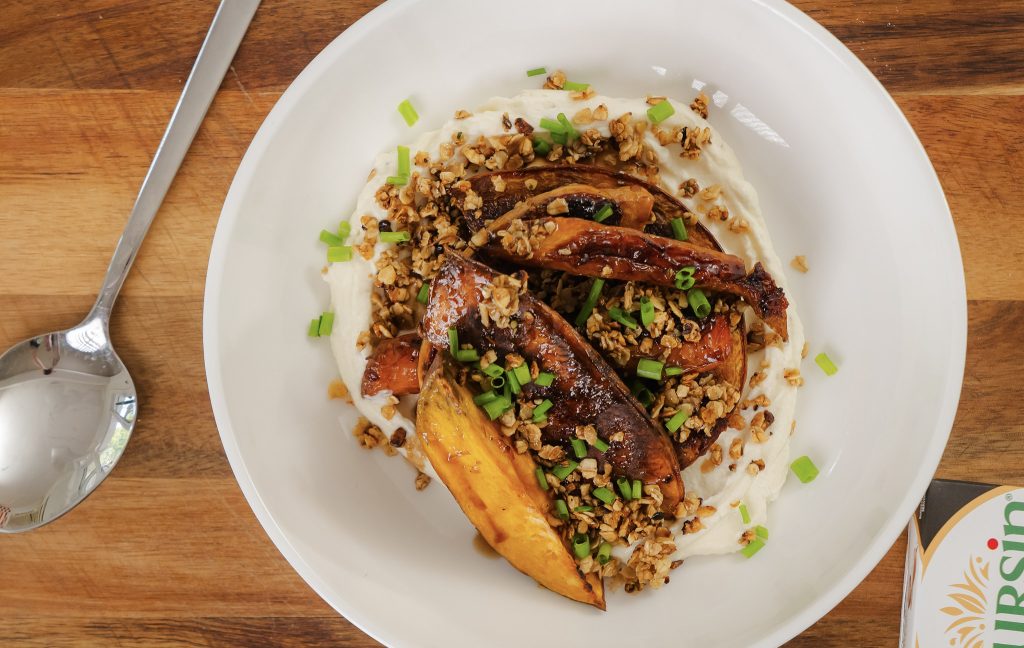 Use what you have! 
This is where we're going to talk about all things roasted veg. In my house, we always add a side of roasted veg to every meal to sneak in a little extra fibre and nutrition. Currently, on rotation, I'm cooking a lot of carrots, potatoes and squash, but you can use any of these veg, and your leftover masterpiece will taste just as good!
Sweet potatoes, jams and turnips all have natural sugar and caramelize well when roasted, and grilled zucchini are always welcome.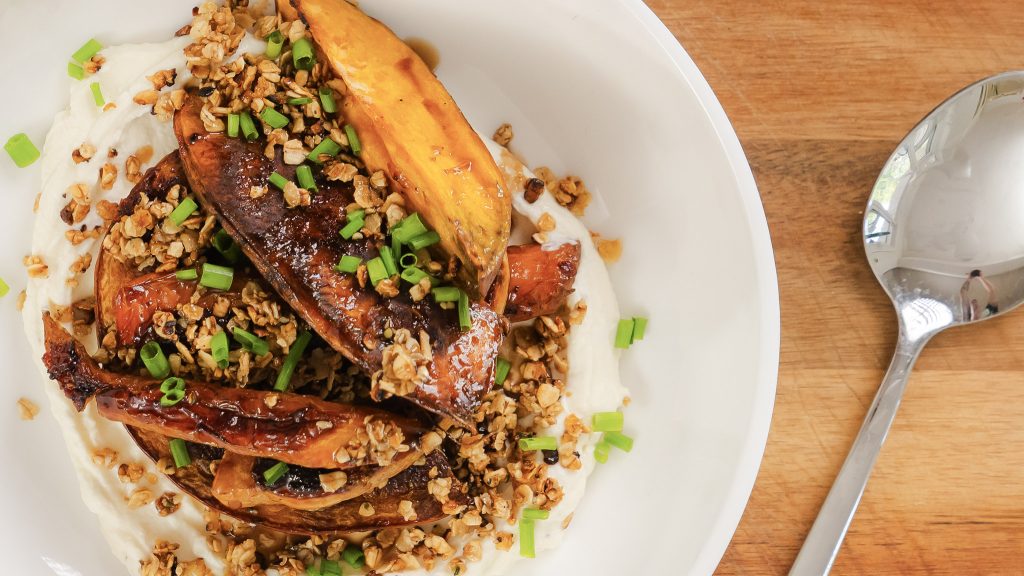 Make the perfect dressing every time! 
A good salad or dish is only as good as its salad dressing, so here's a quick tip to making it perfect every time!
1) Get a bottle that will be filled only partially when you add all the ingredients.
2) Shake it like your life depends on it. The oil, sugar and vinegar will emulsify as you shake.
3) Keep it airtight; if it splits in the fridge, give it another good shake, and it should re-emulsify!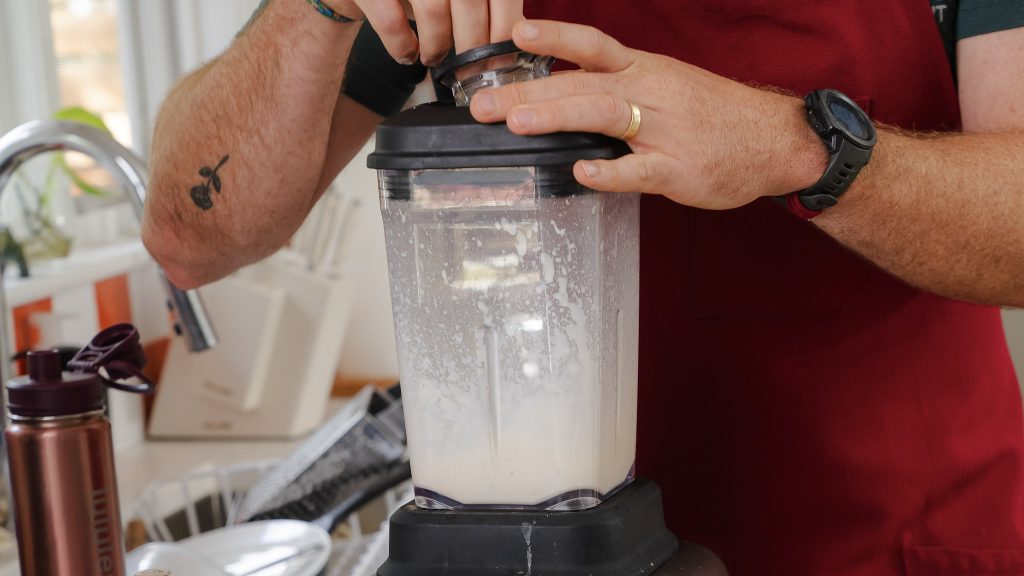 Other great salads you should check out!
If you liked the sound of this Creamy Boursin and roasted veggie salad, here are a few other we think you should check out!
Sushi Restaurant Salad Dressing
Roasted Veggie Salad with whipped Boursin and quick granola
Print Recipe
Ingredients
For the leftovers
1

large

Butternut squash

Cit and roasted

4

large

Carrots

Wedged and roasted

1

large

Sweet Potato

Cut and roasted
For the dressing
2

tbs

Maple syrup

2

tbs

Balsamic vinegar

4

tbs

Olive oil
For the Whipped boursin
1

puck

Boursin

I used Truffle and Black Pepper

1/4

cup

Heavy Cream
For the granola
1

cup

Oats

2

t bs

Maple Syrup

1

tbs

Olive oil

1

tbs

Salt

1

tbs

Hemp seeds

1

tbs

Sunflower seeds

1

tsp

Black pepper
Instructions
Into a blender blend Boursin puck and ¼ cup cream until smooth.

In a bowl or jar mix together maple syrup, balsamic vinegar, and olive oil.

In a bowl mix together oats, maple syrup, olive oil, salt, hemp seeds, and pepper. Toss into a pan over medium heat and toast for 5-8 minutes. Once done cooking, pour onto a baking sheet and allow to cool.

Onto a plate smear the Boursin whip, followed by the left over roasted veggies, top with granola, and balsamic vinaigrette.
Print Recipe
(Visited 608 times, 1 visits today)