Everyone needs a go-to potato salad, and this recipe is here just in time for summer picnic season. Ready in under 20min, this one bowl Summer Potato Salad is sure to be a hit at every gathering. The absolute best part is how customizable it is, farmers markets are your best friend with this one. This is summer time in a bowl folks!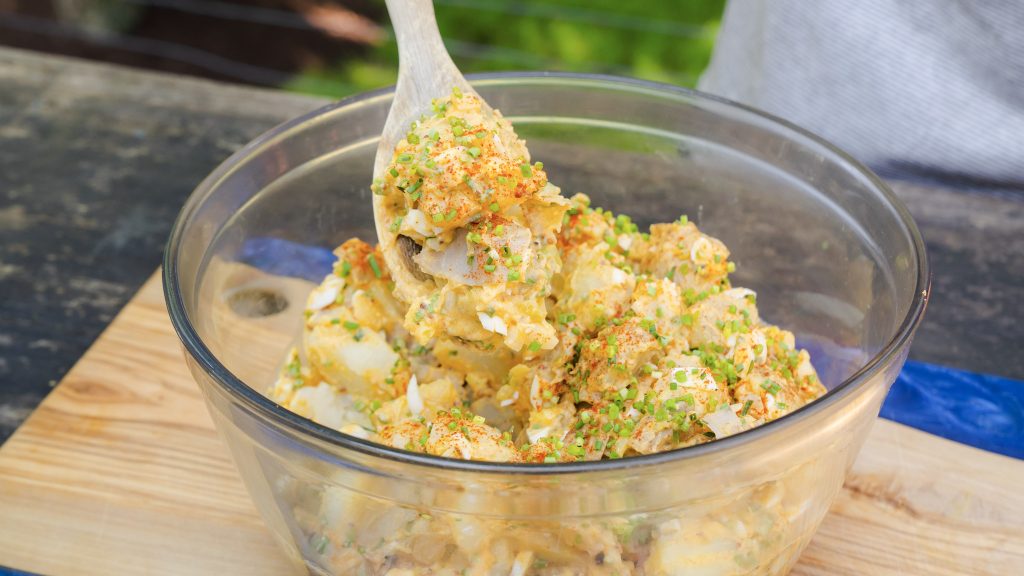 Tip on nailing this Summer Potato Salad.
This is a super quick and simple recipe, but there are a few steps you're going to want to make sure you nail. Keep these in mind and you'll have the perfect potato salad at the pot-luck every time!
Make sure your potatoes are cut evenly- An even cut is always going to produces the most even cook. No undercooked or overcooked potato in the same salad. A good trick is to keep your first cut off to the side as a reference for the rest of the potatoes.
A perfect boil makes for a perfect salad- It's super important to start your potatoes in cold/salted water. Starting in cold water is going to make sure they cool evenly and don't get busted up in the roaring boil right away.
Eggs done right are a beautiful thing- We do't want an over cooked, grey looking egg in our perfect potato salad. We think 10-12 minuets and right into an ice bath gives the best results; fully cooked yolk but still soft and creamy.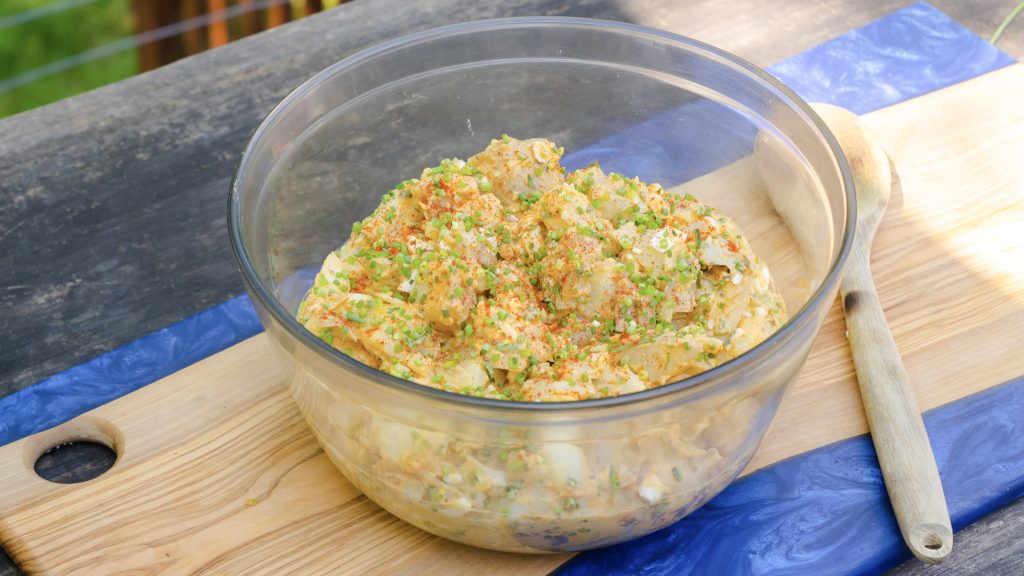 How to customize your Classic Summer Potato Salad.
During the summertime, there's such a great range of fresh produce and herbs, it's hard not to experiment. Head down to your local farmers market and see what they have, there's a whole world of ingredients just calling your name!
Swapping or adding herbs can be a great way to customize your perfect Summer Potato Salad. We think fresh dill and parsley would be a great edition to your salad.
Maybe you like your salads with a little less heat; or maybe you have a favourite hot sauce that you just can't live without.
Check out the produce section of your local grocery stores, maybe you have a favourite crunchy vegetable other then sweet onion you'd like to try out. Fresh radishes or celery are always great to add a little crunch!
It's all about the dressing.
It's no secret the key to a perfect potato salad is the dressing, it's whats binds it all together. But there's some important ingredients that make it so craveable.
Mayo– A staple of any potato salad, the key to its creaminess and texture. We use Hellmann's mayo in recipe.
Multiple mustards– We used both Yellow and Dijon, and for a good reason. Yellow mustard is bright and zippy with lots of acidity. Dijon mustard has some heat and sweetness that really helps balance out the dressing.
Relish the relish– All good potato salads need a bit of pickle, and there's no easier way to add it in then with a dollop of your favourite sweet or spicy relish.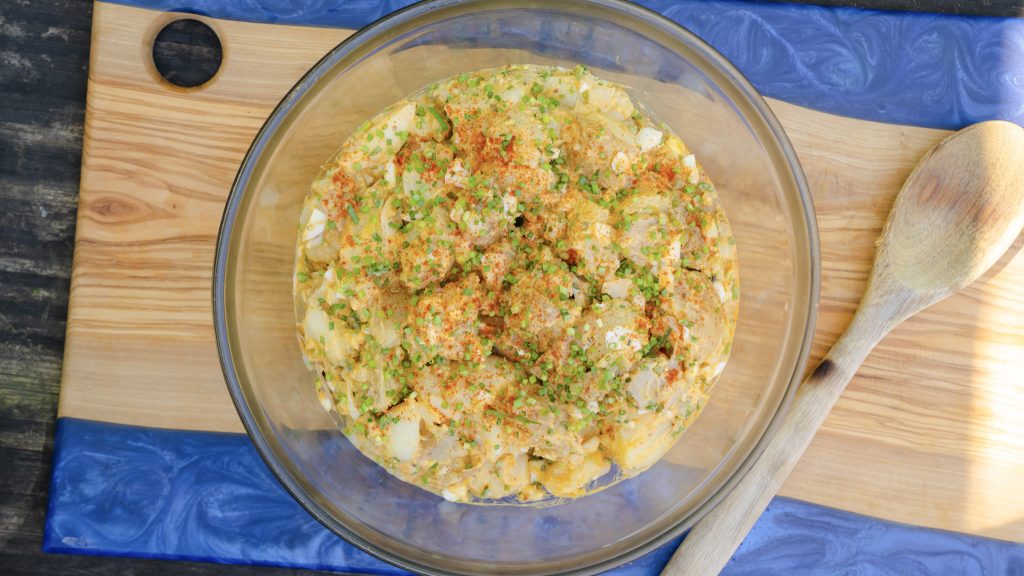 Other recipes you should check out!
If you liked the sound of this Classic Summer Potato Salad, here are a few other recipes we think you should check out!
Summer Strawberry Quinoa Salad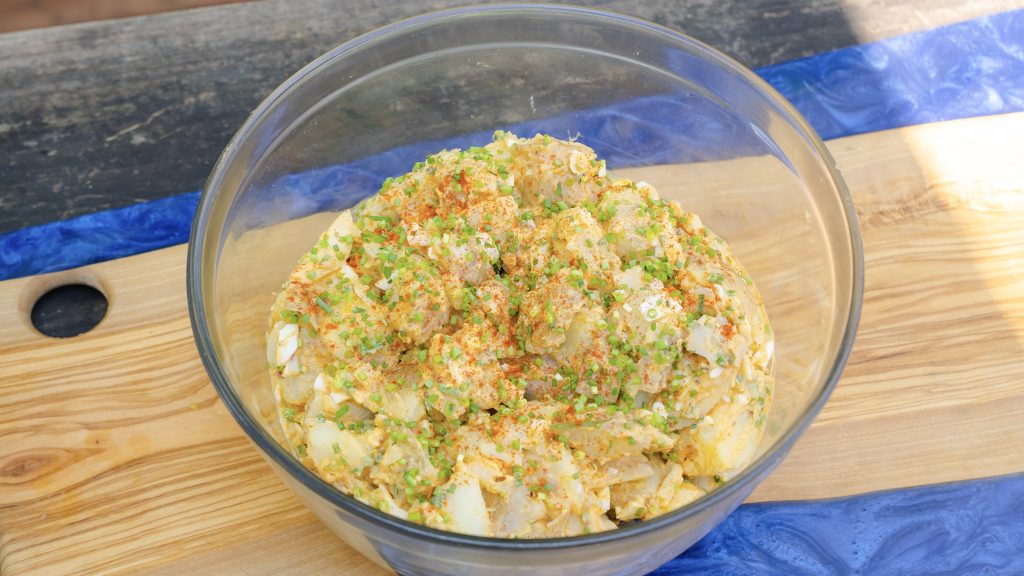 Classic Summer Potato Salad
Print Recipe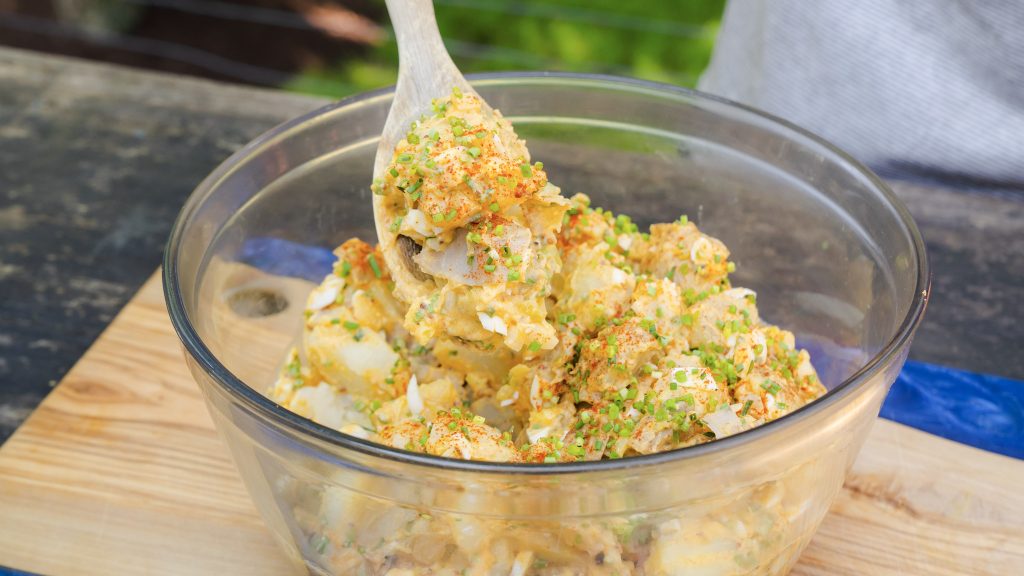 Ingredients
10-12

potatos, diced

1

cup

Mayo

1/4

cup

Relish

1

tbs

Yellow mustard

1

tbs

Dijon

1

tsp

Apple cider vinegar

1

tsp

Smoked paprika

1

tsp

Salt

1

tsp

Black pepper

4

large

Boiled eggs

Diced

1/2

cup

Sweet onions

Diced

1

cup

Chives

Thinly sliced
Instructions
In a large bowl add mayo, relish, yellow mustard, Dijon mustard, apple cider vinegar, smoked paprika, salt, pepper. Mix until fully combined.

Add in cooked and cooled potatoes, chopped boiled eggs, and chives. Mix well and allow to chill in the fridge before serving.
Print Recipe
(Visited 6,178 times, 11 visits today)