This Thai Chicken Noodle salad is fresh, flavorful and a salad that eats like a meal. Perfect for meal preparation or for a weeknight dinner any time of the year. You are definitely going to want to give this one a try. Great textures, flavours, and will keep you interested right until the very last bite! 
While this Thai Chicken Noodle salad is perfect for dinner, I love this for lunch. Generally I make this on a sunday afternoon and I know I am going to be eating well all week. The noodles, veggies, and sauce get better after a day or two and you can eat this up for 4-5 days after making it.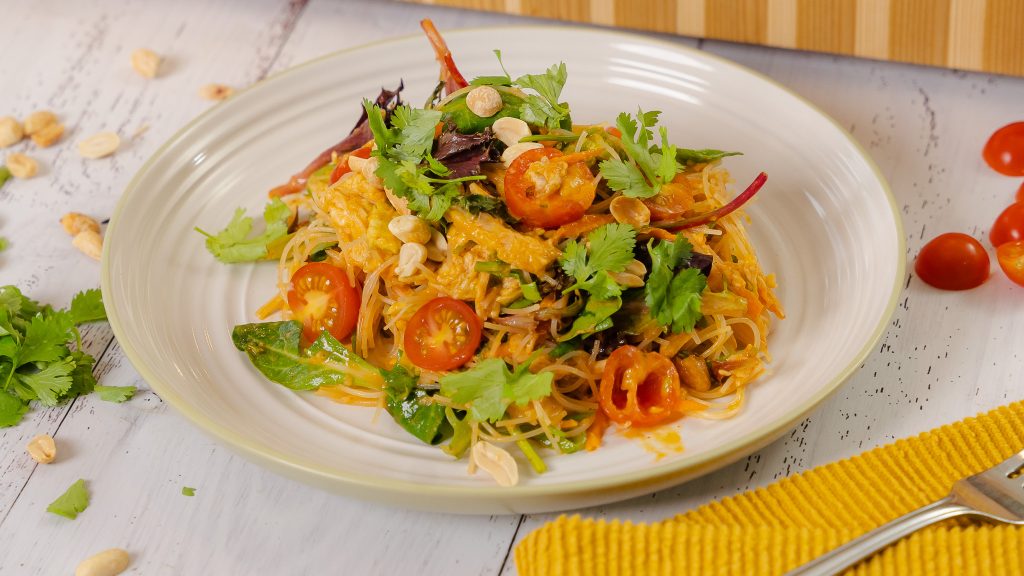 How to make this Thai Chicken Noodle Salad
Cook noodles- I like to use rice noodles for this recipe and all you need to do is pour boiling water over the noodles and let them sit for about 5-10 minutes or until they are softened. Then drain, drizzle on some oil, and they are good to go!
Whip up dressing. In the bowl of a blender add in lime juice, fish sauce (optional, but encouraged), sambal, maple syrup, garlic, soy sauce, sesame oil, apple cider vinegar, ginger, and then stream in oil which the blender is running.
Shred chicken. I used a store bought rotisserie chicken but you can also make your own. Shred the chicken meat and then toss all ingredients in to the bowl and mix. 
The Dressing
This dressing is lovely and super flavourful. It is perfect to make in advance to toss into salads or even to a stir fry. This recipe makes about 500mls so you will have left overs. Place into a jar and store in the fridge for up to 2 weeks. 
You can store this salad in a covered bowl in the fridge but I also love to portion out the salad into serving to make it easier to grab and go. Great containers like these make it that much easier.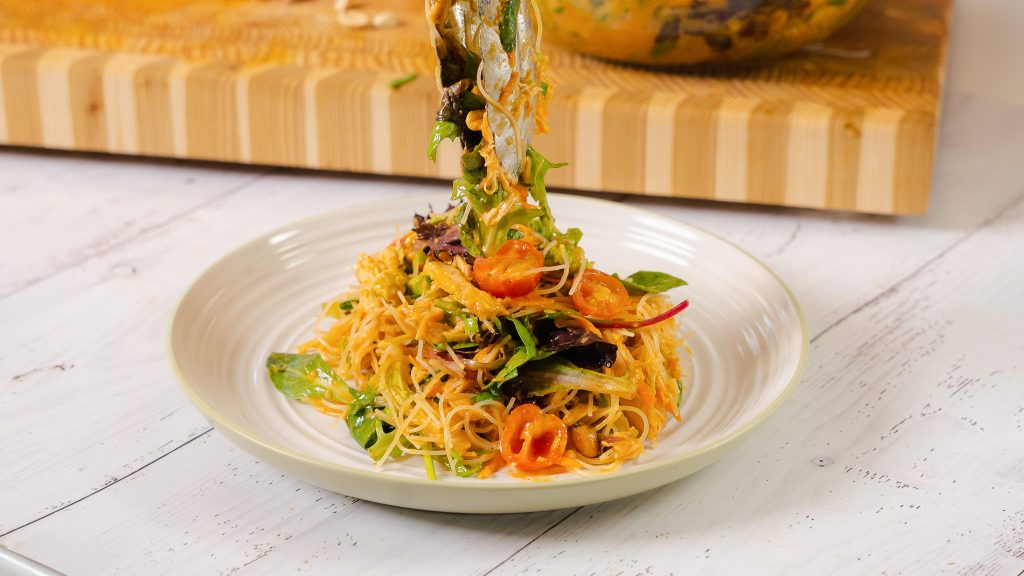 Other meal prep ideas from my site
Thai Chicken Noodle Salad
Print Recipe
Ingredients
2

cups

vermicelli rice noodles

2

cups

shredded chicken

store bough rotisserie chicken works great

1 1/2

cups

green salad mix

1/2

avocado, diced

1/2

cup

cherry tomatoes, sliced in half

1/2

cup

shredded carrot

1/4

cup

fresh mint

1/4

cup

cilantro

1/4

cup

peanuts

1/4

cup

green onions, sliced
Dressing
3

limes, juiced and zested

1/4

cup

sambal (garlic chilli sauce)

1

tbs

fish sauce

2

tbs

maple syrup

2

cloves

garlic

1

inch

ginger

2

tsp

sesame oil

3

tbs

soy sauce

low sodium

1/4

cup

apple cider vinegar

1

cup

neutral flavoured oil
Instructions
Place dry rice noodles into a heat safe bowl and then pour over boiling water. Make sure the noodles are completely submerged. Let the noodles rest in hot water for about 5-8 minutes and then drain, toss in oil and set off to the side. I also like to cut up the noodles a wee bit using scissors. Make them easier to eat and mix.

Next up let's tackle the dressing. Into the bowl of a blender or food processor add in lime juice, lime zest, sambal, fish sauce, maple syrup, garlic, ginger, soy sauce, sesame oil, and apple cider vinegar. Blend on high until smooth and then slowly stress in the oil. Don't rush this process.

Now grab a large bowl and toss in the noodles, chicken, salad mix, avocado, cherry tomatoes, carrot, mint, cilantro, peanuts, and green onions. Pour on about 1 cup of the dressing and toss! Enjoy immediately or for lunch! Cheers!
Print Recipe
(Visited 12,100 times, 1 visits today)