Going out for sushi is one of my favourite date nights; we love finding the freshest, highest-quality fish in town. But an often overlooked item at many sushi restaurants is always ordered for the table. I love it so much that I needed to figure out how it's made to enjoy it every day of the week and not just on date night. The zippy, tangy and bright Sushi Restaurant Salad Dressing will be a staple in your fridge; I guarantee it.
Key ingredients for Sushi Restaurant Salad Dressing
So there are a few ingredients to this dressing, but each is important as necessary to make the perfect dressing. Toss them in the blender and watch as they combine to make magic!
Ginger– Gives it the signature 'heat' and punch.
Onion– Adding some aromatics and bite.
Garlic: It always needs a bit to add to the fresh burn and round out the aromatics.
Apple: This dressing needs a touch of sweetness, tartness and acidity to elevate the whole dressing.
Carrot: Another aromatic that will add a touch of sweetness and help achieve that light orange/yellow colour.
Miso– If you didn't use miso, there would be nobody, texture or classic umami flavour this dressing deserves. If you don't have any, pick some up next time you're out. 
Sesame oil- A touch of toasty, nutty richness will finish off the palate for this one. 
What should I put it on?
Sushi Restaurant Salad Dressing is a wonder dressing; it's so versatile and veggie-friendly that you can pretty much put it with anything and everything you want.
In most sushi bars, you'll see it on a bed of iceberg lettuce, with other thinly sliced veg like cucumbers, carrots and peppers. Add a few cooked edamame peas, and have a very handsome first course!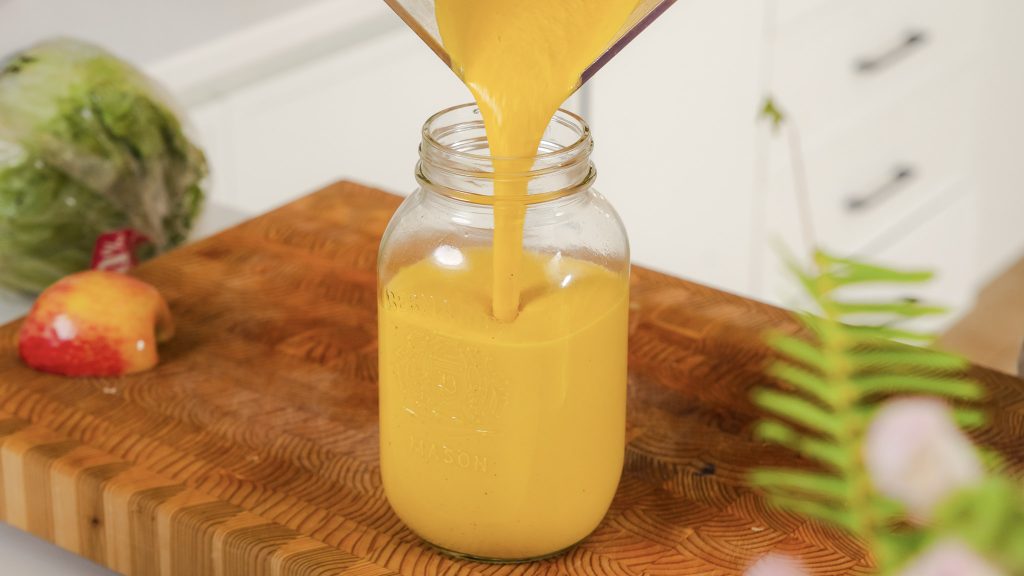 Key steps to nail it every time.
We love a one-blender recipe. Chop it all up, give it a whiz, and you're off to the races! There are a few steps you won't want to skip to make sure you get that perfect consistency every time.
When cutting your veg, make sure it's not whole. While blenders can be very powerful and significant at turning crispy veg into a paste, you can save a lot of time if you break your ingredients down. It'll also help get you a smoother consistency. 
We peeled our ginger and apple to ensure no skin stayed intact as we emulsified in the blender. Feel free to leave them on if you want; just make sure the texture is right!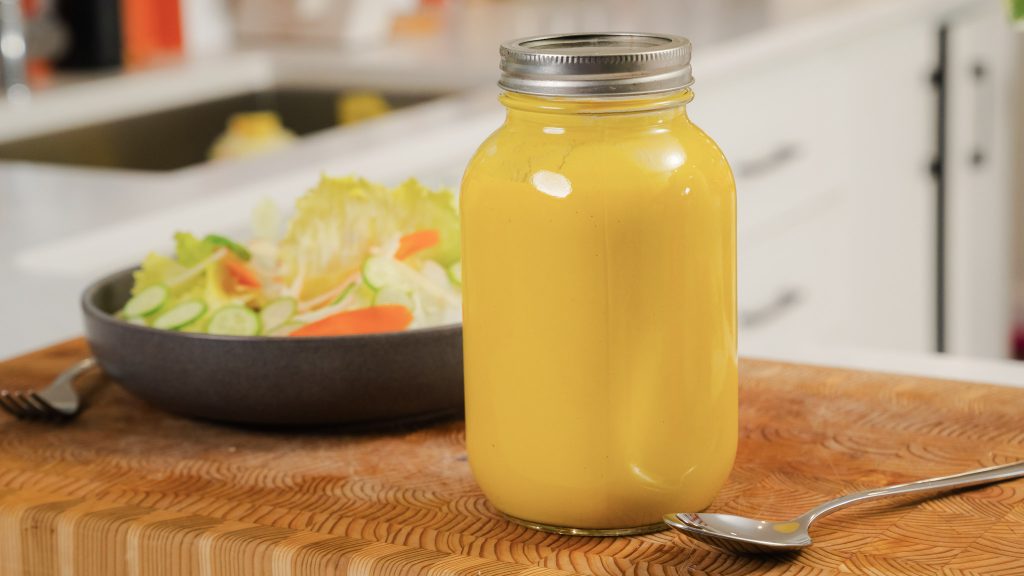 Other salad dressings we think you should check out.
If you liked the sound of this Sushi Restaurant Salad Dressing, here are a few others you can try!
Homemade Basil Vinaigrette Dressing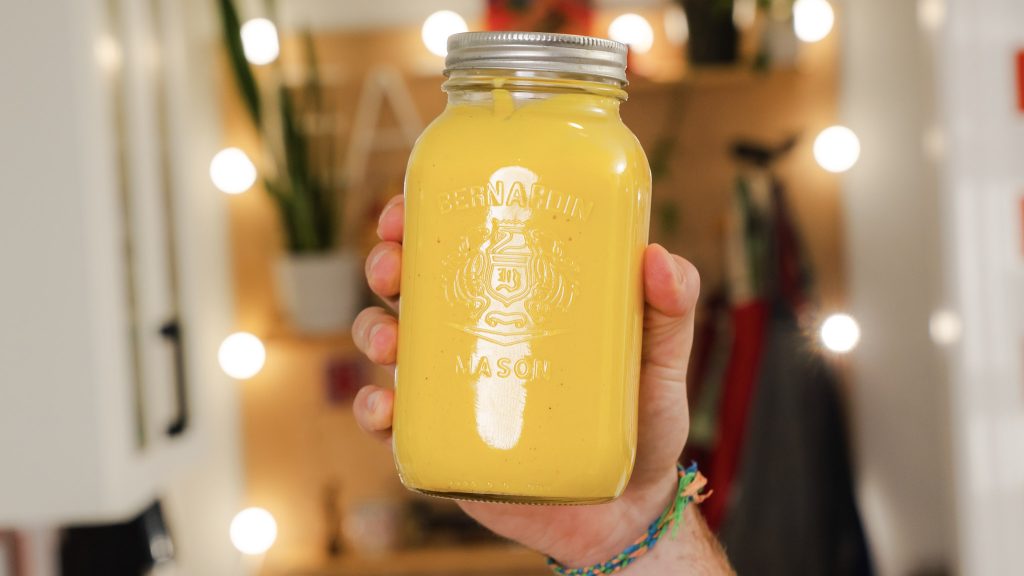 Print Recipe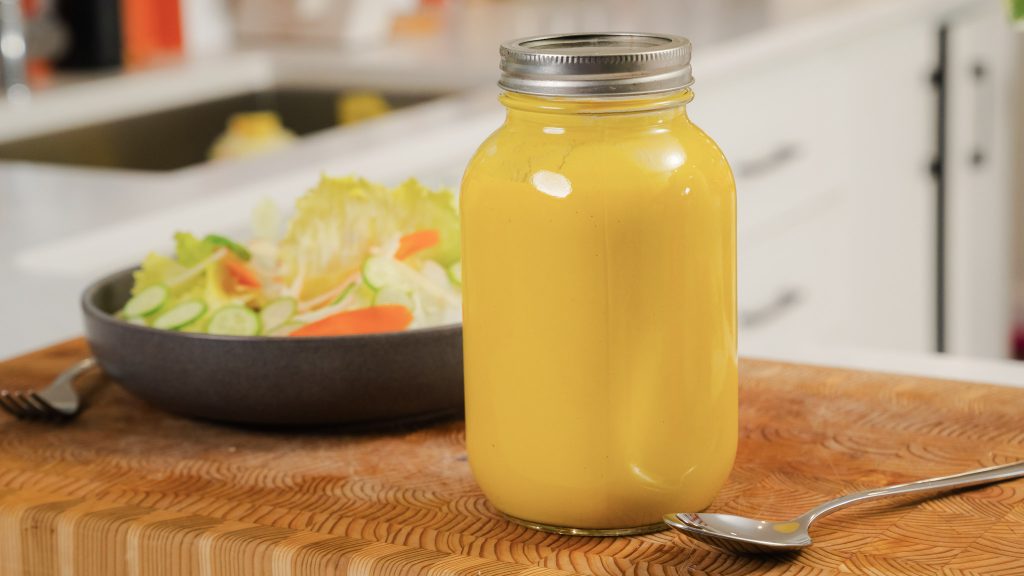 Ingredients
3

large

Garlic cloves

1/2

cup

Fresh ginger

Peeled and sliced

1

medium

Carrot

Peeled and chopped

1 1/2

large

Apples

Peeled and chopped (use your favourite type!)

1/2

cup

Rice vinegar

1

tbs

Miso paste

2

tbs

White sugar

1

tsp

Sesame oil

1

cup

Olive oil
Instructions
Place all ingredients into a blender and blend until smooth. Pour into a jar and keep in the fridge. This dressing will last in the fridge for up to 7 days.
Print Recipe
(Visited 15,901 times, 83 visits today)