This handheld meal prep breakfast will make getting your morning protein in that much easier. Delicious and satisfying, these DIY Starbucks Egg White bites are a staple in my house.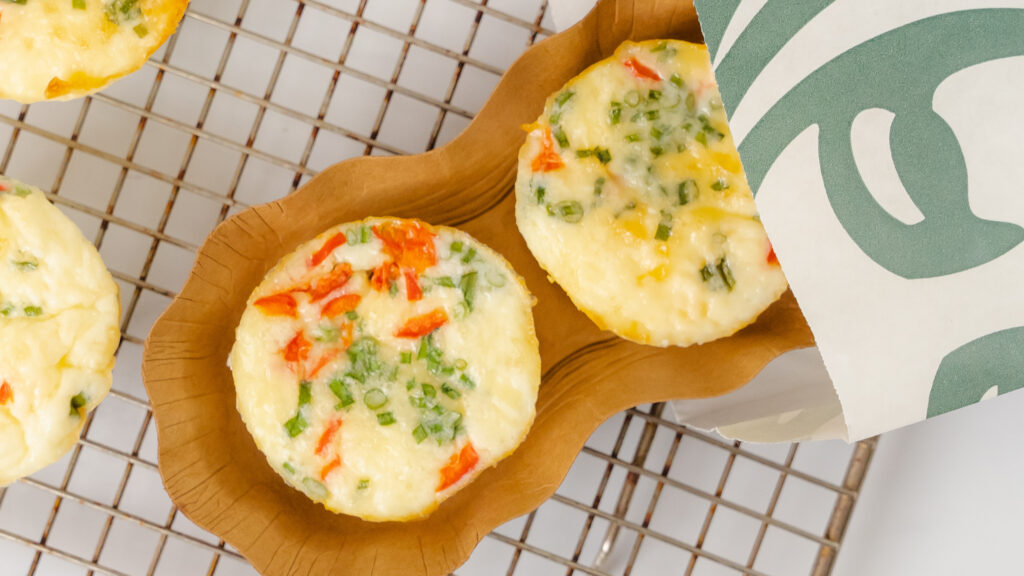 Our original DYI Starbucks Egg Bites recipe was one of our most made recipes on the blog.I was receiving a ton of messages from people asking for the Starbucks Egg White and Red Pepper Recipe, so I had to make it happen! And here it is! Lighter but just as tasty as the original. Same process, just a couple small adjustments.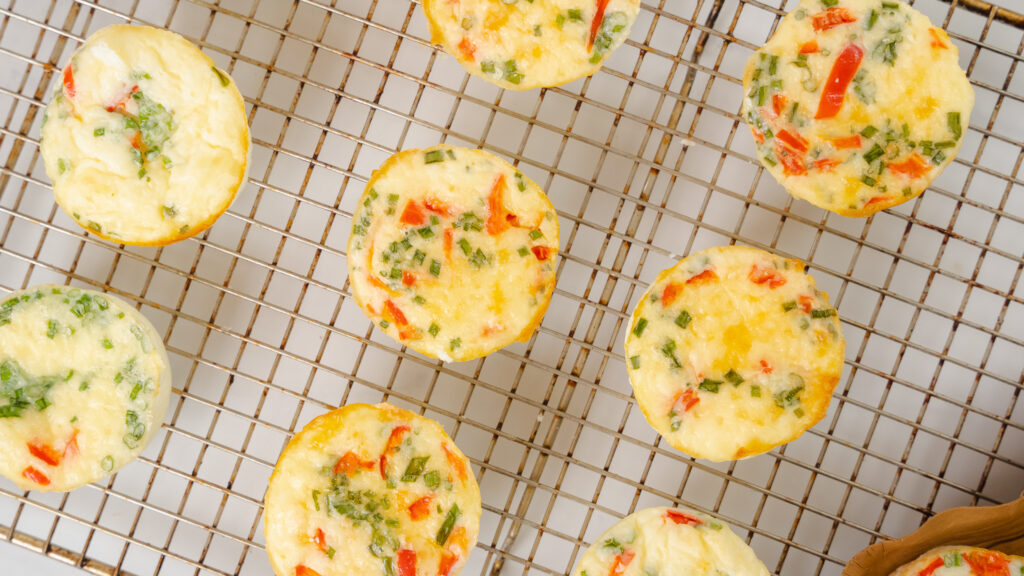 Updated recipe!
I have spent a lot of time playing with this recipe to make it perfect and I think I am there. Egg whites act differently than whole eggs in how they cook, which resulted in me having to make some adjustments with cooking time and how the mixture is combined. The result is a much more consistent and delicious outcome.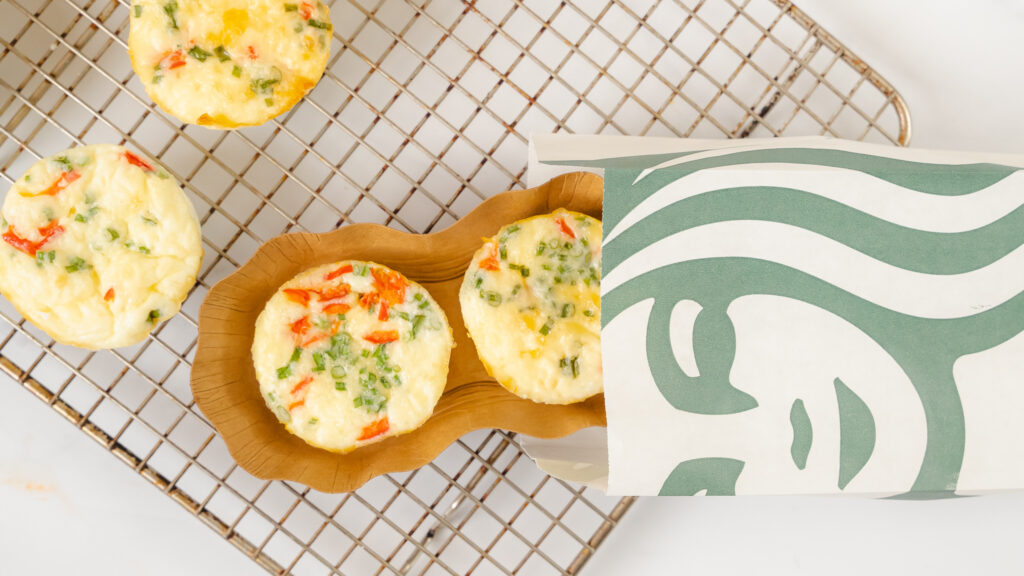 Let's Breakdown the Ingredients!
As simple as this recipe is to make at home, there is a use of one particular ingredient that is very versatile in recipes: cottage cheese.
Cottage cheese lends a tangy flavour, tons of moisture, tender texture and lots of protein to recipes. Adding cottage cheese into any recipe will help with not only the texture but helps to make it extra fluffy, which is a key part of making these Starbucks DIY egg white bites.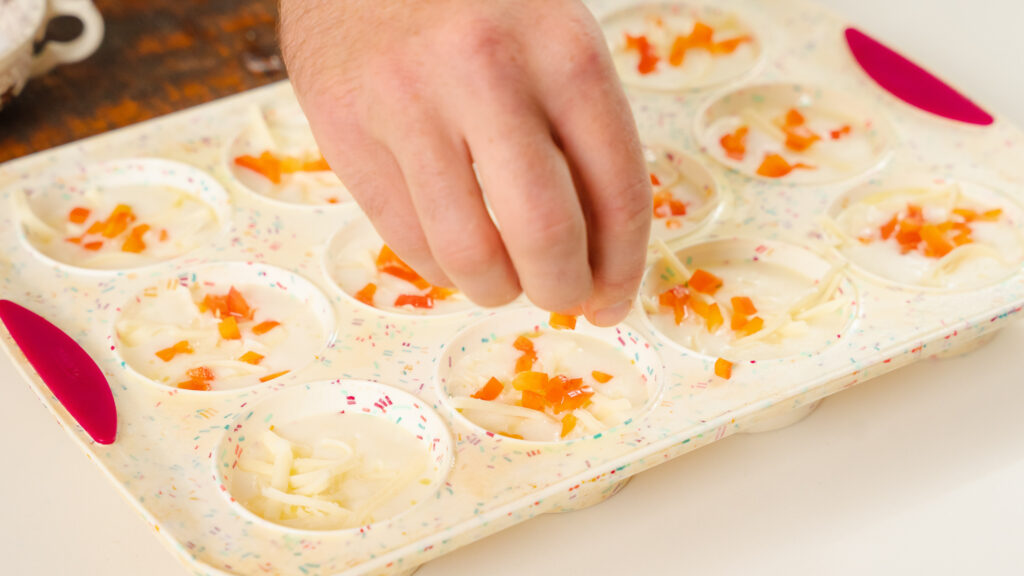 Tips for Nailing This Recipe
When making these egg bites, it is important to use full-fat cottage cheese to add structure to ensure they don't collapse.
When blending up the egg white mixture, it is important to not blend at high speed to avoid incorporating too much air into the mixture, which will cause them to deflate. Start by blending the cottage cheese and mozzarella together before adding in the egg whites. This incorporates less air, while at the same time combining the cheeses.
When baking, using Silicone Mini Muffin Pan is crucial to this recipe. It makes cleaning and demolding the egg bites easier.
Only fill the muffin tins 3/4 of the way to the top.
Use a 13-inch baking pan and fill it up with water to create a humid environment in the oven for the egg bites to bake.
This is your chance to get creative! You can add spinach and red pepper, bacon and cheese, sausage and roasted garlic – basically any ingredient you love.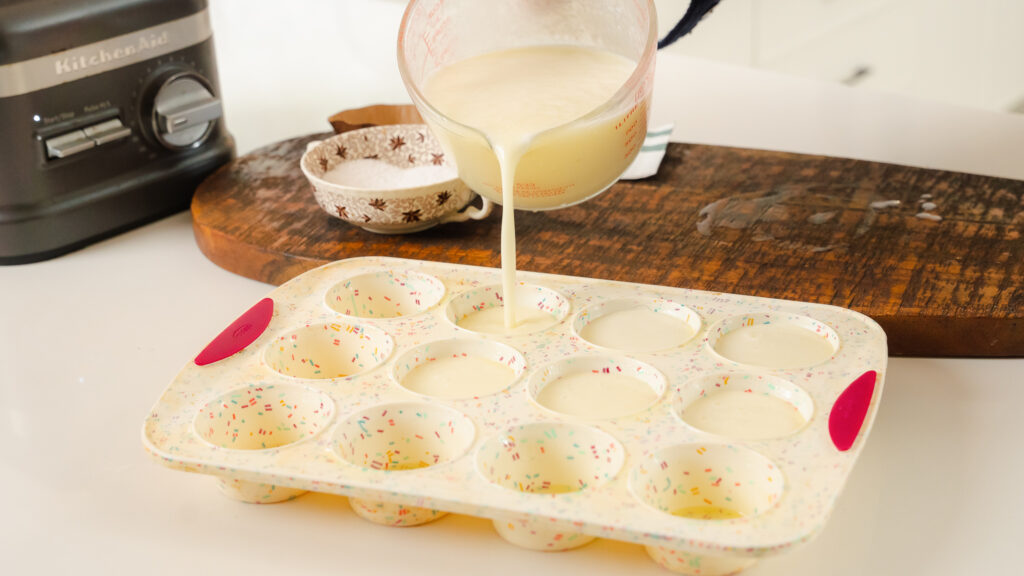 DIY Starbucks Egg White Bites
Print Recipe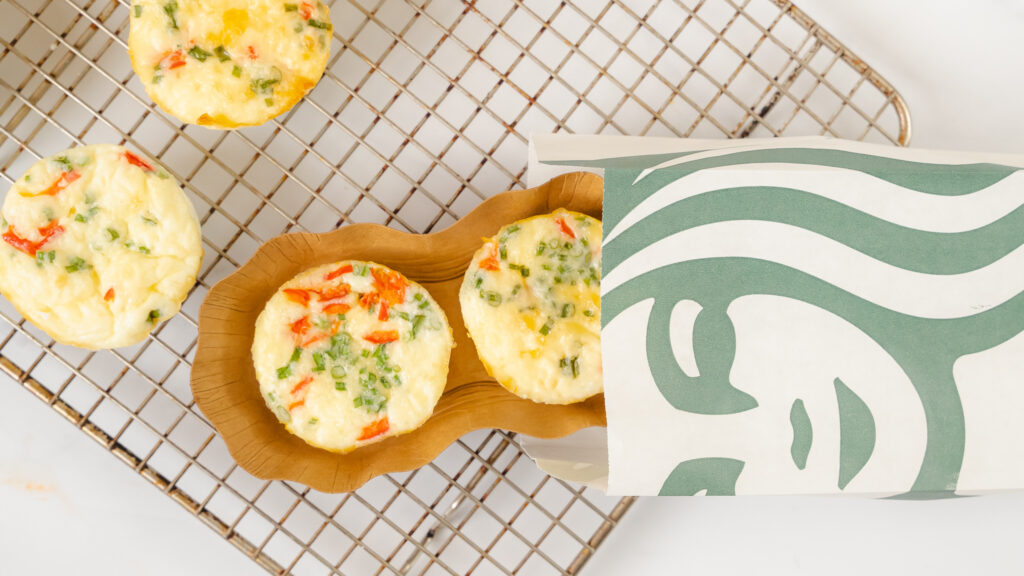 Ingredients
1

litre

Liquid Egg whites

1½

cups

white cheddar cheese or mozzarella

500

grams

full fat cottage cheese

1

tsp

salt

1

tsp

black pepper
FILLING
1

cup

red pepper, chopped

½

cup

sliced green onions

1/2

cup

Mozzarella
Instructions
Preheat the oven to 300 and place a brownie tray with water into the oven. This will create a more humid environment. Prepare a silicone muffin tin with cooking spray while you are at it.

In the bowl of the blender, blend the cottage cheese, salt, pepper, and mozzarella together. Give the bowl a little shake to force the cheese combo to the bottom of the blender. Now add in the liquid egg whites and blend on low for 20-30 seconds. You do not want to incorporate very much air into the mixture. Once you are done, skim the foam off the top of the mixture if there is any.

Pour the egg mixture into the muffin cups. Fill up each cup about 3/4 of the way.

Season with red peppers, green onion, and a pinch mozzarella.

Place the muffin tin in the oven for around 60 minutes. You want them to be totally set. If the centre is still jiggly, let bake for another minutes and check again.

Remove from oven and let egg bites sit in muffin tray for around 5-10 minutes. Gently remove from tins and let cool on cooling rack.

These stay in the fridge for 7 days or can be frozen. If frozen, wrap in a paper towel and microwave for 30 seconds to 1 minutes depending on your microwave.
Andy's Notes
Our whole family loves these egg cups and they have become a staple in my weekly meal prep. No fancy equipment needed other than a blender and a standard oven. Basically, pop all of the ingredients into a blender, then blend them together for 1 minute. Pour the egg mixture into greased muffin tins (I love the using silicone mold muffin tins which makes the cleanup way easier). The key here is to only fill them up about half way.
Creating moisture in the oven
In order to have the egg bites cook evenly and remain a similar texture to the ones you have eaten at Starbucks, I find it best to add a pan filled with water into the oven prior to baking the egg cups. Keep the water bath in the oven during cooking as this will create a humid environment that helps to reduce the egg cups splitting open. Place the water filled pan on the bottom rack of the oven, and then place the egg bites on the top rack.
Tips for Nailing these egg white egg bites
Create moisture in the oven. See above.
When blending the egg whites, go gentle. Egg whites can incorporate air very easily which can cause some issues when baking. Slowly turn on the blender and let it blend a bit longer at lower speed. This will avoid incorporating to much air which could lead to the egg bite deflating.
After you have the muffin tins filled halfway with the egg mixture. Lightly tap the tray on the counter. This will force some of the air to the top. Again, egg whites incorporate air easier so this does help.
Don't use fat free cottage cheese. The fat is needed for structure, otherwise you will like see deflated egg bites!
Print Recipe
(Visited 140,729 times, 14 visits today)