There are very few more East Coast recipes than the lobster roll. I just love a plentiful lobster roll, and it really is one of my favourite food in the entire world. Where I am from, Nova Scotia, Lobster rolls tend to be mixed with mayo and served on a hot dog bun. I follow this philosophy but also add in some different flavours to make it my own.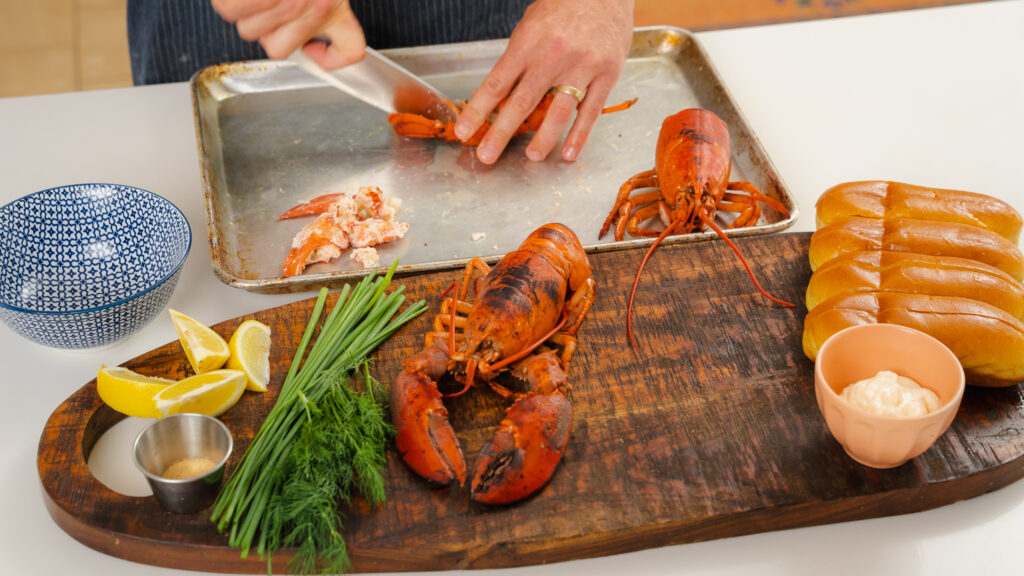 Let's Breakdown The Ingredients!
Lobster meat is essential to making these delicious lobster rolls, and lobster has a sweeter and less "fishy" taste than carb flavours. Another important ingredient in making the filling is Hellman's mayo, which adds a creamy texture.
Here in Nova Scotia, we add the lobster filling into hot dog buns. For this recipe, I used brioche hot dog buns, which are buttery and eggy with both sweet and savoury flavours. To add a creamy and rich taste, don't forget to butter your buns!
This recipe doesn't require many ingredients, but it is packed with tons of amazing flavours! I've added fresh flavours of thinly sliced chives, dill, and zest of lemon.
Chives are onions with a slightly garlicky taste, and the fresh dill has a grassy, slightly tangy taste with notes of anise. The lemon zest adds a citrus flavour that often pairs great with seafood!
I've also added garlic powder is a bit different from fresh garlic, with a sweeter and less intense taste. Meanwhile, onion powder is more oniony with a sweet and savoury flavour you don't get in a fresh onion. And, of course, you must add salt and freshly cracked pepper to taste!
Tips For Nailing This Recipe!
There are a few small tips that I feel make the lobster roll that much better. Obviously, if you can get your hands on fresh lobster, that is going to result in the best-tasting lobster roll possible. Beyond freshness, I really suggest adding a healthy amount of lemon zest just to brighten up the flavour. Buttering and toasting the bun is absolutely crucial for the best-tasting roll. Don't skip this step! Lastly, I always suggest serving with plain potato chips as a way to turn this into a full meal lol.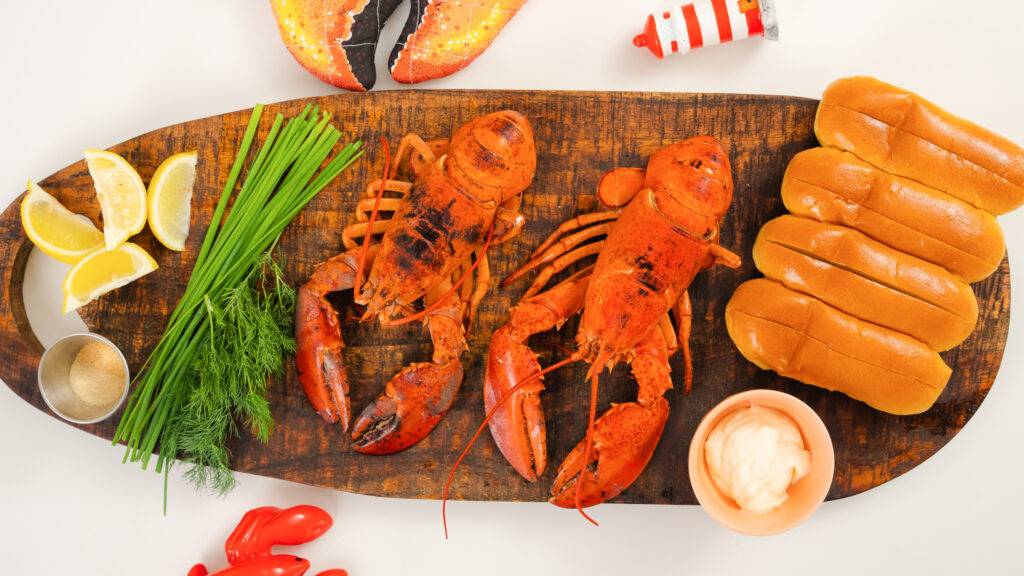 Flavouring
In an effort to make this lobster roll my own, I love including lots of fresh herbs. Fresh dill and chives really make this lobster roll sing. A little less traditional, but I love the freshness and bite it goes to the dish. I also like to include a small amount of garlic powder and onion powder to add in a bit more flavour. I know this is sure to anger some purest, but this is the way I like it 🙂
East Coast Lobster Rolls
Print Recipe
Ingredients
2

1.25 lbs Lobsters, meat removed

4

Brioche Hot Dog Buns

1

tbsp

Butter (for the buns)

1/3

cup

Hellman's Mayo

2

tbsp

Chives, thinly sliced

2

tbsp

Fresh Dill, chopped

1/2

tsp

Garlic Powder

1/2

tsp

Onion Powder

1

Zest of Lemon

1

tsp

Freshly Cracked Pepper

1

tsp

Salt
Instructions
In a bowl, toss in mayo, chives, dill, lemon zest, garlic powder, onion powder,  black pepper, and a pinch of salt. Mix. Next up drop in the lobster meat and toss until lobster meat is totally coated.

Butter the sides of the brioche buns and place them into a pan that is heated over medium heat. Toast to a perfect golden brown on both sides.

Generously stuff the buns with the lobster meat and top with chives. Serve with plain potato chips!
Print Recipe
(Visited 2,760 times, 3 visits today)