There is nothing like treating yourself to freshly baked Homemade Bagels, especially if it is one that you made yourself! Most people think that making bagels from scratch would be challenging, but if you have made my Master Dough Recipe, you can absolutely make this recipe! You can do this!!!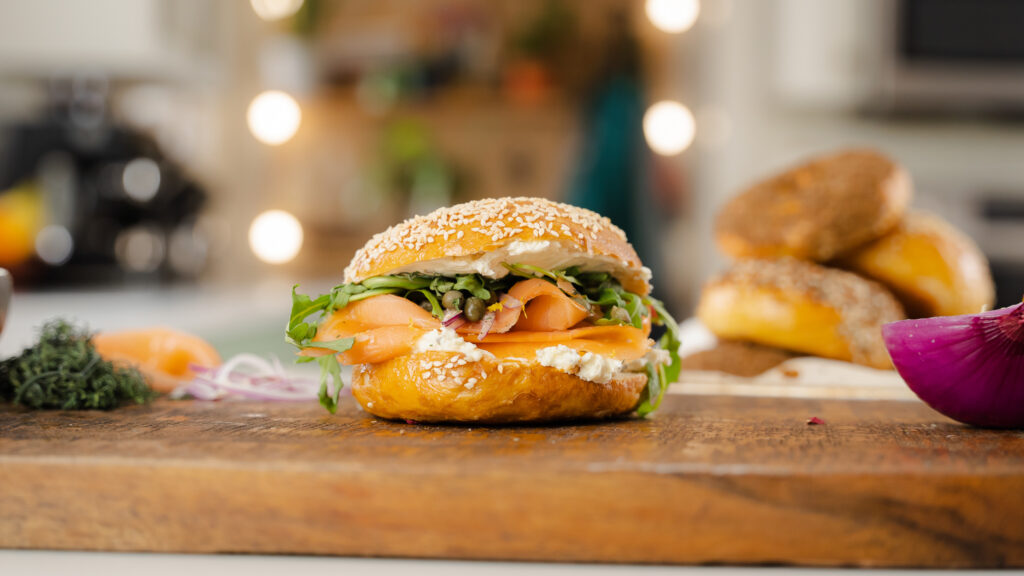 Making Bagels
For this recipe we are going to keep things easy and use my master dough recipe. If you have been around here for a while you know how much I love this recipe. It's easy, consistent, and super versatile. I use this same recipe for pizza dough, dinner rolls, pretzels knots, and more. There may be more authentic bagel recipes out there, but the results speak for themselves. These are dang tasty bagels.
Shaping Bagels
Shaping bagels is a lot easier than you think. Essentially after your dough has risen, punch out the air and divide the dough into 8-10 balls (depends on how big of bagels you want). At this point I like to cover the dough balls with a tea towel and let them rest on the counter for 15-20 minutes. This is called a "bench rest" and results in softer dough. Once you have the balls have rested, poke your lightly floured thumb through the centre of the bagel. Now using two fingers, gentle stretch the dough until you have about an inch wide hole in the centre of the bagel. Don't stress too much about them looking perfect.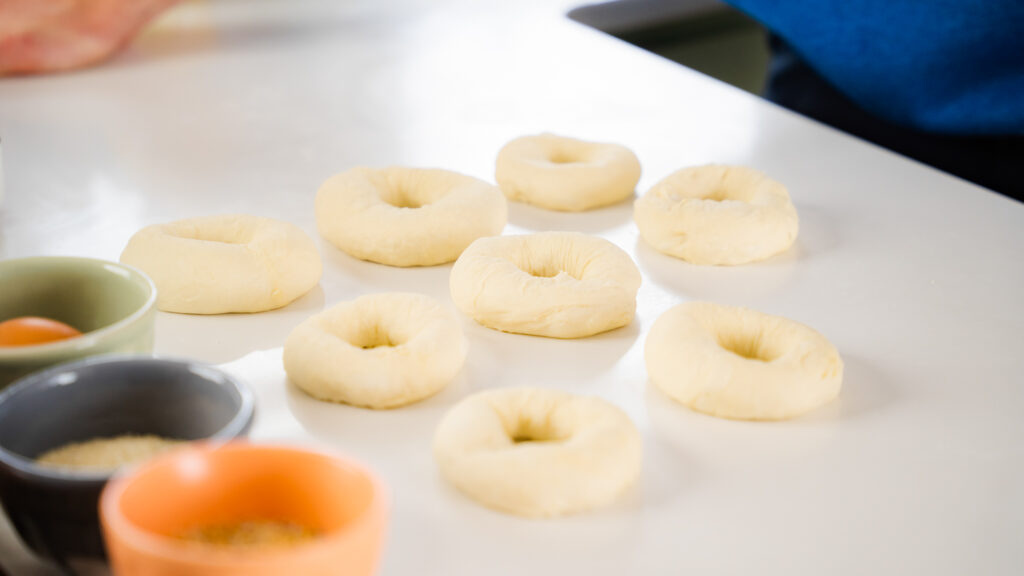 Water Bath. The secret step to Homemade Bagels.
The water bath is a crucial step when making bagels. The formed bagels need to be gently dropped into a pot of boiling water that has sugar and baking soda for about 1 minute per side. We do this for a couple reasons;
Boiling bagels gives the finished bagel their signature shine. By adding sugar and baking soda into the water it helps develop more flavour and deeper colour.
The boiling cooks the outer layer of the bagel and helps it maintain its shape during the baking process.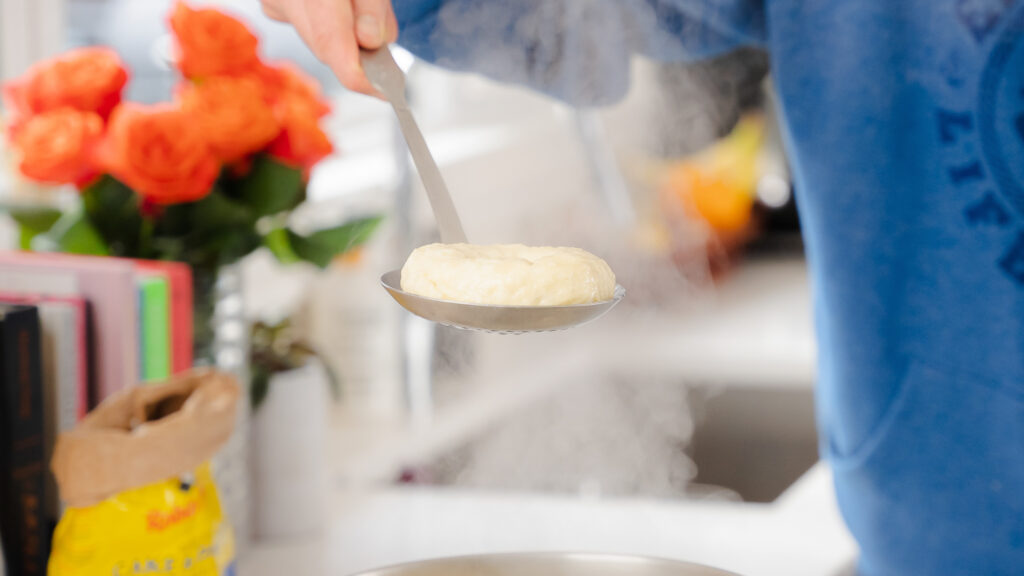 Preparing bagels for baking
Once you have boiled your bagels, now you can move onto flavouring. First thing you will want to do is brush on the egg wash. Make sure you get the top, sides, and the inside of the bagel hole. Next up you can add on any season you like. I like to pour the seasoning onto a small plate and allow the egg washed bagel to sit in the seasoning for maximum coverage. For this recipe I did three different kinds; Sesame seeds, everything bagels seasoning, and caraway seeds.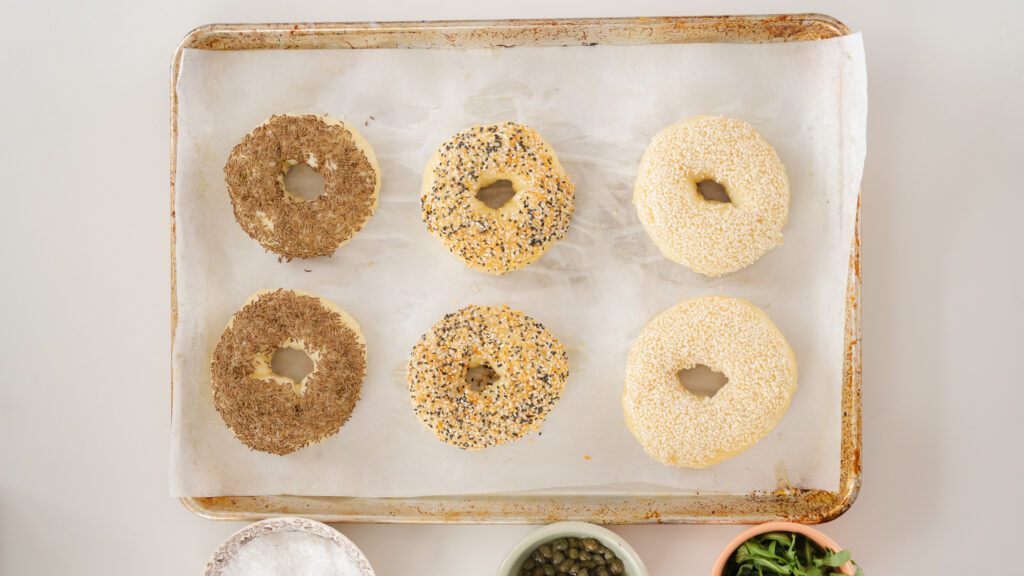 Baking Homemade Bagels
You want to preheat the oven to 465F. Place the prepared bagels on a parchment lined baking sheet and bake for 20 minutes. That may sound like a lot of time, but trust me they want that heat! Once the bagels are baked, remove from oven and allow to cool for about 10 minutes. And look at you.. you just make bagels.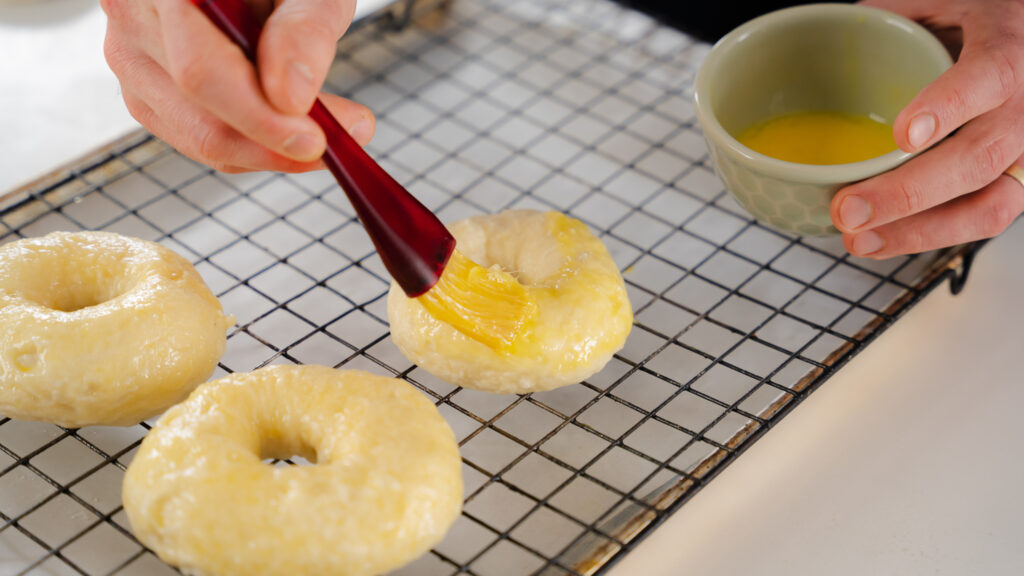 Homemade Bagels
Print Recipe
Ingredients
Dough Recipe
2

tsp

dry active yeast

1

tbs

sugar

1

cup

plus 5 tbs warm water

3

cups

all purpose flour

2

tbs

olive oil

1

tsp

salt
Water Bath
1

tbs

sugar

2

tbs

baking soda

10

cups

water
Bagel Topping
1

egg

scrambled in bowl for egg wash

1/2

cup

sesame seeds

1/2

cup

everything bagel seasoning

1/2

cup

caraway seeds
Instructions
Into a bowl add in the yeast, sugar, and water. Give a stir and let the mixture rest in a cosy spot in your kitchen for around 10 minutes or until the mixture gets nice and frothy.

While the yeast is activating, grab a large bowl and mix together the flour, salt, and oil. Once the yeast mixture is frothy, pour it into the flour mixture and mix with a wooden spot or your hands until a shaggy dough forms.

If you have a stand mixer, you can drop the shaggy dough into the mixing bowl, attach the machine with the dough hook attachment turn the mixer on high for 8-10 minutes. If you do not have a mixer, simply pour dough onto the counter and work with your heal of your palm. Really take out some frustration here. You want to dough to be smooth. If the dough feels too wet, add a sprinkle of flour. Too dry, wet your hands slightly under the tap and work the dough. It's a feel thing that you will develop. Do not rush this process. It will take about 10 minutes.

Once dough is smooth, form into a ball and place into a lightly oiled bowl. Cover with plastic wrap or a tea towel and let it rest in a cosy spot in your kitchen until it doubles in size.

Once dough has doubled in size, remove plastic wrap or tea towel and punch the air out of the dough. Cut the dough into 8-10 pieces and form into dough balls. At this point, I like to cover the dough balls with a tea towel and allow them to rest for 20 minutes.

After the 20 minutes, lightly flour your thumb and push it through the centre of each dough ball. Then using two fingers, gently stretch a 1 inch hole into the bagel.

Now that all of the bagels are shaped, place a large pot over high heat and add in the water, sugar, and baking soda. Bring to a rolling boil.

Once boil has been reached, gentle drop bagels into the pot. No more than 3 at a time as we don't want the temperature of the water to drop too much. Boil bagels for 1 minute per side, then remove from water.

Once all bagels have been boiled, brush on egg wash. Make sure to get all the nooks and crannies of the top side of the bagel.

Now it's time for seasoning. I like to pour my seasoning onto a small plate and then place the egg washed side of the bagel down onto the season. This ensures maximum coverage.

Preheat oven to 465F and place bagels on parchment lined baking sheets.

Bake for 20 minutes or until the bagels are a deep golden brown.

Remove from oven and allow to cool. Take a moment, look at yourself in the mirror and give yourself a thumbs up. You just made bagels from scratch!!! Not many people can say that!
Print Recipe
(Visited 11,194 times, 1 visits today)