It's late August and we can't let the barbecue season slip through our fingers, folks! Think about how badly your January self will want to be out on the back deck, soaking up the sun, grilling something amazing. Seize the day!
So when I was contacted by Canada Beef about helping them celebrate the grill, I was stoked! I love cooking with high quality Canadian beef, especially on the grill. Burgers, steaks, kabobs, I love them all! I wanted to create a recipe that used a less popular cut, one some of you may not have used before, so I chose a beautiful flank steak. It's super tasty, perfect for marinating and grilling. And above all else, amazing for tacos!
Flank steak is best sliced as thin as possible. This makes it perfect for tacos, sandwiches, or with vegetables.
This recipe is great for feeding a gang and offers tons of flavour. Give it a try; I really hope you enjoy it! If you are looking for more amazing Beef recipes, check out Canadabeef.ca.
Marinated Flank Steak Tacos with Spicy Carrot and Bean Sprout Slaw
Print Recipe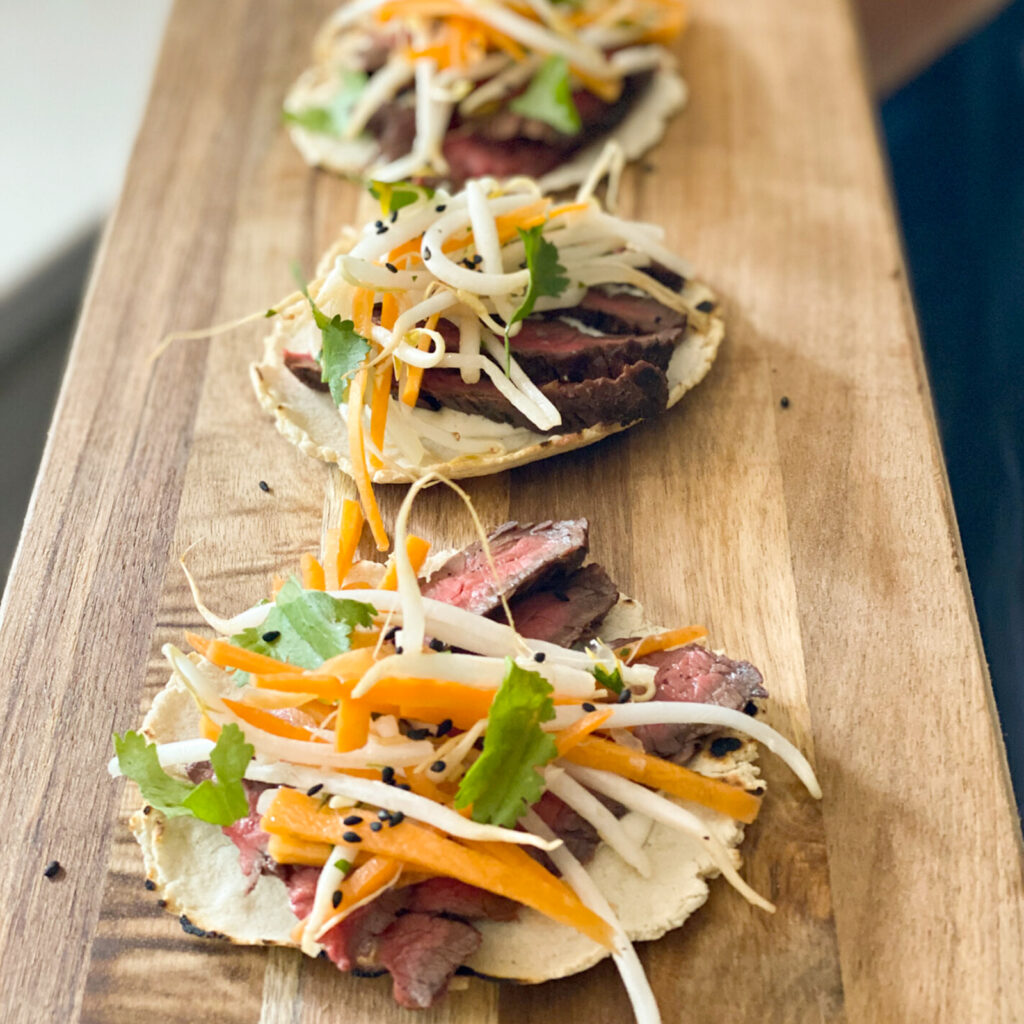 Ingredients
1

lb

Flank or Skirt Marinating Steak
Marinade
Zest and juice of 1 orange

Zest and juice of 1 lime

½

cup

chopped fresh cilantro

⅓

cup

soy sauce

2

tbsp

sesame oil

1

pinch

salt

1

inch

ginger, minced

3

cloves

garlic, minced
Slaw
2

carrots, julienned

1

cup

bean sprouts

1

thai chili, diced

Juice of 1 lime

1

tsp

sesame oil

2

tsp

rice wine vinegar

10

fresh tortillas, ideally charred on BBQ

⅓

cup

mayo

2

tbsp

hot sauce of your choice
Instructions
First things first – let's get the steak marinating. In a large bowl or rimmed platter add all the marinade ingredients and massage them into the meat. Let sit covered in the fridge for at least 2 hours, or overnight.

Next up, let's get kicking with the slaw. In a bowl add in the carrots, bean sprouts, thai chili, lime juice, sesame oil, and rice wine vinegar. Let rest in the fridge until ready to serve.

After the steak has marinated, fire up the grill and get it ripping hot, ideally around 500 degrees. Dry off the steak and place on the grill. Let cook for 7-8 minutes per side (depending on thickness) or until internal temperature has reached 130 degrees.

Remove from heat and let meat rest for 10 minutes. DO NOT CUT UNTIL FULLY RESTED.

Thinly slice the meat against the grain.

Mix together mayo and hot sauce.

Build the tacos: Add spicy mayo to tortilla, then sliced beef, followed by the slaw. Enjoy with a cold drink and sunshine!
Print Recipe
(Visited 689 times, 1 visits today)