I am a huge muffin fan, and this Morning Glory Muffin recipe is my absolute favourite! It's packed with tons of flavours that will help fuel through the mornings. There is nothing better than to start your day with an energy-filled muffin and coffee.
This grab-and-go breakfast recipe is filled with citrus notes, some orange notes, lots of spices, nuts and seeds. But don't be intimidated by the long list of ingredients; it's simple and easy to make!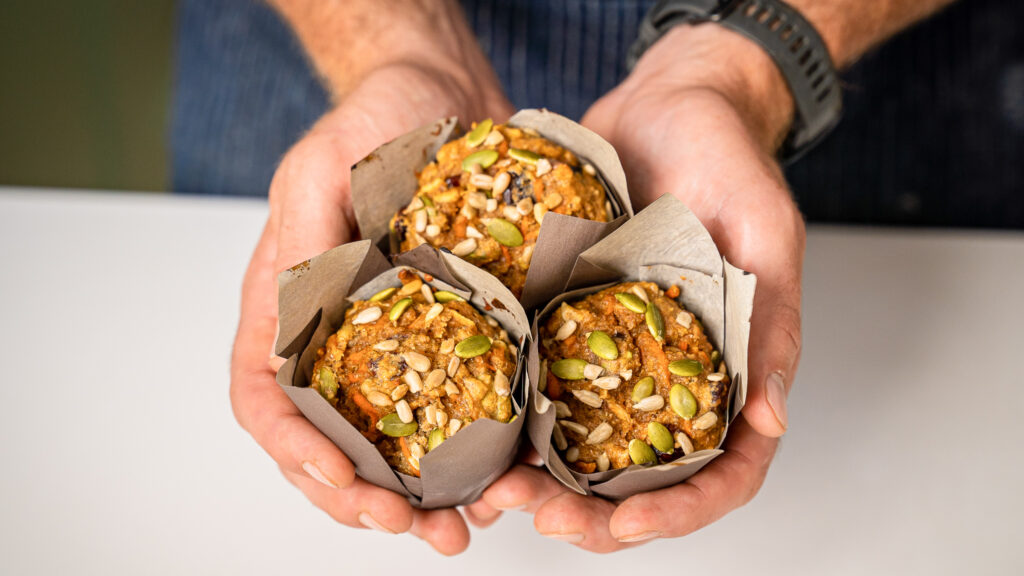 Let's Breakdown the Ingredients!
This recipe is filled with fresh and dried ingredients that share a nutritious value to start off your day and keep your energy going while getting the nutrients you need.
Whole wheat flour has a rich source of various antioxidants, vitamins, minerals, and fibre. Compared to processed white flour, whole wheat naturally contains fibre, an important part of everyone's diet that prevents constipation, controls blood sugar, and wards off heart disease.
Both fresh and dried fruits in this recipe give a wonderful flavour and texture and add a tremendous nutritious value to the muffins. The dried blueberries are packed with almost all vitamins and help easy digestion.
Fresh fruits and vegetables are used to add natural sugar to this recipe. The grated carrots, the grated apple, and the zest and the juice of the orange add a variety of nutrients such as potassium, manganese, vitamin A, B and C.
The seeds and species are nutritious and promote healthy properties to your health.
Pumpkin seeds are rich in antioxidants, iron, zinc and magnesium. Sunflower seeds also add a ton of nutrients that helps lowers blood pressure, cholesterol and blood sugar. The ground flax seeds are high in fibre and omega-3 fatty acids, which have heart-healthy effects.
Cinnamon is well known for lowering blood sugar levels. And nutmeg is a source of antioxidants that helps protect against signs of aging and serious conditioners such as heart disease and liver disease, and much more! Both spices give every recipe a sweet, woody, and nutty flavour.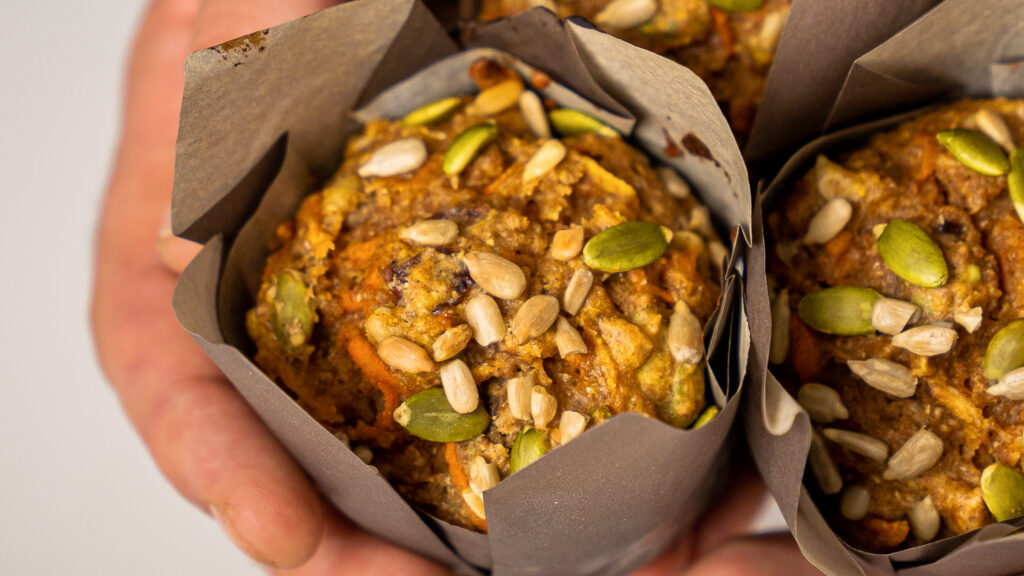 Tips for Nailing This Recipe
Make it your own! It is a fantastic recipe that you can be flexible and take in multiple directions. Feel free to make it delicious by using the seeds, nuts and dried fruits that you like and have available.
These ready-to-go energy breakfast muffins are the perfect recipe to be made with whole wheat flour. The whole wheat flour allows for whole grain and less refined sugar to help keep you fuller longer. 
The Trudeau Silicone Muffin Pan makes baking these muffins easier, especially when demolding them! 
These delicious and healthy handheld breakfasts are one recipe you don't want to miss!
Morning Glory Muffins
Print Recipe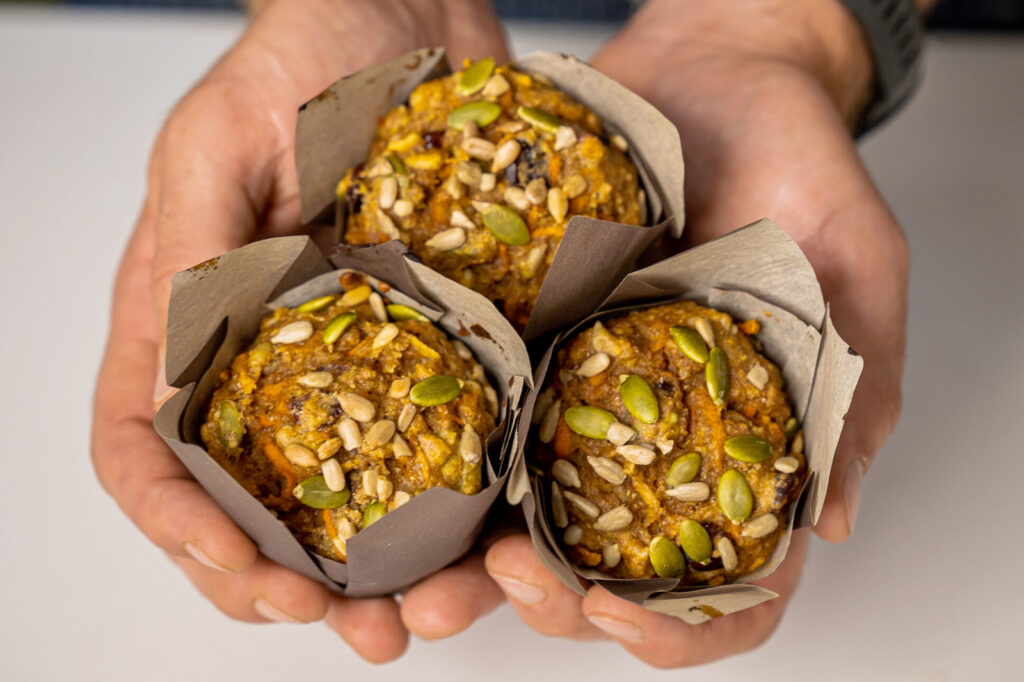 Ingredients
2

cups

whole wheat flour

2

tsp

baking soda

2

tsp

cinnamon

½

tsp

salt

3

eggs

1/2

tsp

nutmeg

½

cup

brown sugar

¼

cup

honey

⅓

cup

oil

⅓

cup

orange juice

zest of 1 orange

2

cups

grated carrots

1

cup

grated apple

½

cup

dried blueberries

cranberries work great too

¼

cup

pumpkin seeds + more to sprinkle on top

¼

cup

sunflower seeds + more to sprinkle on top

¼

cup

ground flax seed

1

tsp

vanilla
Instructions
Pre heat oven to 425 and prepare muffin tins with liners and cooking spray.

In one large bowl mix together the flour, baking soda, cinnamon, salt, and nutmeg. Whisk together and set aside.

In separate bowl, mix together the rest of the ingredients and mix thoroughly. Spend time here making sure the brown sugar is fully disolved.

Now, pour the wet ingredients into the dry ingredients. Using a spatula, fold everything together. Make sure to mix thoroughly to avoid any clumps of flour.

Scoop the batter into each prepared muffin tin. This will make between 12-14 muffins depending on the size of muffin you are looking for.

Bake 6 minutes, and then reduce the temp to 350 and bake for an additional 17-19 minutes. Remove from oven when you can poke with a toothpick and it come out clean.

Once baked, remove from oven and let sit in muffin tin for 10 minutes. Boom you are good to go! Enjoy these!
Andy's Notes
Keys to nailing these Morning Glory Muffins
Use as high quality ingredients as possible.
Measure out all your ingredients first, then start combining. Makes life and clean up easier.
Finish your muffins with a sprinkle of pumpkin and sunflower seeds
Pre-heat your over to 425, bake your muffins for 6 minutes, then reduce oven temp to 350 and cook for an additional 19-21 minutes.
Once you combine the wet and dry ingredients, use a spatula to fold everything together. Make sure there are no clumps of flour but also don't overmix the batter. Fine balance. You got this.
Print Recipe
(Visited 70,809 times, 25 visits today)