These feel good banana chocolate chip muffins are perfect for meal prep, school lunches, or anytime you are looking for a snack. And who doesn't love a good excuse to use up those sketchy bananas you have been collecting at the back of your freezer!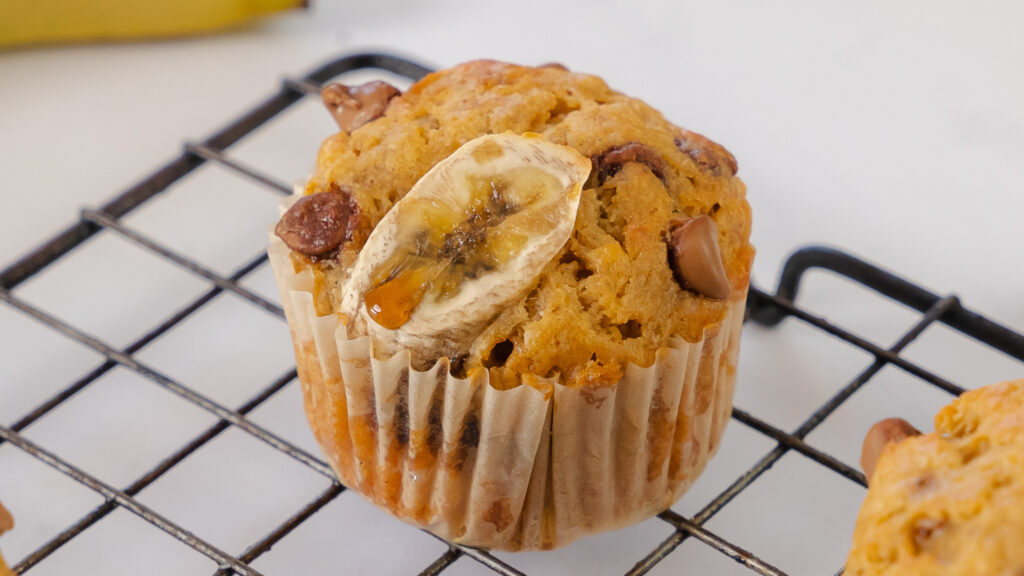 My little girls love muffins but, at least at the time of writing this blog, are pretty picky eaters. I think it's more of a power move they pull on me, but that is for another blog post. One type of muffin I know I can make that they will love is banana chocolate chip. I mean, who doesn't love banana chocolate chip muffins!!! Sweet, chocolatey and just a hug for your face!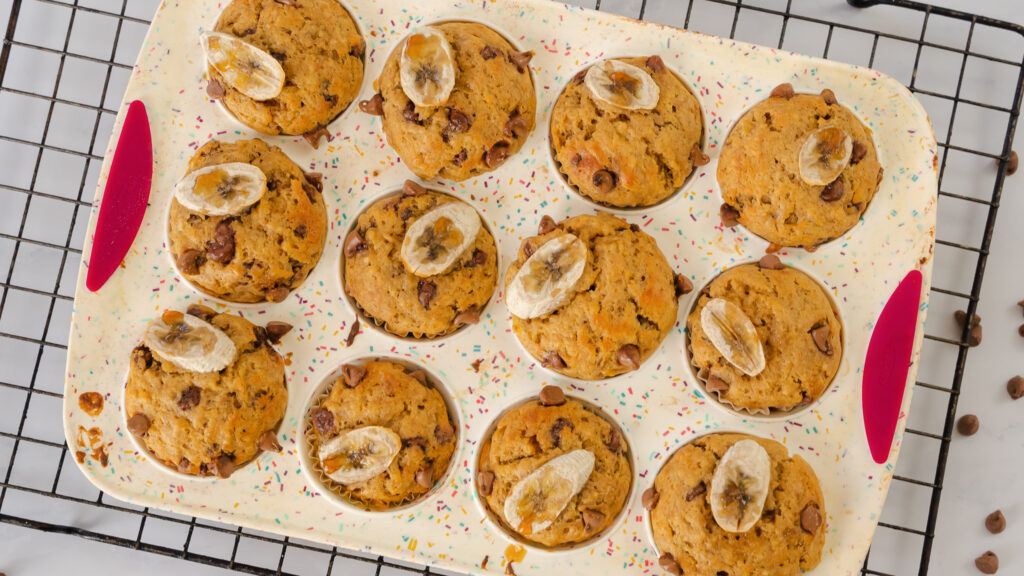 Haul out those sketchy bananas!
You really want to use bananas that are very brown for this recipe. Very ripe bananas have sweeter flavour and are perfect for baking with. I always make sure to save any bananas that turn brown on my counter and these muffins are the reward for reducing my food waste!
I love to make these muffins using a silicone muffin tin. Makes clean up easier and you never have to worry about sticking. Here is the brand I like to use.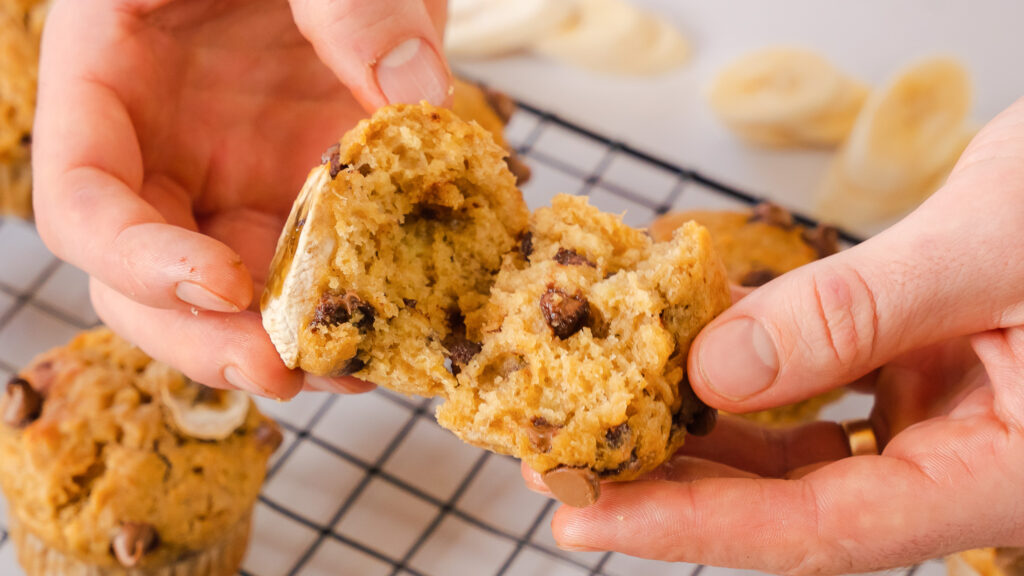 Let's breakdown the ingredients!
Very ripe bananas
Eggs
brown sugar
maple syrup
vanilla
Melted butter
Flour
Baking powder
Salt
Chocolate chips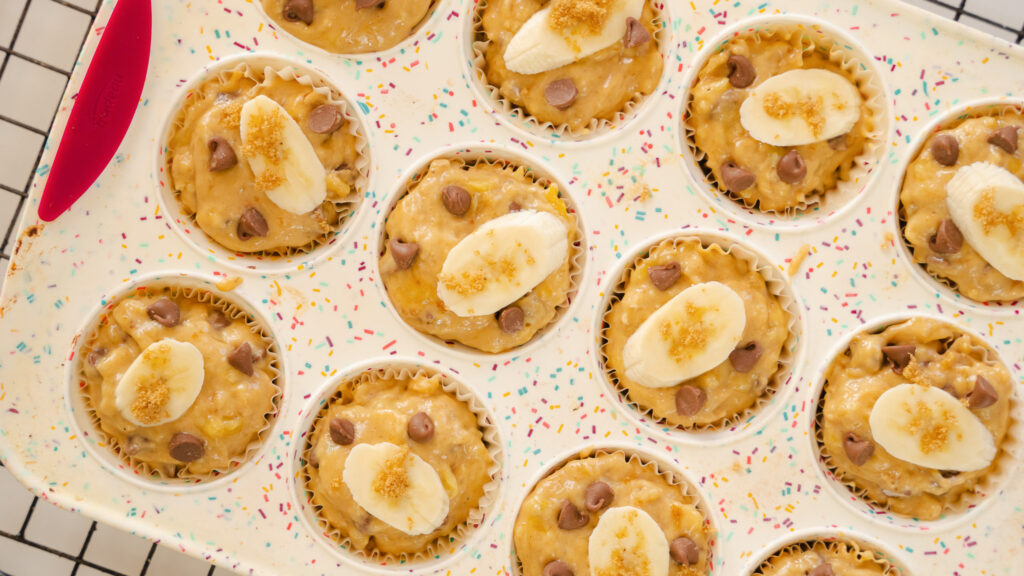 Tips for nailing these Banana Chocolate Chip Muffins
Use very ripe bananas. This will result in better texture and flavour
Don't over mix once you add in the flour. You want the muffins to be light and airy. If you over mix the flour once it is mixed with the wet ingredients the muffins will become tough.
Bake until you can poke with a tooth pick and it comes out clean. There is a lot of moisture in these muffins. They take a while to bake.
Top with a slice of banana and more chocolate chips.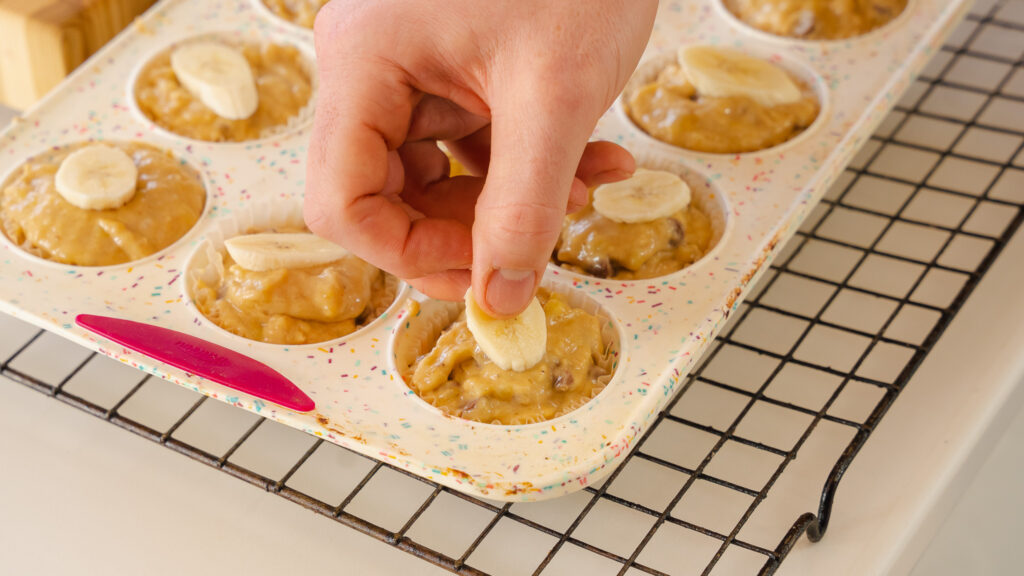 Other great muffin recipes you should try!
Pumpking Cheddar bacon muffins
Banana Chocolate Chip Muffins
Print Recipe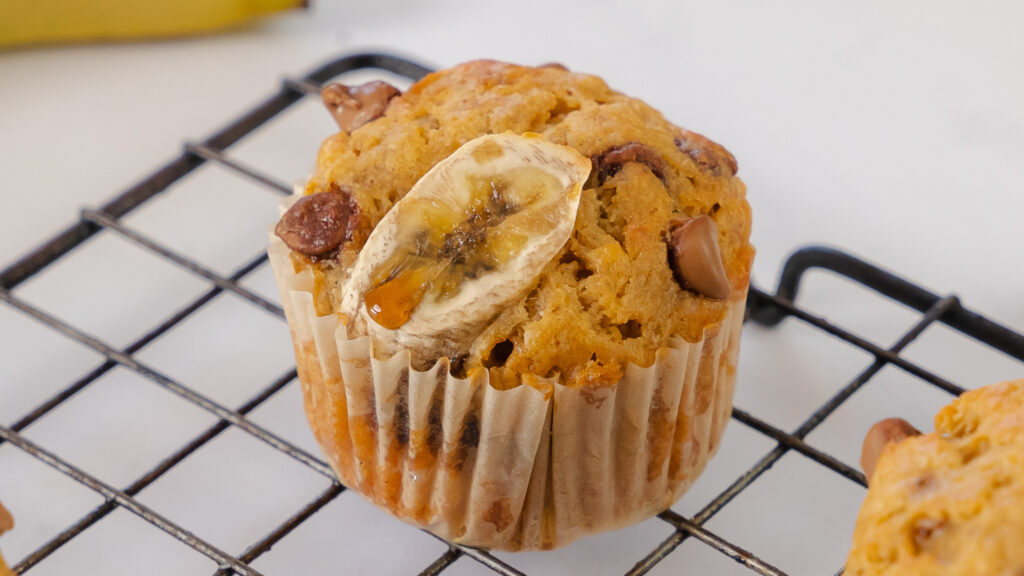 Ingredients
wet ingredients
1 1/2

cups

ripe bananas

about 4 bananas

3

eggs

1/4

cup

brown sugar

1/4

cup

maple syrup

1

tsp

vanilla

1/2

cup

melted butter
Dry ingredients
1 1/2

cup

flour

2 1/4

tsp

baking powder

1

tsp

cinnamon

1

pinch

salt

1

cup

chocolate chips
Additional ingredient
1

non ripe banana, sliced
Instructions
Preheat oven to 425 and prepare a muffin tin with butter or cooking spray.

In a bowl add in the bananas and mash with the back of a fork. Now add in the eggs, brown sugar, maple syrup, vanilla, and melted butter. Stir to combine.

Now add in the flour, baking powder, salt, cinnamon, and chocolate chips. Using a spatula mix together to combine. Be careful not to overmix.

Spoon about 1/4 cup of the batter into each muffin tin. I like to top with a slice of banana and additional chocolate chips.

Place muffins in the oven and bake for 5 minutes at 425F. After 5 minutes, decrease temperature to 350F and bake for an additional 25 minutes. Be sure to check the doneness of the muffins by poking with a toothpick after baking. If the toothpick comes out clean, they are done!

All the muffins to cool for 5 minutes and enjoy. How good do those smell!!!???
Print Recipe
(Visited 5,445 times, 2 visits today)