I have become addicted to this recipe. My wife and I both now crave these Morning Power Cookies every single say with our morning coffee. SLAMMED with so many nuts, seeds, and energy and zero added sugar, these cookies will sling shot you into your day and keep you firing on all cylinders. You are definitely going to want to make these. Trust me here.
Tips for nailing these cookies
This recipe really isn't very complicated, but here are two tips to make the results that much better
When you scoop the cookie dough out of the bowl use your hands and roll the dough into a ball. From there, use a spatula and press down on the cookie to flatten them out. Unlike a regular cookie, these will not spread. Also make sure that you whip your spatula clean after pressing each cookie. If not I found the cookie would stick to the spatula.
Allow the cookies to fully cool when you take them out of the oven. This takes patience, but you need to allow the coconut oil to cool to hold the cookies together.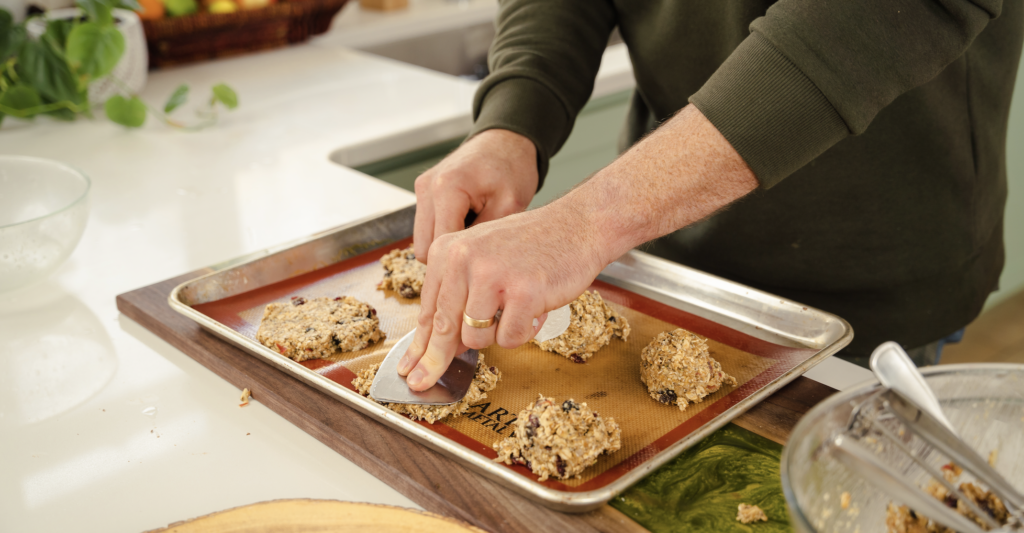 Morning Power Cookies
Print Recipe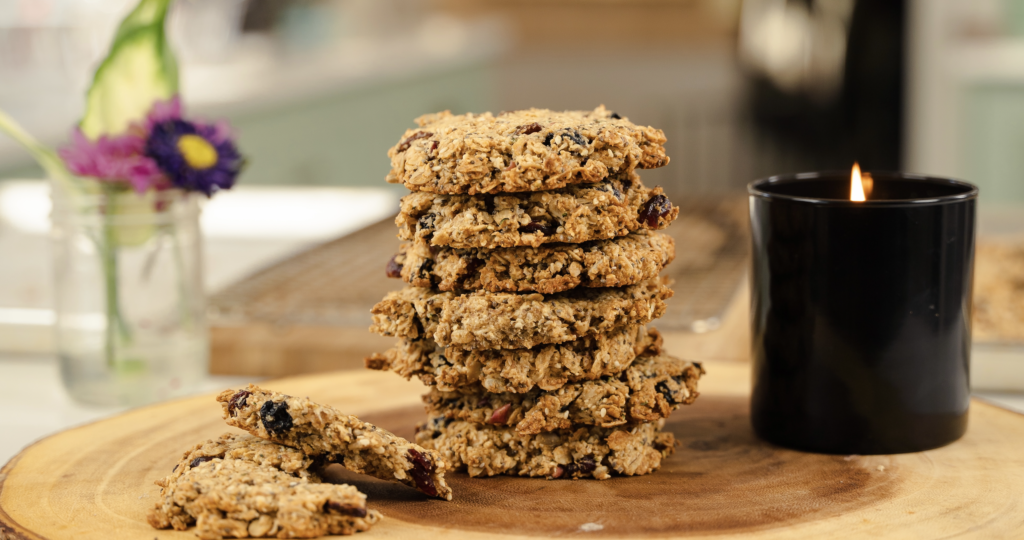 Ingredients
Wet Ingredients
1

Apple, grated

2/3

cup

natural peanut butter

3/4

cup

maple syrup

1/2

cup

flax seed + 1/2 cup water (aka flax egg)

1/2

cup

melted coconut oil

2

tsp

vanilla
Dry Ingredients
2

cups

Quick Oats

1

cup

oat flour

1

cup

unsweetened coconut

1/4

cup

hemp hearts

1/4

cup

chia seeds

1/4

cup

sesame seeds

1/4

cup

sunflower seeds

2

tsp

cinnamon

1

tsp

baking powder

1/2

tsp

salt

1/2

cup

dried cranberries (or dried blueberries)

1/2

cup

raisins
Instructions
Let's start with the wet ingredients. Grab a large bowl and start by adding in the flax seeds and water. This acts as the egg for this recipe. Now add in the grated apple, peanut butter, maple syrup, melted coconut oil, and vanilla. Mix until combined.

Now onto the dry! In a second bowl add in the oats, oat flour, coconut, cranberries, raisins, chia seeds, hemp hearts, sunflower seeds, sesame seeds, salt, cinnamon, baking powder. Mix together.

Now, you got it, combine both bowls together and mix together with a spatula.

Ok now preheat the oven to 350F and prepare 2 baking sheets with parchment paper. Using a ice cream scoop or spoon, scoop out 12-14 mounds of cookie dough and place them on the baking sheet. Leave about 1 inch between cookies.

Now, using the back of a spatula, push down on the cookies until their about 1/2 inch thick. I would suggest whipping the spatula between each cookie or the cookie tends to stick to the spatula.

Fire cookies into the oven and bake for 19-21 minutes or until the edges are a nice brown.

Once baking is done, remove baking sheets from oven and let the cookies sit on the pan for 5 minutes before transferring to a cooling rack. LET THEM COOL!

Once cookies have cooled, dig in and enjoy!
Print Recipe
(Visited 17,861 times, 825 visits today)