This post is brought to you by our partners at Prosciutto di Parma!
This sweet and salty pizza is going to change up your pizza night for the better. The combination of high-quality Prosciutto di Parma and fresh peaches just does it for me! Toss in some goat cheese, fresh arugula, and balsamic reduction, and I am telling you, you are in for a lovely treat!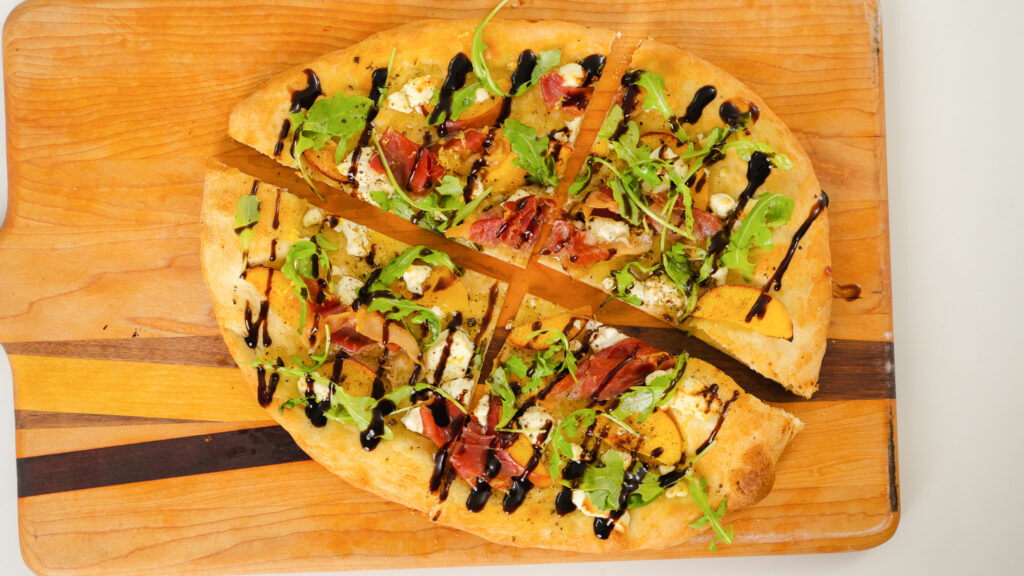 Let's Breakdown the Ingredients!
This Prosciutto Peach Goat Cheese Pizza is a recipe you have to try! This pizza is filled with sweet and savoury flavours that you will love together!
Prosciutto di Parma is the main ingredient that brings this dish together! It is a delicate cut of cured pork exclusive to the region of Parma in Italy, and you get a delicious sweet and mild flavour with every bite.
For this recipe, you can use my easy-to-make pizza dough recipe or store-bought pizza dough, and the outcome will be the same!
This recipe is simple, and I didn't overcomplicate my ingredient choice. Alongside the Prosciutto di Parma, I used sliced peaches and goat cheese.
Peaches have a fantastic mix of a sweet and sour taste, though some say it's on the sweeter size. On the other hand, goat cheese has a mildly earthy and tart flavour and a buttery texture.
Olive oil in this recipe allows the pizza dough to turn a beautiful golden colour and helps bind the Prosciutto di Parma, peaches, and goat cheese to the dough.
Once the pizza was cooked, I topped it with arugula, lemon zest, and balsamic reduction! Arugula adds a fresh and peppery flavour to the dish, making you feel a little bit healthier while eating a pizza! The zest of lemon adds an intense citrus flavour and a bit of bitterness to help balance out the sweet flavours on the pizza. And, of course, I added balsamic reduction, which has a sweet, rich, and tangy flavour!
Cooking with Prosciutto di Parma
This was the first time I had tried cooking with the Prosciutto di Parma brand, and I was honestly blown away. The ham is made with four ingredients; Ham, sea salt, air, and time. That is it. The flavour is amazing. Very clean, perfectly salted and just a lovely ingredient. I love cooking with prosciutto as it is just so versatile. Perfect for pizzas, salads, sandwiches, raw or cooked.
Making Pizza at Home
Pizza is an amazing meal to make at home. I mean, who doesn't like pizza?! I do have a few tips that take away a lot of the intimidation of making homemade pizzas. Firstly, let's chat dough. You have options here. You can easily make your own homemade dough which is always a fun challenge to tackle. Check my homemade pizza dough recipe here. If you are in a rush or just don't want to go through the hassle of making dough from scratch, don't be above buying frozen pizza dough from a grocery store or your favourite pizza shop.
Now that we have the dough sorted let's chat about pizza stones. The pizza stone is a ceramic tray that sits in your oven. It absorbs heat and helps create a nice crisp bottom to your crust. They are very inexpensive and definitely worth the investment. I always toss my pizza stone in the oven while it is preheating. The longer it can stay in the heat, the better!
The last tip I have is around building your pizza on parchment paper. This allows you to easily slide the pizza off of a cutting board or pizza peel onto the hot pizza stone. What I like to do as well is slide the pizza onto the stone, close the oven door for 90 seconds and then pull out the parchment paper and bake the pizza for another 9 minutes!
Prosciutto Peach Goat Cheese Pizza
Print Recipe
Ingredients
Store Bought Pizza Dough

1

cup

Sliced Peaches

200

grams

Prosciutto di Parma

3/4

cup

Goat Cheese

2

tbsp

Olive Oil

Lemon Zest

Arugula

Balasmic Reduction
Instructions
Preheat oven to 500F. Place a pizza stone in oven and allow to come to temperature.

Roll out the pizza dough on top of a piece of parchment paper and then top with olive oil, peaches, goat cheese, and Prosciutto di Parma. Slide pizza into the oven and bake for 10 minutes.

Once browned, remove from oven and top with arugula, lemon zest, and balsamic vinegar reduction.
Print Recipe
(Visited 623 times, 1 visits today)