Who doesn't love a good pickle? It's an easy way to add an extra zip to your meals, whether it be to your salads, sandwiches, tacos or basically any recipe that needs an extra flavour!
The best part of this recipe is that it only takes 20 minutes and can stay in your fridge for up to a month. It is a fun little "cheffy" tip, and I hope it's used in your kitchen!
Let's Breakdown the Ingredients!
These quick pickles are a fun recipe that can be used for many vegetables such as red onions, cucumbers and carrots! Pickle making is fairly easy, aside from your choice of vegetables, there are 3 main ingredients to making a pickle! 
White vinegar is made with fermented grains that have a mellow aroma with a tart acid flavour. Vinegar is a preservative that does not change the colour of light-coloured fruits and vegetables and is used as a flavouring agent.
White sugar is used are a preferred sweetener that does not mask any other pickling flavours. It adds a mellower flavour causing less of a "bite" to the pickled vegetables and fruits.
Salt in pickling recipes is another important ingredient, it is required for the safety of fermented pickles.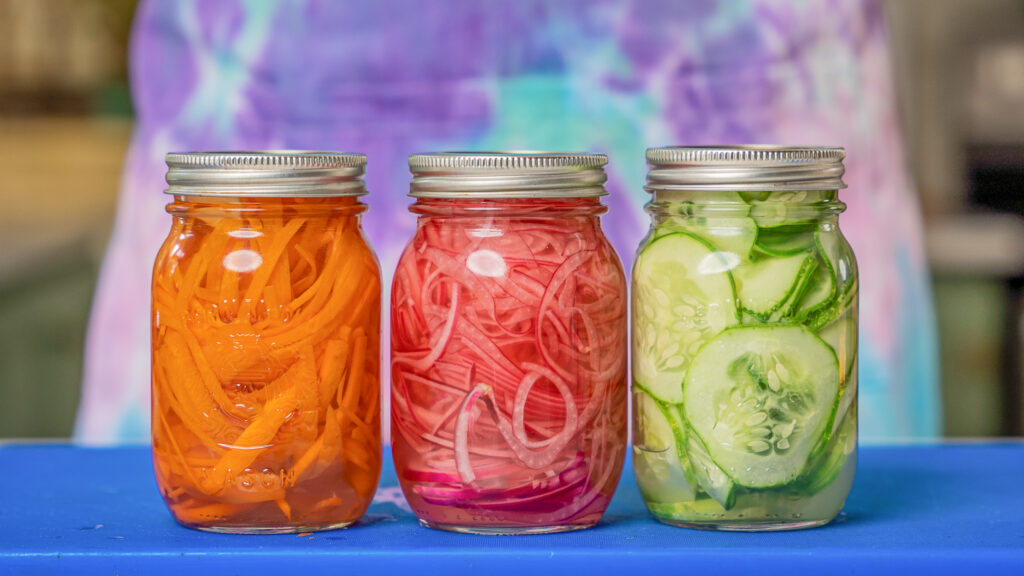 Quick Pickles
Print Recipe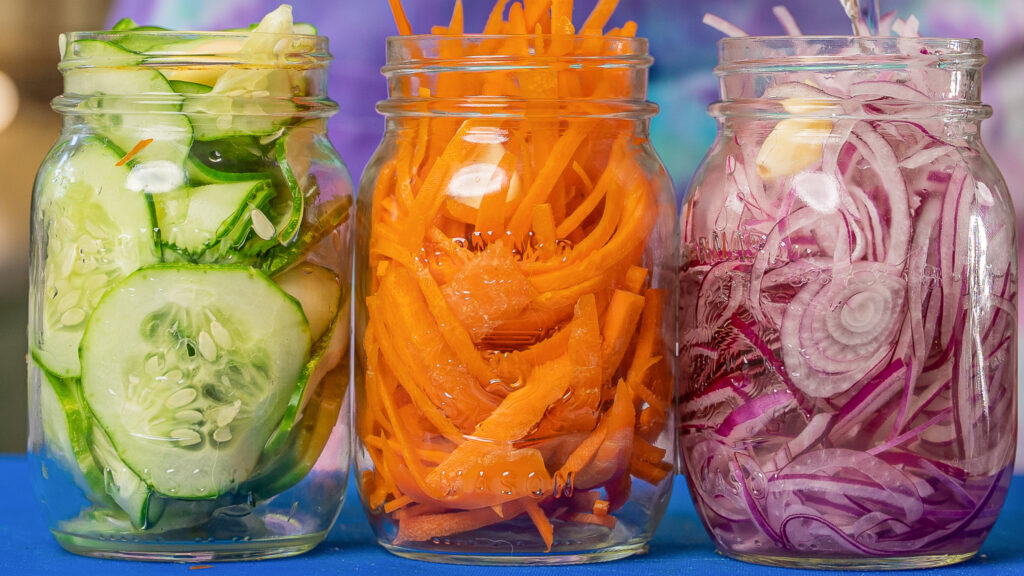 Ingredients
1½

cups

thinly sliced red onions

1½

cups

julienned carrots (matchsticks)

1½

cups

thinly sliced cucumbers

4

cups

white vinegar

4

tbsp

white sugar

4

tbsp

salt

3

jars

with lids
Instructions
Place a pot over medium high heat and pour in the vinegar, salt, sugar. Simmer and stir until both the sugar and salt are fully dissolved. Once dissolved, remove from heat.

Pour vinegar over the prepared vegetables. Let the vinegar work it's magic for about 20 minutes. Boom, you're done and enjoy these pickles on EVERYTHING!
Andy's Notes
Tips for nailing these quick pickles
Cut your vegetables as thin as possible. Life becomes a bit easier if you have a mandoline slicer at home, but if not make sure you have yourself a sharp knife and really focus on your knife work. Thin = Faster pickle + better eating experience.
Print Recipe
(Visited 121,500 times, 1 visits today)