I realized very recently I did not have a pulled pork recipe on the website, and I knew immediately that I needed to change that. I love a good pulled pork every now and then! This is the perfect potluck dish as you can make it a day ahead, let it cool in the fridge, and then reheat it when you are ready! Perfect for tacos, sandwiches, pizza topping, anything really!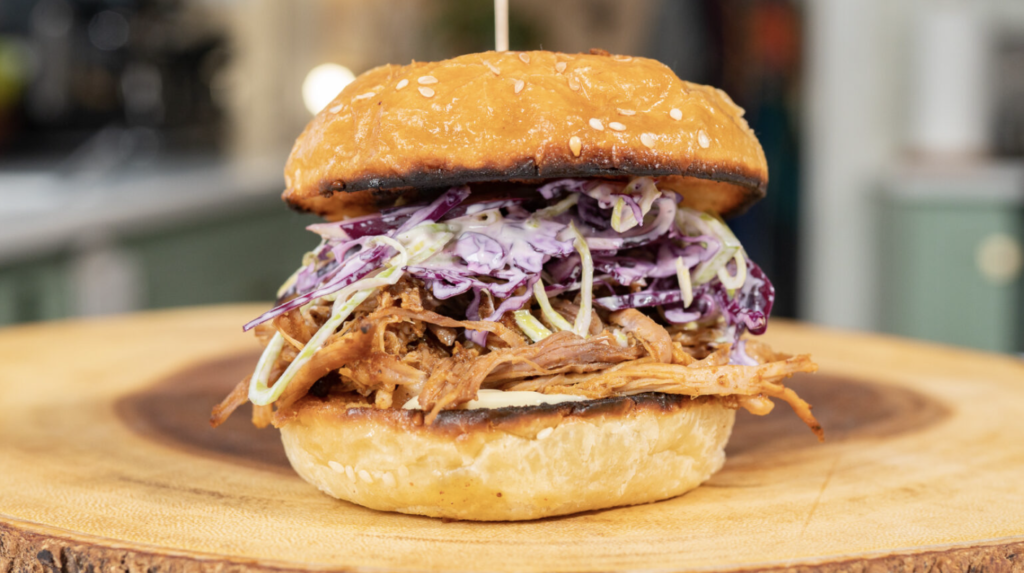 Let's Breakdown the Ingredients!
When making pulled pork the cut of the meat is extremely important. That is why using pork shoulder with both bone and skin on gives the best results when making pulled pork. This cut has the optimal fat content that creates tender, melty meat.
Dry Rub
The dry rub I use for this recipe is kosher salt, black pepper, smoked paprika, chilli powder, cumin, garlic powder, dried oregano.
Kosher salt has wider and coarse grains which helps enhance the flavours of the dish rather than make it salty and the black pepper gives a sharp and mild spice to the pulled more.
Smoked paprika adds a really nice smoky flavour to the pulled pork, depending on the mix of the chilli powder it can give a mild to moderate spicy and savory taste, and the cumin adds a warm and earthy flavour. While garlic powder is only a dehydrated version of fresh garlic, it tastes sweeter and less assertive, while the dried oregano is a bit "pungent" that is slight sweet, spicy and peppery.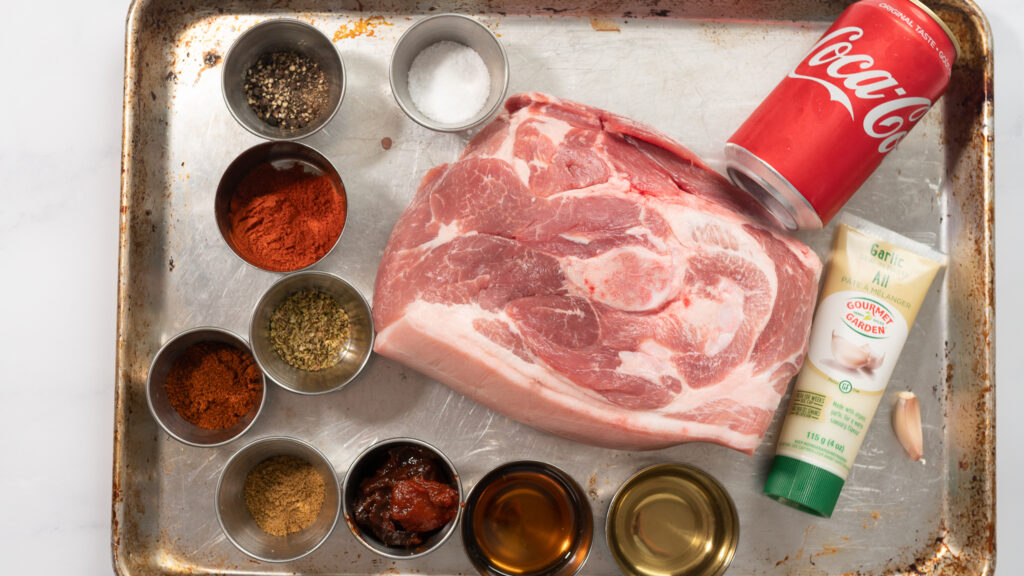 Braising Liquid
This pulled pork recipe call for a braising liquid, which helps tenderize meat when cooking and adds a rich sauce.
The majority of this recipe is made up of liquids such as maple syrup, apple cider vinegar, beef stock, water, and Coca-Cola.
Maple syrup helps adds a hint of sweetness to this recycle that is full of flavourful spices. The apple cider vinegar creates a slightly acidic and sour taste, while the beef broth and water adds balancing flavours and helps partially submerge the meat.
One ingredient that may surprise you here is Coca-Cola. You may be second-guessing this one, but trust me, it will add incredible caramel-like complexity to the dish.
The last ingredient I like to add to my braising liquid is chipotle peppers and sauce. They both add a smiley, spicy and mild sweetness to the pulled pork!
Slaw
This slaw is quite simple to put together using red cabbage, leeks, cilantro, mayo, salt, and fresh lemon juice. Red cabbage is slightly more peppery than regular cabbage. The leeks also add sweetness and oniony flavour, while the cilantro adds a citrus flavour to the slaw.
The mayo helps incorporate that creaminess needed to make a slaw, and the fresh lemon juice adds a tart flavour while thinning the consistency of the mayo.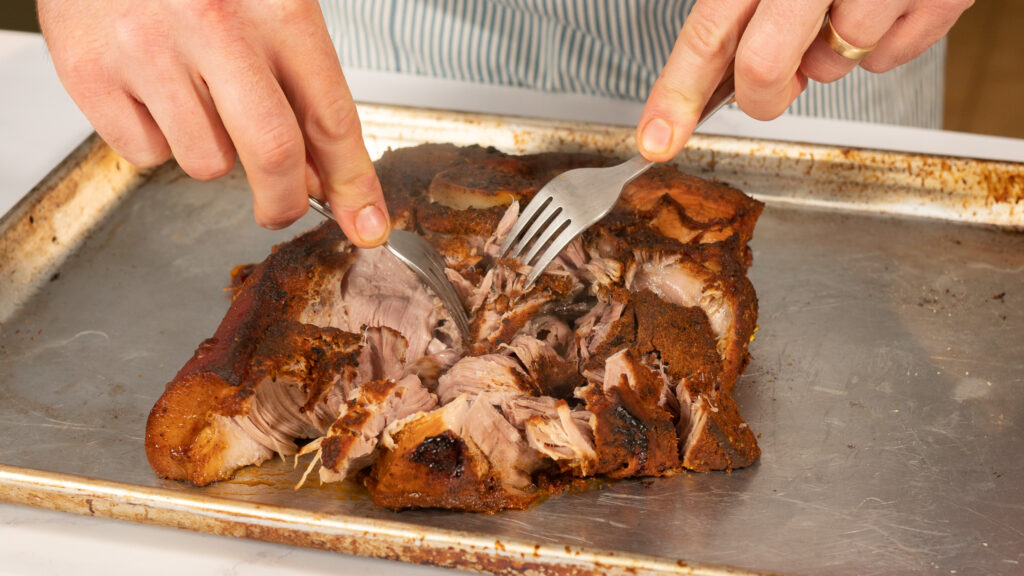 Tips for Nailing this Recipe!
Dry rub and smear. I like pulled pork that has a nice crust on it. In order to achieve this, I like to pre-sear the pork before braising it. I first season the pork shoulder with all the dry spices and then drop it into a dutch oven set over high heat. I sear each side for 3-4 minutes or until dark brown, maybe even a black spot here and there. Once all sides are seared w can add in the liquid ingredients.
Braise the pork in a dutch oven. Dutch ovens are amazing for braising and a must-have kitchen tool for me. They don't have to be expensive, and they will last forever. Treat yourself!
Let the pork rest with the lid on after it is done cooking for 10 minutes. This will allow the meat to relax and absorb more of the juices.
Toast the buns. It may seem trivial but makes a difference. No traffic on the extra mile.
If possible, serve the slaw cold.
Sweet and spicy Pulled Pork sandwich
Print Recipe
Ingredients
Pulled pork (dry rub)
4

lb

Pork Shoulder, bone in skin on.

4

tsp

kosher salt

1

tbs

black pepper

1

tbs

smoked paprika

1

tbs

chilli powder

1

tsp

cumin

1

tbs

garlic powder

1

tbs

dried oregano
Pulled pork (braising liquid)
2

canned chipotle peppers

1

tbs

Sauce from canned chipotle peppers

1

tbs

maple syrup

1/4

cup

apple cider vinegar

4

cloves

garlic, sliced

1

can

coca cola

1

cup

beef stock

1

cup

water
Slaw
1

cup

thinly sliced red cabbage

1/2

cup

thinly sliced leeks

1/4

cup

freshly chopped cilantro

basil or parsley work too.

1/4

cup

mayo

1/2

tsp

salt

1

squeeze

fresh lemon
Instructions
Place pork shoulder on baking sheet or cutting board and sprinkle on dry rub. Massage into meat and make sure all parts of the pork is covered.

Place a lightly oiled dutch oven over medium high heat. Once temperature has been reached, lay in pork and sear on all sides. You are looking for a nice crush here so don't be shy. About 4 minutes per side.

Once all sides of the meat is seared, add in the braising liquid ingredients and place it back on stove top over high heat. Once a simmer has been reached, place on the cover and place in the preheated oven for 90 minutes.

After 90 minutes, remove the dutch oven from the oven, remove lid, and flip the pork shoulder over. Be careful not to splash yourself with hot braising liquid. Cover the pork and place back in the oven for an additional 90 minutes.

Let's kick on with the slaw. Nothing fancy here. Add the cabbage, leek, cilantro, salt, mayo, and lemon juice in a bowl. Stir and then let chill in the fridge until ready to serve.

After the pork is done cooking, remove from oven and let rest on stove top with lid on for 10 minutes. After the 10 minutes, shred the pork with two forks. I like to shred directly in the braising liquid but maybe give it a taste test to make sure it's not too spicy for you.

Now build the sandwich. I like to toast my buns and suggest you do the same. Enjoy with a cold beer.. if that is your thing!!
Print Recipe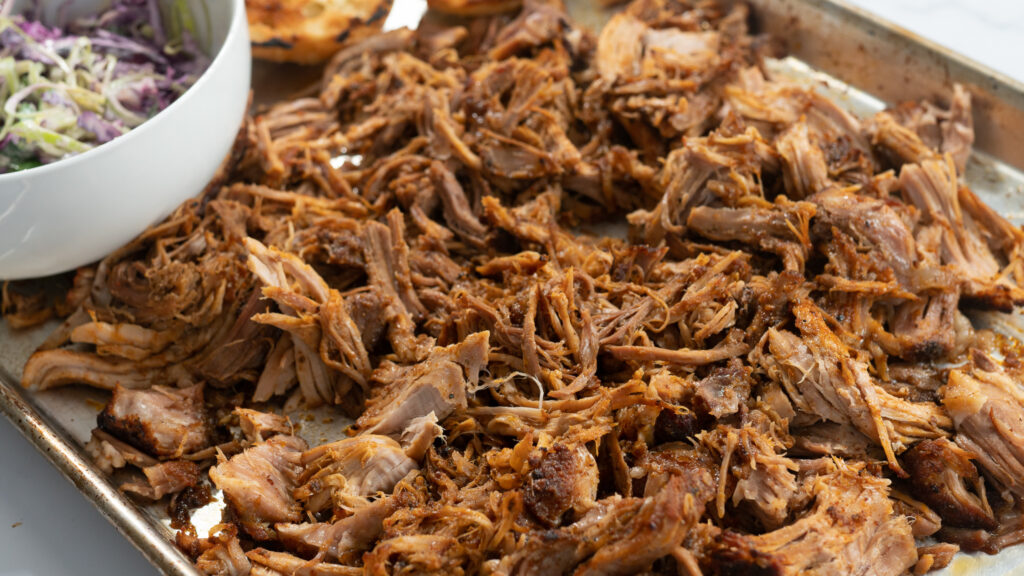 (Visited 4,760 times, 12 visits today)