How we doing folks have you tried the latest viral Green Goddess salad recipe on tiktok? This quick and easy recipe is taking the internet by storm, and for good reason! Not only is it visually stunning, but it's also packed with nutrient-rich ingredients that will leave you feeling satisfied and energized.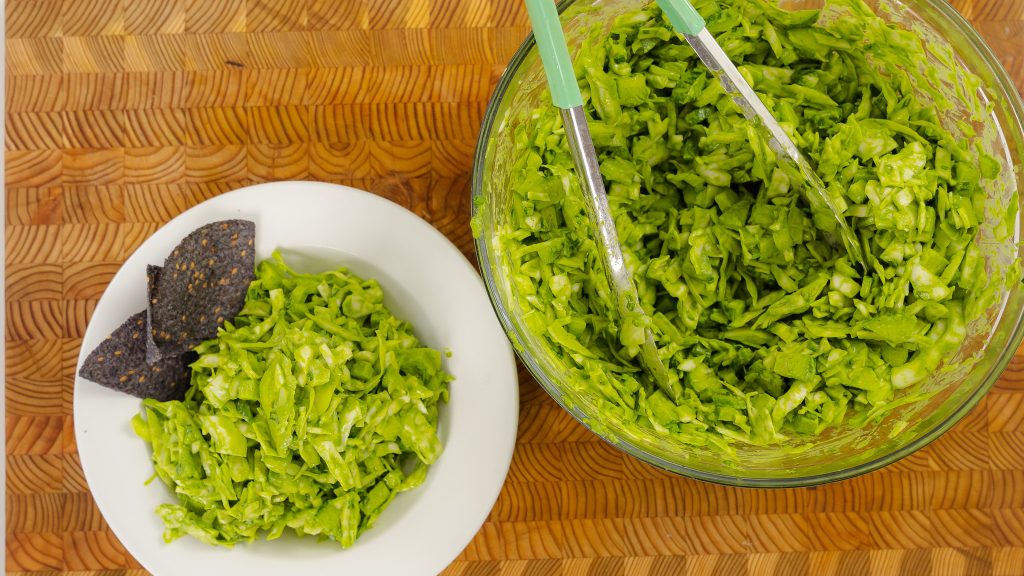 To make this delicious Green Goddess Salad recipe, let's start with the salad ingredients. Into a bowl throw in shredded cabbage, chives, green apple, and cucumber. Then mix up the dressing. Into a blender toss together garlic, lemon juice, shallots, green onions, parsley, spinach, olive oil, red wine vinegar, nuts, and salt. Simply blend everything together in a food processor until smooth and creamy, and you're done! It's that easy.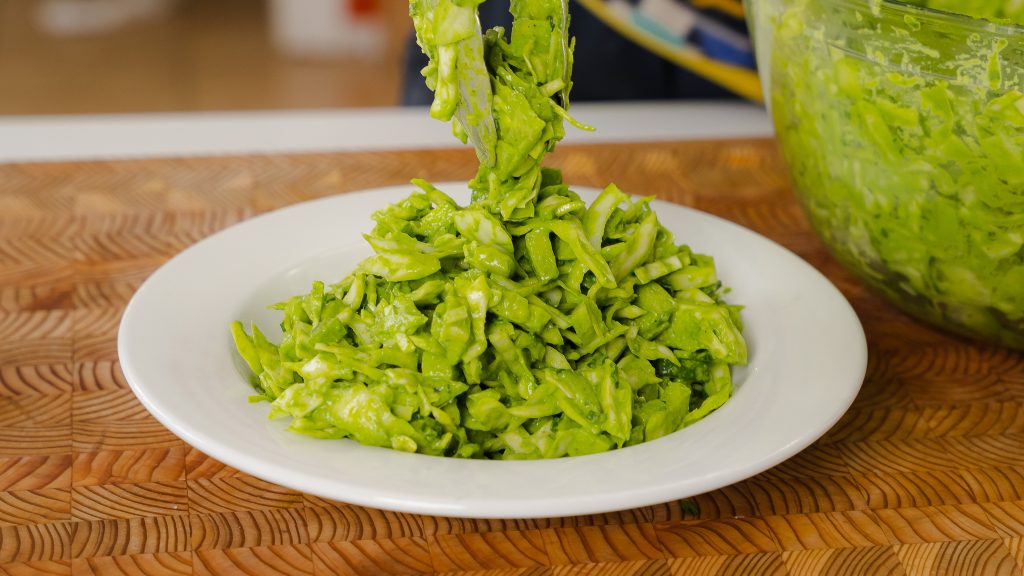 The Green Goddess salad recipe is perfect for a quick and healthy snack, or you can use it as a dip for veggies or crackers. I also used nacho chips and scooped this salad like a dip! It's also a great way to add some flavour and nutrition to your favourite sandwiches or wraps.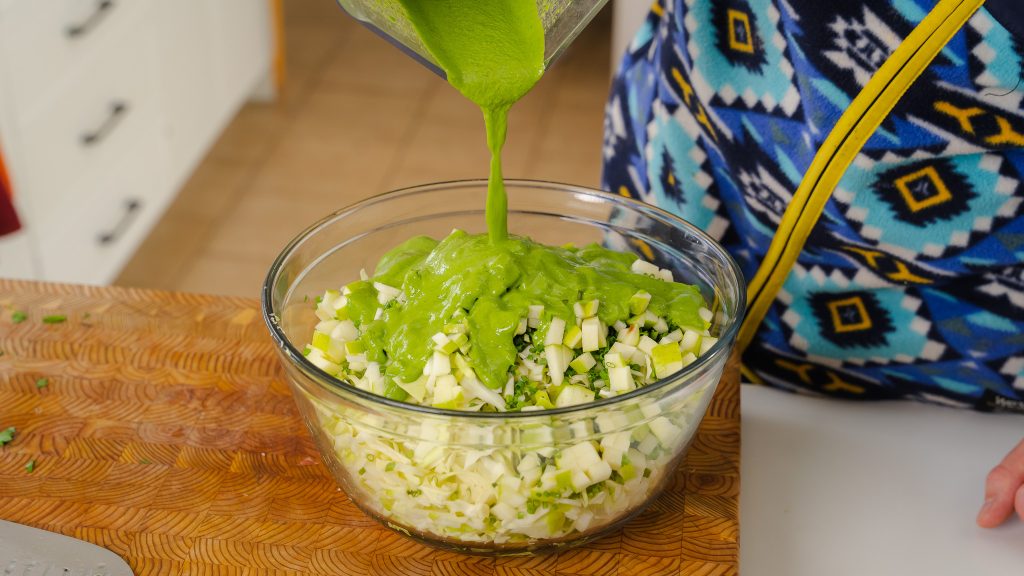 At The East Coast Kitchen, we love to experiment with different flavour combinations, so we recommend adding some extra ingredients to make this recipe your own. Try adding some jalapeño for a spicy kick, or swap out the herbs for more greens such as spinach or kale!
Overall, we highly recommend giving the viral TikTok Green Goddess salad recipe a try. It's healthy, delicious, and perfect for a quick snack or meal. Give it a go and let us know what you think!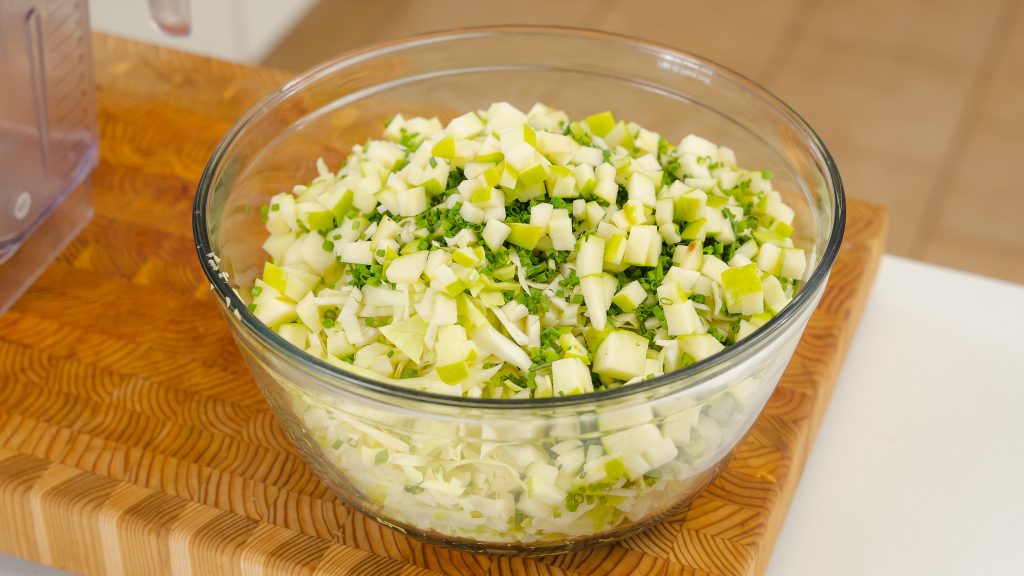 Other salads you might love!
Viral Green Goddess Salad
Print Recipe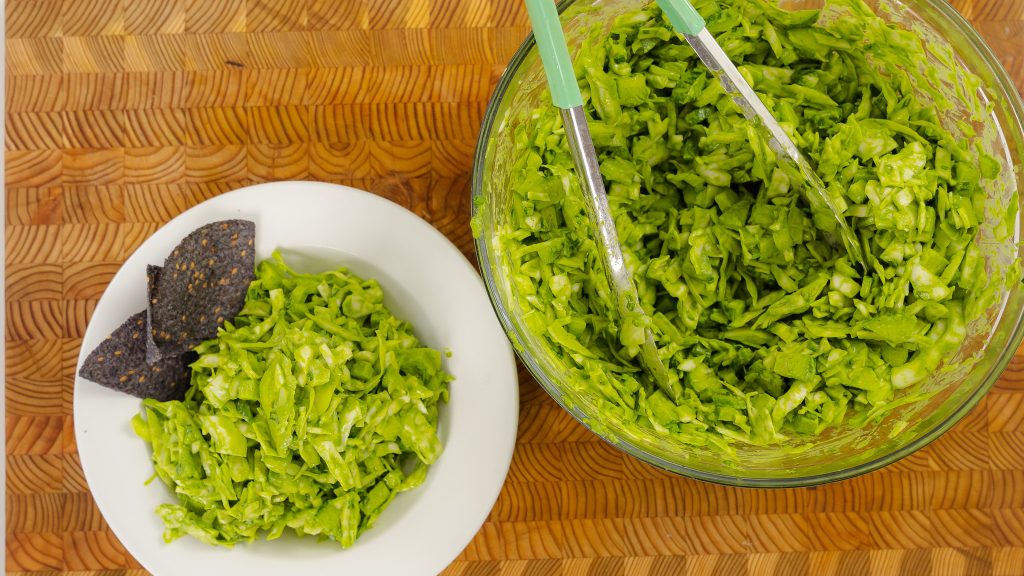 Ingredients
Salad Ingredients
1

cucumber, diced

1/2

head

green cabbage, sliced and then chopped

1

cup

chives, thinly sliced

1

green apple, diced
Dressing
3

cloves

garlic

2

lemon, juiced

1

tsp

black pepper corns

1

shallot or 2 tbs red onions

1/2

cup

green onions

1

tsp

salt

1

cup

parsley

1

cup

spinach

1/4

cup

nuts (anything will work here)

2

tbs

red wine vinegar

1/2

cup

olive oil
Instructions
In a large salad bowl mix together diced cucumber, chopped cabbage, chives, and diced apple.

Into a blender or food processor mix together garlic, lemon juice, peppercorns, shallot, green onions, salt, parsley, spinach, nuts, red wine vinegar, and olive oil.

Toss salad and serve with nacho chips
Print Recipe
(Visited 11,403 times, 8 visits today)