This fresh, bright, quinoa salad was supposedly what Jennifer Aniston ate every single day while on the set of friends. Interpret that fact as you will! This salad is filled with herbs, nuts, quinoa, and tons of veggies. You are going to love this Jennifer Aniston Salad!
So what is this Jennifer Aniston Salad?
This Jennifer Aniston salad is somewhat reminiscent of a tabouli salad. Filled with quinoa or bulgur wheat, this provides a solid base to the salad that makes it eat like a meal. It's not only delicious and packed with a ton of flavour, but it also has the perfect amount of protein, smart carbs, healthy fats, and veggies – all the components of a good meal-sized salad.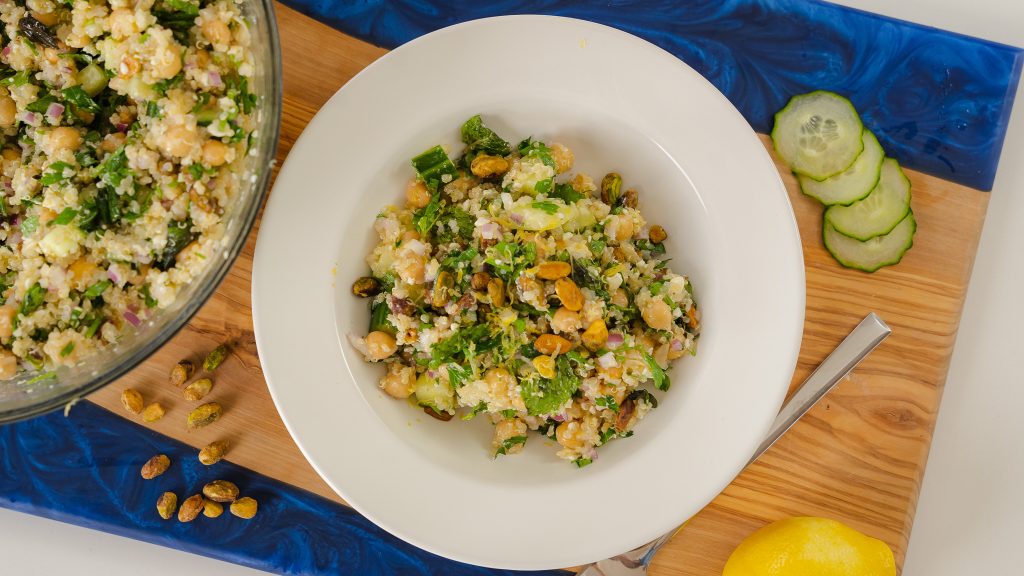 Let's breakdown the ingredients
Quinoa or bulgar wheat. This is the base of the salad. I love using quinoa as it is super nutritious.
Chickpeas – I used one 15oz can of chickpeas. Make sure to rinse them
Pistachios – I love a good pistachio! Delicious and great colour.
Herbs – Mint and parsely keep this dish freshhhh
Cucumbers
Red onions
Lemon Juice
Olive oil
Salt & Pepper
Feta Cheese- This brings great texture and saltiness to the salad
Great Meal prep
If you follow my account on instagram (@AndysEastCoastKitchen_)you know I am a massive fan of meal prepping. I love spending an hour on sunday making food for my family to help make our weeks operate that much more smoothly. A little effort goes a long way. This Jennifer Aniston salad has been a constant rotation for us recently and I am hopeful you and your family will love it too!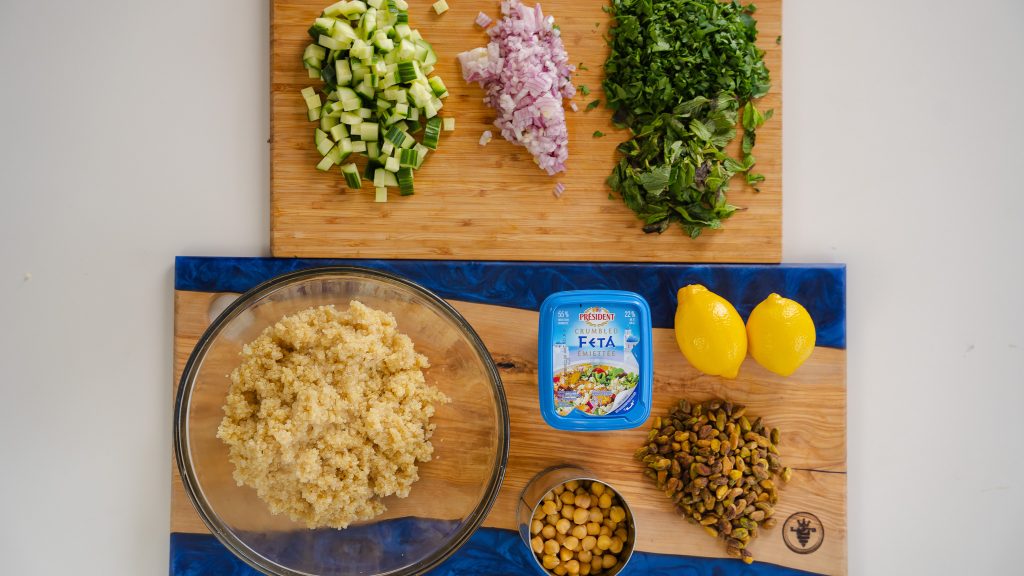 Other meal prep salads you will love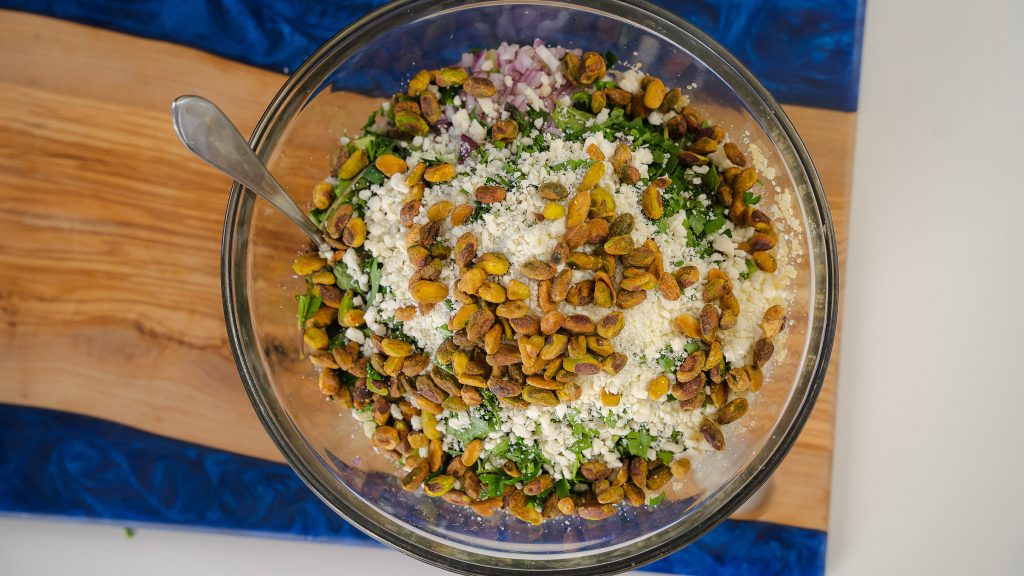 Jennifer Aniston Salad
Print Recipe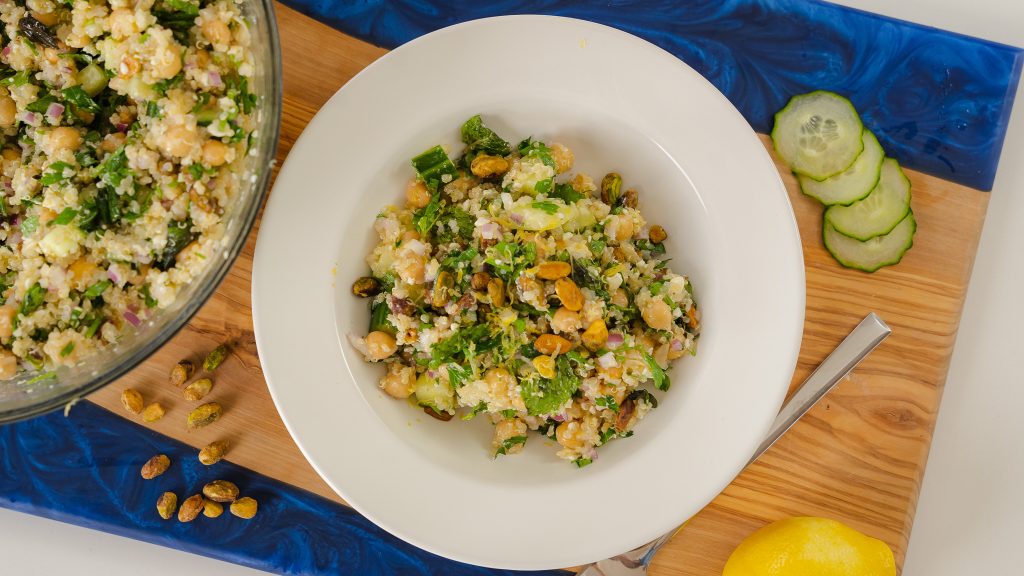 Ingredients
1

cup

uncooked quinoa

2

cups

water

1

15oz

Can of Chickpeas, drained

1

cup

roasted pistachios, chopped

1 1/4

cup

cucumbers, diced

1/2

cup

red onion, dicd

3/4

cup

mint, chopped

3/4

cup

parsley, chopped

3/4

cup

feta

2

lemons, juiced

1/4

cup

olive oil

Salt to taste

Pepper to taste
Instructions
Place quinoa and water into a medium sized pot and place over high heat. Once boil has been reached, reduce heat to low and place a cover on the pot. Allow quinoa to simmer for 15 minutes and then turn off the heat. Leave the cover on for 5-10 minutes and then remove and fluff with a fork. Pour quinoa into large bowl.

Now add in rinsed and drained chickpeas, pistachios, cucumbers, onion, mint, parsely, feta, lemon juice, olive oil, and salt and pepper. Enjoy!
Print Recipe
(Visited 164,474 times, 245 visits today)