This is a super fun one, folks! This quick and easy Bagel Hole in the Wall's an incredible brunch trick that will absolutely impress your family and friends at the next early morning gathering. These are so customizable and family-friendly that you won't want to poach an egg ever again. Let's crack on!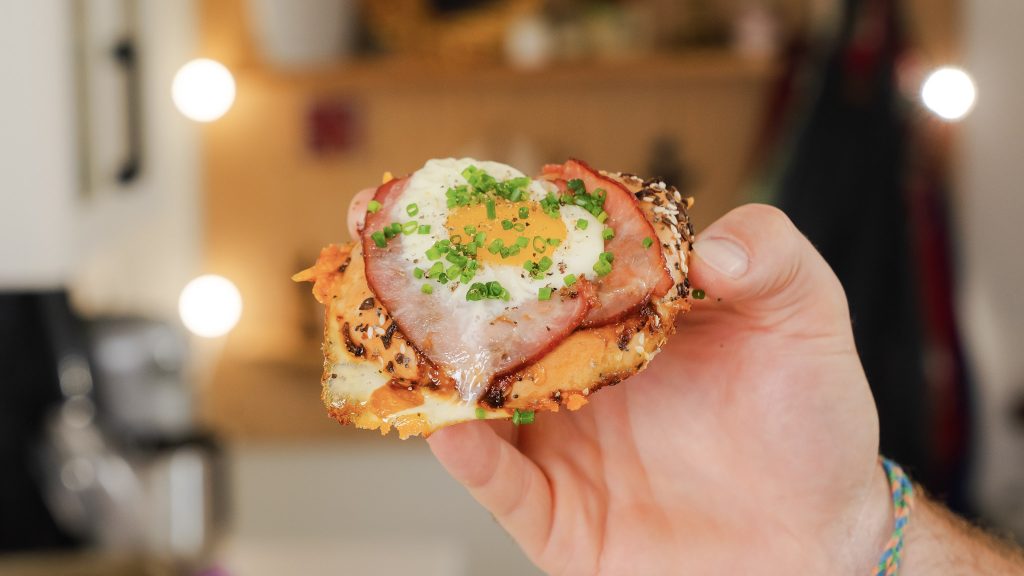 Find the bagel thats right for you!
The key to this one is, of course, the bagel. I used my favourite store-bought bagels for ease of convenience. However, if you really want to wow your guests, here is the link to our easy homemade bagels, just in case!
There are many different beagle types out there, from the classic NY style to the underrated Montreal style (which is one of my favourites). I like to use bagels for these kinds of recipes because they can hold their weight in toppings. You could use a slice of bread( preferably a thick slice of sourdough), but it might not hold up as well!
A simple but important trick.
This is a super simple recipe with no major tips and tricks, but there is one move that you really have to do, and that's widening the hole.
We want to stuff as much ham and egg as possible; if the center needs to be wider, you could risk skimping on your toppings or having the egg slide off in the oven. We want to make as much room or flavour as possible!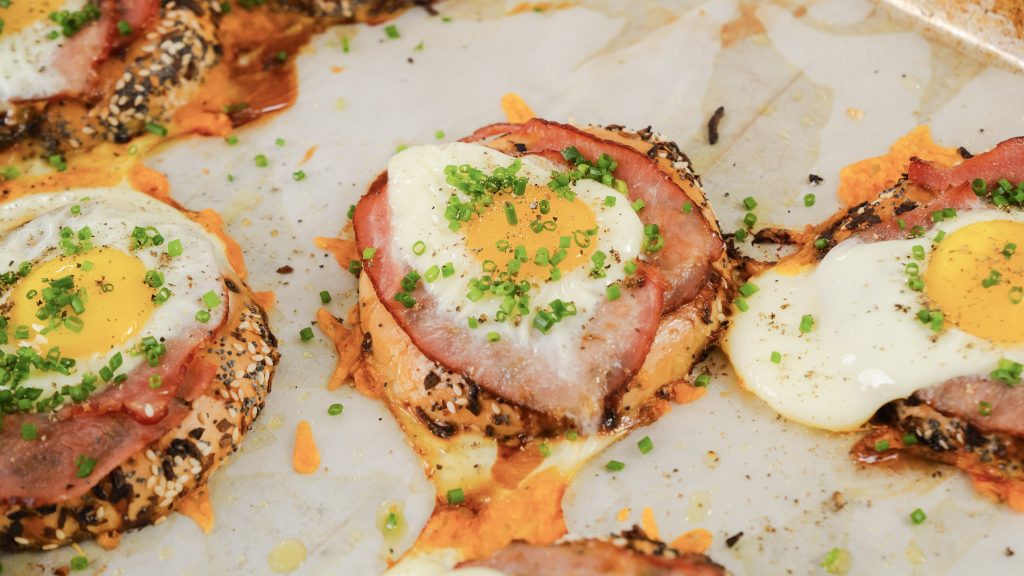 Bake it your way, the right way.
Not a fan of a runny yolk? That's totally okay! No need to exclude yourself from the fun.
All that you're going to want to do is keep your tray in the oven for a few extra minutes. If you really don't jive with a creamy, runny center, pull your tray from the oven when it's halfway done baking and break the yolks. They're going run down the side of the bagel, but you save yourself some extra bake time and an overcooked, grey egg yolk.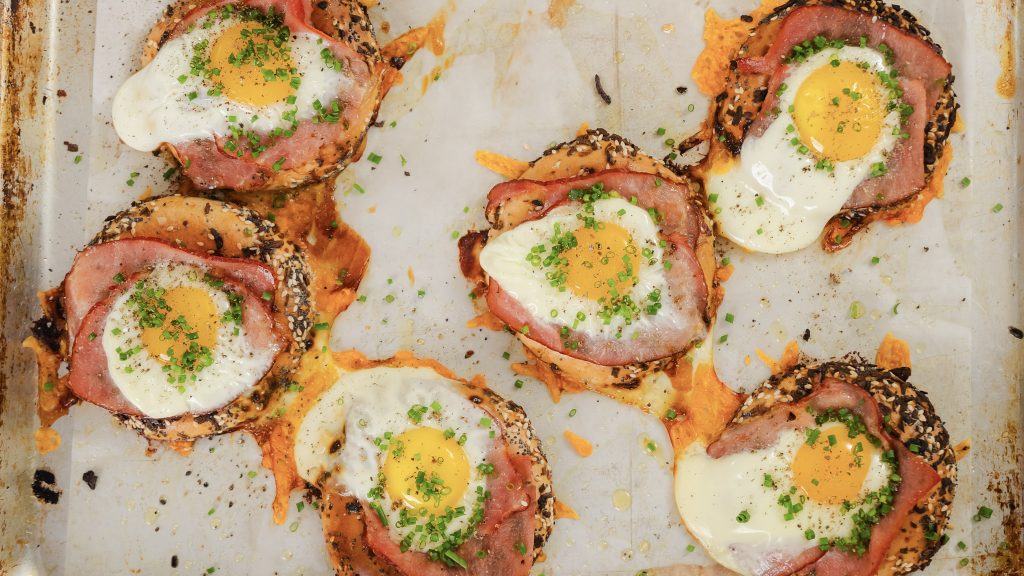 Other brunch recipes to check out!
If you like the looks of these Bagel Hole in the Wall, here are a few other recipes we think you should check out!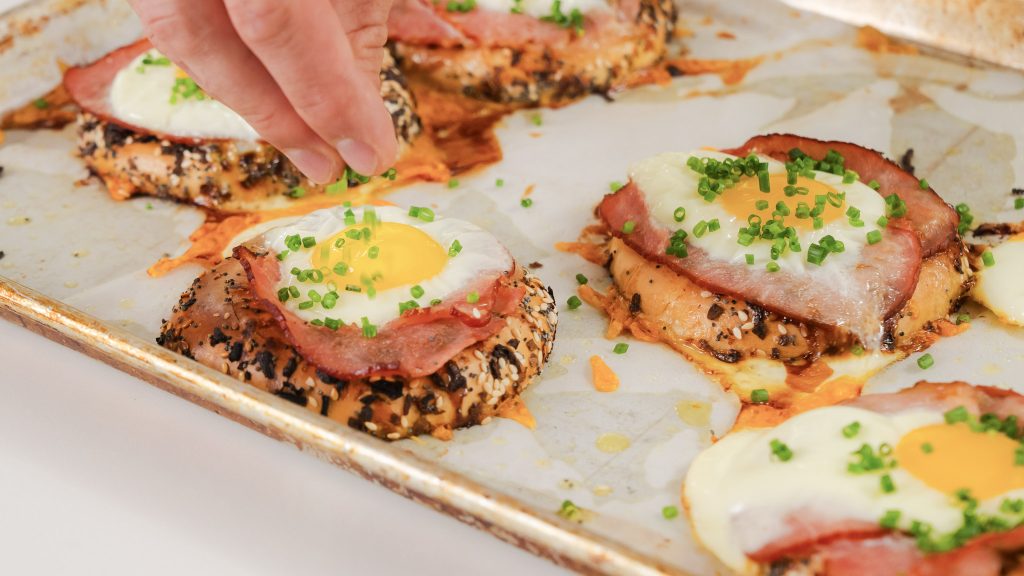 Bagel Hole in the Wall
Print Recipe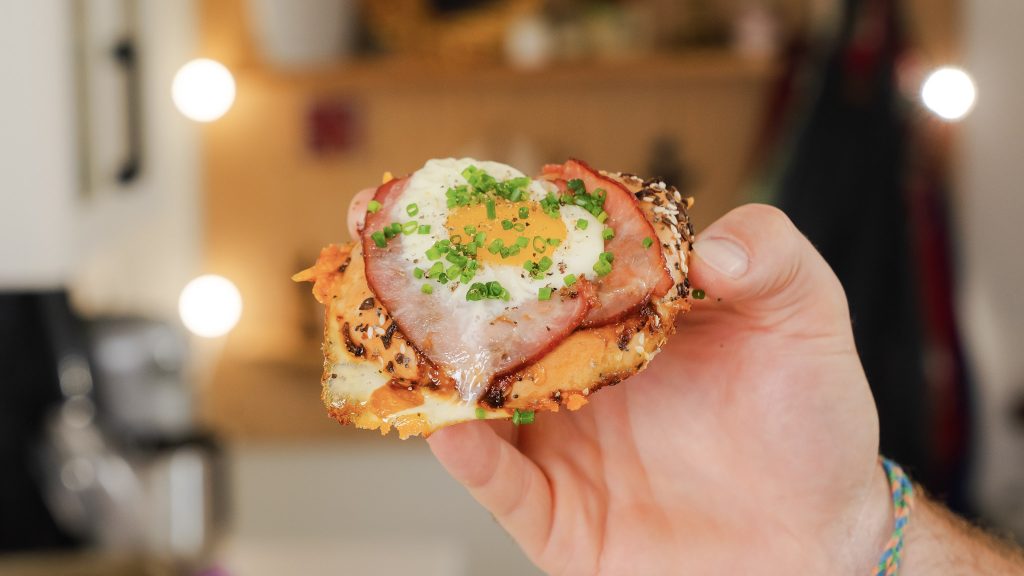 Ingredients
3

Bagels

Use your favourite

12

thick

Canadian back bacon

6

large

Eggs

1 1/2

cups

Shredded Cheese

1/2

cup

Chives

Sliced

1

tsp

Black pepper
Instructions
Pre heat oven to 350F.

Cut your bagels in half and then using a cookie cutter make the inside hole of the bagel bigger. This is a crucial step otherwise the egg will run everywhere.

Fill the bagel hole with the two sliced of back bacon.

Place about ¼ cup of shredded cheese onto a baking sheet and then place the bagel cut side down on-top of the cheese. Back bacon should be on top of the bagel as well.

Crack an egg onto the bacon. Yolk should sit in the bagel hole indent. Complete all of the bagels.

Place bagels in oven for around 15 minutes or until the egg is and yolk is at your desired runniness.

Top with chives and black pepper.
Print Recipe
(Visited 1,266 times, 14 visits today)