One of my all-time favourite snacks, folks, these Beer Pretzels are sure to wow everyone and hit the spot every time. The yeasty IPA flavour goes so well with its soft and salty texture. The best part about this recipe is that it uses non-alcoholic beer! Grab some garlic butter and crack a can; this one is fun!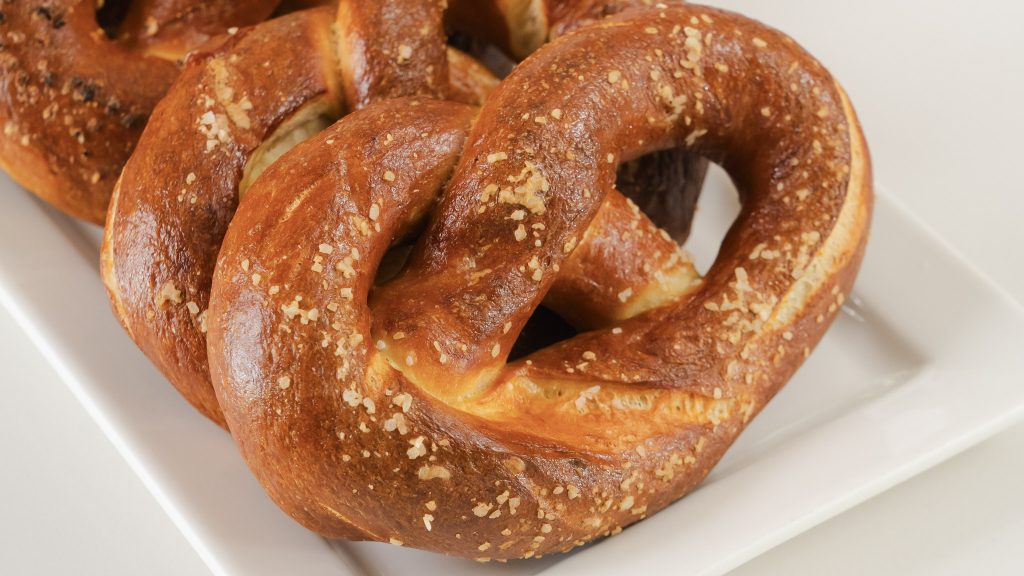 Why use beer for the dough? 
Beer and soft, salty pretzels are an age-old paring dating back to the old days in Germany. The salty coating makes you thirsty, and the soft bread helps you keep going. Together, they make the perfect bar snack!
After years of enjoying the two together, combining them only made sense; thus, the beer pretzel was born.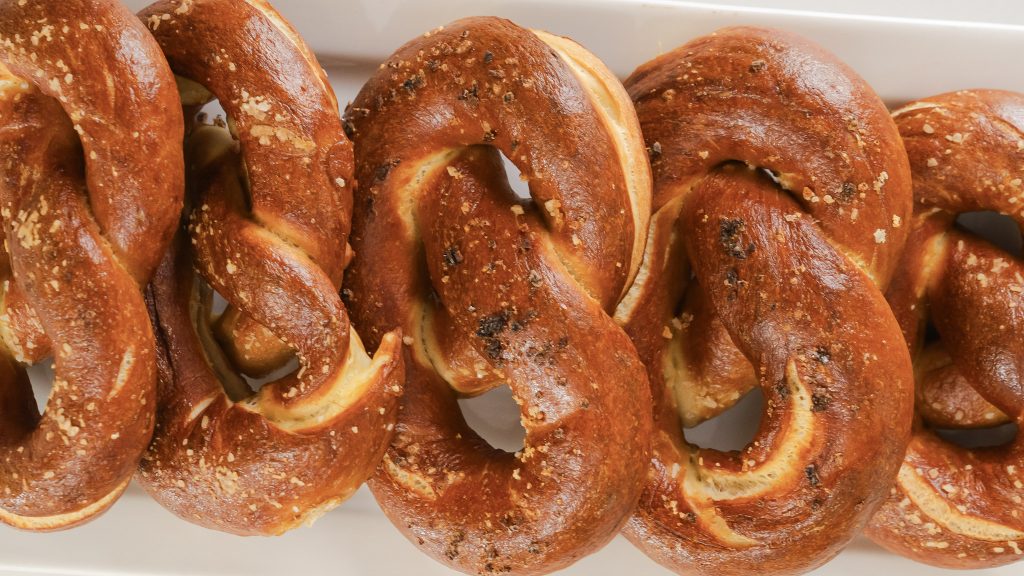 The right salt for the job. 
There are many types of salt out there, and it can be unclear to know what type you should be using.
For a recipe like this, you're going to want to stay far away from Iodized table salt. The grains are way too tiny and strong to be sprinkled on top. One bite'll taste like you're eating a salt lick.
We want to go for a corse sea salt. The grains are larger, easier to sprinkle, and take longer to dissolve, giving a more pleasant salty taste.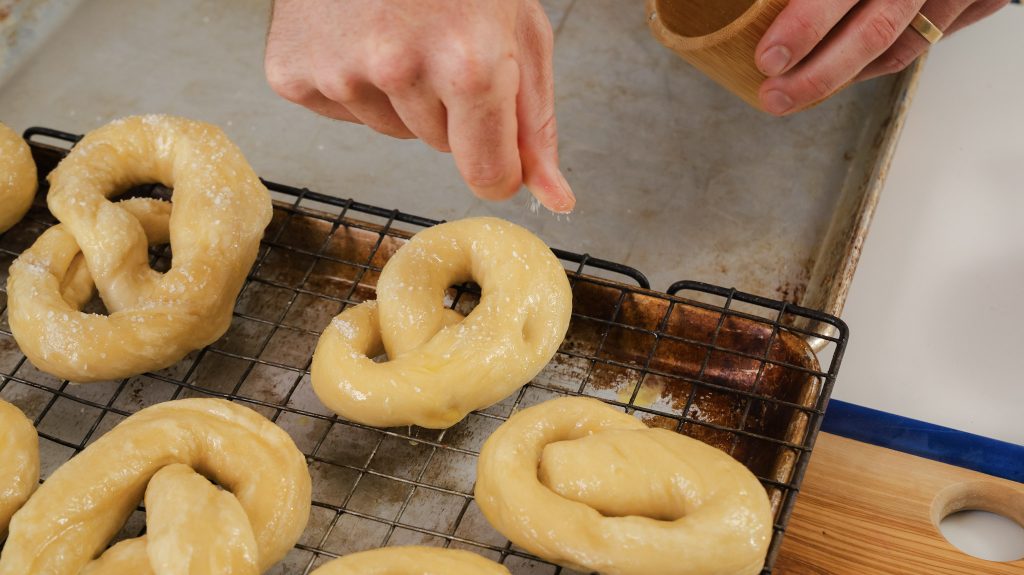 The pre-boil is everything. 
If there is one step you really need to do, it's the dunk. This step is the key to that firm, dark brown outer shell and classic soft pretzel texture. It's the same process that bakers take when making bagels!
The baking soda clings to the soft dough and transforms it into a beautiful crust, ready for the oven.
Make sure to not overcrowd your pot, doing 2-3 pretzels at a time to ensure they don't stick together or break on the water.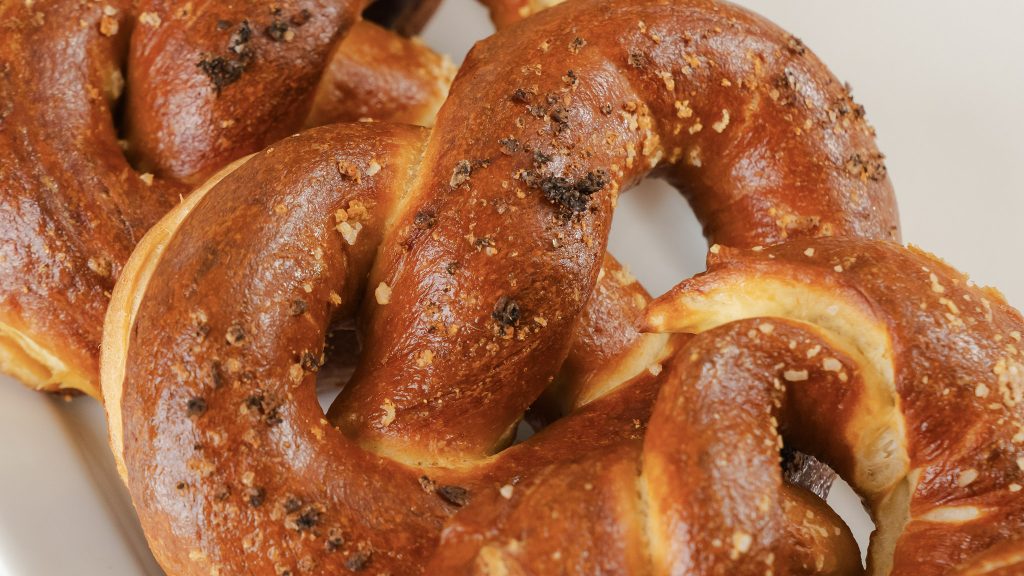 Other recipes to check out!
Gochujang Maple Cauliflower Bites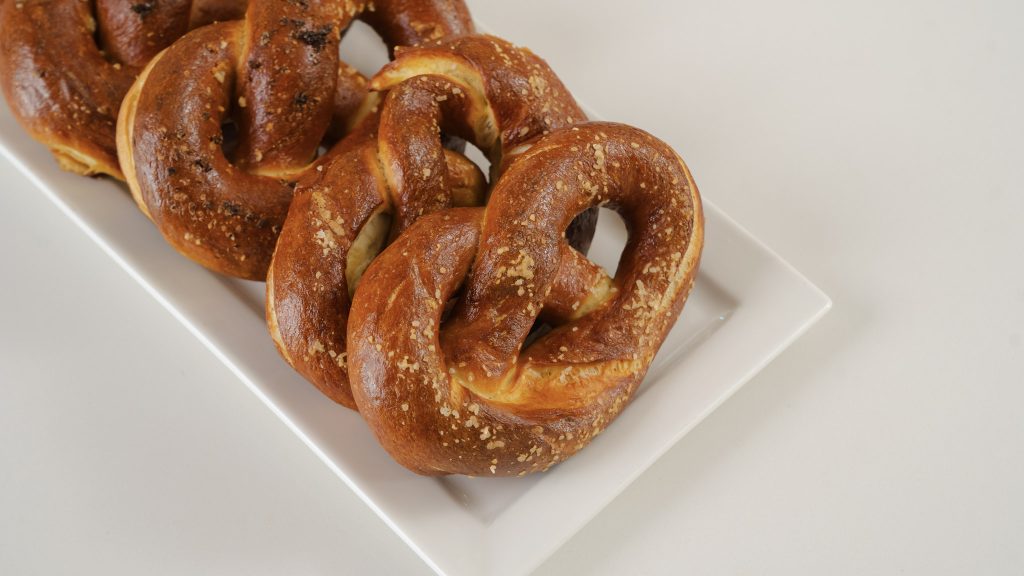 Beer Pretzels
Print Recipe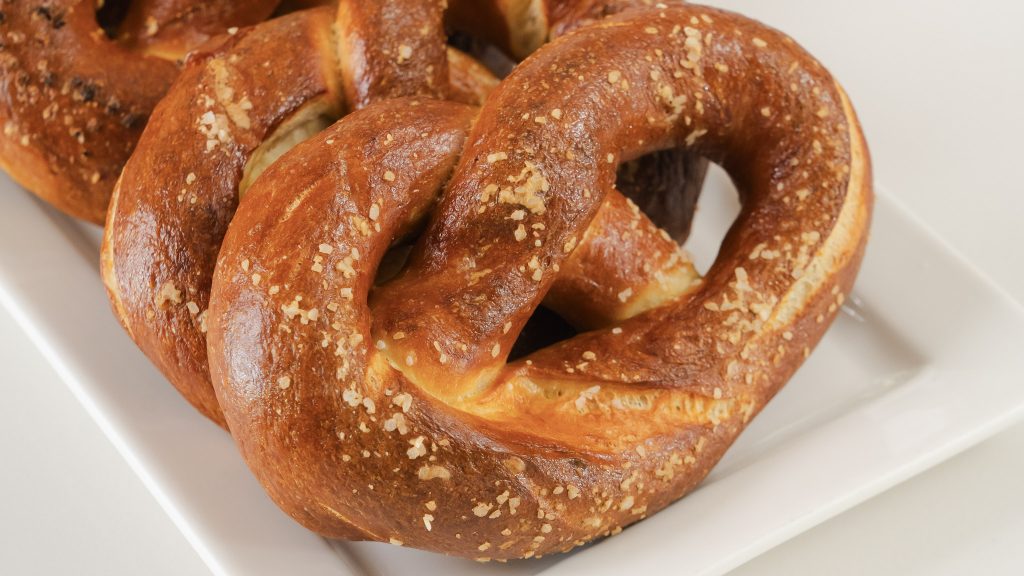 Ingredients
1

355ml

Non alcoholic beer

Heated to 105-110 degrees (in a microwave)

2 1/4

tsp

Active dry yeast

1/4

cup

Olive oil

2

tbs

Brown Sugar

4 1/2

cups

All-purpose flour

2

tsp

Sea salt

1

tsp

Oil

for greasing your bowl

2/3

cup

Baking soda

1

large

Egg

For egg wash

1/3

cup

Corse salt or sesame seeds

Garnish
Instructions
Into a bowl add yeast and sugar. Pour beer into a microwave safe bowl or into a small pot and gently heat until warm, but not hot. About 100-110F. Once warm add beer into the bowl with the yeast and sugar. Stir and allow the yeast to come alive and get frothy. About 10 minutes.

Once yeast is frothy add in olive oil, followed by flour and salt. Stir until it forms a shaggy dough and then pour out onto a light floured surface. Using your hands or a stand mixer, knead the dough until smooth. About 10 minutes.

Once smooth, place the dough ball into a lightly greased bowl and cover with a tea towel and allow to rise for about 90 minutes or until doubled in size.

Once doubled, punch out the air and pour dough onto the work surface. Cut the dough ball into about 10 equal pieces and then roll them out into 20 inch snake like shapes.

To make the iconic pretzel shape, start by forming the rolled out dough into a "U". Cross the two ends over each other twice, leaving a circle at the other end. Pinch the seams shut.

Bring a large pot of water to a boil and add in the ⅔ of a cup of baking soda. Once at a boil, drop in the pretzels two at a time for 30 seconds. This helps give the texture and colour of the pretzels.

Once all of the pretzels have been boiled, thoroughly brush with your egg wash and then sprinkle with salt or sesame seeds.

Place the pretzels on a sheet tray into an oven that is pre heated to 450 for 20-25 minutes. You want a nice dark outside.

Enjoy!!
Print Recipe
(Visited 1,212 times, 1 visits today)