This shareable, smokey, world famous appetizer is the perfect dish to make when you are looking to impress a crowd. Patatas Bravas is a famous Spanish tapas dish that is made from potatoes, a rich tomatoes sauce, and aioli. One of the world's best happy hour snacks!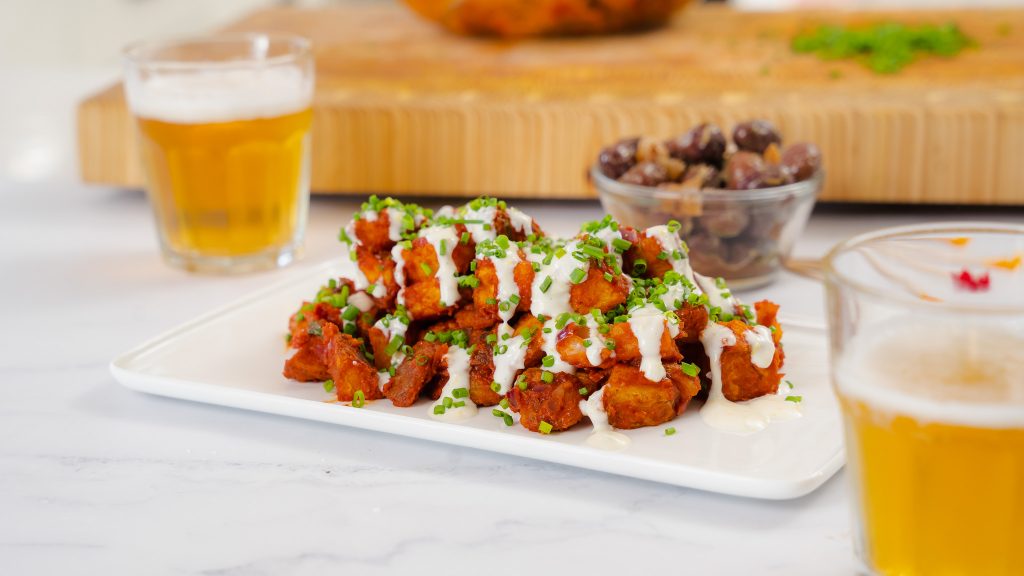 Patatas Bravas and me!
I fell in love with this dish while traveling in Spain with a few of my friends. The tapas culture in Spain is a thing of beauty, and Patatas Bravas is a dish you will see at basically every tapas bar. Hard not to love tapas culture, stroll through historic streets, pop into a small bar and order a drink, and then the server will bring a small snack (unprompted) for you to enjoy with your beverage. Just love it!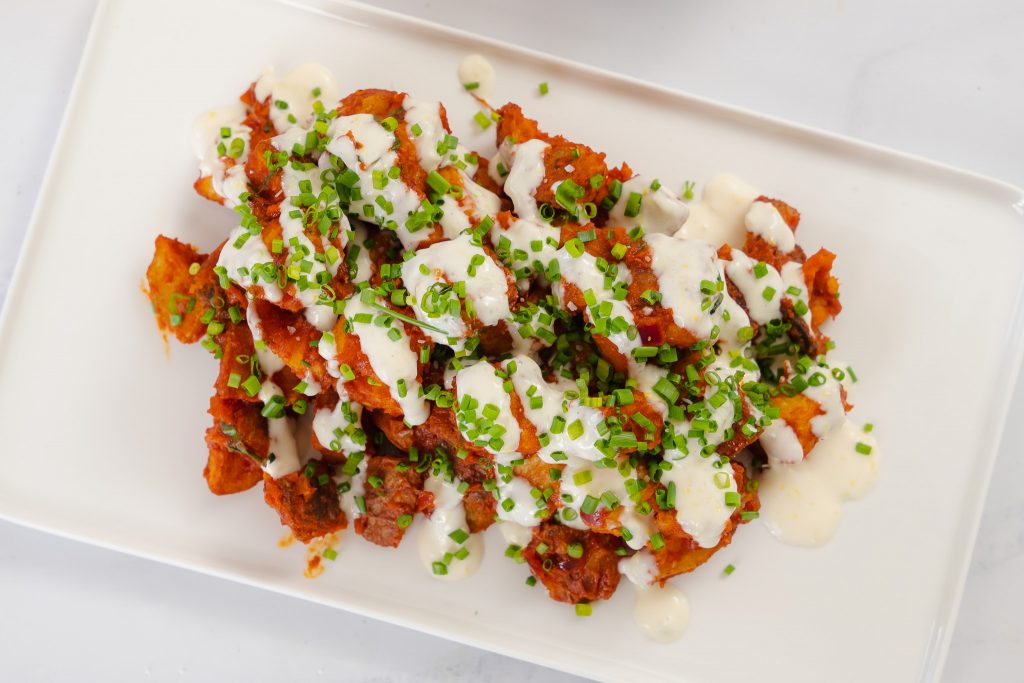 How to make Patatas Bravas
There are three main components to this dish; the potatoes, the sauce, and the aioli. For the potatoes I like to use a russet potato or baking potato, and dice them up in to bite sized chucks. From here I drop them into some seasoned water and boil them for about 10 minutes. After 10 minutes, drain out the water, season with olive oil and salt, spread on a baking sheet, and toss into a hot oven preheated to 450F for about 25 minutes.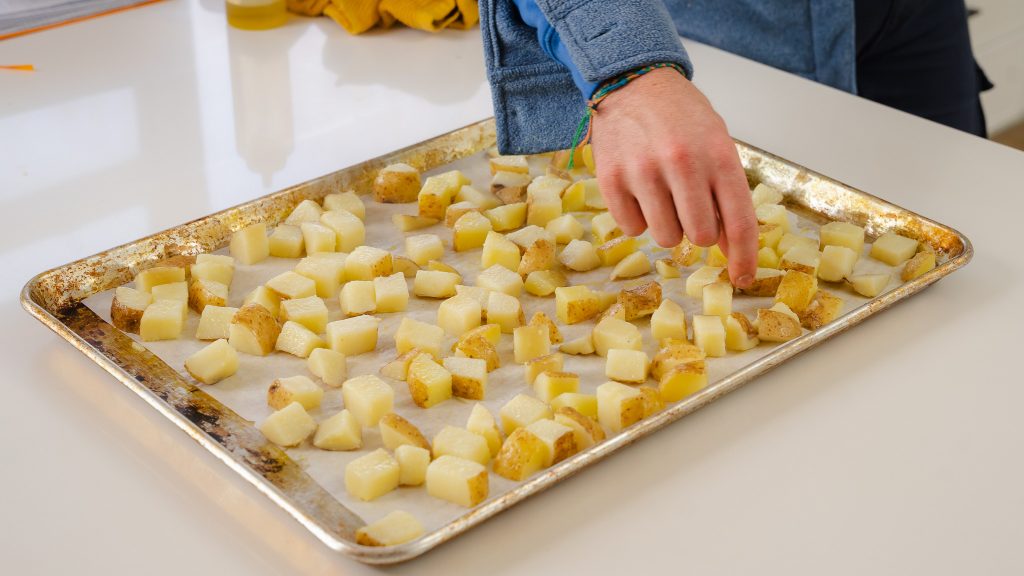 Next up is the sauce. This tomato sauce is really beautiful and I really love the addition of smoked paprika to give this dish some really great depth. The sauce is easy to toss together and just required you to place all of the ingredients in a pot and let it simmer away for a couple minutes. This recipe will result in some sauce being leftover which is great to use in sandwiches or pastas.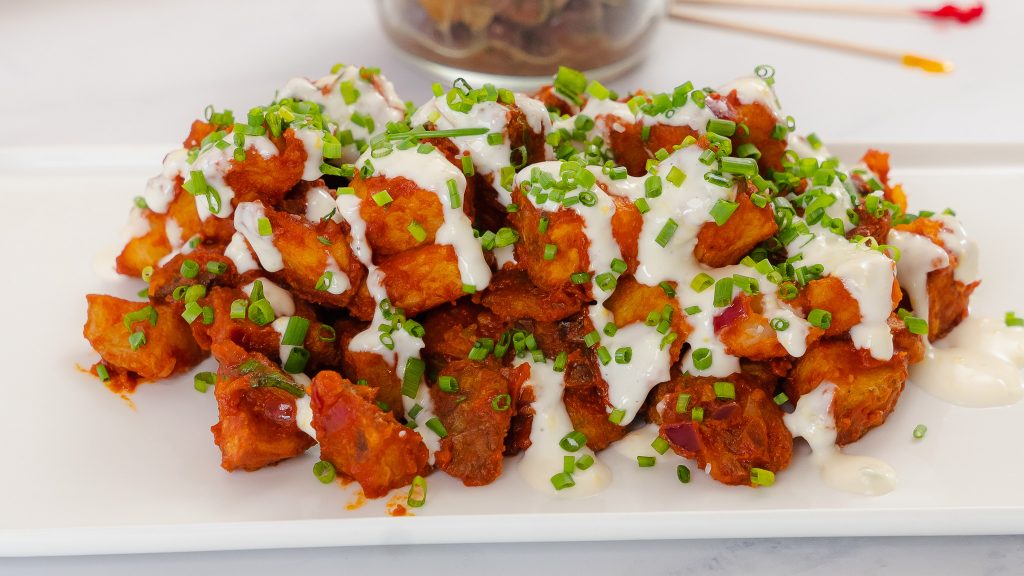 Lemon Aioli
To contrast the depth of the smoked tomato sauce, the addition of this lemon and garlic aioli is perfect. It's bright, citrusy, garlicky, and wildly delicious.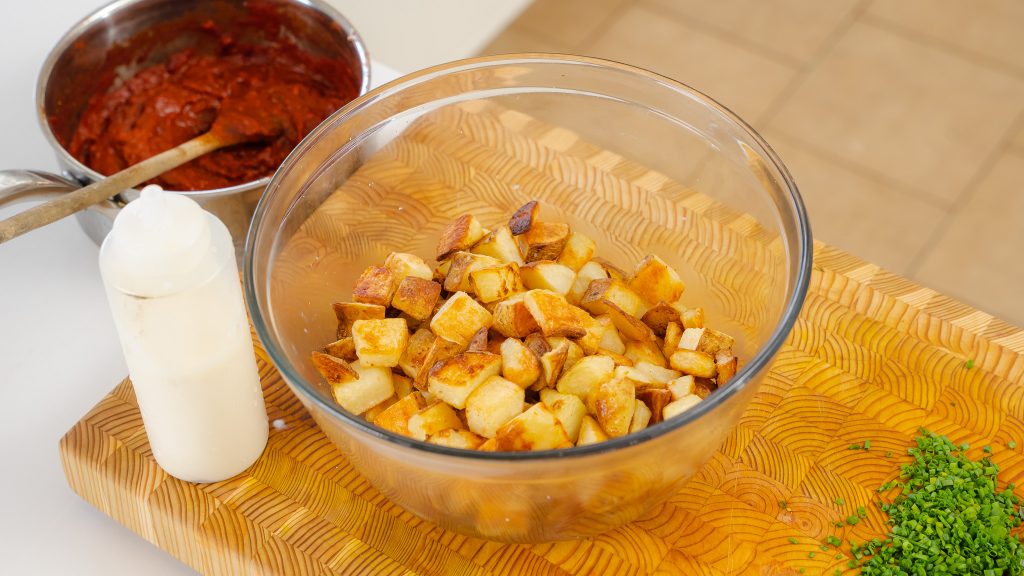 Serving this dish
Once all of the components are prepared I like to pour the potatoes into a bowl, scoop on the sauce, and then toss to coat the potatoes in the rich, smokey sauce. From there I plate the potatoes and then squeeze the lemon garlic aioli over top. I always top with very thinly sliced chives.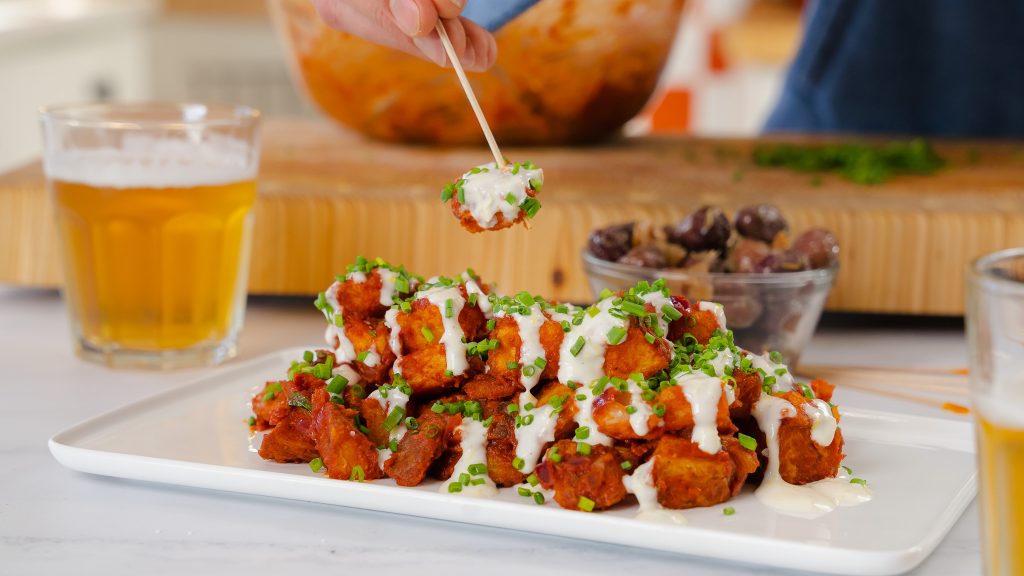 Other happy hour snacks you might enjoy
Gochujang Maple Cauliflower Bites
Patatas Bravas
Print Recipe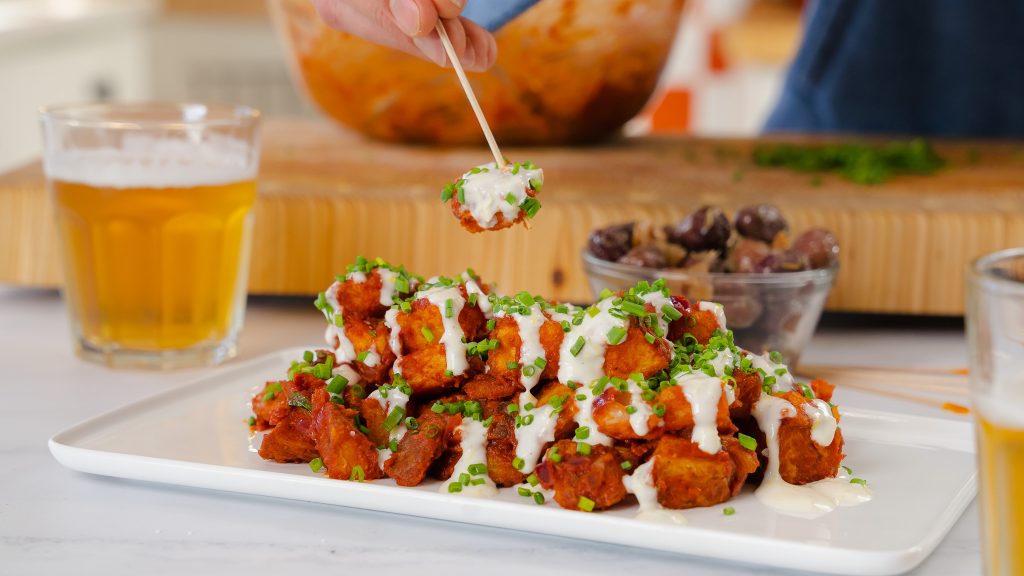 Ingredients
3

russet potatoes, chopped into cubes

2

tbs

olive oil

1 1/2

tsp

salt
SMOKEY TOMATO SAUCE
1/2

onion, diced

5

cloves

garlic

2

tsp

butter

1

tsp

olive

2

tbs

paprika

1

tbs

tomato paste

1

28oz

Can of crushed tomatoes

2

pinch

salt

4

leafs

fresh basil
ZIPPY GARLIC MAYO
3

cloves

garlic, finely minced

1

lemon, juiced and zested

1

cup

mayo

1/2

cup

chives, thinly sliced
Instructions
Preheat oven to 450F and line a large baking sheet with parchment paper.

Bring a salted pot of water to boil. Add in potatoes and boil until they are soft enough to be pierced by a fork. Once soft, pull from water, toss with olive oil and salt, and place on a baking tray and place in the oven. Be sure not to over crowd the pan. Bake potatoes for 25-30 minutes and be sure to give the tray a little shake every now and then. Once browned, remove from oven.

Now on to the tomato sauce. Add garlic, onions, olive oil, and butter to small pot over medium heat. Saute until onion is translucent and then add in paprika. Stir and then add in tomato paste. Pause and enjoy that smell. Pour in crushed tomatoes, salt, and pepper. Allow to simmer for 15 minutes. Turn off heat.

Now the Garlic Mayo. Add garlic, mayo, and lemon juice into a bowl and mix. Season with salt as needed. I always like to put the mixture into a squirt bottle once mixed.

Once potatoes are nice and crispy, place is a large bowl and spoon on half of the tomato sauce. Toss until potatoes are covered. If you want to make them saucier, go for it and add in more sauce.

Place potatoes on a plate and drizzle with mayo. Sprinkle on finely dice chives. Serve with tooth picks and a cold beer.
Print Recipe
(Visited 2,984 times, 1 visits today)