This is a great one, folks; we're going to be mixing soup and pasta- The best of both worlds! It's a super simple recipe that is just perfect for this time of year. Once you start, you won't want to stop; let's get into this Butternut Squash Ravioli Soup!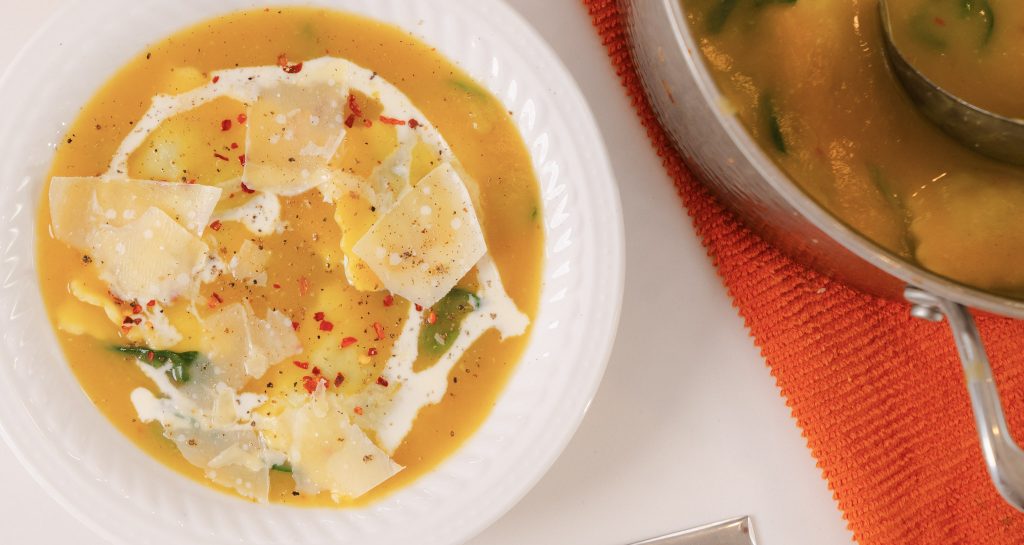 Frozen or Fresh, you decide!
This recipe is all about quickness and ease. I like to use frozen vegetables just because I often don't have time to start from scratch, and that's totally fine!
There's a debate about the health benefits of using frozen vs fresh produce; personally, from what I've seen, there isn't much difference between the two, but you do what feels right for you!
Tip on nailing this Butternut Squash and Ravioli soup.
It's all about building flavour from the start. When you add in your aromatics (garlic, onion), make sure to cook them down to crate as much flavour as possible. It's good to note there is a difference between brown and burnt. Don't let them overcook and start to dry out, as they'll make your beautiful soup super bitter.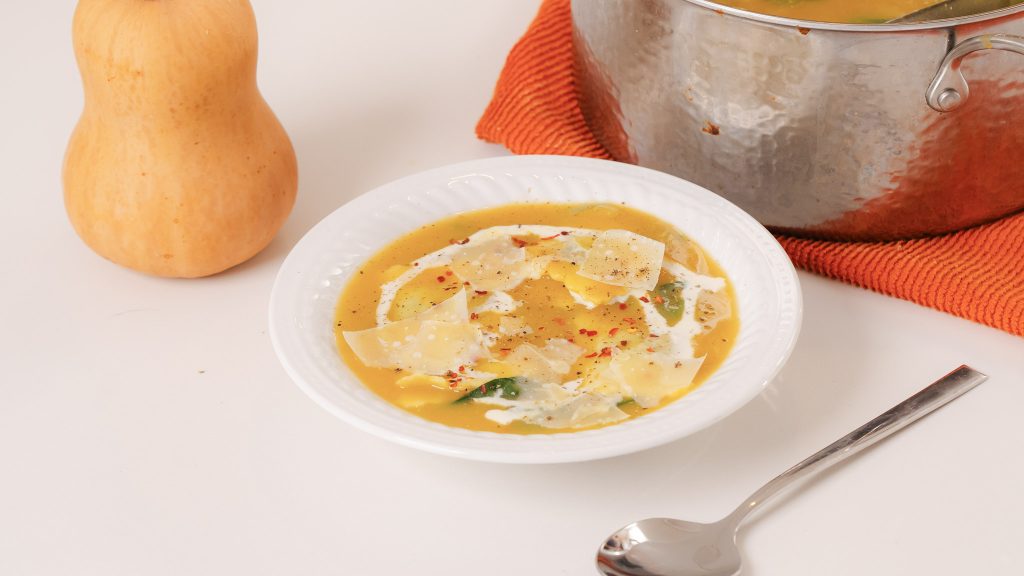 Test before you blitz!
We want to make a super creamy base for our little ravioli to live in. When you're checking the chunks of squash to see if they're ready for the blender, make sure you look at the larger pieces. If your chunks are still a little firm, let them bubble away. We don't want a grainy/gritty soup!
A good way to avoid this is to make sure all of your squash is the same size and cut slightly smaller just for added measures! A great immersion blender helps too!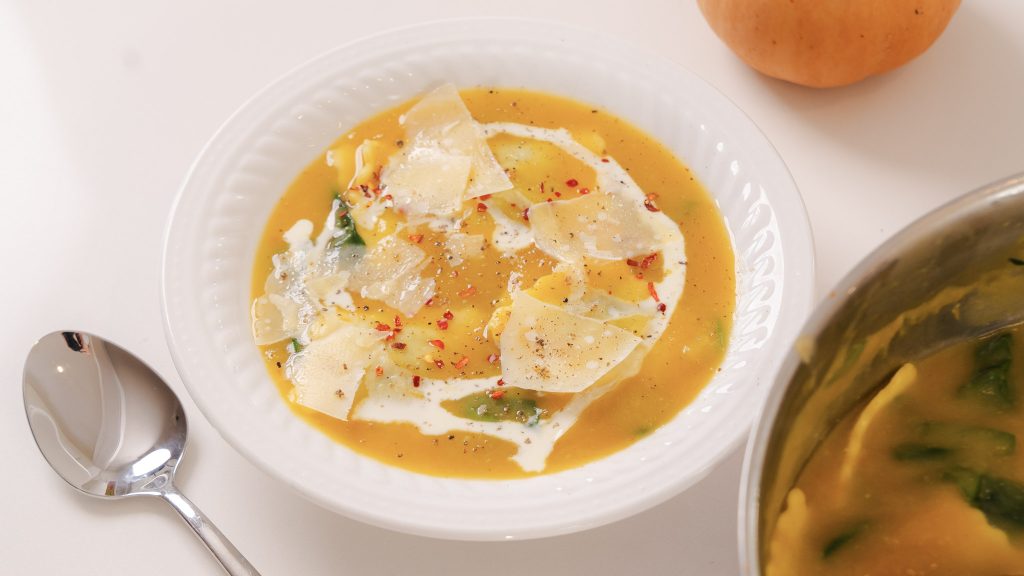 Other recipes to check out!
If you like the sound of this Butternut Squash and Ravioli soup, here are a few other recipes you should check out!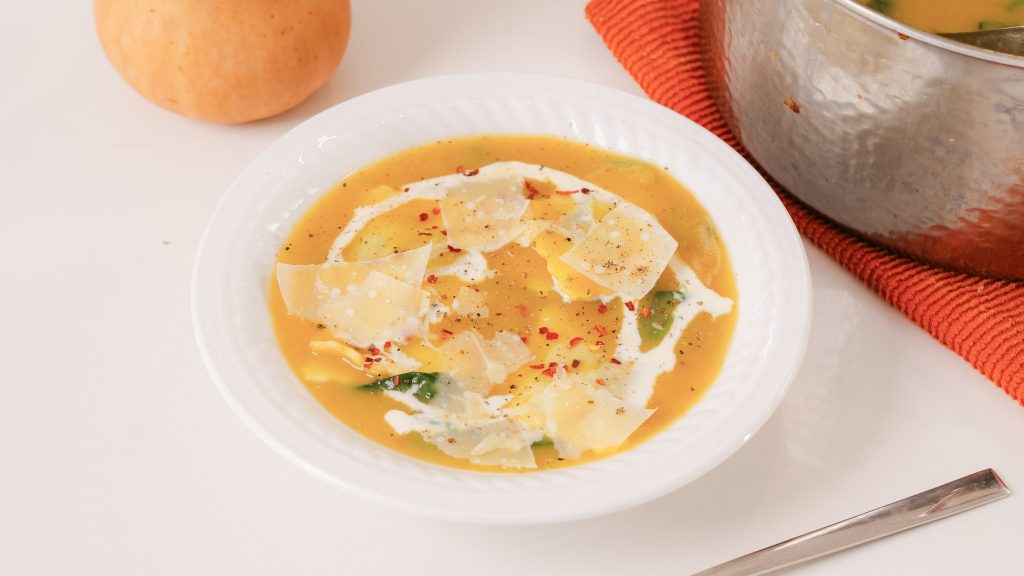 Butternut Squash and Ravioli Soup 
Print Recipe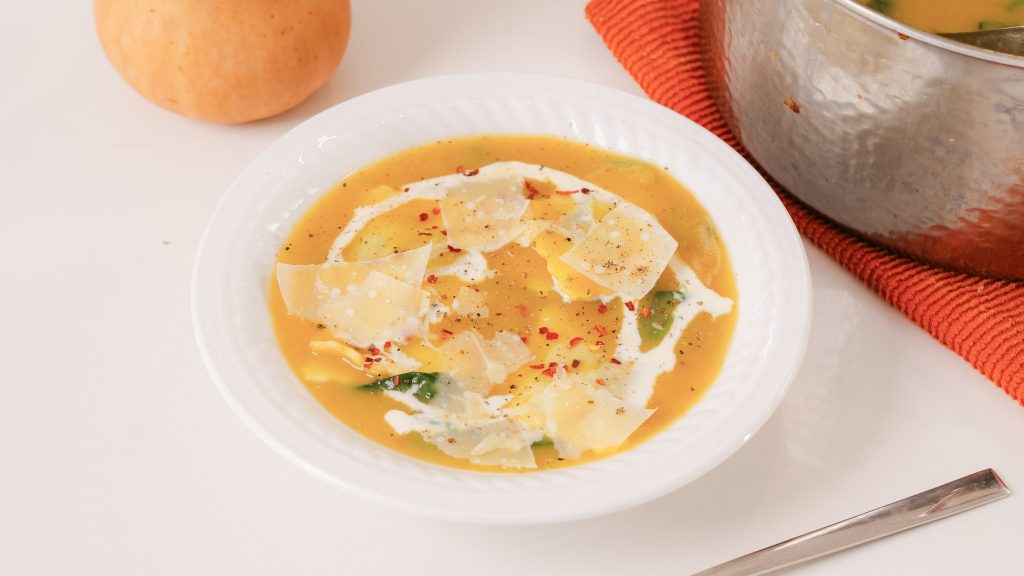 Ingredients
4

large

Garlic cloves

Minced

2

large

Yellow onions

Diced

5

cups

Fresh or frozen butternut squash

1

Litre

Chicken stock

1

cup

Water

1/2

tsp

Cinnamon

2

tsp

Salt

1

pinch

Nutmeg

1

tbs

Maple syrup

1

tsp

Chili

1

pack

Store bought ravioli

Any type but riccota is a good choice

1

Handful of spinach laves

Cream and parm to finish
Instructions
In a large pot over medium heat, add in 1 tbsp of oil. Once heated toss in your diced onion and garlic. All to saute for about 2-3 min. Add squash and cook for another 2-3 min.

Next add in your stock along with 1 cup of water. Bring to a boil, cooking your squash for 15 min or until soft and tender.

Add in your spices, maple syrup and season with salt.

With an immersion blender or regular blender, blitz on high until silky smooth. Add in your ravioli along side a handful of cleaned spinach. Cook for 3-4 min over medium-high heat.

Serve with a splash of cream, chilli flake and freshly shaved parm.
Print Recipe
(Visited 2,074 times, 7 visits today)