You're going to want to save this one! This Cauliflower Chickpea Couscous Salad is unbelievable, packed with flavour and full of perfectly roasted and fresh produce. If you have a pot luck, a family dinner or just looking for a new meal prep go-to, this is it. Once you start making it you wont want any other salad, we guarantee it!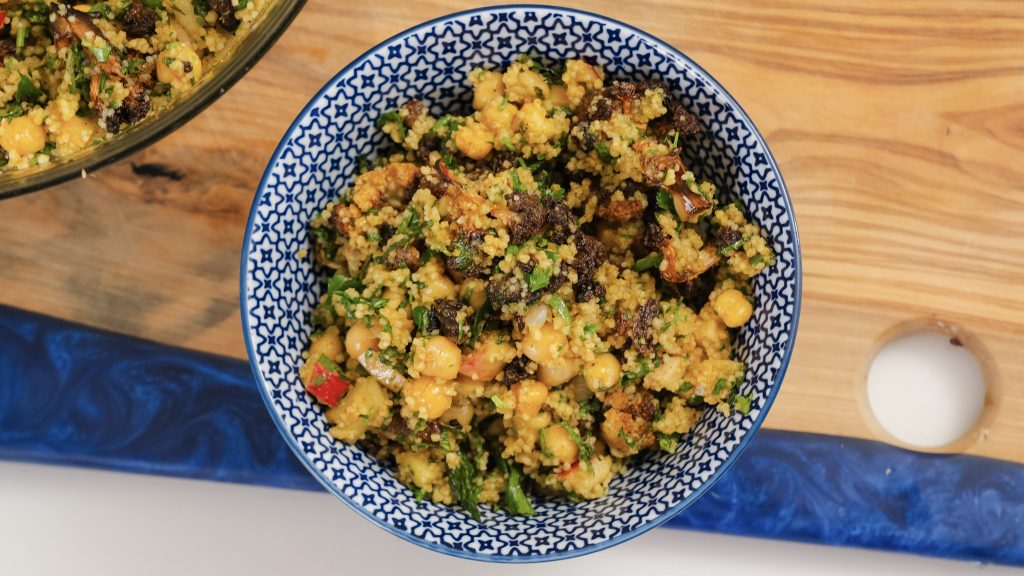 The spice break down
While this recipe is quick and easy, there are a few ingredients that are really important. Full of rich and aromatic spices, you wont want to remove or swap out any of them.
Cinnamon – Give so much depth and roundness to your salads. It might be strange putting cinnamon in a savour dish if you're not use to it, but trust us, it's just not the same if you don't.
Cumin – One of the stars of the dish. Cumin is used all around the world, and for good reason. It's very aromatic and floral.
Curry powder – A blend of so may great spices that is perfect for filling all the spice gaps in the recipe!
Garlic powder – The back bone the spices, while technically not a spice, you'd really miss that salty, garlicky flavour this salad really needs.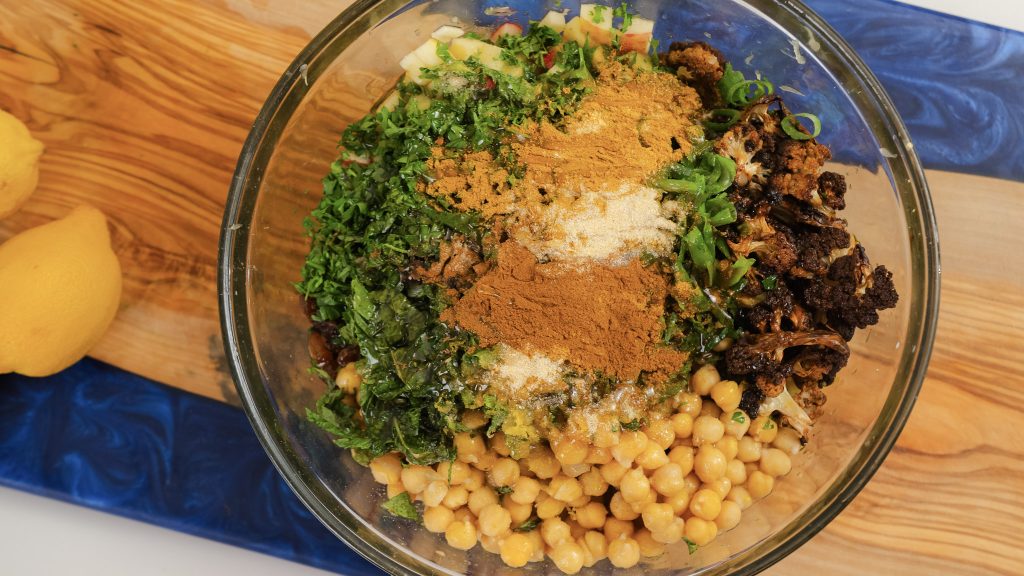 Cooking the perfect couscous
Contrary to popular belief, couscous actually isn't a grain, it's a type of pasta that comes from north Africa and parts of the middle east. Made from rolling semolina flour, the small granular balls are perfect for making a fluffy bed of goodness, perfect for so many different dishes, like this Cauliflower Chickpea Couscous Salad.
If you don't have the steps to making perfect couscous every time, heres a good method:
Measure out your serving (1 cup).
Place in a large bowl and pour an equal amount of boiling water and cover with a thick kitchen rag.
After 4-5 min, fluff with a fork and season with salt.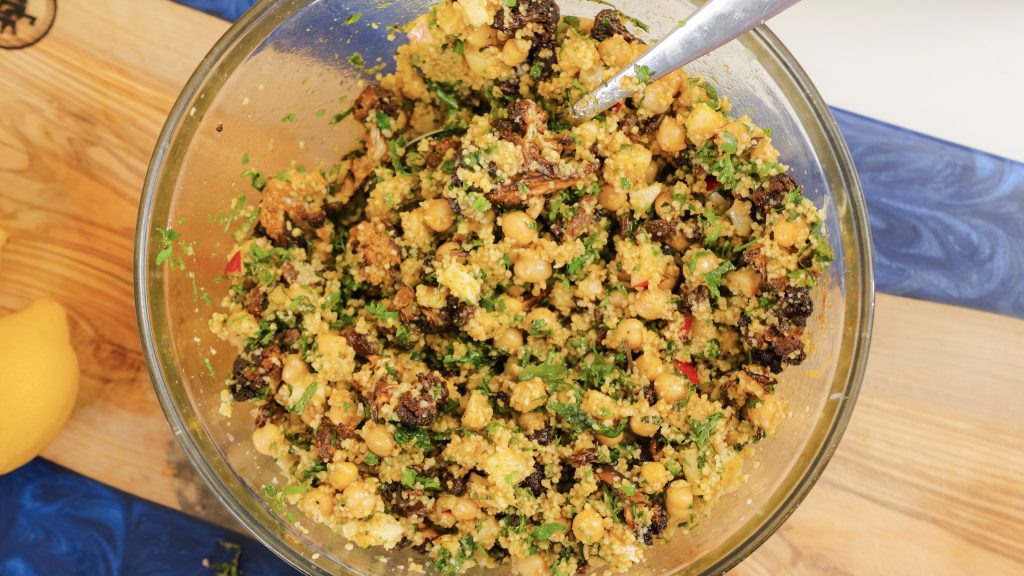 How to get the perfect roast on your cauliflower.
Roasting vegetables to the perfect level can be a difficult thing. For a recipe like this, we want nice even colour on all of our cauliflower, that's where all the flavour is! Here are a few tips on the perfect roast every time.
Make sure your cuts are even. If all of your pieces are a the same size, they'll all cook evenly.
Use a decent amount of oil. We don't want to drench the cauliflower in oil, but we do want to make sure is even coated.
Don't over crowed your pan. As vegetables roast, they release moisture and steam. If there isn't enough space between the veg, the moisture wont be able to release and you won't get any colour.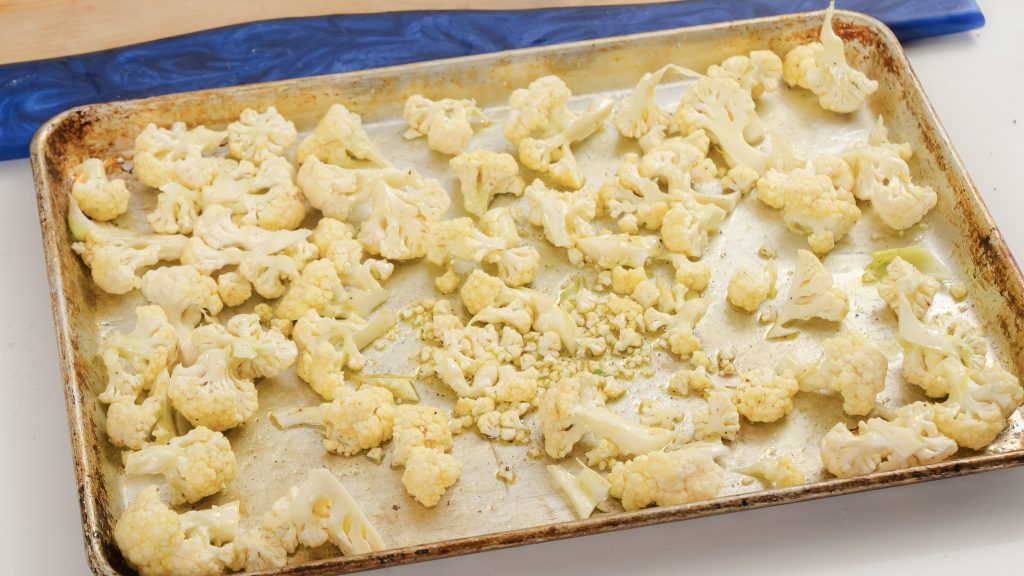 Other recipes to check out.
If you like the sound of this Moroccan Chickpea Couscous Salad, here are a few other recipes you should check out!
Summer Strawberry Quinoa Salad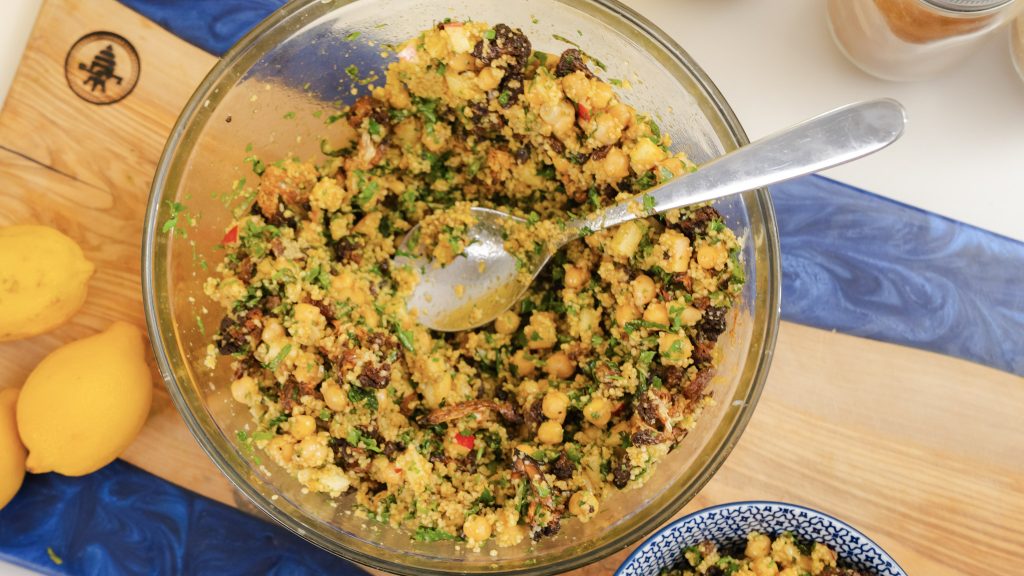 Cauliflower Chickpea Couscous Salad
Print Recipe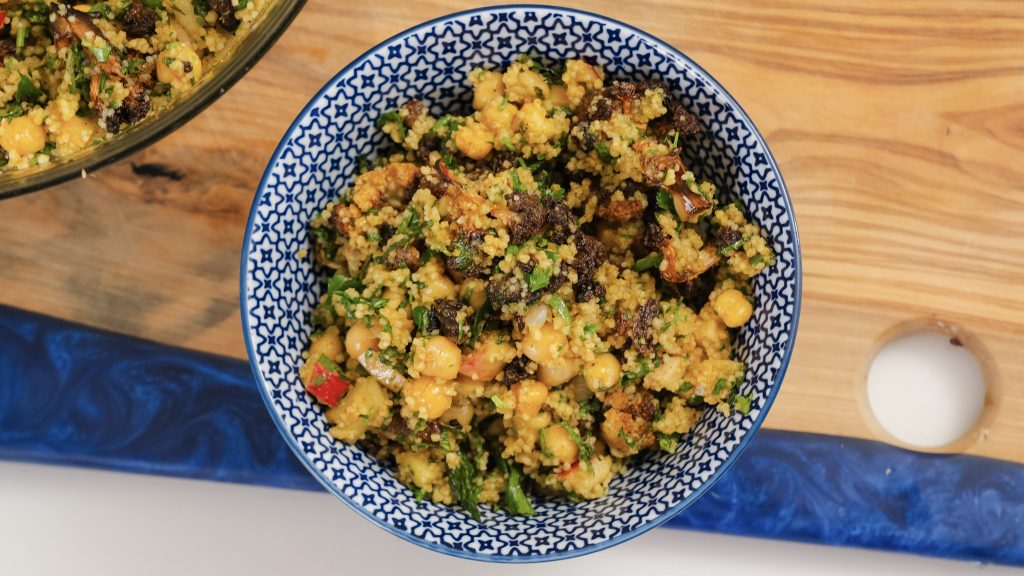 Ingredients
For the salad.
1

cup

Couscous

See package for instructions

1

large

Head of cauliflower

Roasted

1

Apple

Diced

1

cup

Rasins

1

cup

Fresh mint

Chopped

1

cup

Parsley

Chopped

1/2

cup

Green onions

Sliced

1

can

Chickpeas

Drained

1

tbs

Honey
For the dressing.
2

large

Lemons

Juiced and zested

1

cup

Olive oil

2

tsp

Cinnamon

1

tsp

Salt

2

tsp

Curry powder

1

tsp

Cumin

1

tsp

Garlic powder
Instructions
Start by breaking apart your cauliflower and spreading onto a baking sheet. Drizzle with olive oil and then bake for 35-45 minutes at 450F. Once nice and browned, remove from the oven.

Follow the package instructions and cook 1 cup of couscous.

In a large bowl add rest of the ingredients and taste! Add additional salt and pepper if needed. Enjoy!
Print Recipe
(Visited 1,542 times, 7 visits today)