It's time to come clean; I'm a secret not-so-secret "protein bro." I've cooked chicken a thousand ways, and these Chipotle Maple Chicken Thighs might be my new favourite. The best part about this recipe is how quickly it comes together. With just five flavour-packed ingredients, your protein-powered meal prepping got much more flavourful. Let's get cooking!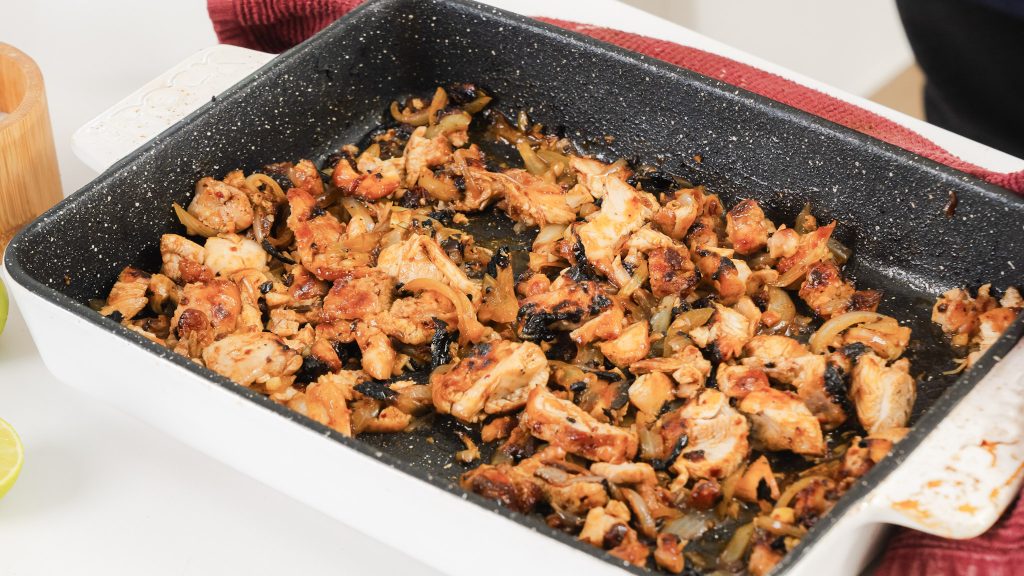 Why the thigh?
Chicken thighs are my preferred cut of chicken. The darker meat is more flavourful and can take on char and stay juicy and tender.
I use boneless, skinless chicken thighs for this recipe, but only for ease of prepping. It makes it easier to pull straight from the oven and chop.
If you want to use bone-in and skin-on chicken thighs, that will work too! Just watch your heat and make sure the delicate skins don't burn!
Chipotle is the key to proper flavour!
I love chipotle's smokey, spicy, sweet flavours; it's a constant staple in my kitchen. What you'll want to look for is chipotle in adobo sauce. You'll likely want to look for it in the International section of your grocery stores.
The Adobo sauce gives it the smokey burn associated with chipotle. If you want to add a bit more punch to your recipes, add a bit extra of the sauce.
The bit of maple syrup in the recipe helps soothe the heat and balance out the overall flavours of the chipotle in adobo.
What to put it on.
These chipotle maple chicken thighs are the perfect meal prep because they can be used for so many different dishes.
Heated in a pan, they're perfect for tacos or burritos. Warm over a bed of rice with your favourite quick pickles. Or even served cold over rice in a poké bowl style dish.
(or eat it right out of the fridge at 3 am like me).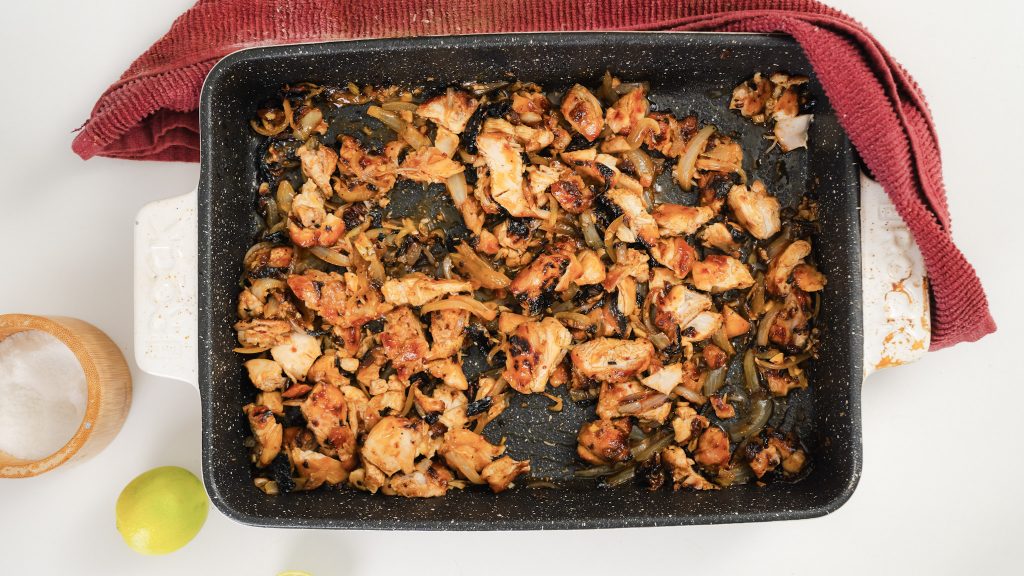 Other recipes you should check out.
If you liked the sound of these Chipotle Maple Chicken Thighs, here are a few other recipes you'll want to check out!
Curried Chicken with Mango Salad and Coconut Rice
Chipotle Maple Chicken Thighs
Print Recipe
Ingredients
8-10

Large

Boneless, skinless chicken thighs

2

Small

Yellow Onions

Sliced

3

Large

Garlic cloves

Minced

2

Chioplte peppers in adobo

Chopped

1

tbs

Maple Syrup

1

tsp

Salt

1

tbs

Olive oil

1

Large

Lime
Instructions
Add all ingredients to a baking dish or sheet tray. Using your hands toss everything together and then arrange so the chicken thighs are spread open and laying on top of the sliced onions, as much as possible.

Place the baking dish into an oven that is set to BROIL. Broil the chicken for around 7-8 minutes and then flip. Broil for another 5 minutes.

Using a pair of kitchen scissors, slice up the chicken into bite sized pieces. Season with lime juice and salt.

Serve over freshly made rice, as fillings for tacos or however you please!
Print Recipe
(Visited 9,993 times, 5 visits today)