Recipes are like a formula for creating delicious food. This recipe is the perfect example of that. If you take perfectly cooked rice, tender, sticky beef, crisp, sharp-picked vegetables and add a tangy, spicy sauce, you get the perfect mid-week meal. This Sticky Ginger Beef Rice Bowl is a mathematic masterpiece you won't want to stop making!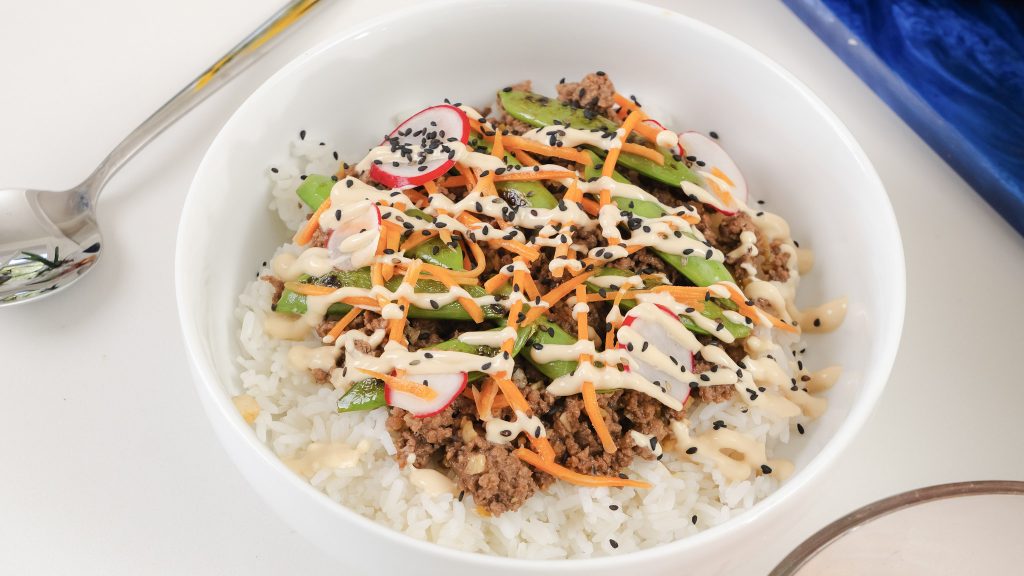 Rice is too delicious to not cook properly.
I used jasmine rice; it's one of my favourites. The long grains are tender and flavourful, but there are so many types of rice for you to use and enjoy.
If you are using jasmine rice, here's an excellent method on how to cook it perfectly every time!
1) Wash the rice- If you want beautiful rice that won't stick or clump together, rinse it before adding it to your pot.
2) The Ratio- For jasmine rice, the best ratio is 1 1/2 cups of water to 1 cup of rice.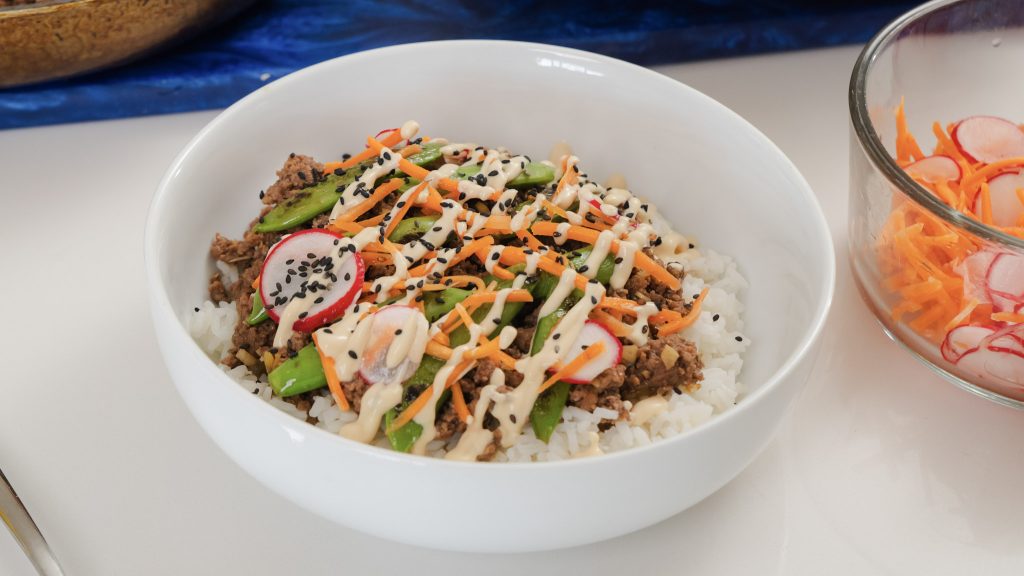 Pickling vegetables quickly. 
I love a good quick pickle. It's a style of picking where you just lightly todd your raw vegetables in a bit of vinegar, salt and sugar. This gives your dishes a bright hit of acidity while keeping your veg fresh, colourful and snappy.
In this recipe, we used thin carrots and radishes to help that quick brine get as deep into the veg as possible.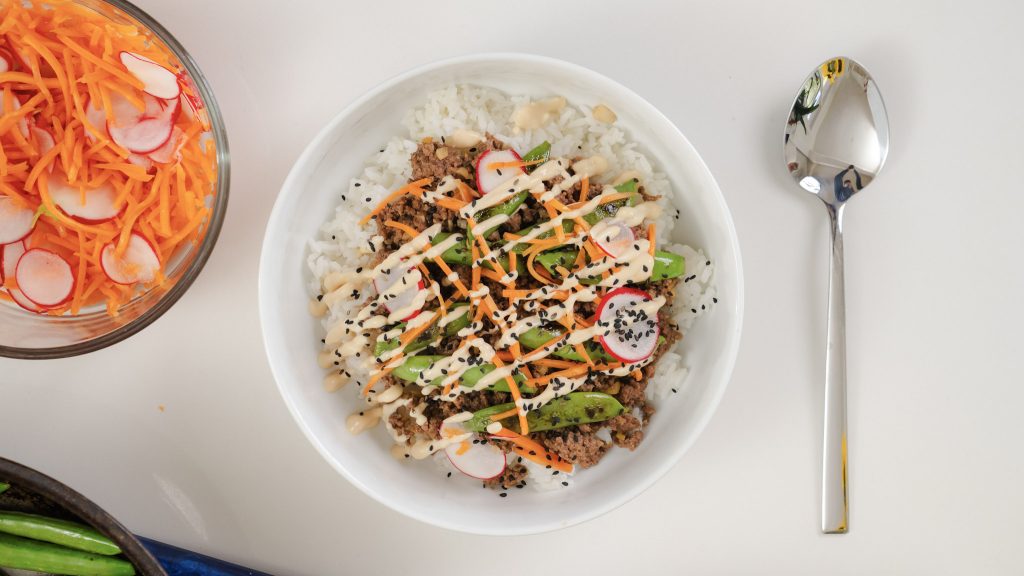 Cooking the peas right. 
I love sugar snap peas. They have so much great texture, full of vegetal sweetness and add a bright pop of bright green to any dish.
We want to add charred flavours to the peas but hit them in a super hot pan for this dish. The trick is to get your pan and oil hot (medium-high heat) and saute for just a few minutes. We want to preserve the firm texture so they don't go soft on us. 3-4 minutes max!
Other recipes to check out!
If you like the sound of this Sticky Ginger Beef Rice Bowl, here are a few other awesome, meal prep friendly meals for you to try out!
Curried Chicken with Mango Salad and Coconut Rice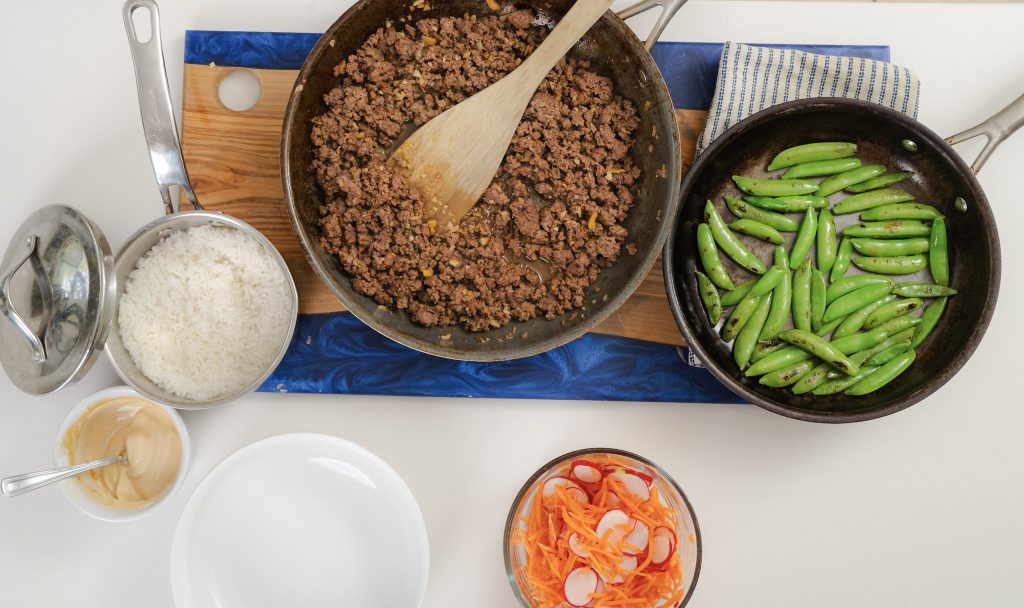 Sticky Ginger Beef Rice Bowl
Print Recipe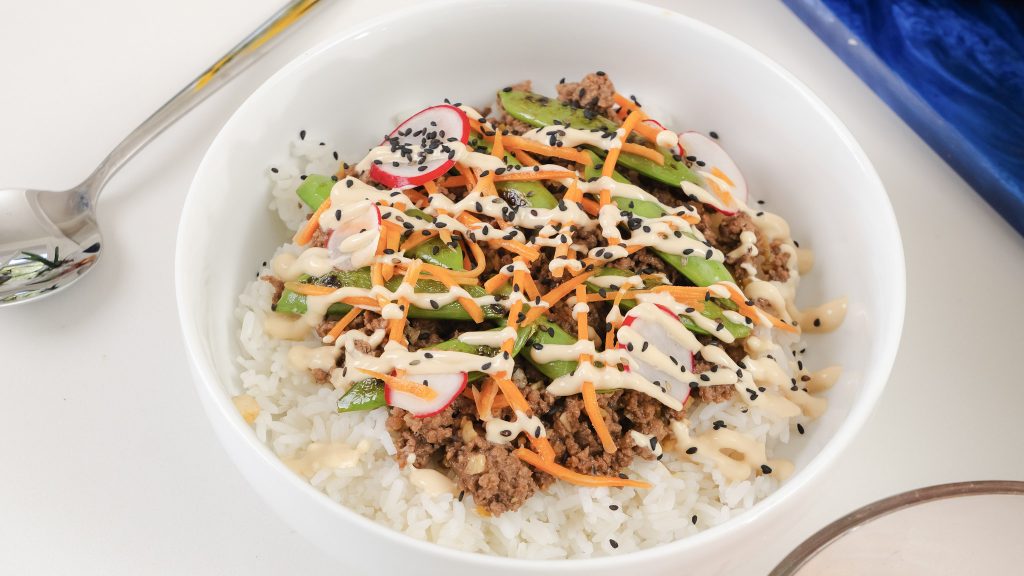 Ingredients
500

g

Ground beef

2

cups

Jasmine rice

2

cups

Sugar snap peas

1 1/2

cups

Julienned carrots

1

cup

Sliced radish

2

tbs

Kewpie mayo

2

tbs

Greek yogurt

4

tbs

Soy sauce

low sodium

1/4

cup

Rice wine vinegar

3

large

Garlic cloves

minced

1

inch

Fresh ginger

minced

1

tbs

Honey

1

tsp

Toasted sesame oil

1

large

Lime

Juiced
Instructions
Follow package instructions and cook rice.

Into a lightly oiled pan placed over medium high heat add ginger and garlic, followed by the ground beef. Cook until browned through.

While the beef is cooking toss the snap peas into a lightly oiled pan place over high heat. You want the peas to slightly char. Cook for about 3-4 minutes and remove from pan so they don't go mushy.

Into a bowl add carrots, radish, and vinegar. Toss and set to the side.

Once beef is done cooking add in 3 tbs of soy sauce and 1 tbs of honey. Mix well.

In a small bowl mix together greek yogurt, mayo, and 1 tbs of soy sauce.

Create your bowl. Add in rice, followed by sticky beef, peas, carrots & radish, followed by the sauce.
Print Recipe
(Visited 4,999 times, 3 visits today)