The viral Chipotle Steak Quesadilla made at home is an amazing meal to make at home! It's packed with fajitas vegetables, steak, and lots of cheese to mimic a Philly cheesesteak sandwich but dressed up like a quesadilla. Serve it with a honey chipotle vinaigrette and sour-cream, and you quickly understand why this became a viral recipe!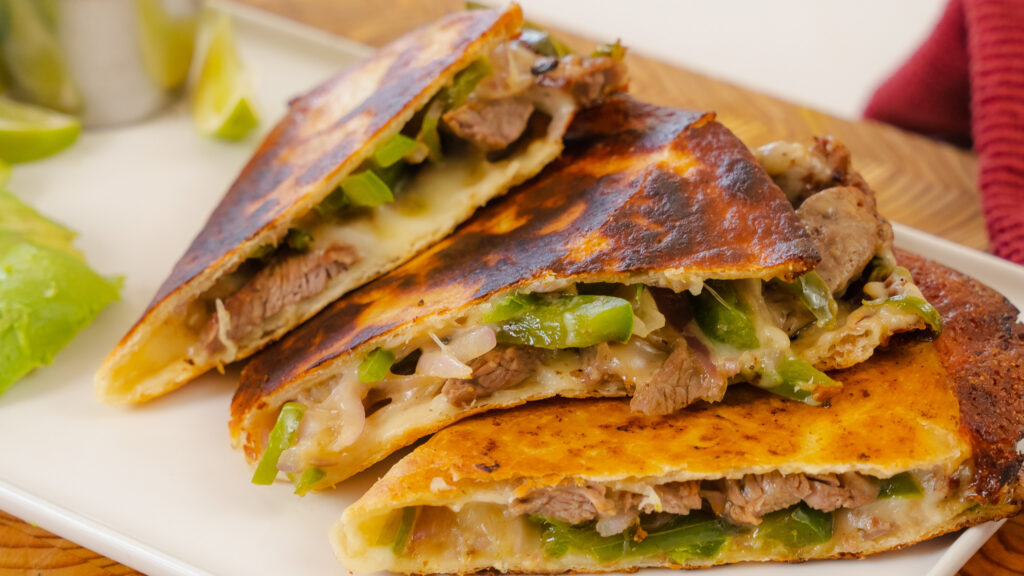 The internet is a hilarious place and you never know what is going to take off as the next "must make" recipe. Over the last 2 weeks I have been seeing versions of this Chipotle Steak Quesadilla pop up everywhere and I just had to try it! So the Steak Quesadilla is the main part of the order but part of the recipe is to dip the quesadilla in a honey chipotle vinaigrette mixed with sour cream. The sauce is creamy, tangy, and a bit sweet making it the perfect pairing with the more heavy quesadilla. Keith Lee on TikTok popularized it and since then, everyone has been trying and loving it.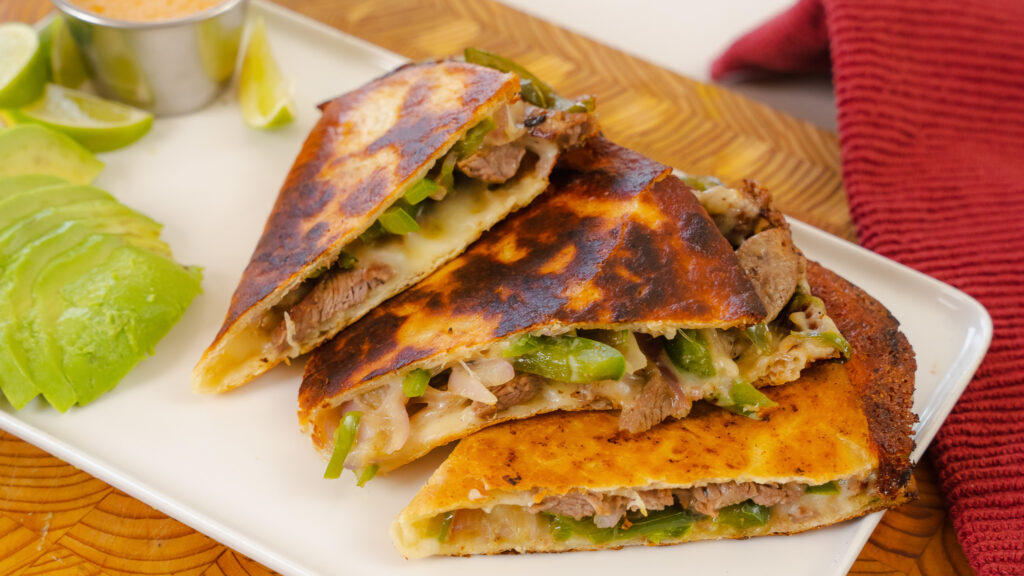 The Vinaigrette
If you have visited a Chipotle you likely have tried the vinaigrette before. It's sweet, tangy, smoky, and just really delicious. The best part is it is actually pretty easy to make at home and is a great ingredient to have in the fridge to use as an easy salad dressing throughout the week.
The ingredients you will need are;
Chipotle peppers in adobo
garlic
honey
oregano
salt
pepper
neutral flavoured oil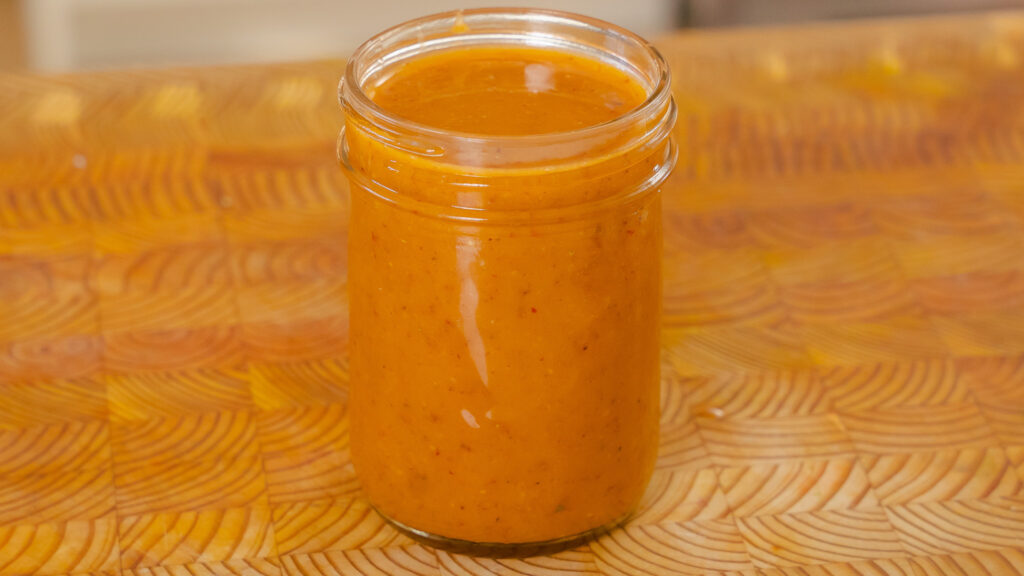 The Steak
I kept things very easy for the steak. You can really use whatever cut of steak you want for this recipe. I chose to use a new york strip as it one of my favourite cuts of steak and is perfect in this type of dish. Flank, skirt, or flat iron would also be amazing.
I started by slicing my steak and season with salt, black pepper, oregano, and cumin. I then tossed it into a preheated cast iron pan and cooked until it was beautifully brown on the outside, but still pink in the middle. If you wanted to cook the steak on the BBQ, it would only add to the amazing flavour!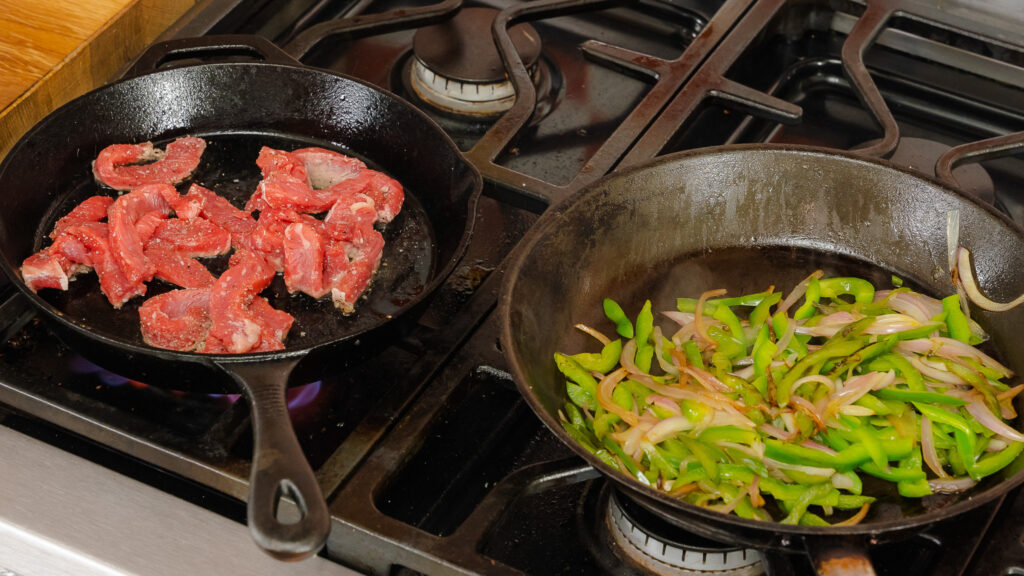 The Fajita Veggies
The fajita veggies are incredibly easy to whip together and are simple made by sauting red onions, green peppers, and garlic together in a hot, lightly oiled pan. Be sure to remove them from the heat while they are still a bit crunchy as you want that texture in your chipotle cheesesteak quesadilla.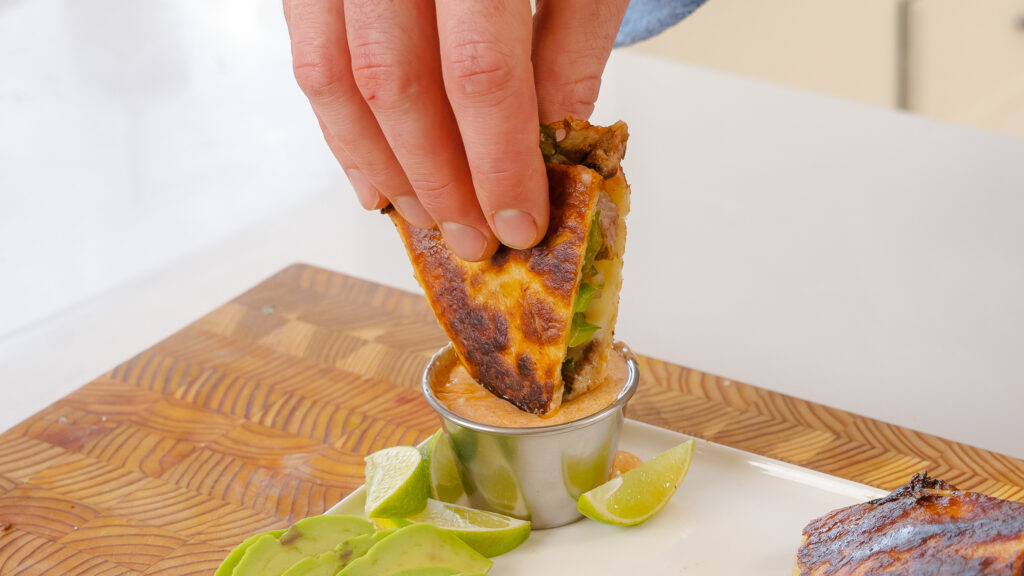 Assembling your Chipotle Cheesesteak Quesadilla
Once you have all of your components ready, toss a large tortilla onto a hot pan and then sprinkle some mozzarella cheese on one half of the tortilla. Next add on the steak, followed by the fajita veggies, and then a bit more cheese. Fold the tortilla in half and press down to compress the ingredients. Fry the quesadilla on both sides until beautiful brown and crispy. Serve with a little bowl of the vinaigrette mixed with a scoop of sour cream.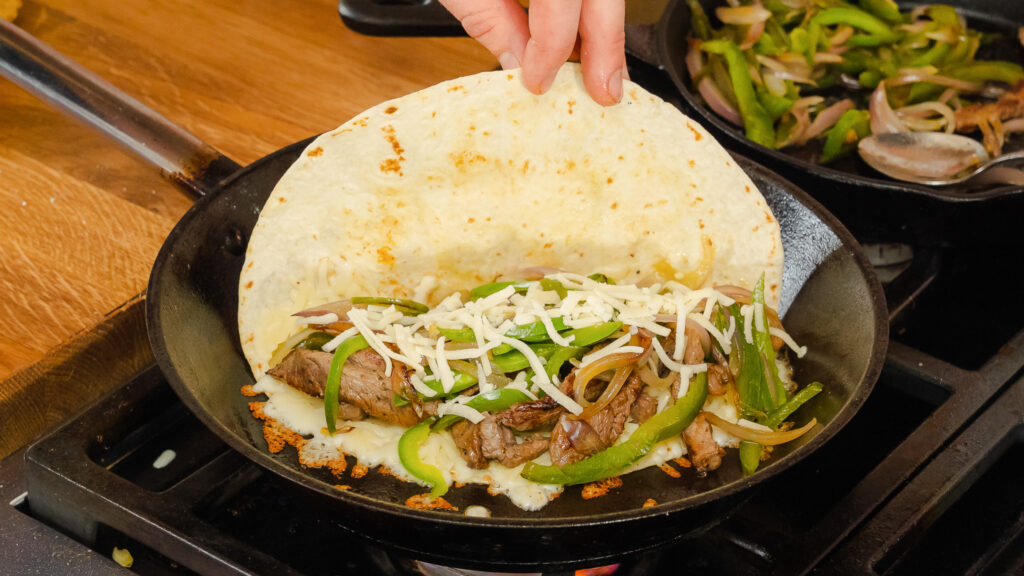 Other fun recipes you should try
CHIPOTLE STEAK QUESADILLA
Print Recipe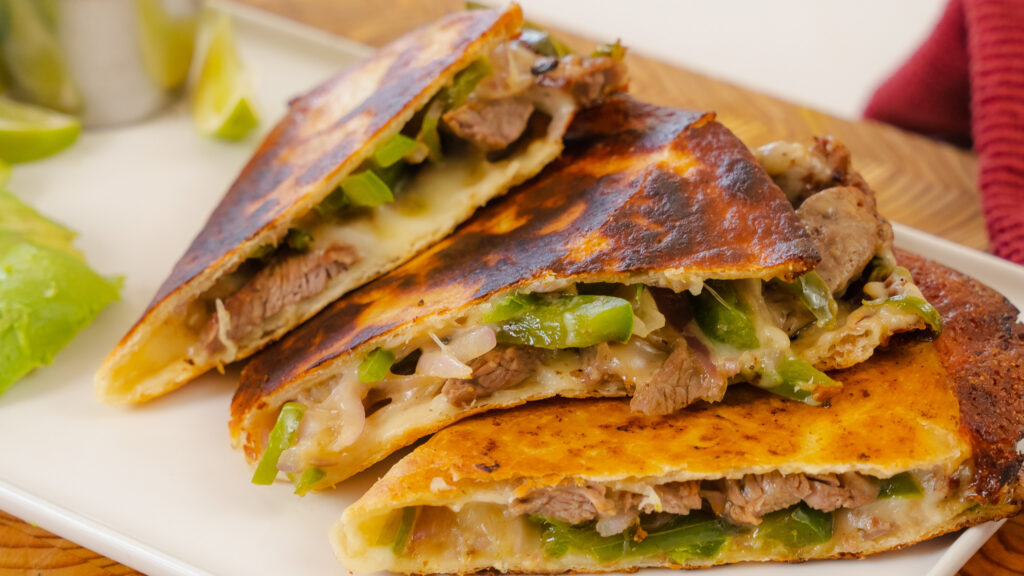 Ingredients
Steak
1

new york strip steak

1

tsp

salt

1

tsp

black pepper

1

tsp

cumin

1

tsp

oregano
Fajita Veggies
1

cup

red onion, thinly sliced

2

cloves

garlic, thinly sliced

1

green pepper, thinly sliced
Vinaigrette
2

chipotle peppers in adobo sauce

1/4

cup

honey

1/4

cup

red wine vinegar

2

cloves

garlic

1

tsp

salt

1

tsp

pepper

1

tsp

oregano

1/2

cup

neutral flavoured oil
For Assembly
2

Flour tortillas

1

cup

mozzarella or monterrey jack cheese

2 tbs

hot sauce

sour cream
Instructions
Preheat a pan over medium high heat. While the pan is heating, slice your steak and season with salt, pepper, cumin, and oregano. Once pan has reached temperature add in a tbs of oil and then drop in the steak. Saute for 2-3 minutes or until the outside is nice and brown which the centre is still pink. Set aside.

In the same pan drop in the fajita veggies and saute for 2-3 minutes. You want the veggies still to have some bite to them. Once done cooking, remove from pan and set aside.

In the bowl of a blender add the chipotle peppers, honey, red wine vinegar, garlic, salt, pepper, and oregano. Blend on might for 20 seconds and then start slowly streaming in the oil. Don't rush this process. Once oil is done streaming, you can stop the blender and transfer vinaigrette to a jar.

Place a clean pan over medium high heat. Warm up a tortilla and then sprinkle cheese on one half of the tortilla, followed by the steak, veggies, more cheese. Next fold the other side of the tortilla over the steak, cheese, and veggies, and push down. Fry both sides of the quesadilla until the cheese is melted and both sides are nice and crispy.

Serve quesadilla with vinaigrette and sour cream mixed together in a small bowl. Use this as dipping sauce! I also like having some hot sauce close by too! Enjoy!
Print Recipe
(Visited 5,005 times, 3 visits today)