When I'm looking to get back into my routine, having a protein-packed snack available is always helpful. These have become staple recipes in our house, and for good reason. They're simple to make, only contain four ingredients (unless you want to customize them to your preference) and are sure to please everyone. Keep them in the freezer pull as you do; adding more protein to your diet is easy!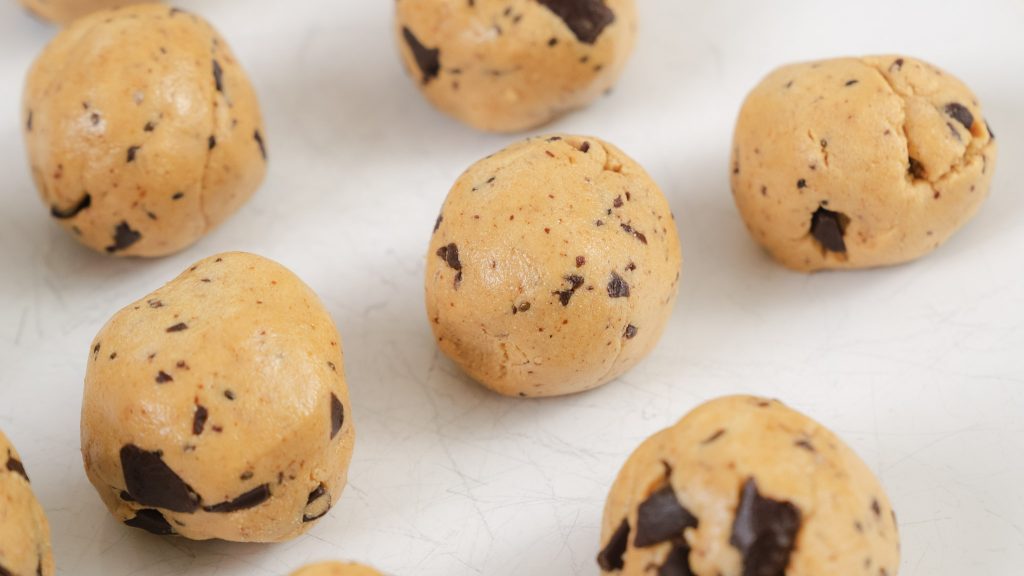 Key ingredients for these Chocolate Chip Cookie Protein Balls.
Many people might be afraid of eating raw cookie dough, and for good reason. It contains raw eggs; however, this recipe is different. We did away with the eggs and subbed peanut butter and maple syrup as the primary binders!
Maple Syrup: An excellent way of adding a more natural sweetness and a bit extra flavour. A little hit of maple can go a long way!
Peanut butter: This will be the main ingredient that keeps your balls together. It adds a nice nutty/salty flavour that helps balance out the sweetness of the maple syrup and chocolate. Feel free to use any nut butter you like; make sure it's not too loose, or your dough might be too soft!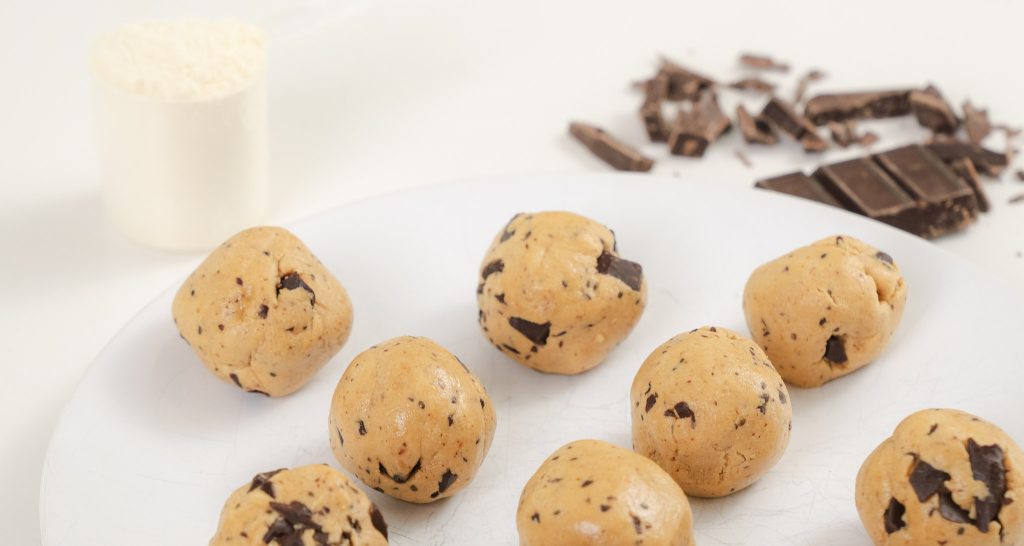 Using Protein powder in baked goods- it's a thing. 
Protein powder doesn't just have to be mixed with water, shaken and consumed on your way to the gym. There are plenty of ways to use that powder that might taste good!
Baking with protein powder works because it binds and mixes well with other dry ingredients, making it a seamless addition to many baking recipes.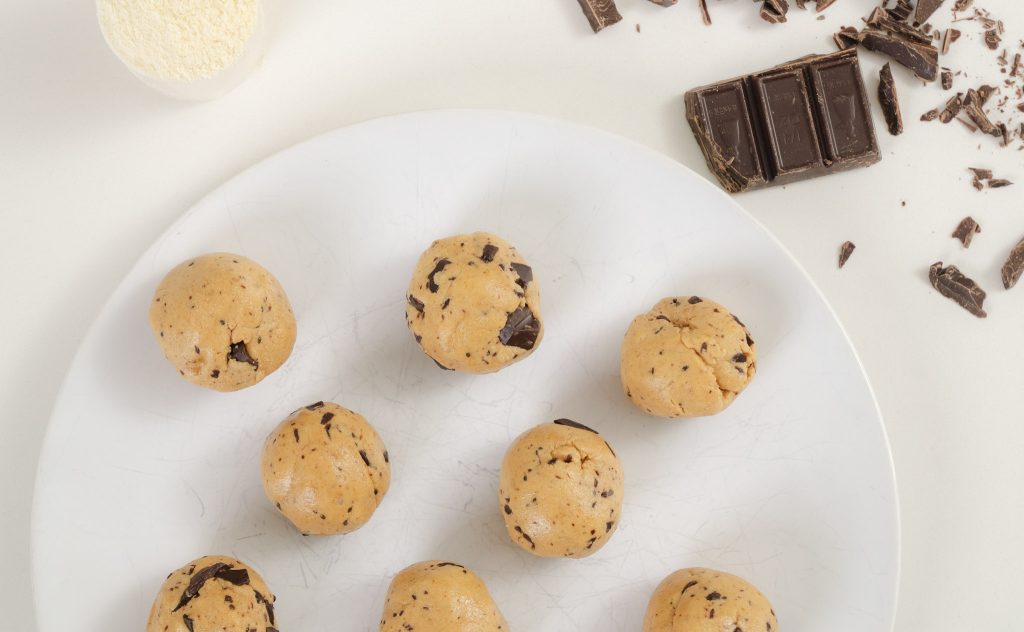 Make it your own!
These super simple recipes are perfect for customizing to your tastes. We just used chopped chocolate, but you can play with many other flavours and ingredients.
Nuts, dried berries, and white chocolate are great ways to elevate these little bites. Or, if you want to spark your childlike wonder, use some rainbow sprinkles.
Make it your own, and have fun doing it!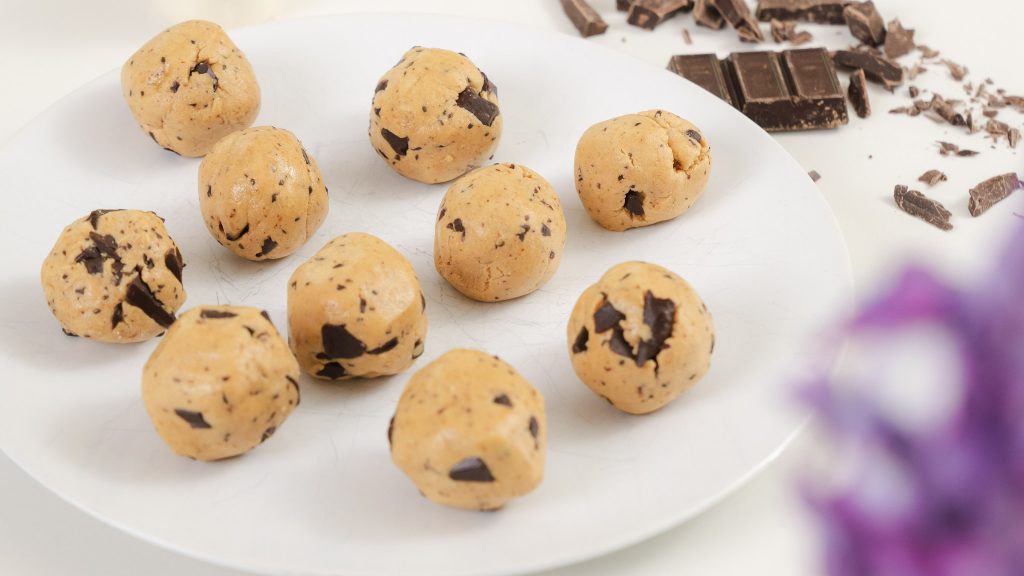 Other protein packed recipes to check out!
IF you like the sound of these Chocolate Chip Cookie Protein Balls, here are a few other recipes we think you'll like!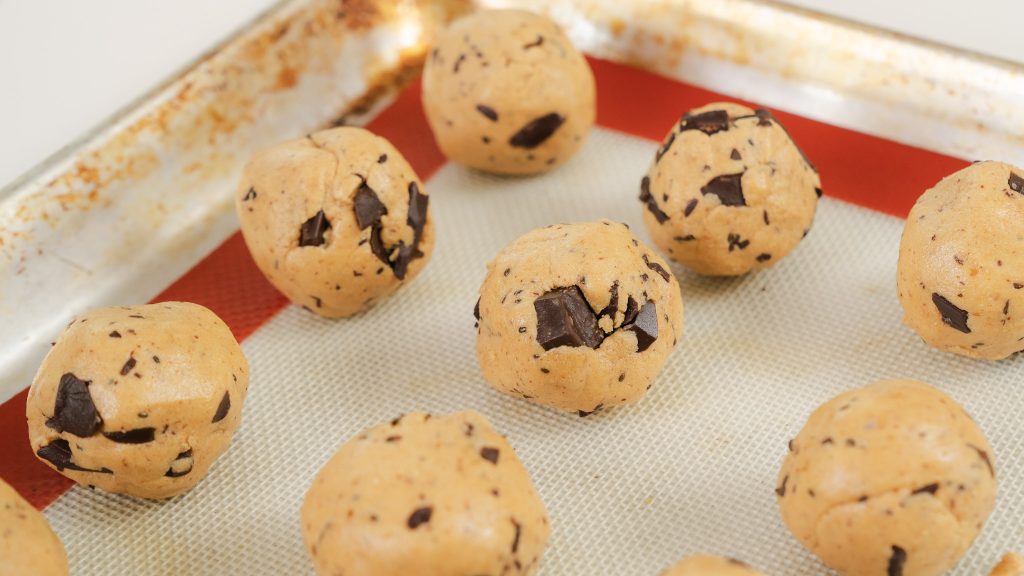 Print Recipe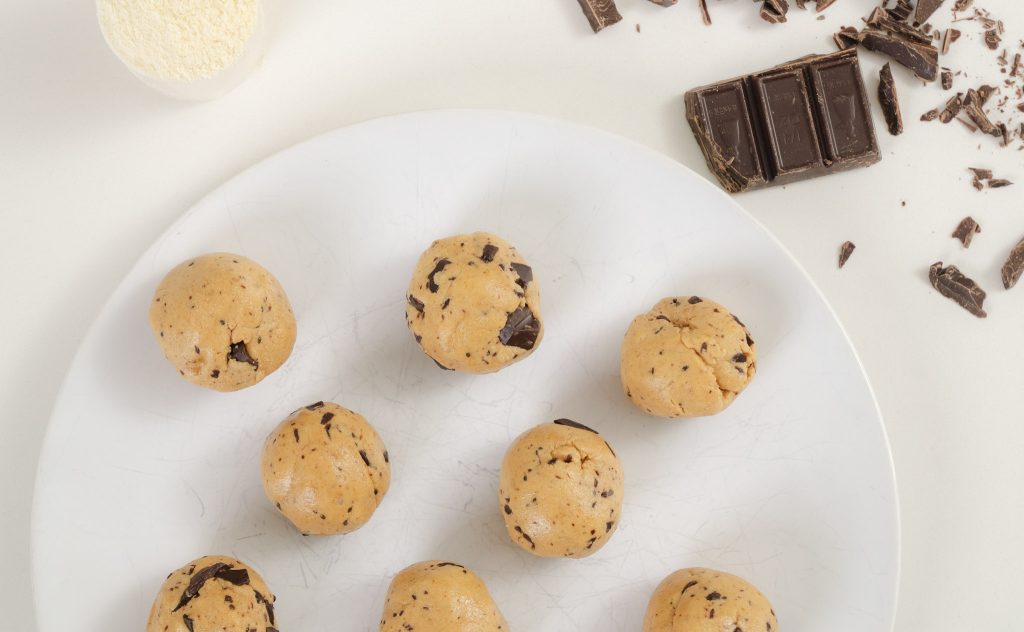 Ingredients
1

cup

Vanilla protein powder

97g

1/2

cup

Natural peanut butter

1/2

cup

Maple syrup

1

cup

Chocolate chunks
Instructions
Mix everything together in a bowl and then form into golf ball sized balls. Place into the freezer for 20-30 minuets until they firm up.
Print Recipe
(Visited 1,659 times, 10 visits today)