This Creamy Chicken Fajita Pasta an amazing family meal that I know I would have LOVED when I was a teenager. If your family loves fajitas, and loves pasta, this is a no brainer! Super quick and easy, full of flavour and perfect for meal prepping. Make a big batch and keep it in the fridge and enjoy throughout the week.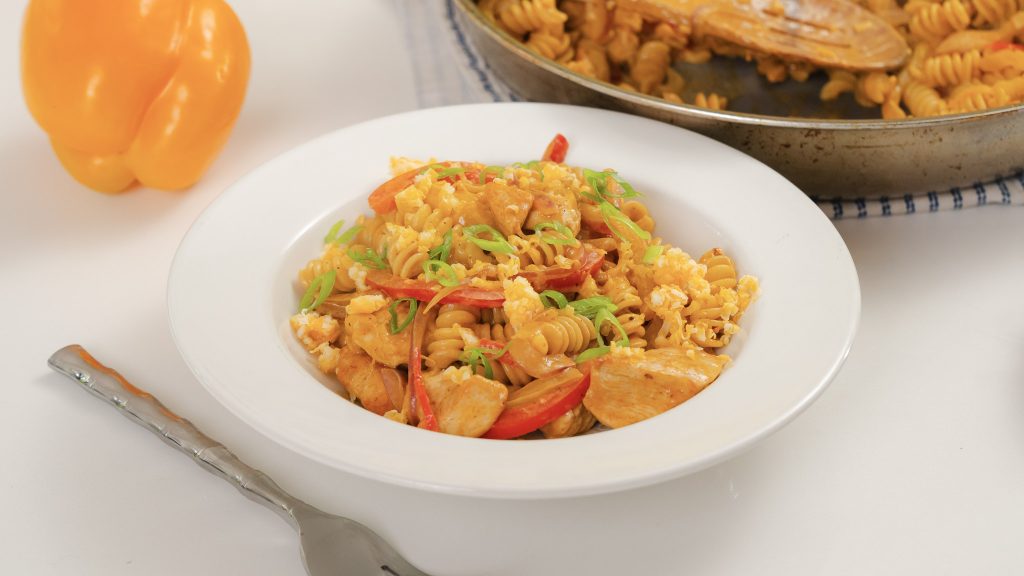 Key Ingredients for this Chicken Fajita Pasta
This is a super easy recipe that comes together really quick, but packs a punch and is sure to make a lasting impression on even the pickiest eaters. There's a few ingredients that really make this one special.
The pasta shape– A super important ingredient, and the shape you choose really matters! In this recipe we used rotini, which is perfect for holding on to all of that creamy sauce, filling all those nooks and crannies while keeping it from clumping together.
The Crunch– The peppers are a super important ingredient that keeps this creamy, warm dish fresh and crunchy. If you're looking for more crunch and less cream, just bump up the bell pepper and enjoy!
Cream cheese creaminess- The cream cheese does two things in this recipe, it give it a super creamy body making it the perfect comfort food level of creaminess, but it also adds a slight tang that helps brighten up the dish!
Tips on nailing Creamy Chicken Fajita Pasta
Keep these super simple tips in mind and you'll have the perfect bowl of pasta every time!
Watch the pasta and check your bite– With a pasta this creamy, we don't want the pasta to be over cooked, serving up a big bowl of creamy mush isn't our objective. Pasta will boil differently every time, its not an exact science, watch your pot, check the cook on your pasta often and pull it when its at you're desired cook.
A gentle cook is a tasty cook- No need to over bake or over cook your chicken. Chicken breast has a bad reputation for being tough and rubbery, but this isn't true. If your cubing your chicken, keep an eye on the largest piece, cut it open and check the cook; you're looking for soft and juicy not dry and rubbery.
Keep the veg crunchy– The veg adds so much to the dish, a slight crunch is what we are looking for. It's really going of save the texture of the dish if done right!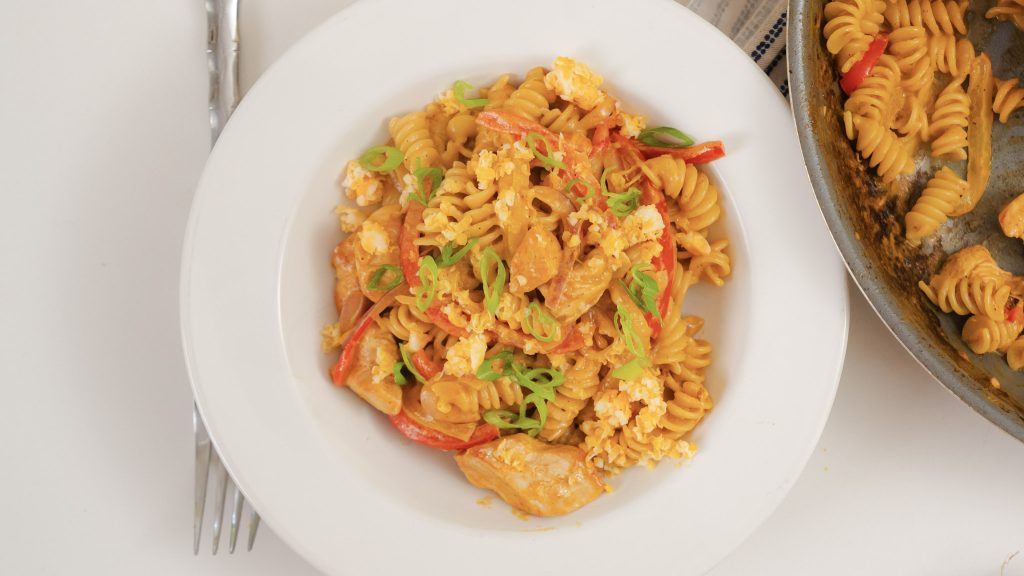 The best way to meal prep
This recipe is a meal prep classic, but an efficient meal prep can be a tricky thing. If you're doubling up this recipe, take your time with each step. Cut your veg set it aside and clean your station, get the pasta boiled before you start your sauce. The clean up doesn't have to be dreadful, clean as you go and enjoy the cooking, it'll make the prep so much easier!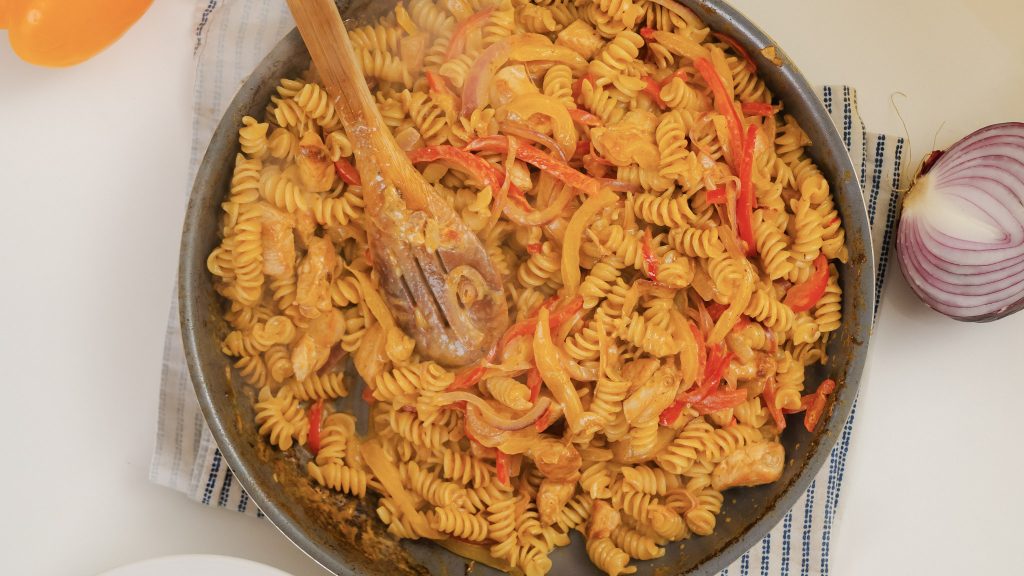 Other recipes to check out
If you like the sound of this Creamy Chicken Fajita Pasta, here a few other meal prep friendly recipes that the family is going to LOVE!
6 Meal Prep Recipes For Breakfast, Lunch, & Dinner!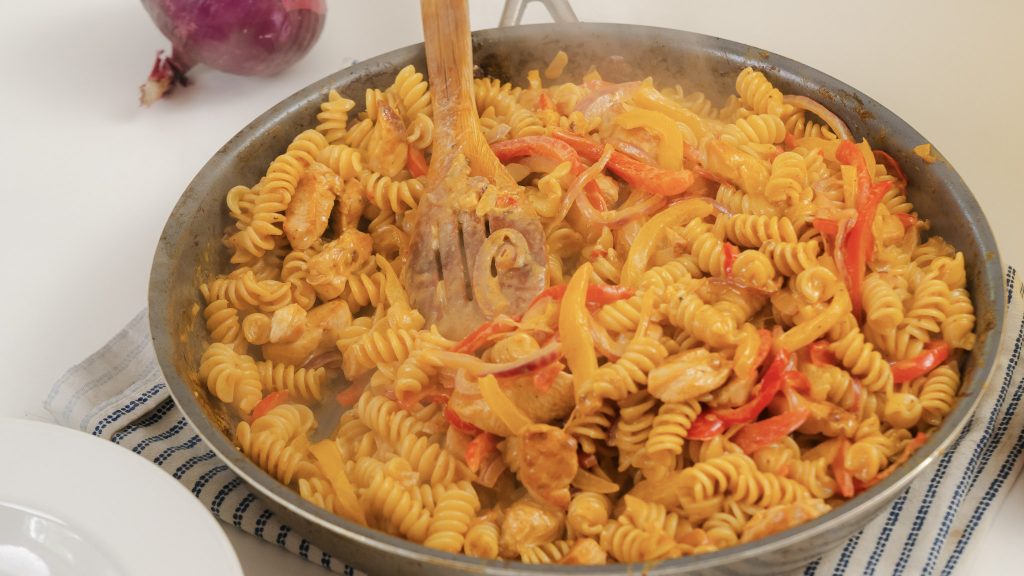 Creamy Chicken Fajita Pasta
Print Recipe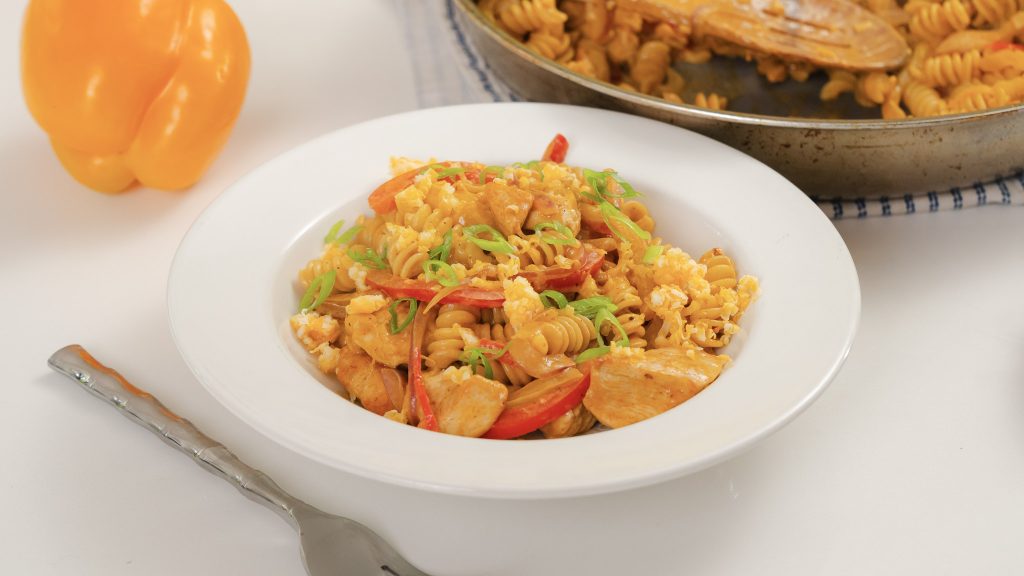 Ingredients
400

grams

Pasta

Any short noodle shape

2

large

Chicken breasts

Sliced thin or in bite sized chunks

1

pack

Taco seasoning

1

large

Red bell pepper

Sliced thin

1

Large

Green bell pepper

1/2

large

Red onion

Sliced thin

3

large

Garlic cloves

Minced

3/4

cup

Cream cheese
Instructions
Boil pasta and once cooked drain, save 1 cup of the water,, and lightly oil, and set to the side.

In a hot pan add 1 tbs oil followed by the sliced chicken. Drop in the package of taco seasoning and saute until the chicken is 80% cooked through. Now add in the garlic, onion, and peppers. Saute on high for 3-5 minutes.

Next add in the cream cheese and allow to melt. Stir to combine.

Add in the pasta as well as the pasta water. Stir to coat the pasta.

Serve warm with shredded cheddar cheese.
Print Recipe
(Visited 2,424 times, 8 visits today)