This quick and easy Tortellini Pasta Salad has all the makings of a great potluck recipe. Ready in a short time, with simple ingredients and massive flavour. If brought to your next family or work gathering, people are going to think you put in some serious time making this one. Keep it seasonal and add what you have, make it nice and make it often!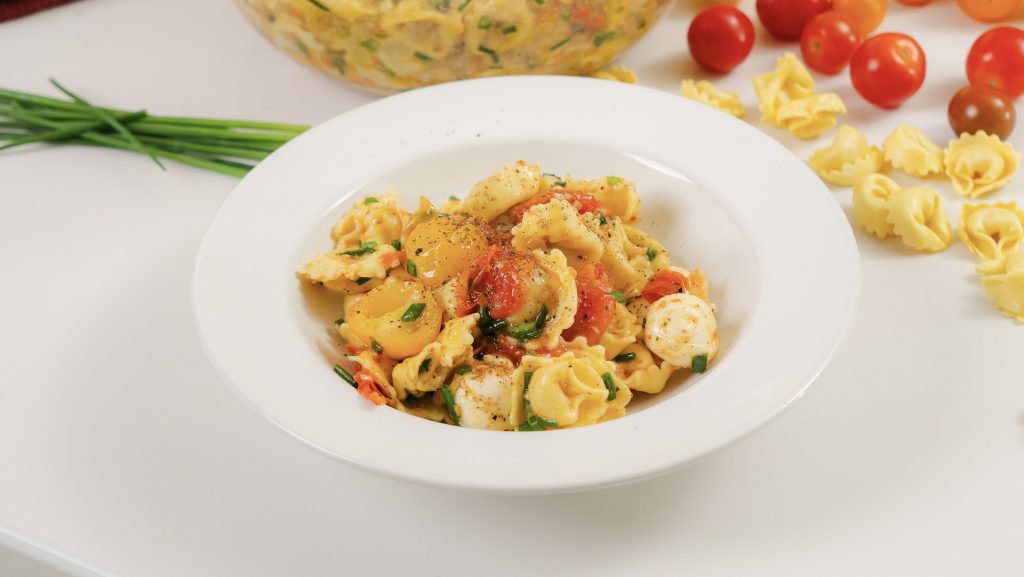 Key Ingredients for Tortellini Pasta Salad.
This one had a really short ingredients list, but don't let that fool you, each ingredient packs a punch and is crucial to making this one really special. Perfect for any picky eater in the family!
The Tortellini– Grocery stores nowadays are bringing in tons of fresh and dried pasta shapes, if you're not a fan of tortellini don't worry, there's the perfect shape and filling out there for you!
The Cherry Tomatoes– There is something so special about peak-season, ripe cherry tomatoes. There's a sweetness to them that regular tomatoes just don't have. Their ranging colours give so much to the dish, and their thin skins will just dissolve into the sauce, giving you the perfect texture.
All of the cheeses– The parmesan and mozzarella are the best part, adding saltiness and creaminess to the finished dish. You won't want to sub these ones out, trust me.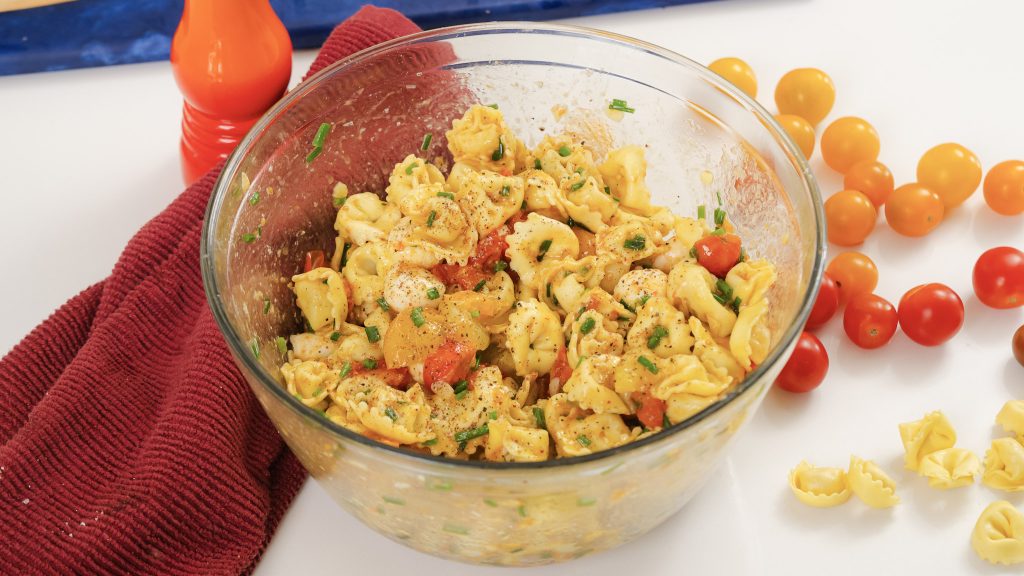 Tips on nailing this Tortellini Pasta Salad.
Like the ingredient list, the instructions are short and to the point, but there are a few key steps you won't want to miss!
The perfect pasta bite– Make sure your tortellini is cooked the way YOU want it. Everyone has a different definition of 'cooked' when it comes to pasta. If you like it a little al-dente or soft, matters not. Just make sure you watch your pot and test your pasta to see what stage it's at.
Stew the tomatoes right– We're looking for low and slow, not burnt or brown garlic that's going to make your simple sauce bitter, or half cooked tomatoes. Let the slow heat do its thing, breaking up the tomatoes, and watch as your perfect sauce comes together.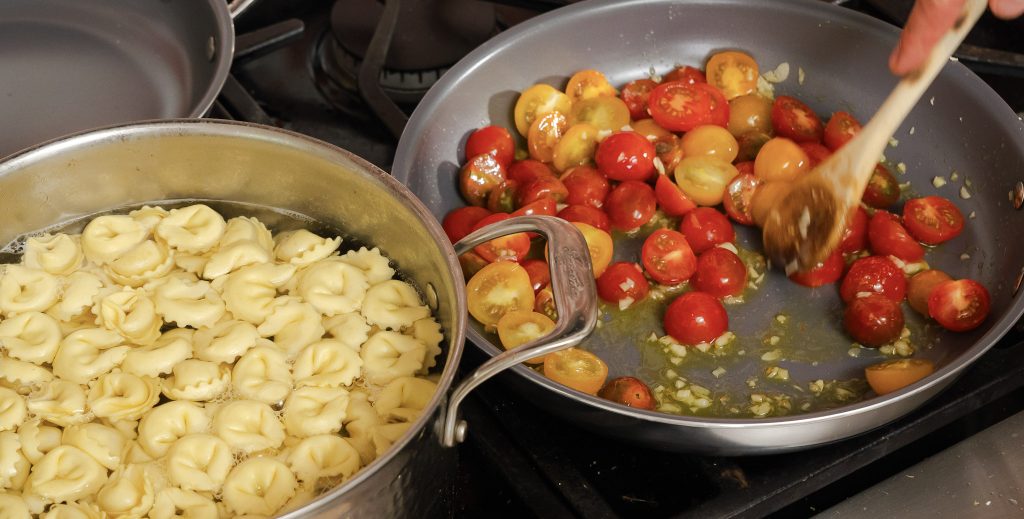 Use what you have and make it your own!
We say it all the time, if you have some extra veg that's kicking around and you want to use it up, or maybe you just have an ingredient that you love and want in everything, use it up! Recipes are always just a guide line, find what you love and make it your own!
Other recipes to check out
If you liked the looks of this Tortellini Pasta Salad, and wanted to find some other great recipes, here's a few others we think you should check out.
Moroccan Inspired Couscous Salad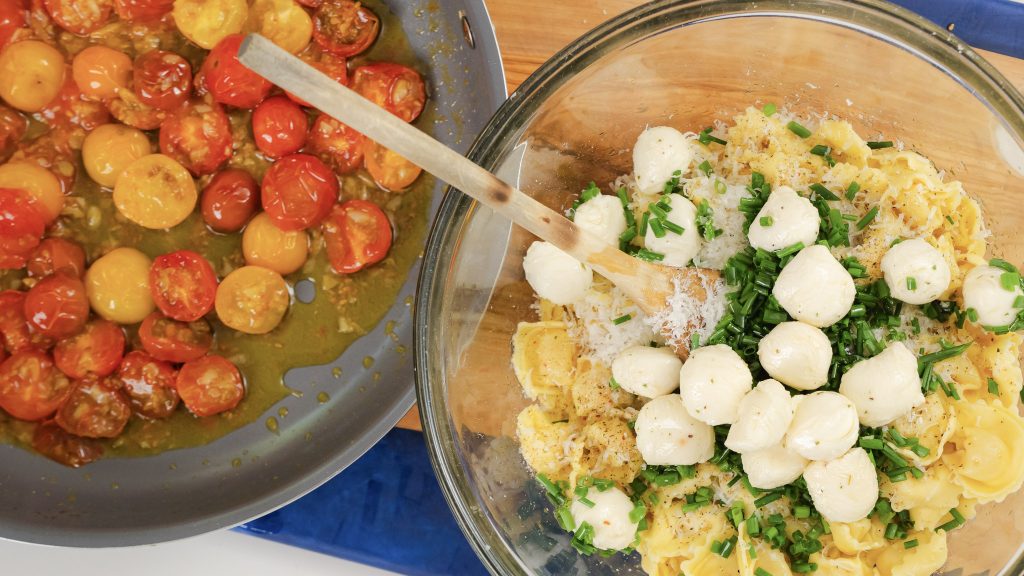 Tortellini Pasta Salad
Print Recipe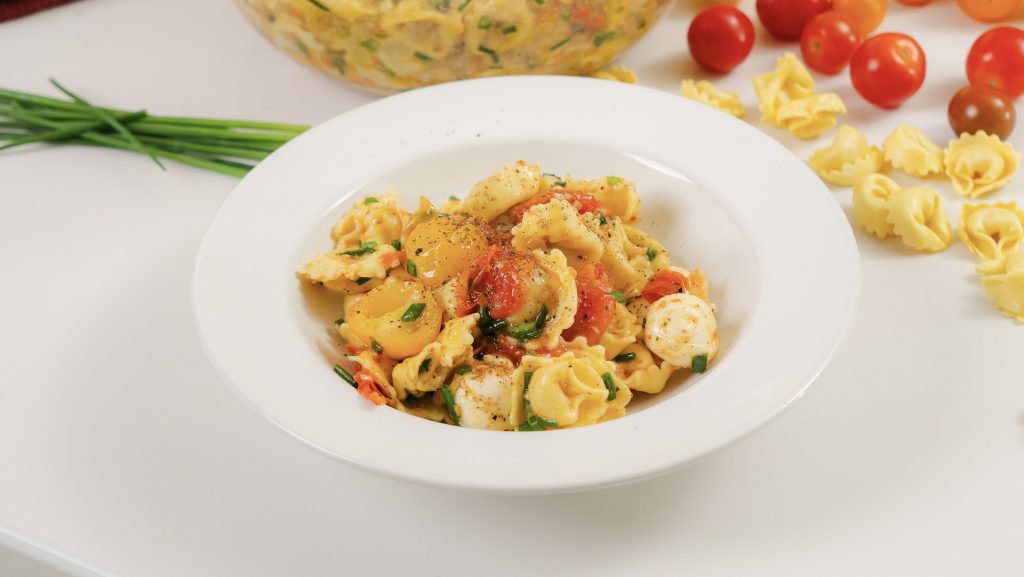 Ingredients
400

grams

Tortellini

5

Garlic cloves

2

cups

Cherry tomatoes

Halved

340

grams

Marinated mozzarella balls

1/3

cup

Fresh chives or basil

Sliced thin

3

tbs

Olive oil

1

tbs

Black pepper

1

tsp

Salt
Instructions
In salted water boil off tortellini until soft. Once done, run under cold water, drain, and then pour into a large mixing bowl.

Over medium low heat add 2 tbs of olive oil and then add the chopped garlic.  Slowly saute and then add in the sliced cherry tomatoes. Don't rush this process and allow the tomatoes to breakdown. After about 10 minutes remove from the heat and pour over the cooked tortellini.

Add in basil or chives, black pepper, parmesan cheese, and marinated mozzarella balls. Toss and serve warm or let chill in the fridge.
Print Recipe
(Visited 11,005 times, 14 visits today)