This spicy, flavourful Crispy Korean Chicken is an incredible weeknight meal, and one of my favourite meal prep recipes I have ever made. Truly make this one. All of the great texture and flavour of a deep fried take out dish, but no deep frying needed!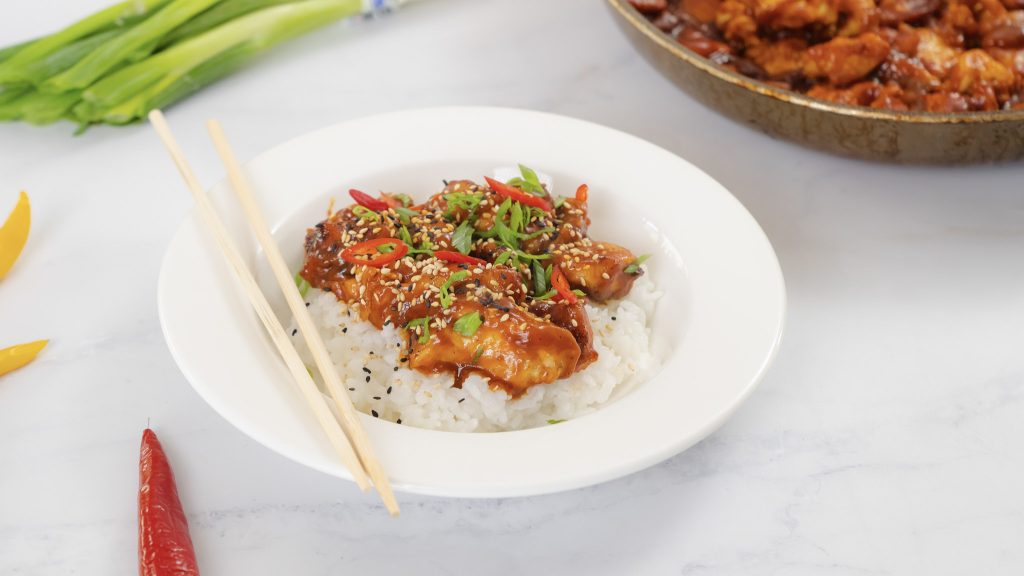 What is Gochujang? And why is it important?
Gochujang might be one of the important ingredients in Korean cooking culture. And for good reason, it's incredible. It hits all the key flavour notes. There's an inviting heat that warms the palate and doesn't burn it. A tanginess that heightens, a sweetness that balances and a saltiness that brings it all together. It can be found in a multitude of applications, from bringing sauces and marinades to life; to giving other classic condiments like kimchi its signature flavour. But where does it come from? Gochujang is made from a chile called gochu-garu, deep red in colour and fiery in flavour, mixed with glutinous rice, added cultures and salt. Regardless of its application, it's a cornerstone of food and well worth the purchase.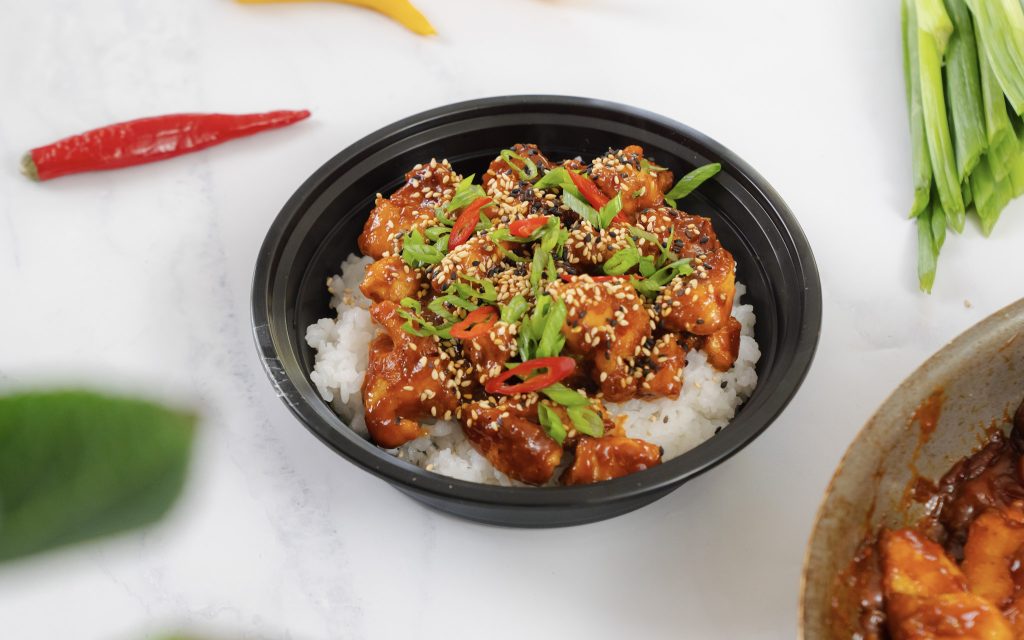 Key ingredients
Gochujang– Like we said above, you can't substitute this ingredient for anything else. It wouldn't be Crispy Korean Chicken without it.
Chicken– We used chicken breasts in this recipe, but you could use any cut you have on hand; chicken thighs are perfect. When it comes to picking out your chicken, the freshest is always going to give you the best outcome.
Rice flower– This is a really important ingredient. This starchy flour is going to cling to the chicken and insure that it'll stay crispy even when doused in your sweet/sticky sauce.
Keys to nailing this Crispy Korean Chicken
There's a few things to take into account for this recipe:
Make sure your chicken is cut evenly. If you cut your chicken roughly the same shape, you'll get an even cook across the board.
Coat your chicken evenly in the starch. When dredging you chicken, make sure its evenly coated to ensure a thick and crispy crust. If too much is added you run the risk of making the sauce overly gummy.
Reduce your sauce slightly. When you make your sauce in the pan, let it bubble away for a few moments to thicken up. Watch your heat and make sure to constantly sir or it could easily burn.
Slice your scallions thin. When you cut your scallions, the thinner the better. You want an even distribution of fresh-green bite.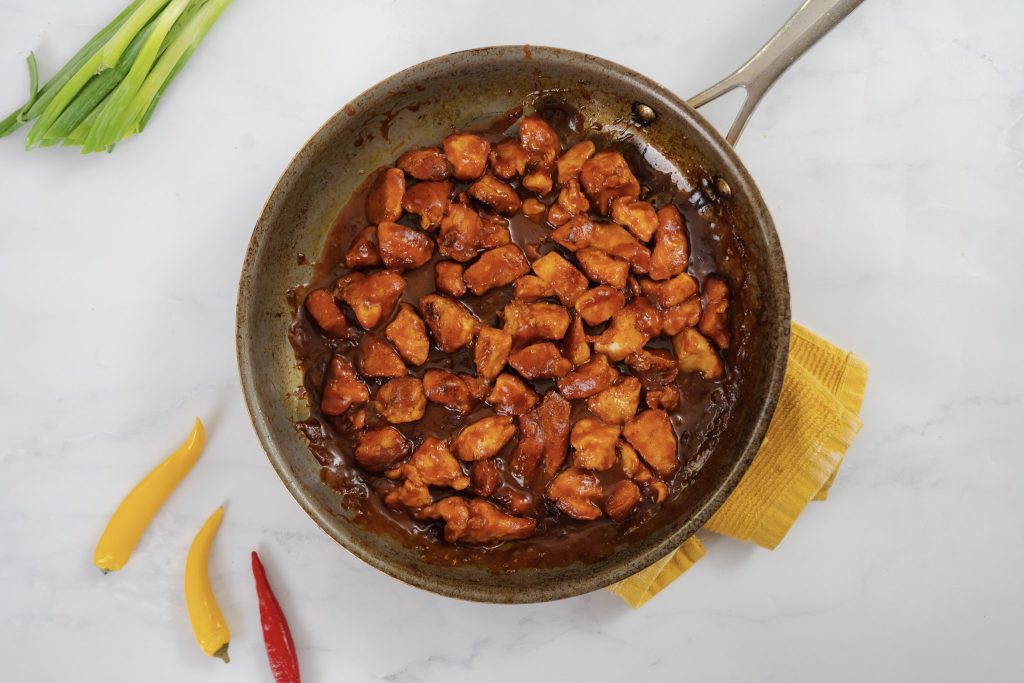 Other recipes you should check out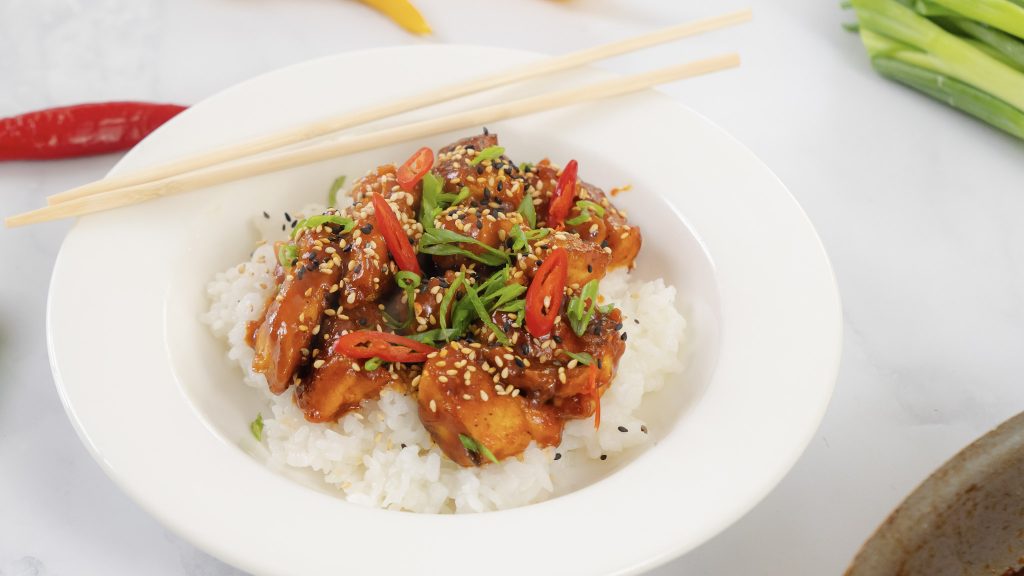 Crispy Korean Chicken
Print Recipe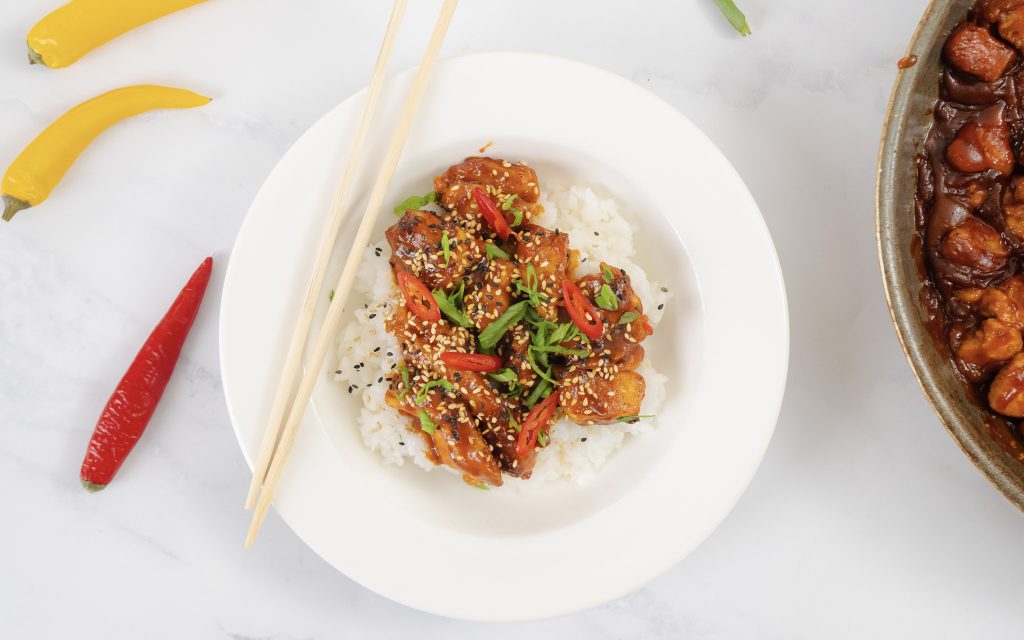 Ingredients
For the chicken
2

Large

Chicken breasts

Diced

1

tsp

Salt

1

tsp

Garlic powder

1/2

cup

Rice flour or Corn starch
For the sauce
1/2

cup

Soy Sauce

2

tbs

Gochujang

2

tbs

Maple Syrup

1

tsp

Rice wine vinegar

1

tbsp

Corn starch

Mix with 2/3 cup of water
Serve with
Sticky rice

1/2

cup

Green onions

1/4

cup

Sesame seeds

1

large

Red chilli

Sliced
Instructions
Into a large bowl mix together chicken breasts, salt, garlic powder, salt, and rice flour or corn starch. Mix to ensure chicken is totally coated.

Place a large oiled skillet over medium high heat and then drop in the chicken. Cook until all sides are golden brown and then remove chicken from the pan and place on a plate.

In the same pan pour in soy sauce, gochujang, maple syrup, rice wine vinegar, and the cornstarch + water mixture. Stir and allow the sauce to bubble and it will begin to thicken.

After 2 minutes add in the cooked chicken and coat with the sauce.

Serve this with sticky rice, and top with sliced green onions, black and white sesame seeds, and a sliced chilli. Enjoy!
Print Recipe
(Visited 4,412 times, 3 visits today)