This protein packed meal prep option is something you can eat every single week and not get sick of it. Make a few batches, wrap em' tight and store them in your freezer for months. Perfect for busy weekday night or for when you just don't feel like cooking a whole meal from scratch. Add this recipe to your grocery list, you wont regret it!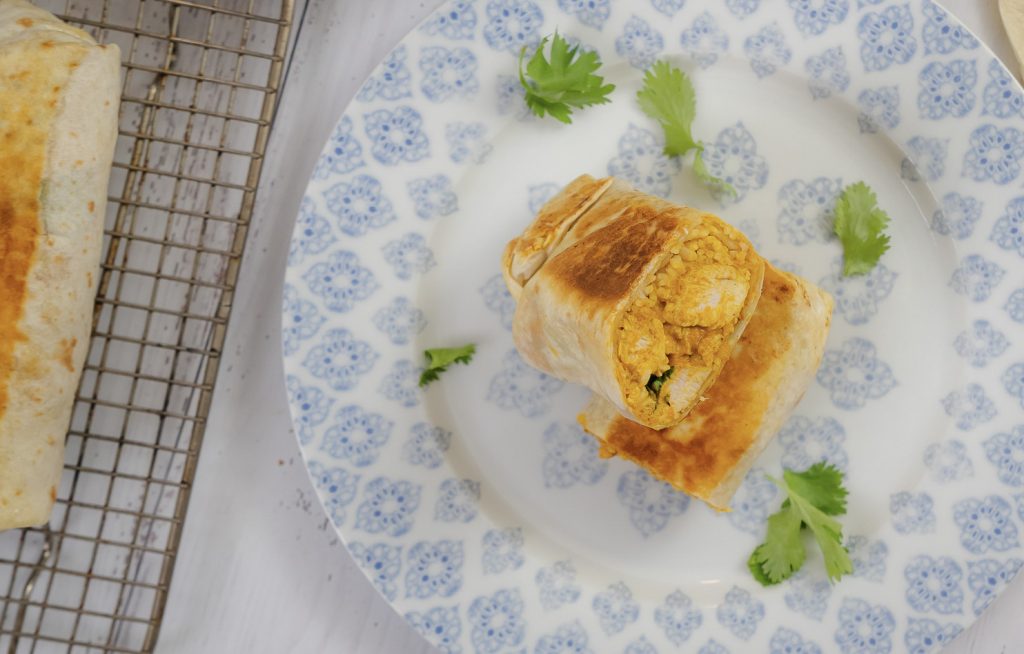 Key ingredients for butter chicken burritos.
There are a few ingredients that make this recipe special, use them properly and you have fantastic results every time guaranteed!
Chicken- What chicken you use matters. The freshest meat is always going to give you the tastiest outcome, especially if you plan to freeze and reheat for later meals. We used chicken breasts for this recipe but you could easily use thighs if that's what you have on hand.
Spices- Theres a handful of spices in this recipe, but they all play an important part. It's worth checking what you have in your pantry and updating you grocery list to fill in any holes you might have.
Rice- This recipe calls for perfectly cooked basmati rice; it helps bump up your meal prep and also adds great texture to the burrito.
Its all in the Butter Chicken Sauce!
Sauce is always the best vessel to add great flavour to dishes, this sauce (and marinade) call for a few special ingredients that keep it interesting and flavourful. This tangy, spicy and rich sauce utilizes greek yogurt to tame some of the heightened spices and bring a rich acidity that balances out the dish. For the key to getting a sauce thats just the right consistency use these two tip:
Make sure your sauce is as smooth as possible. The smoother the sauce means the better incorporated the spices, aromatics and seasonings. Sometimes large chunks are good, just not here!
Reduce your sauce. When you add it back in to your pan, give it a slight cook to make sure it clings to the chicken and rice. Thick and creamy is what you'll want.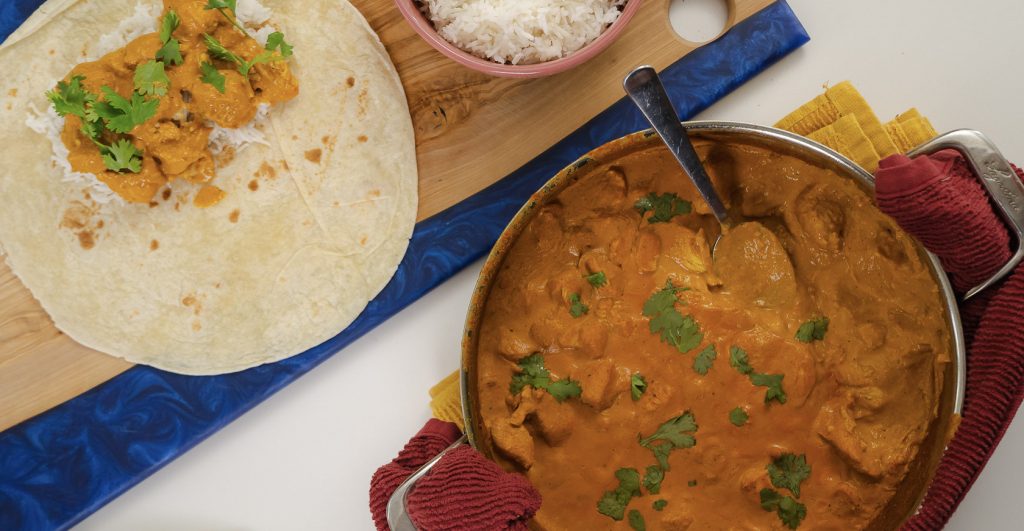 Packaging and reheating burritos
These butter chicken burritos are perfect for popping in the freezer and pulling them out on a busy weekday night. But theres a few steps you'll want to take to make sure they stay perfect!
Make sure all of you're ingredients are cold/room-temp when you wrap and freeze. Placing hot items in the fridge and freezer can make the cooling process actually take longer, and might even over cook the center of the burritos.
When you wrap your burritos, use a layer of parchment followed by a layer of plastic wrap. The parchment won't stick to the burrito and the plastic wrap will make sure it stays air tight in the freezer.
When you want to heat your burritos back up, just pull from the freezer removing the wrapping and place in a frying pan on medium low heat and fry until golden brown. A quick zap in the microwave and also speed this process up if you're crunched for time!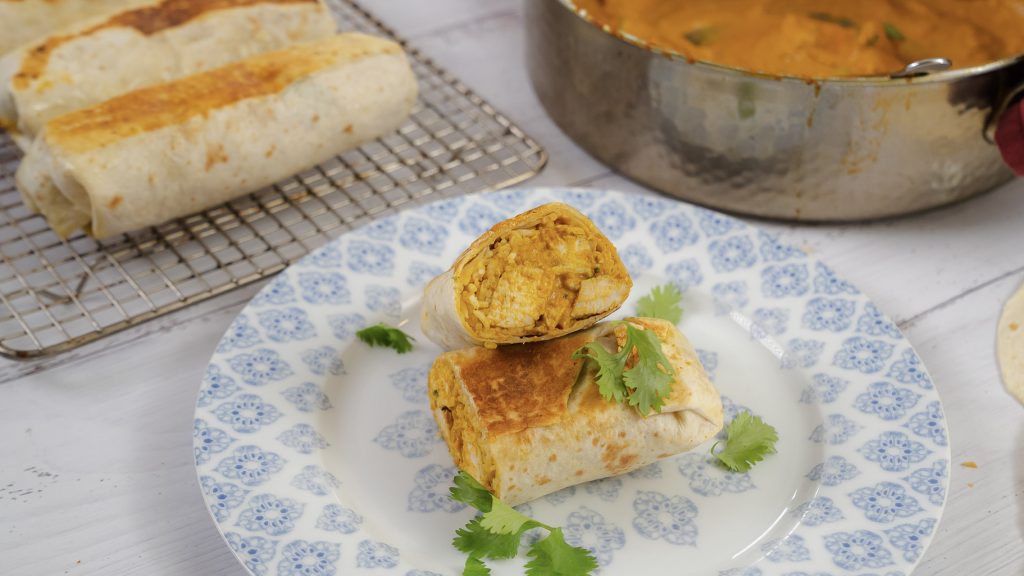 Other recipes you'll want to check out.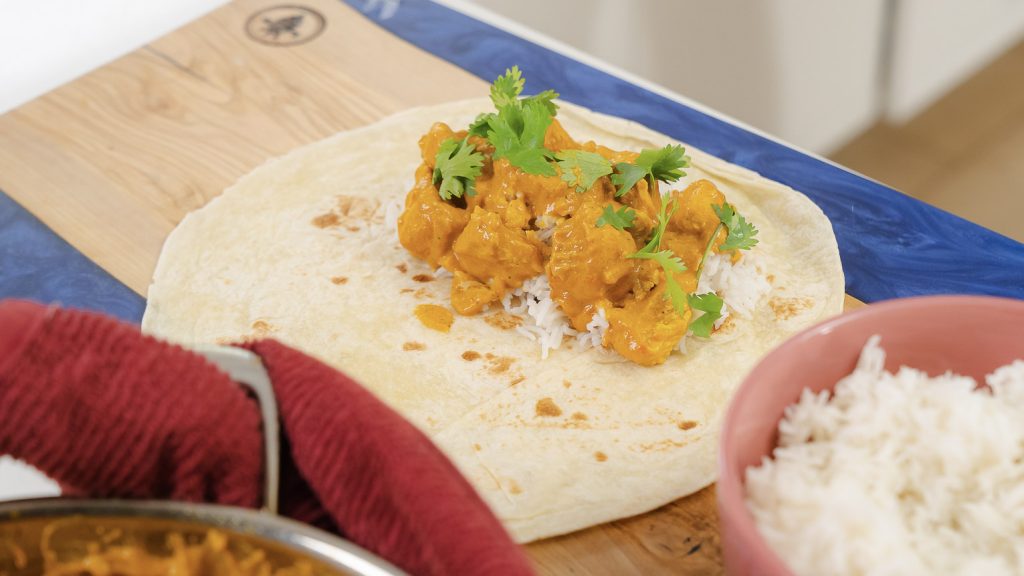 Easy Butter Chicken Burritos
Print Recipe
Ingredients
Butter Chicken Burritos
3

large

Chicken breasts

Diced

1

tsp

Smoked paprika

1

tsp

Garam Masala

1

tsp

Curry powder

1

tsp

Turmeric

1

tsp

Salt

1

tbs

Garlic

Minced

1

tsp

Ginger

Minced

1/2

cup

Greek yogurt
Butter Chicken Sauce
1

tbs

Butter

`

1

tbs

Olive oil

1/2

large

White onion

Diced

2

cups

Diced tomatoes

Canned

1

tsp

Smoked paprika

1

tsp

Curry powder

1

tsp

Garam masala

1

tsp

Turmeric

1

tsp

Salt

1

tbs

Garlic

Minced

1

tbs

Ginger

Minced

1/4

cup

Cashew

1/2

cup

Greek yogurt
For the filling
2

cups

Cooked Basmati rice

6

Large

Flower tortillas
Instructions
Into a bowl add chicken, paprika, garam masala, curry spice, turmeric, salt, garlic, ginger, and greek yogurt. Mix together and set in the fridge.

Place a large skillet over medium high heat and drop in 1 tbs of butter and 1 tbs of olive oil. Once the butter is melted add in the diced onions, minced garlic, ginger and saute for 2 minutes. Next up add in the spices, canned diced tomatoes, cashews, and greek yogurt. Allow the mixture to saute for about  5 minutes and then pour into a blender.

Blend until smooth.

Using the same pan, pour in the chicken mixture and saute until cooked through. Once chicken is cooked through (10-15min), pour in the butter chicken sauce making sure to fully cover.

Lay the tortilla on the counter and then scoop on the cooked basmati rice into the center. Top with the butter chicken and then fold like a burrito. I like to place the burrito into a hot pan with a bit of oil and sear until golden brown.

If you are making the burritos in advance, allow them to fully cool and then wrap in plastic wrap.
Print Recipe
(Visited 5,070 times, 6 visits today)