I have made thousands of salads, and this Harvest Salad with Lemmon Thyme Dressing might be near the top of the list. It's creamy, crunchy, chewy, sweet, acidic and salty, everything you would ever need from a salad. If that hasn't won you over, the lemon thyme dressing will!
Nailing the dressing for this Harvest Salad.
Once you understand how to make a proper salad dressing, you unlock a world of opportunities. You won't want to reach for a pack of vinaigrette ever again.
The trick is to emulsify. The easiest way to do that isn't actually in a blender but in a large mason jar. Add all of your ingredients into the jar and shake as hard as you can. You'll see the vinegar and acids mix with the oil and transfer into a glossy, emulsified vinaigrette.
Keep it in the jar or transfer it into a smaller jar, store it airtight in the fridge, and enjoy it through the week. If it looks like it's split, give it another shake, and you're good to go!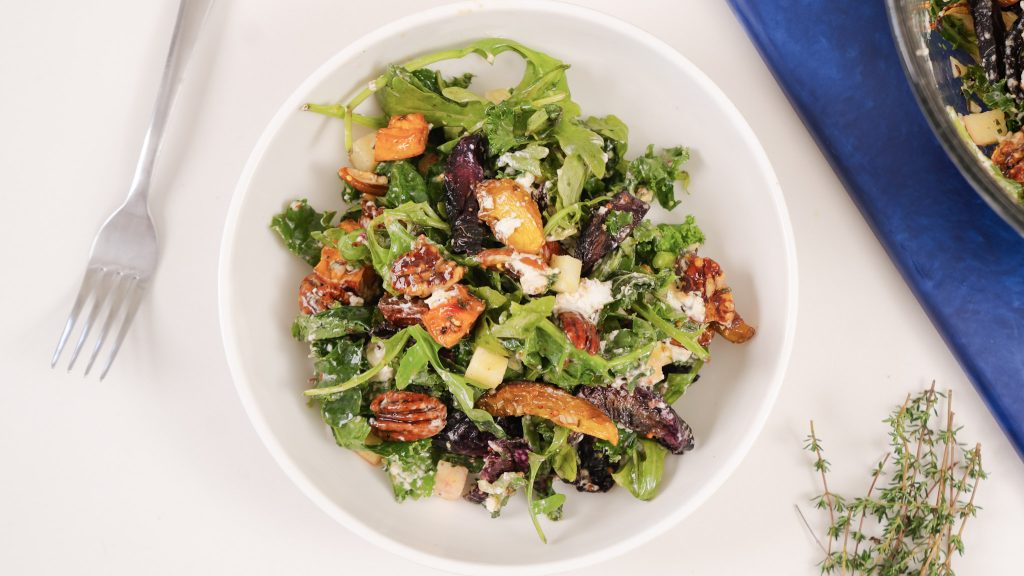 The greens you choose matter!
Not all greens are made the same. Each green salad has its pros and cons. In this recipe, I used arugula and kale, and for a good reason. They're a bit hardier than your average lettuce leaf and can hold up against hearty roasted vegetables like roasted sweet potato and carrots and heavy cheeses like goats.
Arugula also has this lovely pepper note that I think adds a ton to the finished salad.
I would recommend always cleaning your salad green, a good salad spinner helps!
The mint makes it better.
I know it might sound strange to some that there would be mint in this salad, but sometimes you have to trust the process.
The mint lightens everything and brings a freshness and a sharpness that elevates everything in the dish. It's optional but heavily recommended!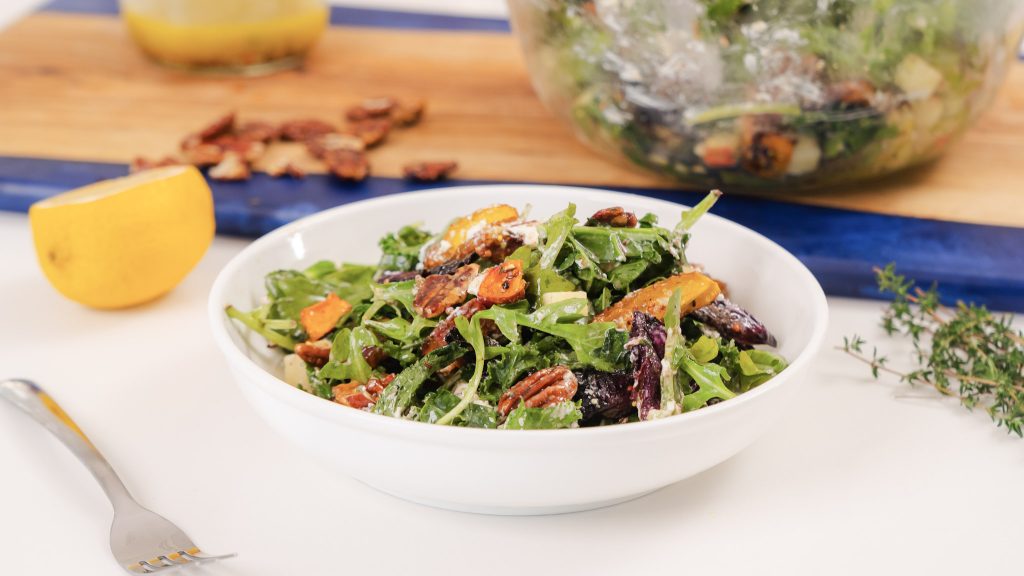 Other recipes to check out!
If you liked the sound of this Harvest Salad with Lemon Thyme Dressing, here are a few other salads and dressing I think you should check out!
Crispy Tofu and Ginger Lime Salad
Sushi Restaurant Salad Dressing
Crunchy Ramen and Sesame Salad
Harvest Salad with Lemon Thyme Dressing
Print Recipe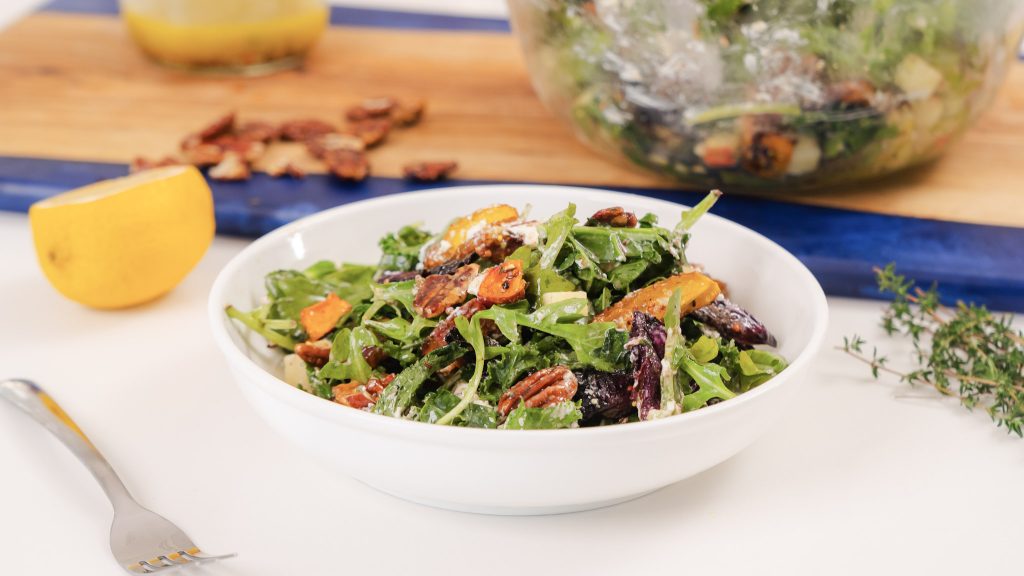 Ingredients
4

cups

Arugula

1

cup

Kale

Stem removed and chopped

1/2

cup

Goats cheese

1

large

Sweet Potato

Cubed and roasted

3

large

Carrots

Sliced and roasted

1/2

Red apple

Diced

1/2

Cup

Pecans

1

tbsp

Maple syrup

1/3

cup

Mint

Torn
For the Dressing
2

tsp

Dijon mustard

1

Large

Garlic Clove

Minced

1

Lemon

Juiced and zested

1/4

cup

Apple cider vinegar

1

tbs

Maple syrup or Honey

1 1/2

tbsp

Fresh thyme

1/2

tsp

Salt

1

tsp

Pepper

1

cup

olive oil
Instructions
Pre heat oven to 400F. Once heated add in your sliced sweet potato and carrot. Roast for 30min or until all veg is nice and soft. Remove from oven and allow to cool completely.

In a frying pan over medium heat, add 1.2 cup of pecans and toast until browned, about 2-3 min. Remove from heat and add 1 tbsp of maple syrup. Toss well making sure to evenly coat each pecan.

In a large mason jar, add dijon mustard, minced garlic, lemon juice and zest, apple cider, maple syrup , chopped thyme, salt, pepper and 1 cup of olive oil. Shake well until fully combined.

In a large bowl, add all ingredients, coat in dressing and serve.
Print Recipe
(Visited 31,091 times, 139 visits today)