This recipe is just as much about the salad dressing as it is the salad; after all, it's all in the sauce. Bright, nutty and super zippy, this Crispy Tofu and Ginger Lime Salad is all that's been on my mind lately. The added crispy tofu really takes this into a whole other world. Let's get cooking!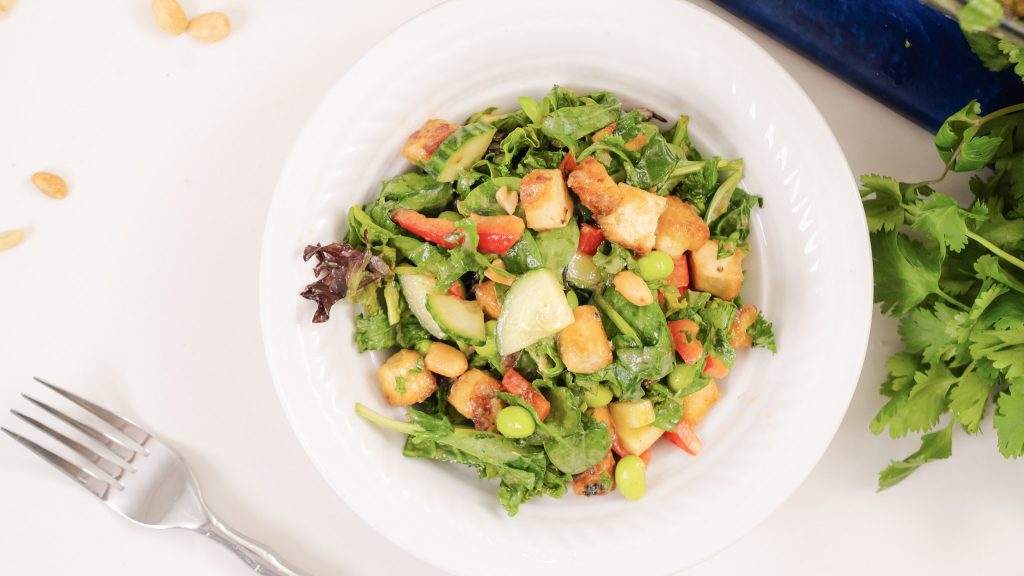 Making the perfect crispy tofu.
The crunch is the best part of this recipe. People are still afraid of tofu, but you don't have to. If you purchase FIRM tofu, properly drain it, coat it in cornstarch and give it a good fry, you will be left with one of the most texturally pleasing bites out there.
In this recipe, I put a little bit of soy sauce on the tofu before coating it in cornstarch. The tofu is going to absorb it, giving it a better flavour and letting the cornstarch form a better crust.
Keep an eye on the tofu, and don't over-chew the pan. Working in batches is always better!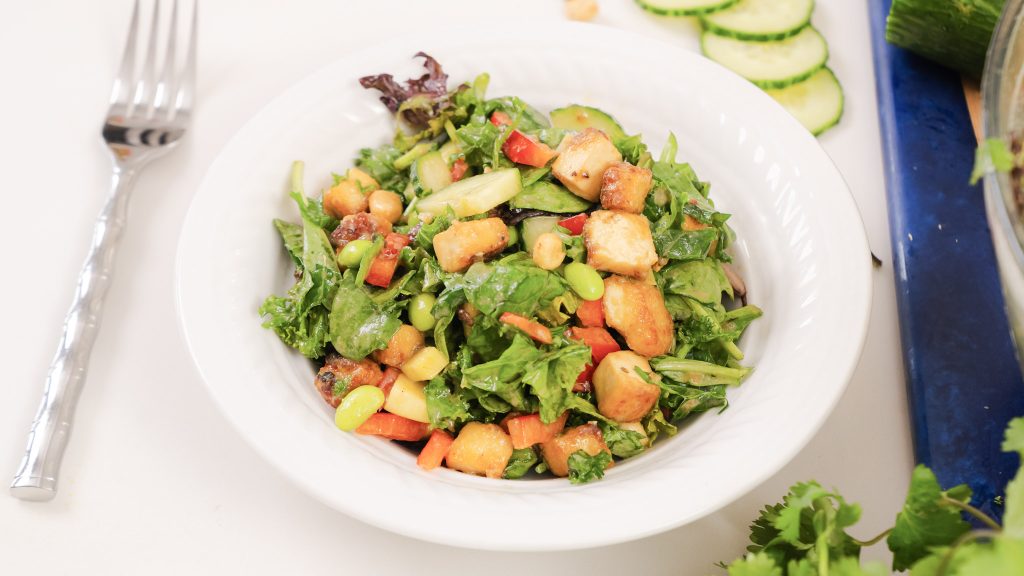 Nailing the Dressing! 
I might have lied about the tofu being my favourite part. This dressing is my favourite. Packed with all of my favourite flavours and ingredients, you'll be putting it on everything!
Using a blender is the best way to incorporate all of those big flavours. Slowly streaming in the oils is going to be the key to getting that glossy, creamy texture. If you're in the market for a new blender or looking to upgrade your current one, I use this brand!
If you don't have a high-powered blender, a run-of-the-mill food processor will also do the trick; you might have a bit more chunk and a less creamy texture!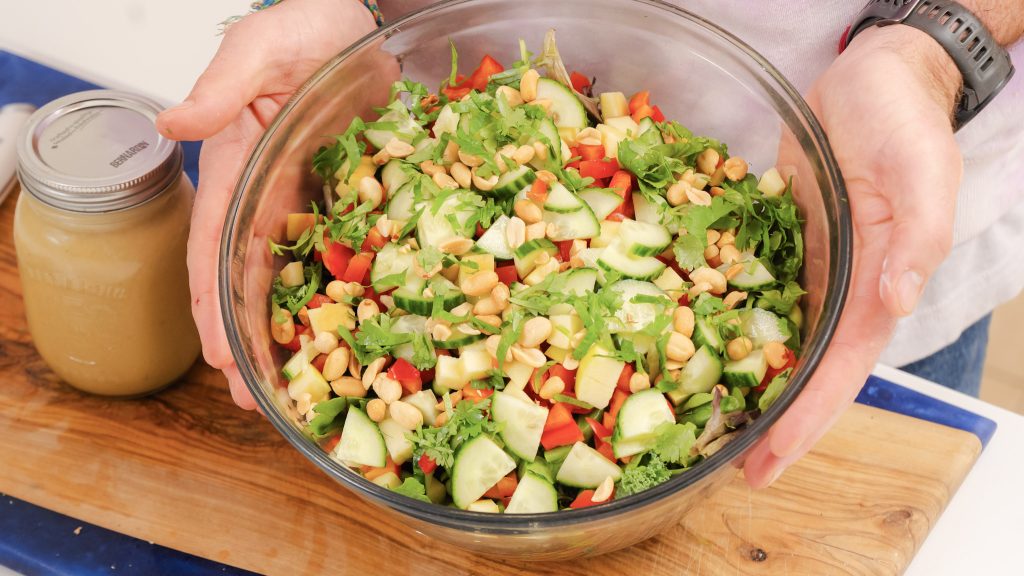 The perfect salad base. 
The perfect salad base is different for everyone. I like something full of leafy and hearty greens, fresh veggies like peppers and cucumber and a crunchy, salty nut of some kind.
You could take any salad leaf, wintergreen, legume, root or tuber and make an incredible salad- especially with a salad dressing as tasty as this one. Get out there and explore!
A salad spinner is always a great way to make sure your greens are clean and dry! Here's a great example of a salad spinner you could use!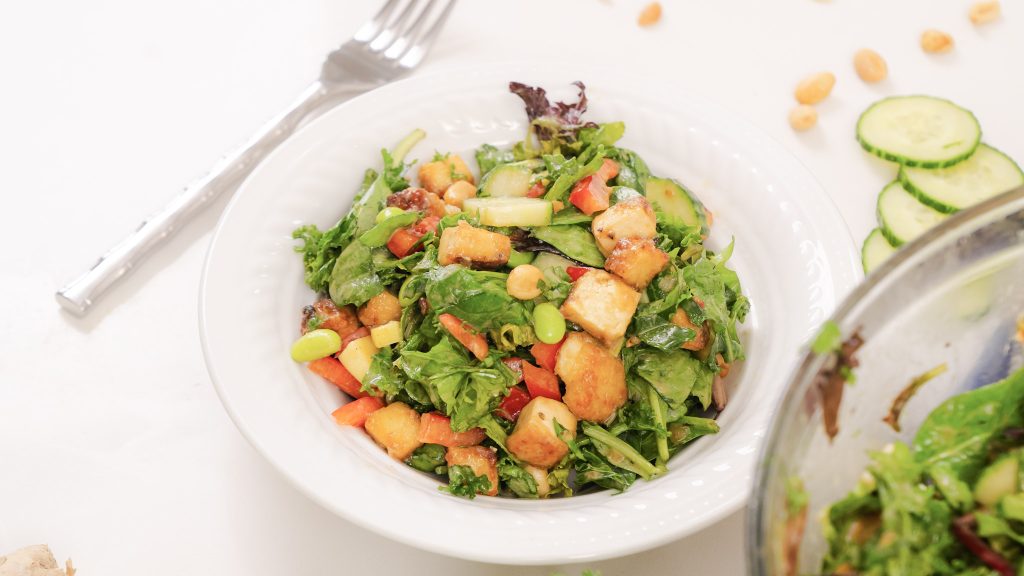 Other recipes to check out!
IF you like the sound of this Crispy Tofu and Ginger Lime Salad, here are a few other blogs to check out!
Sushi Restaurant Salad Dressing
Crunchy Ramen and Sesame Salad
Peach, Burrata, Basil, and Prosciutto Salad
Crispy Tofu and Ginger Lime Salad 
Print Recipe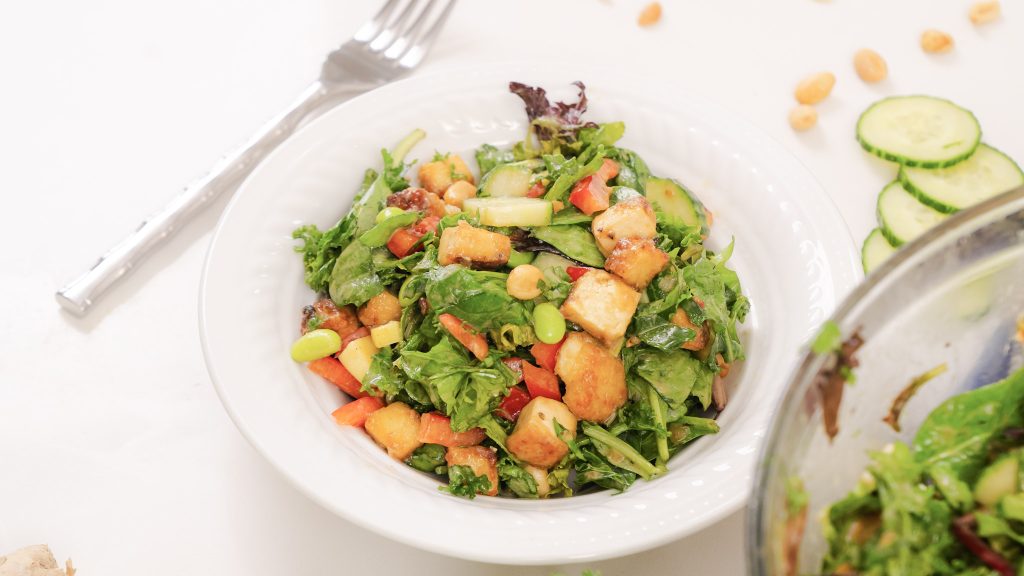 Ingredients
For the dressing
1/3

cup

Ginger

1

clove

Garlic

1/4

cup

Maple syrup or Honey

5

large

Limes

Juiced

2

large

Limes

Zested

3

tbs

Soy Sauce

3

tbs

sesame oil

1/2 + 1

cup + tbs

Olive oil

1/2

tsp

salt

1/2

tsp

Pepper
For the tofu
1

Block

Firm tofu

Cut into cubes

1/4

cup

Cornstarch

2

tbs

Soy sauce

1

tbs

Maple Syrup
For the Salad
3

cup

Salad greens

1

cup

Kale

Chopped and stemmed

1/4

cup

Edamame

1

large

Bell pepper

Diced

1/2

cup

Cucumber

1/2

cup

Peanuts or cashews

2

tbs

Cilantro
Instructions
Start by making the dressing. Into a blender add ginger, garlic, maple syrup, lime juice and zest, soy sauce salt and pepper. Blitz on high while slowly streaming in 1/2 cup of olive oil and 3 tbsp of sesame oil. Once emulsified, remove from blender and set aside.

Cut your tofu into cubes and toss in 2 tbs of soy sauce. Next add in 1/4 cup of corn starch, tossing to fully coat. Heat a large pan over medium high heat and fry your tofu until golden brown. Add in about 1 tbsp of maple syrup right at the end and toss.

Into a large bowl, add all your salad greens, vegetables and nuts. Add your crispy tofu and salad dressing, mix well and enjoy!
Print Recipe
(Visited 1,671 times, 7 visits today)