Here is a fun one folks! This will take you right back to when you were a kid trick or treating. I definitely will be making this recipe with my two little girls before halloween! These sweet, sticky, buttery, caramel apples are really fun to make and decorate. Below I will walk you through step by step how we make these classic halloween treats.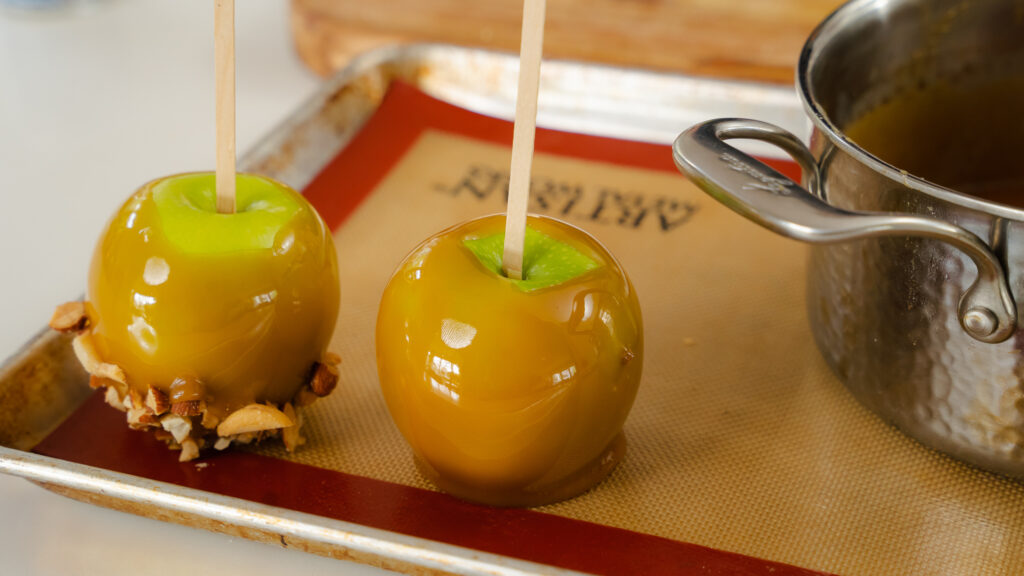 In order to make caramel apples we need to make homemade caramel! This is a fun cooking technique that isn't complicate but does take some time and the proper tools. First things first you will need a candy thermometer for this recipe. The reason we need a thermometer is so we can make sure that our sugar gets hot enough to form the type of caramel we need to properly stick to our apples.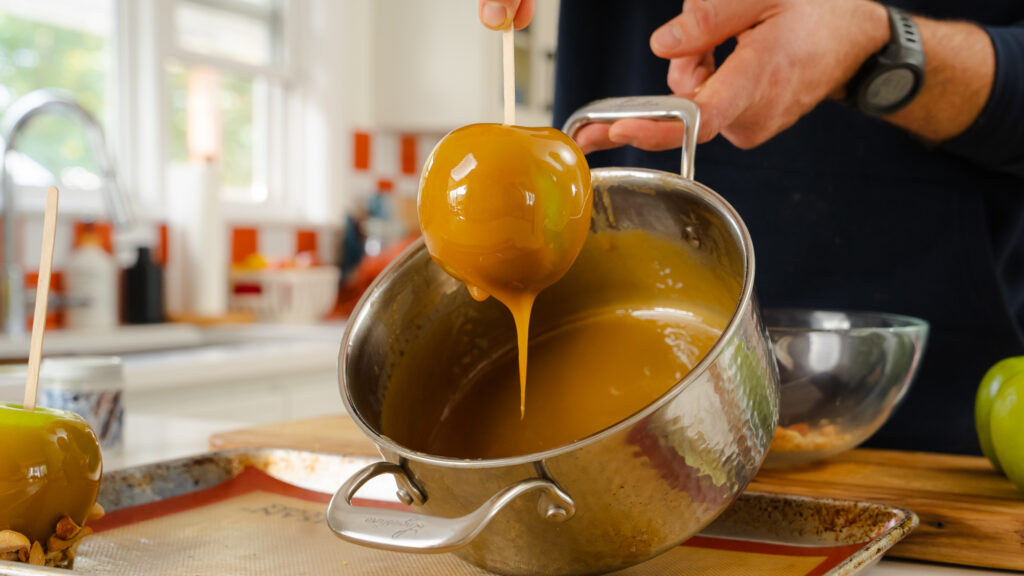 Making the caramel is easy though. Simple toss the cream, butter, corn syrup, brown sugar, and salt into a medium saucepan placed over medium heat. Stir the mixture constantly until the butter is melted and once it is melted leave it alone to bubble away. You will want to check the temperature of the caramel frequently and don't touch it until it reaches 235F-240F. Once you hit 240F, remove from heat and stir in the vanilla. Be careful not to over stir and add in to many bubbles. Let the caramel cool for about 5-10 minutes and then you are in the clear to dip your apples in!
Prepping the apples
Most apples these days come with stickers and a waxy coating over the outside of them. Be sure to remove the stickers and wash and dry the apples thoroughly before trying to coat with the caramel. For even better chances of the caramel sticking, I suggest using cold apples.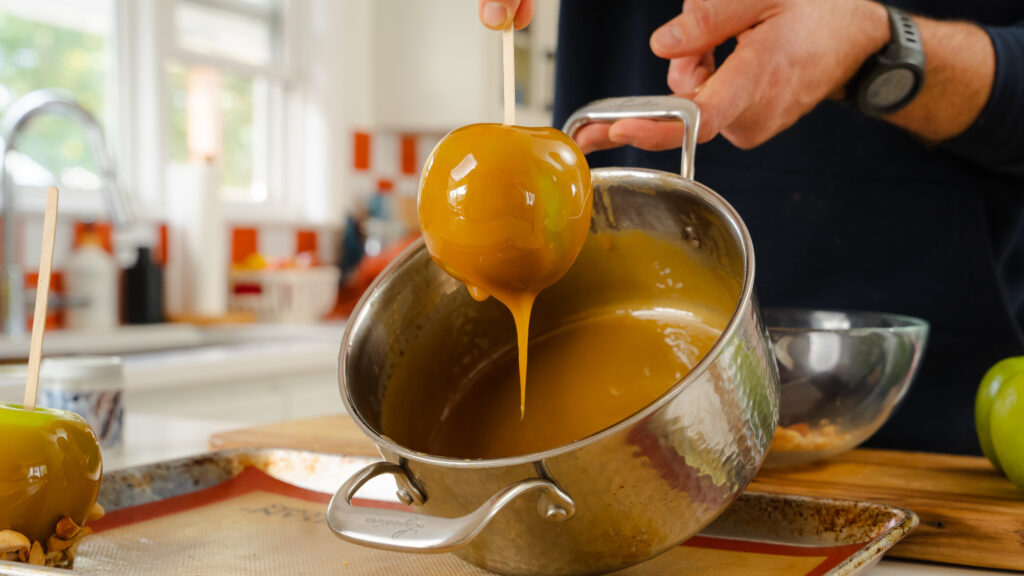 Decorating the Caramel Apples
This is fun to do with kids as they can choose any topping they like. I used crushed up nuts and sea salt but anything will work. Coconut, chocolate chips, smarties, etc. Sky is the limit!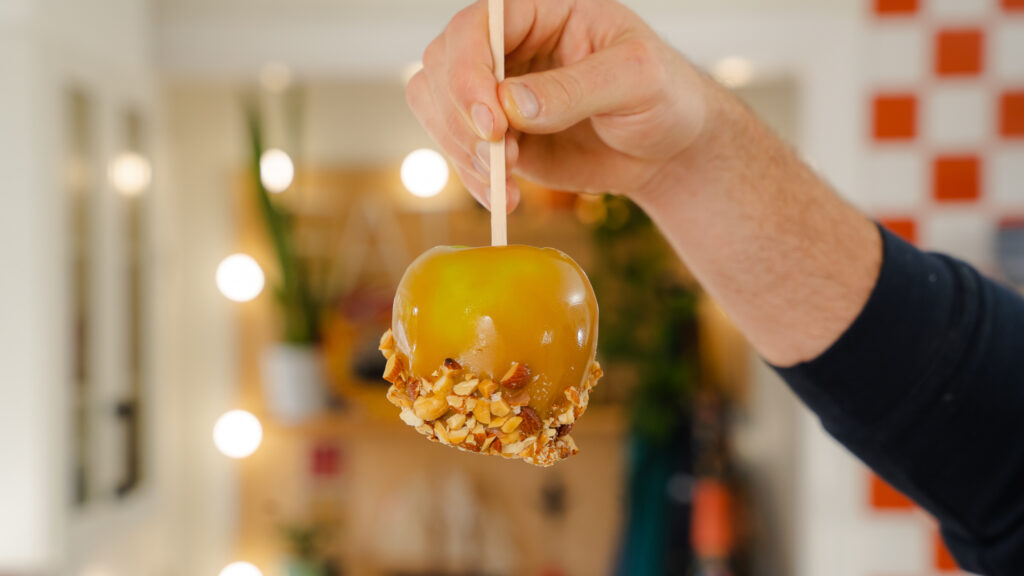 If you have left over caramel you can place into parchment paper and make caramel candies out of them!
Happy Halloween!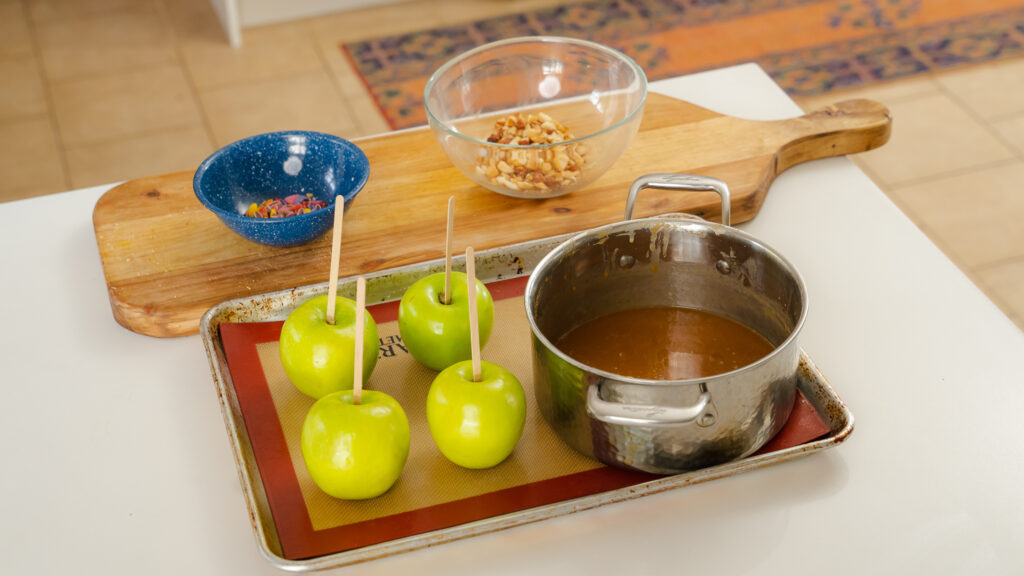 Homemade Caramel Candy Apples
Print Recipe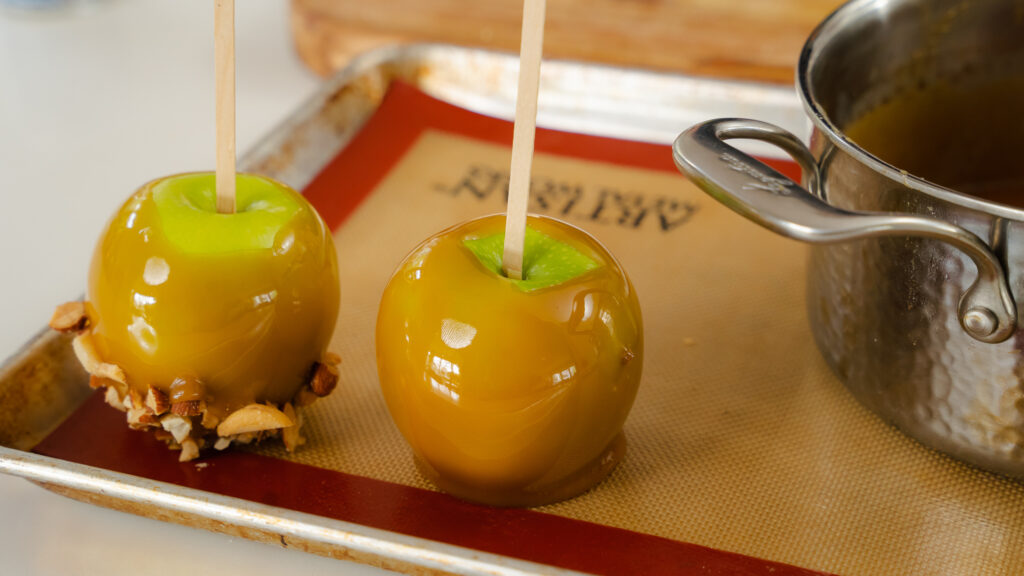 Ingredients
7/8

cup

heavy cream

just shy of 1 cup

1/2

cup

corn syrup

1

cup

brown sugar

1/8

cup

butter

1/2

tsp

salt

1/2

tsp

vanilla
Instructions
Wash apples and stick wooden stick 3/4 the way through the top of the apples. Place into the fridge.

In a medium sized pot add in the cream, corn syrup, brown sugar, butter, and salt. Place over medium heat and stir constantly until the butter melts. Once butter is melted stop stirring and let the mixture bubble away.

Using a candy thermometer, frequently measure the temperature. You are looking for the mixture to hit between 230-240F. Once that temperature as been reached, remove from the heat and gently stir in the vanilla. Allow caramel to cool for 10 minutes. While caramel is cooling, remove apples from fridge and chop the nuts.

Prepare a baking sheet by spraying with cooking spray or coating with butter. If you have a silicon baking matt that is perfect. The caramel tends to stick to parchment or wax paper.

Dip the apples into the caramel and then allow the excess to drip off. If coating with toppings add them now!

Allow the apples to cool on prepare baking sheet. After cooled you can wrap them in plastic wrap or treat bags.
Print Recipe
(Visited 2,647 times, 1 visits today)