This salad has all of the flavours you know from a classic cold cut Italian sub sandwich, but made it into a salad. I love these heartier salads that eat like a meal and I really think you are going to love this one. Loads of veggies, meat, cheese, croutons, pickles, with a lovely zippy dressing. A really fun meal to make to change things up!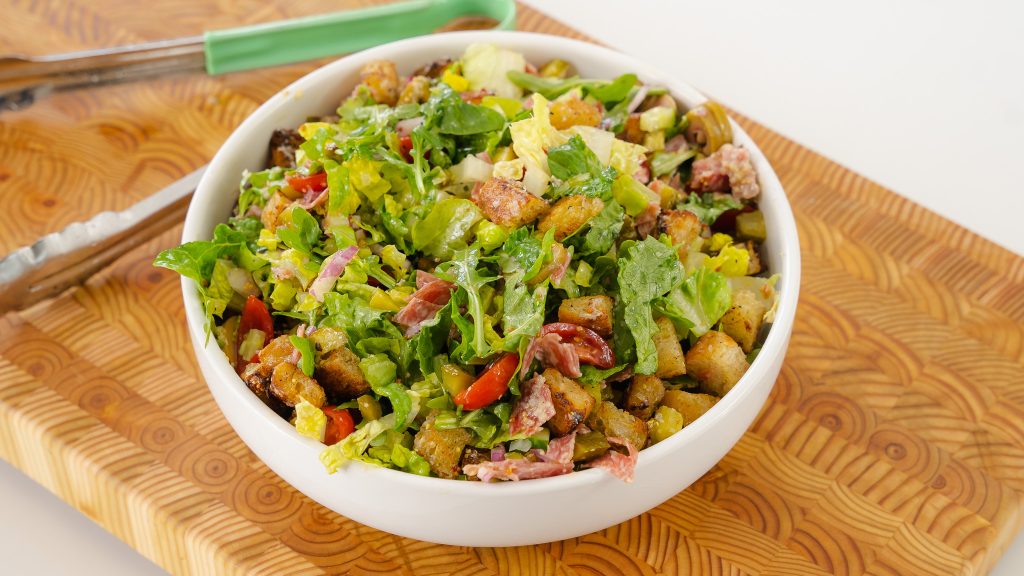 Classic Italian cold cut sub
Italian sub sandwich or hoagie is made with salami, prosciutto, mortadella, ham and capicola with provolone cheese on submarine bun. Whether you call it a hero, a sub, a grinder or a sandwich, this one is layered with amazing cured Italian meats and provolone cheese. This salad takes direct inspiration from this classic sandwich, but turns it into a salad!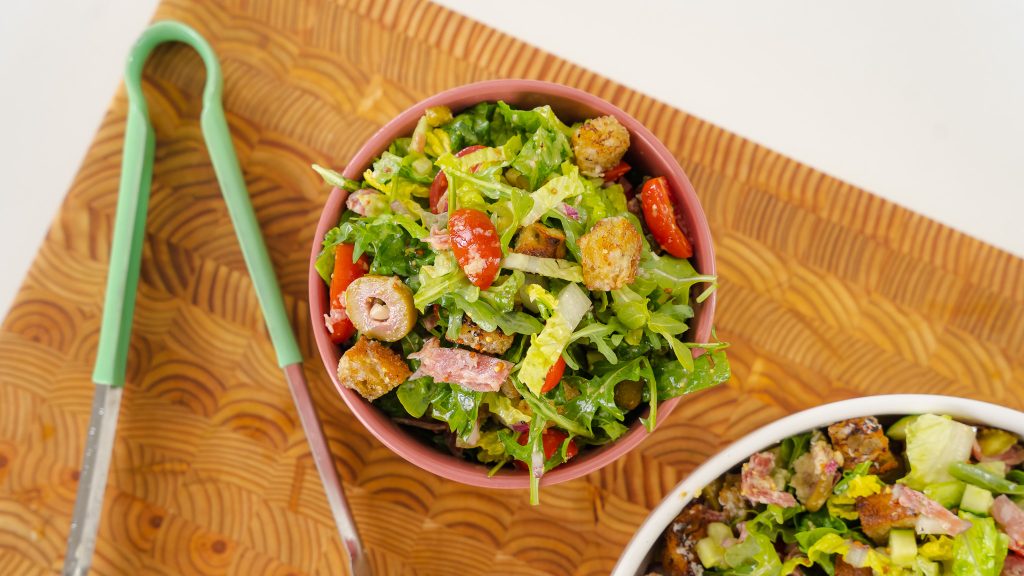 Let's breakdown the ingredients
Greens – A mix of romaine and arugula
Veggies- Tomatoes, cucumbers, red onions
Parmesan cheese
Dill Pickles
Green olives (easy to omit if olives aren't your thing)
Homemade croutons
Homemade dressing made of red wine vinegar, dijon, black pepper, salt, and olive oil.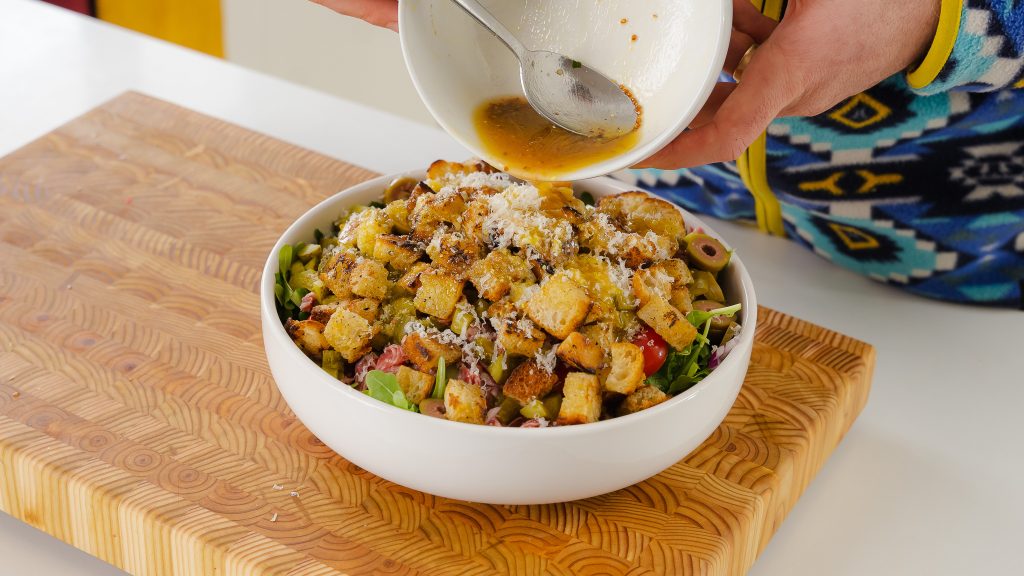 Other salads you may love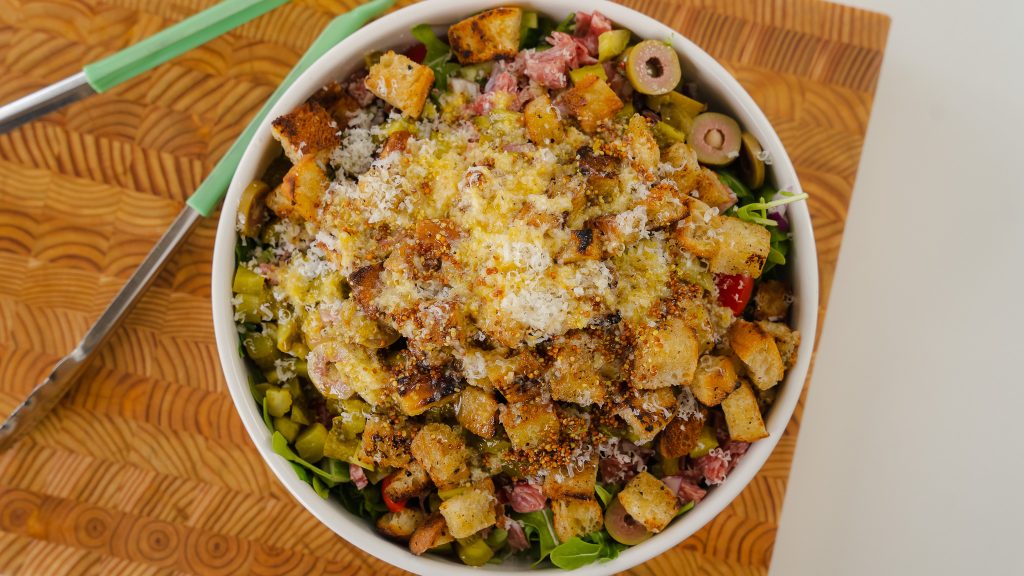 Italian Sub Salad
Print Recipe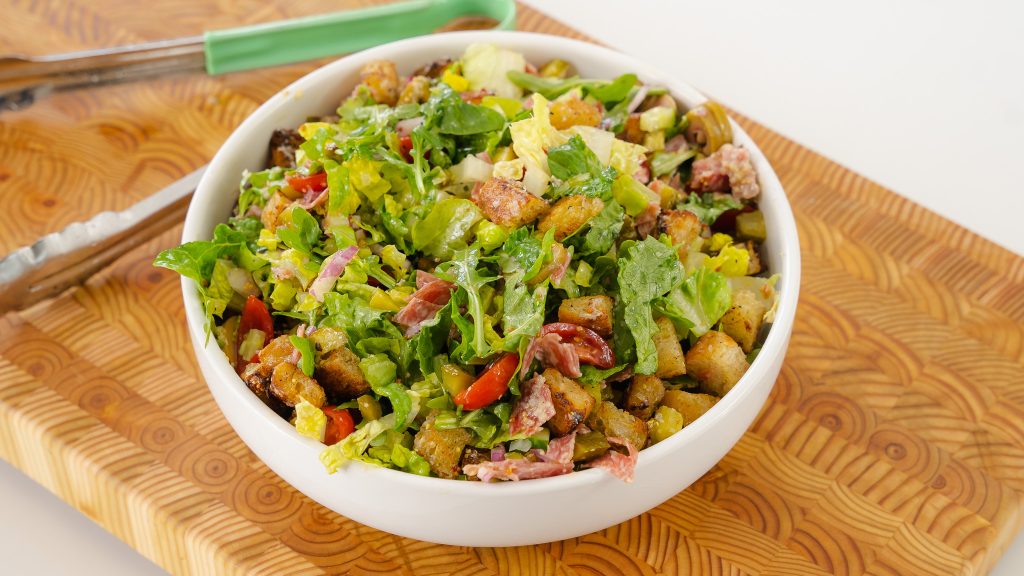 Ingredients
1

cup

sliced salami

1

cup

chopped dill pickles

1/2

cup

green olives, sliced (optional)

1/3

cup

red onions, sliced thin

3

cups

romaine

2

cups

arugula

1

cup

cherry tomatoes, sliced

1

cup

cucumbers

1/2

cup

parmesan, shredded

1 1/2

cups

homemade croutons
Dressing
1

tbs

grainy dijon mustard

3

tbs

red wine vinegar

1

tbs

black pepper

1

tsp

salt

1/3

cup

olive oil
Instructions
Let's start by mixing together the dressing. In a bowl add in the dijon mustard, black pepper, salt, red wine vinegar, and then slowly stream in the olive oil while whisking. Taste and adjust seasoning if needed. Set aside.

Next up if you are making your own croutons, dice up some bread and toss into an oiled pan and place over medium high heat. Toast the bread until brown on all sides. Set aside.

Into a bowl add the romaine, arugula, tomatoes, onions, cucumbers, pickles, parmesan, salami, and croutons. Drizzle over dressing and toss. Enjoy!
Print Recipe
(Visited 8,239 times, 1 visits today)