This one is definitely for all you spice lovers out there! One of my all-time favourite meals is kimchi Fried Rice. Wildy flavourful, this isn't just for a tasty weeknight meal but also perfect for breakfast and brunch. Whether you are starting your day or ending it, this fried rice is what you will want to make!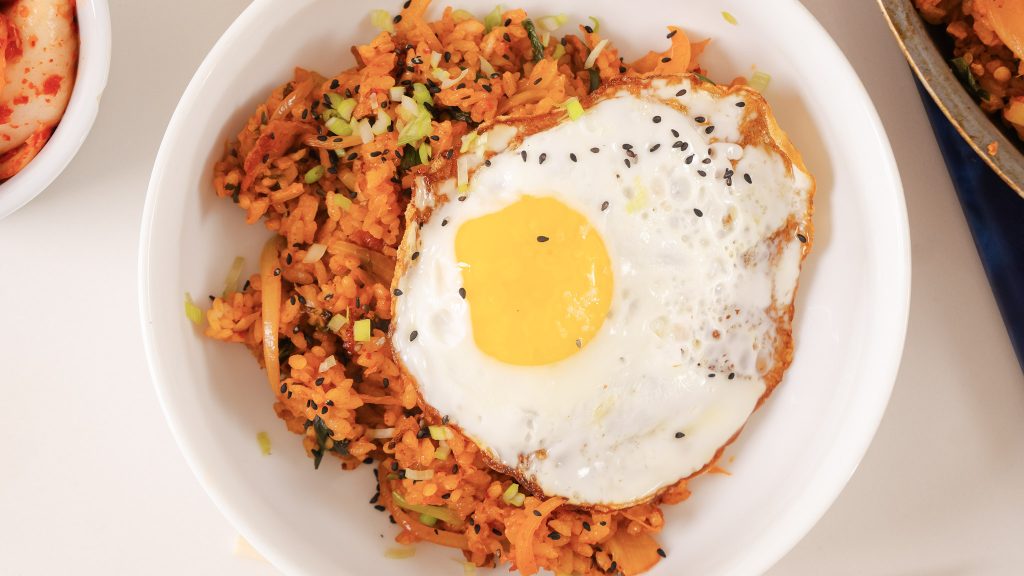 Key ingredients for this Fried Rice!
There's a ton of flavour in this recipe, here's a few ingredients that make this recipe so special!
Bacon- Adding a touch of fatty, smokey pork is a great way to up this dish and make it special.
Rice- If at all possible, use day-old rice. It dries up in the fridge and keeps your fried rice from being overly soft and textureless. Sushi rice is the best style for this!
Kimchi- You might not make your kimchi at home, and that's okay; store-bought will do the trick! Kimchi is an incredible ingredient in and of itself; find a brand you like and put it on everything!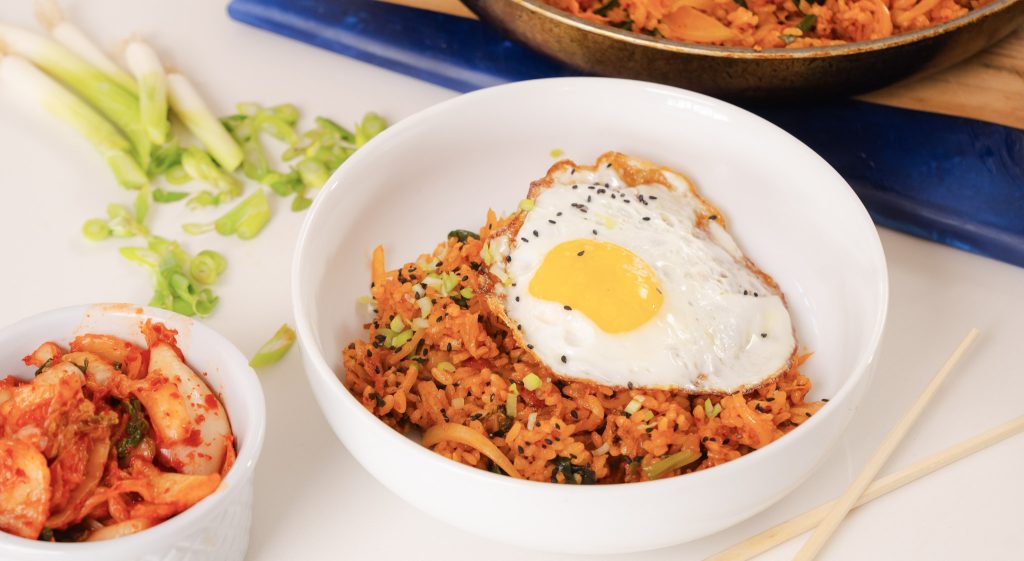 Key steps to making this Kimchi Fried Rice.
The Rice- As I said above, day-old rice is what you want; if you have fresh rice, just make sure it isn't too wet, and let it fully steam off in the pot or rice cooker.
The Egg- I love a super crispy, fried egg. Lots of golden and lacy edges. Make sure your pan is hot; you want to hear it sizzle right as it hits the pan. Make sure to keep it sunny side up; don't flip it.
The Veg: The best version of this dish is one where the vegetables are nice and fried, tender and super flavourful. Don't overcook your onions; they should still have a bit of texture in the end!
The proper pan also helps, if you're in the market for a sturdy work horse pan here's a great option! Ceramic Frying Pan.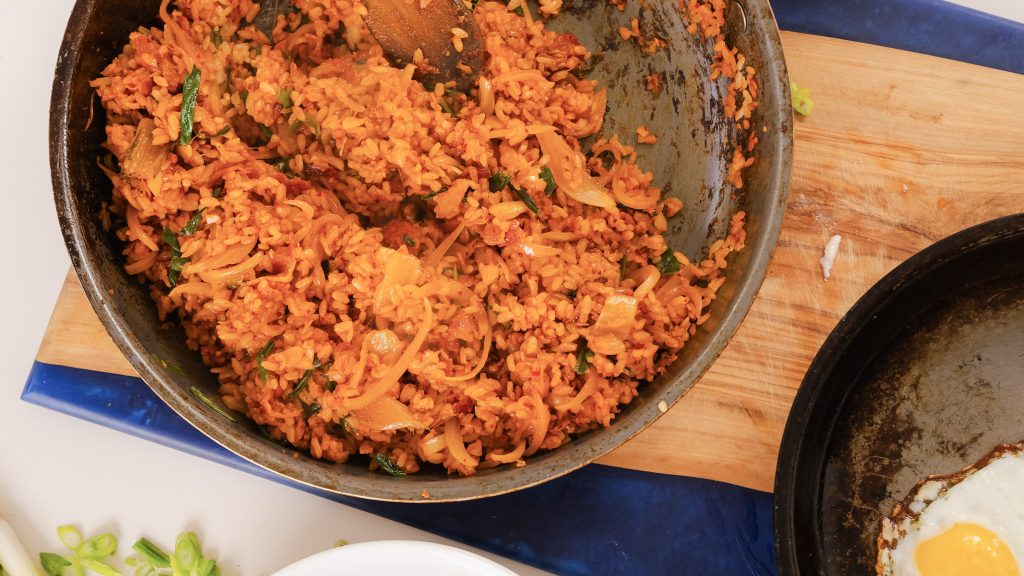 Let's Breakdown the Flavours of Kimchi.
This recipe can be and should be served at any time of the day. The flavour of kimchi is so bright and tangy it can hold up to so many different dishes, both in the dishes or served as a condiment on the side.
Good kimchi should have:
1) Spice
2) Texture
3) Tang/Acidity
4) Sweetness
5) Umami
Other Recipes to Check out!
If you like the sound of this one, here are a few other dishes I think you should check out!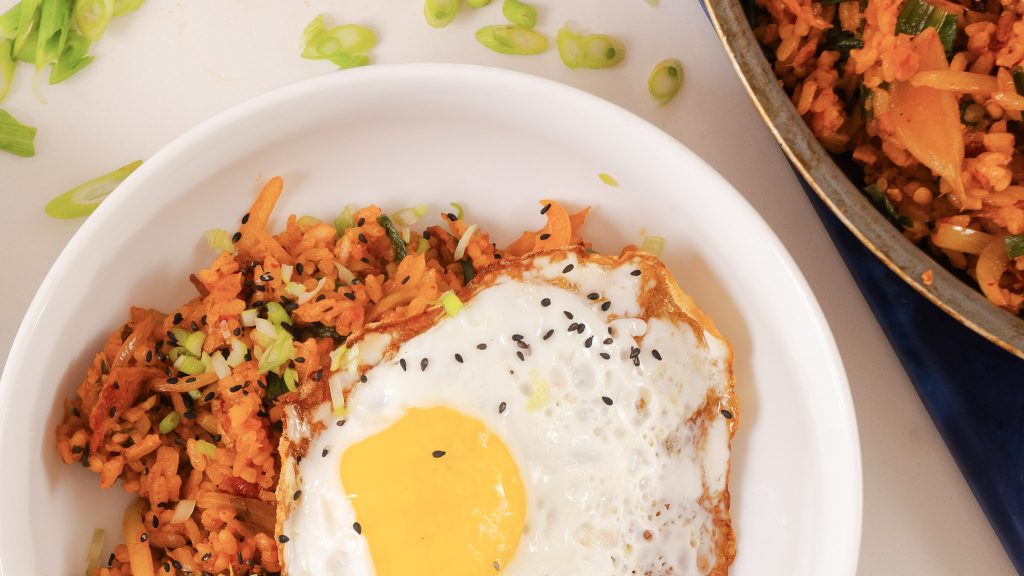 Kimchi Fried Rice
Print Recipe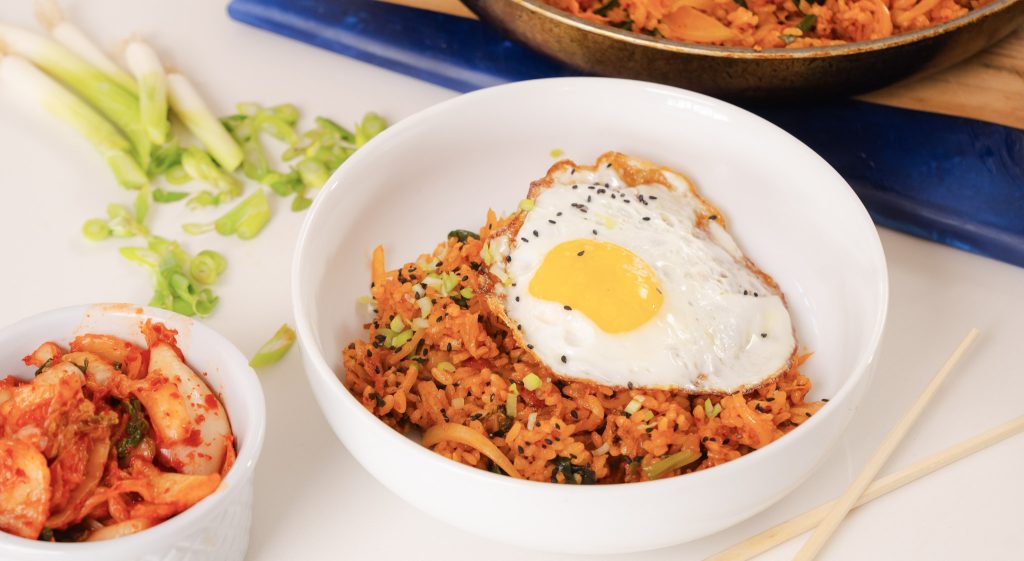 Ingredients
4

thick

Bacon slices

Diced and fried until golden brown

3

large

Garlic cloves

Minced

1

inch

Ginger

Minced

1

large

Yellow onion

Sliced thin

1/2

cup

Kimchi

Chopped

1

tsp

Sesame oil

3

cups

Cooked sushi rice

Day old is best bit not necessary

1/2

cup

Green onion

1/4

cup

Gochujang

1

tbs

Soy sauce

1

tbs

Water

1

tbs

Sesame seeds

1 fried egg per person
Instructions
In a hot pan, start by rendering down 4 strips of bacon. Once golden brown, remove about half of the fat.

Next add in your minced ginger, garlic and onion. Gently sweat it down until your onions are translucent. Add in your green onions and chopped kimchi and saute for 2-3 min. Push your veg to the side and add in 1 tsp of sesame oil and 3 cups of rice. Mix together, allowing your rice to get slightly crispy.

In a small bowl, mix gochujang, soy sauce and water. Once combine and add into your rice and fully combine.

Serve with a crispy fried egg, more green onion and sesame seeds.
Print Recipe
(Visited 1,472 times, 4 visits today)