These Ginger Sesame Pork Meat Balls are a winner, folks. Perfect for meal prepping and so incredibly flavourful. Very reminiscent of the inside of a Chinese dumpling, served over rice with some tender steamed veg, this is one for the hall of fame; I know it!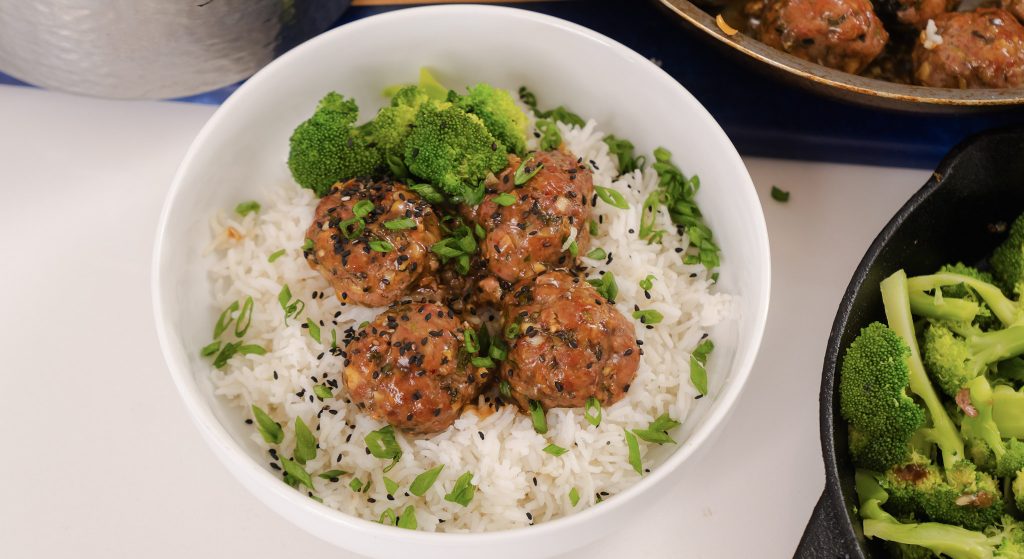 Key ingredients for these Ginger Sesame Pork Meatballs
While this recipe is wildly simple, there is a ton of flavour made by a few very important ingredients.
Ginger: We want a big flavour, big aromas and a bit of spiciness that, of course, can only be delivered by a wack of ginger.
The herbs: Cilantro and basil go so well together. You don't often see them in the same dish. But the freshness of the cilantro and the green aromatics of the basil make it a winning combo.
Sesame oil: There's a ton of aromatic, fatty and salty flavours in this recipe, and a good amount of nuttiness is what's needed to round it all out. Some brands of sesame oil can be expensive, but the better quality, the better flavour!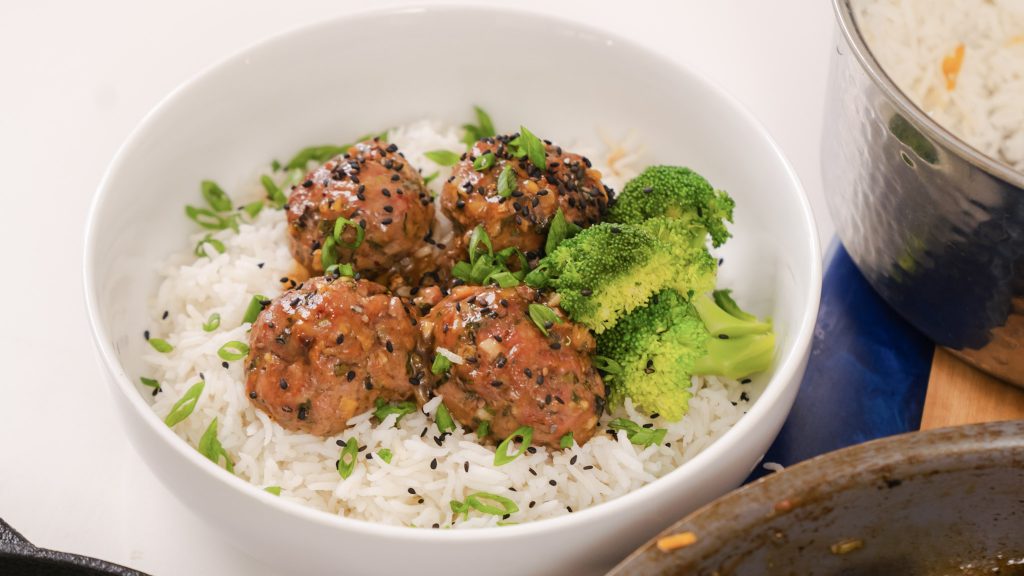 The sauce is key.
When we make a dish like this, it needs to be accompanied by an equally flavourful sauce. It is a super simple pan sauce consisting of garlic and ginger. Heightened by soy sauce and melted out by fresh honey. Whisk some cornstarch into it, give it some body, and you're ready to take down bowls of it.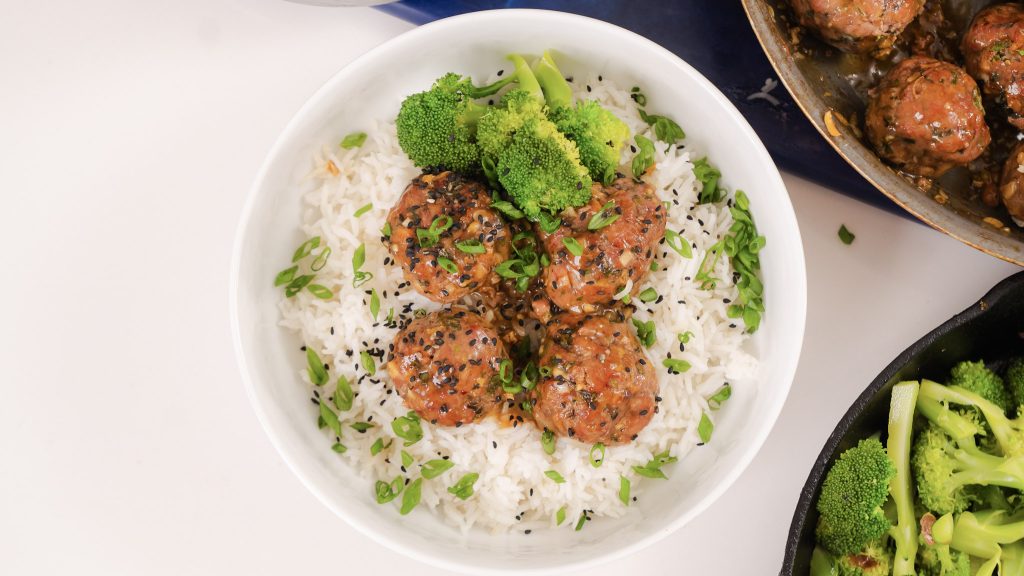 Tips on nailing these Ginger Sesame Pork Meatballs.
We want to ensure every bite is as good as the last; follow these steps, and you'll have the perfect meatballs every time.
1) The flavours: There are a ton of aromatics, spices and herbs in these meatballs; we want to make sure that they get evenly distributed into the mixture without over-mixing the meat.
One way to ensure you got your seasoning right and properly distributed is to take a small portion from the bowl, make a small pattie and fire it in a pan. Once it's cooked off, let it cool and test the seasoning.
2) It's all about consistency: We want to make sure all the balls are as even as possible. If you have some that are larger or smaller, they might overcook and undercook. A kitchen scale or ice cream scoop is a great way to keep them the same size.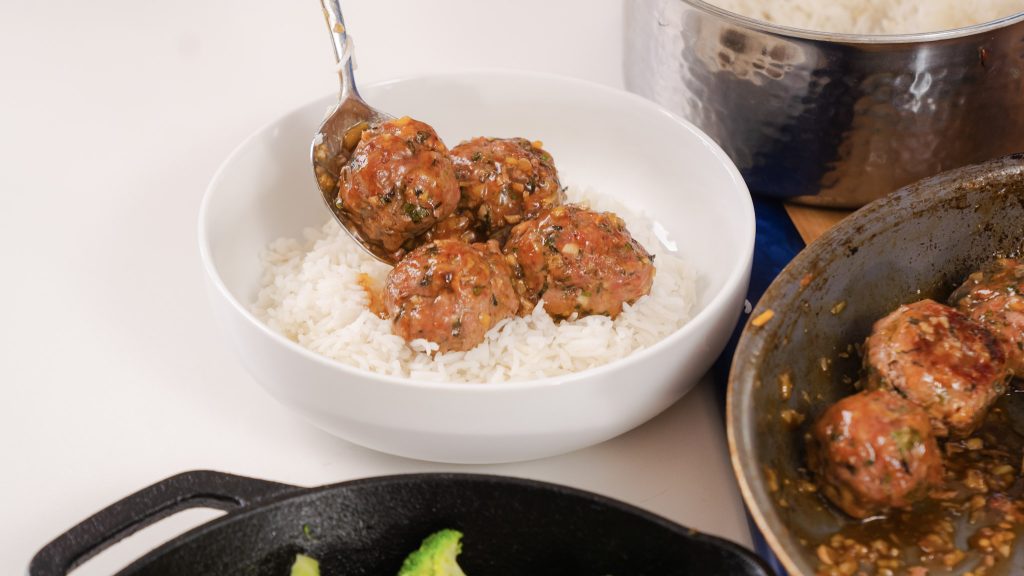 Other recipes to check out!
If you like the sound of these Ginger Sesame Pork Meatballs, here are a few other recipes I think you need to check out!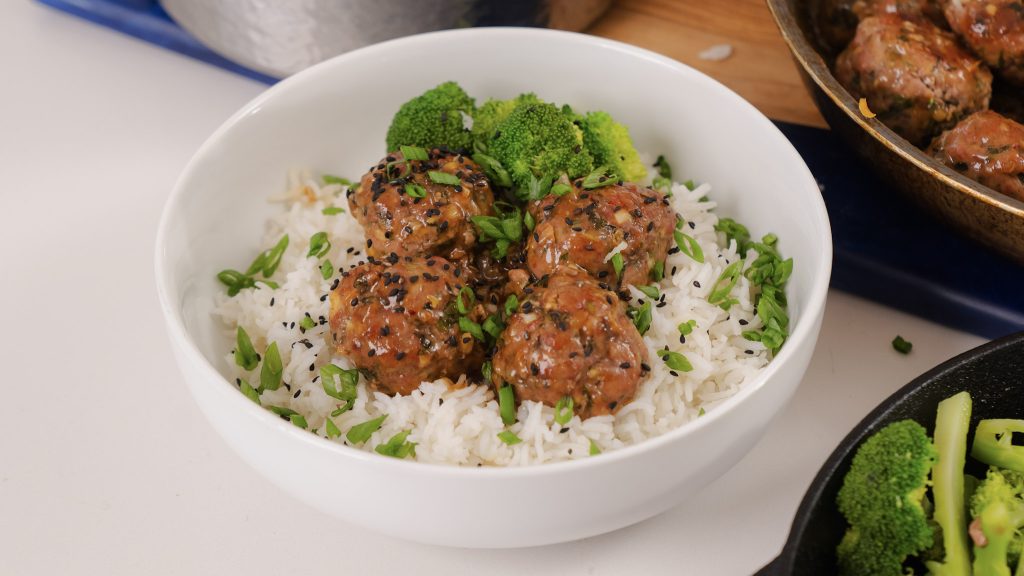 Ginger Sesame Pork Meatballs
Print Recipe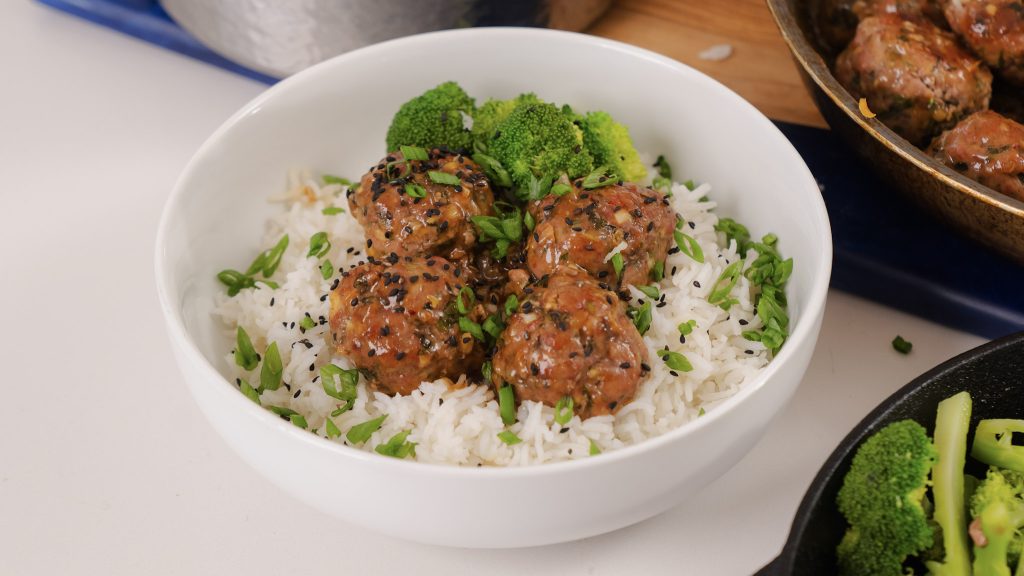 Ingredients
2

lbs

Ground pork

4

cloves

Garlic

Minced

1/3

cup

Ginger

Minced

1/2

cup

Cilantro

Minced

1/2

cup

Green onions `

Minced

1/2

cup

Fresh basil

Minced

3

tbs

Soy sauce

Low sodium

1

tbs

Sesame oil

1 1/2

tsp

Chili flake
For the sauce
1

clove

Garlic

Minced

1

inch

Ginger

Minced

3

tbs

Soy sauce

Low Sodium

3/4

cup

Water

2

tbsp

Honey

1

tbsp

Honey

1

tbs

Cornstarch
Instructions
Start by preheating your oven to 450F.

Next grab a large mixing bowl. Add your ground pork and mix in your minced garlic, ginger, cilantro, green onion, basil along with 3 tbs of soy sauce, 1 tbs of sesame oil and 1 1/2 tsp of chilli flake. Mix until fully combined.

Portion your pork into about 20 equal balls. Place them on a parchment lied sheet tray and roast for about 18. Once the centers are no longer pink and the outside is golden brown remove from the oven. Serve on a bed of rice along side your favourite steamed veg.
For the sauce
Heat a medium over medium heat. Add in 1 tsp of oil, minced ginger and garlic and saute for 1-2 min. Next add in 3 tbsp soy sauce, 2 tbsp of honey, 3/4 cup of water and 1 tbsp of cornstarch. Whisk it together and let it slightly reduce until a thick and creamy sauce is formed.
Print Recipe
(Visited 4,871 times, 8 visits today)