This is a good one folks. I made it for a couple of friends, and we all agreed it was the dip of the summer. It has so many amazing and simple elements and ingredients that if treated right, will make a dip worth of every backyard BBQ. Keep it simple and keep it fresh, let's fire up those grills and get cooking!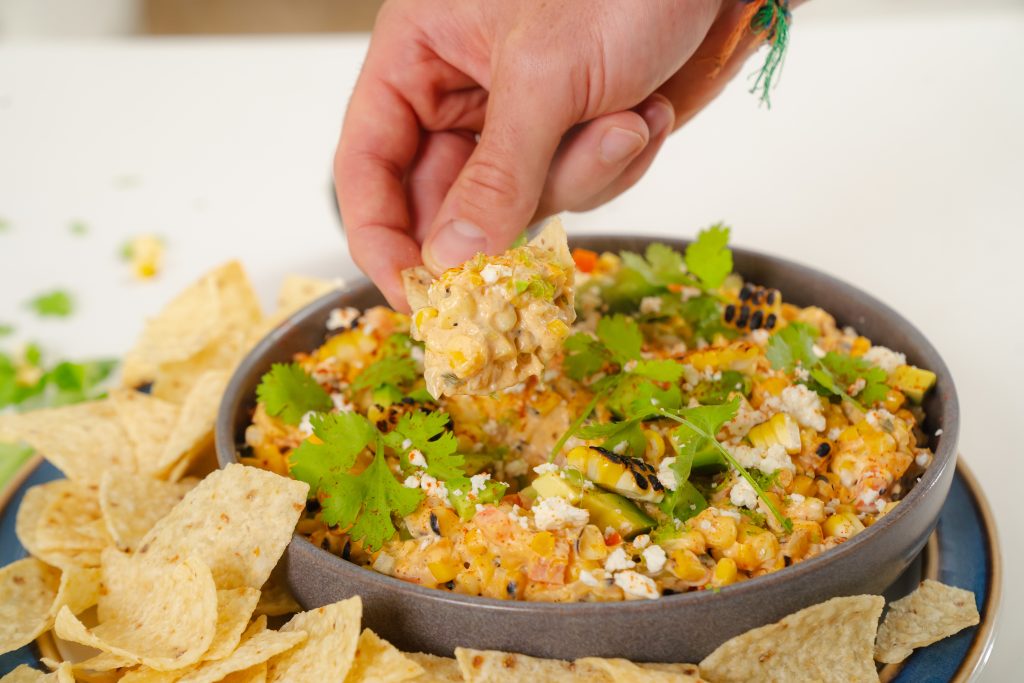 Key ingredients for Mexican Street Corn Dip
This recipe screams summertime freshness and peak season farmers market produce. Move over guacamole, there's a new dip in town.
When sourcing you produce, it's key to find the best versions of each ingredient. Just because the corn is on the same shelf, doesn't mean it's all the same. Here are a few tips on finding the best corn every time.
Shop in season, and shop local. Depending on where you live, the local corn might not be harvested yet. Googling you areas produce cycles is a great way to eat a more seasonal diet.
If you can't get to the farmers market, make sure the corn your buying has pale hair, thats slightly sticky with brown tips; this means the corn was harvested recently, and is probably fresher.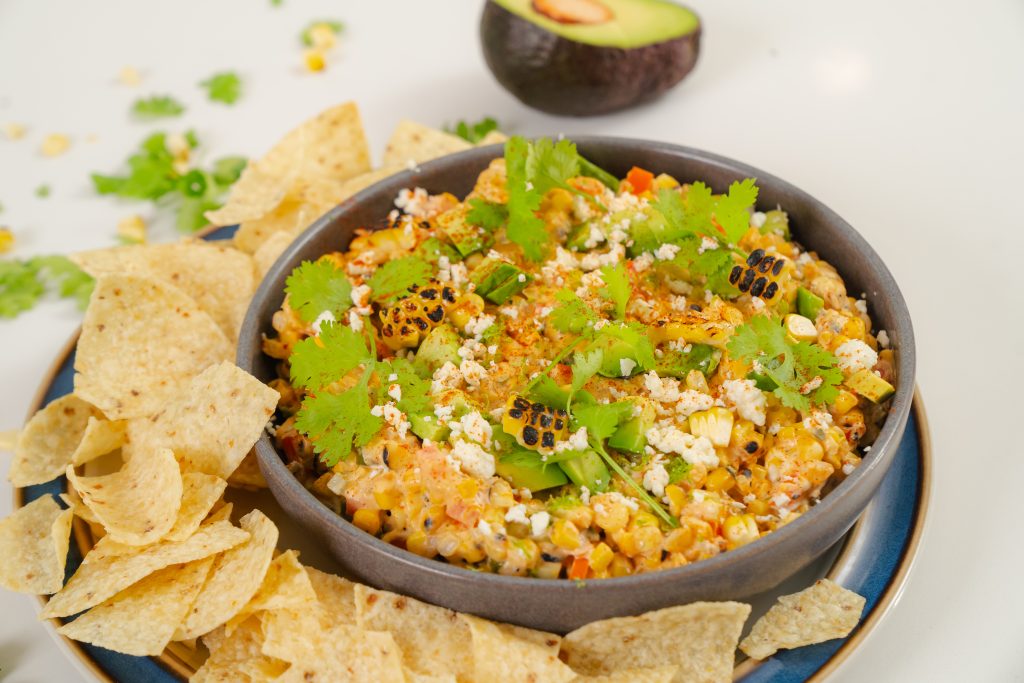 Char is flavour, don't shy away, embrace it.
The best part about this Mexican Street Corn Dip is the charred flavour. It adds this rich, toasted note that really rounds out the bright acidity, creamy body and heat of this dip. But it can be difficult to achieve if you don't know what to look out for.
Let it dry– If your corn is wet, or has access moisture, it won't take the char the way we want it to. If you're washing or cleaning your corn, make sure it's fully dried before it hits the grill.
Heat up the grill– You want to make sure the grill is heated before you put the corn down. With a very light dressing of oil, you want to hear that sizzle and see that smoke the second the corn hits the grill. This is going to make sure you get that char right.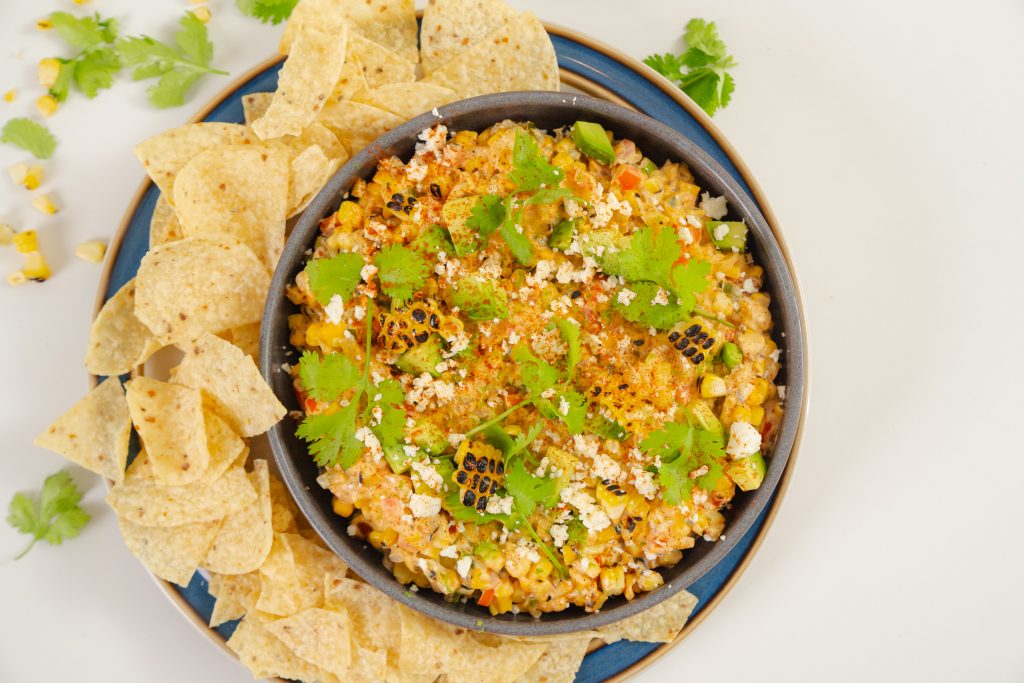 Tips on nailing this Mexican Street Corn Dip
Once you have the perfect level of char on your corn, there's a few other steps we want to nail down. Following these will make sure you have the perfect dip, every time.
Cutting your veg– We want a constant bite and texture on the end of each chip. Making sure your peppers, onions and all other veg are a similar size and shape. I think keeping things on the smaller side is best.
Let the corn rest- Once your corn is off the grill, let it sit for a few minutes and cool down. Once you can handle it safely, use a sharp knife can slice off the corn. If you've let it rest properly, you'll have beautiful segments of corn that will stay together.
Let the spices bloom- When we add powdered or whole spices to a hot pan, we want them to hang out for a bit and bloom. That means they will open up, intensify and develop a stronger flavour.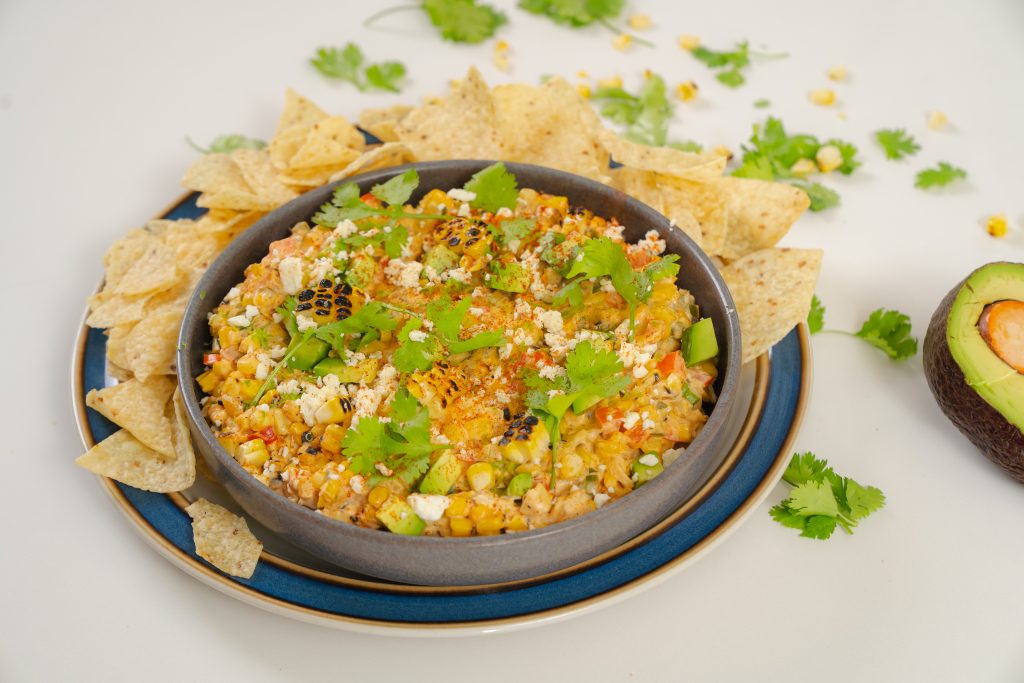 Other Recipes to check out
If you like the sound of this Mexican Street Corn Dip, here are a few other recipes we think you should try out.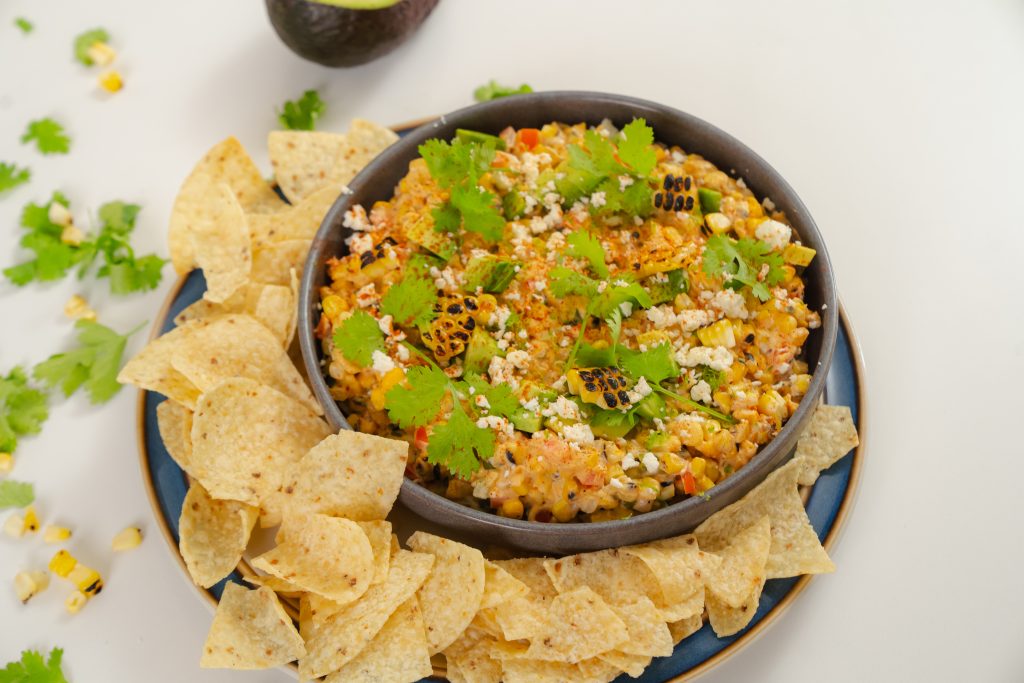 Mexican Street Corn Dip
Print Recipe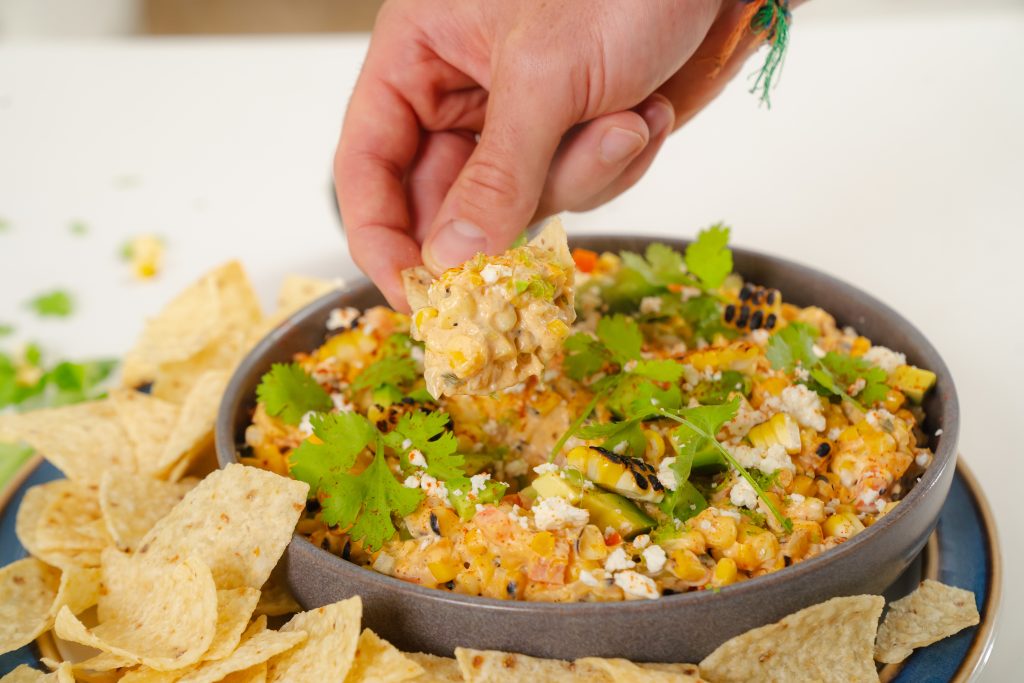 Ingredients
5

large

Ears of corn

Charred and sliced off the cob

1/2

large

Yellow onion

Diced

2

large

Garlic cloves

Minced

1/2

cup

Red bell pepper

Diced

1/2

large

Jalapeno

Deseeded and diced

1/2

cup

Green onion

Sliced thin

2

tsp

Chilli powder

1

tsp

Cumin

2

tsp

Smoked paprika

1

tbs

Olive oil

6

oz

Cream cheese

1/3

cup

Sour cream

1/3

cup

Mayo

1

large

Lime

Juiced
For the garnish.
1

large

Charred ear of corn

Sliced off the cob

Fresh cilantro

Diced Jalapeno

Lime Zest
Instructions
In an oiled pan set over medium heat add in onion, garlic, red pepper, and jalapeno. Stir and allow to saute for 3 minutes.

Add in corn, green onions, chili powder, cumin, paprika, pepper, and toss together.

Next up add in cream cheese, sour cream, mayo, and lime juice. Stir to combine.

Remove from heat and pour into serving bowl.

Top with extra corn, feta cheese, cilantro, jalapeno, and lime zest.

Serve with quality tortilla chips.
Print Recipe
(Visited 3,229 times, 6 visits today)