Sometimes you just have to treat yourself to a delicious, creamy, warm bowl of Lobster Mac and Cheese. This cheesy, super crave-able dish is perfect to make on a rainy day or to make ahead and bring along to a potluck! Even if you are not a fan of lobster (no comment) you can simply swap in your favourite protein and this recipe will still work fantastically.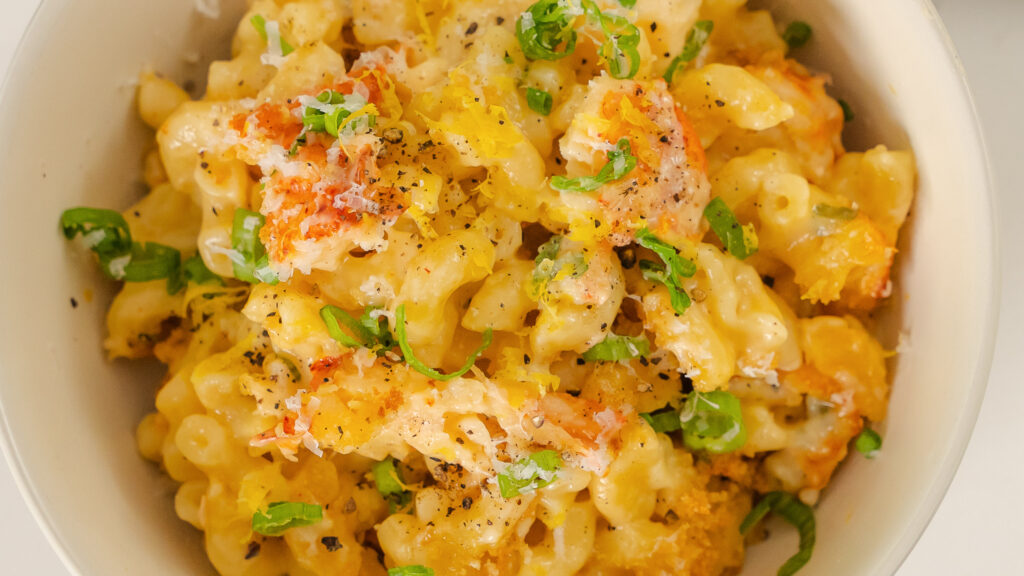 Homemade lobster mac and cheese is a sure fire why to show someone you love them. This is the ultimate East Coast comfort food that feels like a hug when you eat it. The creamy rich cheese sauce, the sweetness of the fresh lobster meat, the crunch of the panko crust, and the bite of the green onion all play together perfectly in this comfort food classic.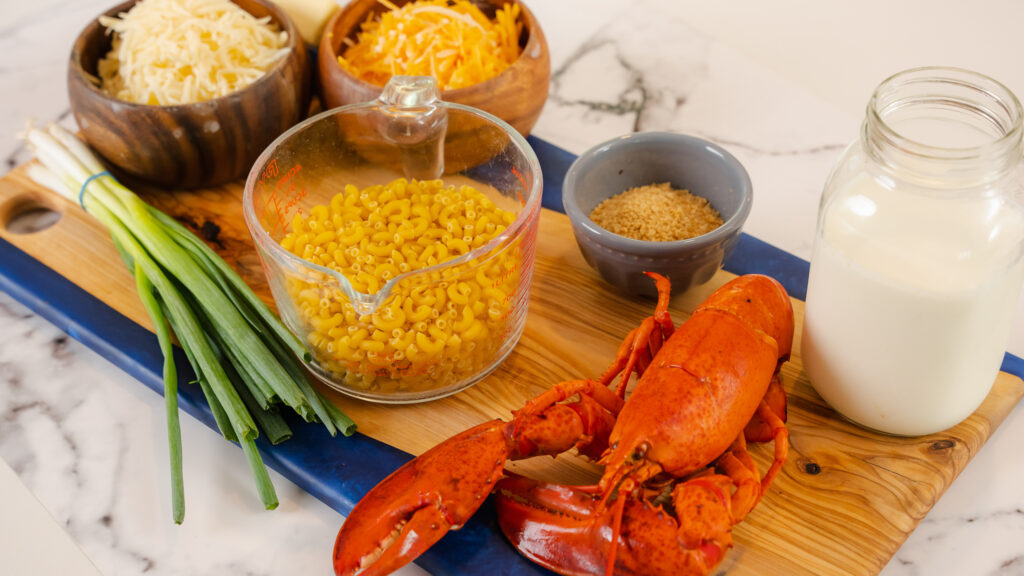 Let's break down the ingredients for this Lobster Mac and Cheese
Let's be honest here the star of the show is the fresh lobster meat. As a good east coaster I love lobster. Sweet, briny, amazing texture, it really is one of my favourite seafood delicacies. You have options here to steam your own fresh lobster, but I went for the easy (lazy?) route of buying a pre steamed lobster from my local seafood spot. I grabbed about a 1 1/4 pound lobster, but feel free to be more or less generous depending on your budget. This recipe also works great if you choose to not included lobster at all.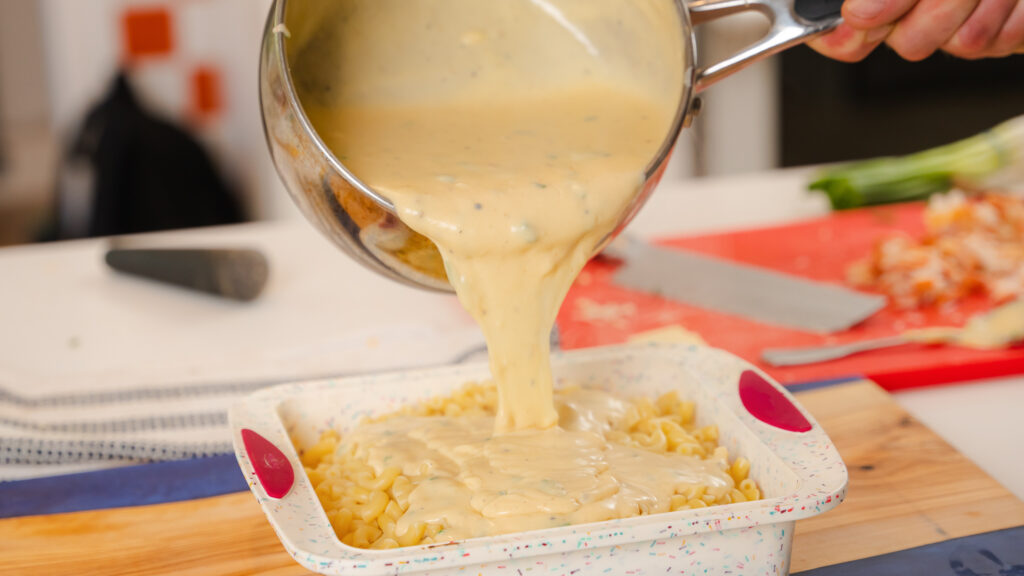 Creamy cheese sauce
So now that we have chatted lobster, now let's shift our attention to this creamy cheese sauce. I remember the first time I made a sauce like this. I felt like a real cool. A standard bachemel sauce like this is really fun to make and not complicated. Basically what you are doing is creating a sauce that will incorporate the melted cheese without separating. You start by melting butter in a pot and then adding in some flour. After the flour and butter get to know each other, you add in milk. Whisk everything together and increase the temperature. As the mixture gets hotter you will notice it start to thicken. How cool is that!! Now remove from the heat and we add in the cheese!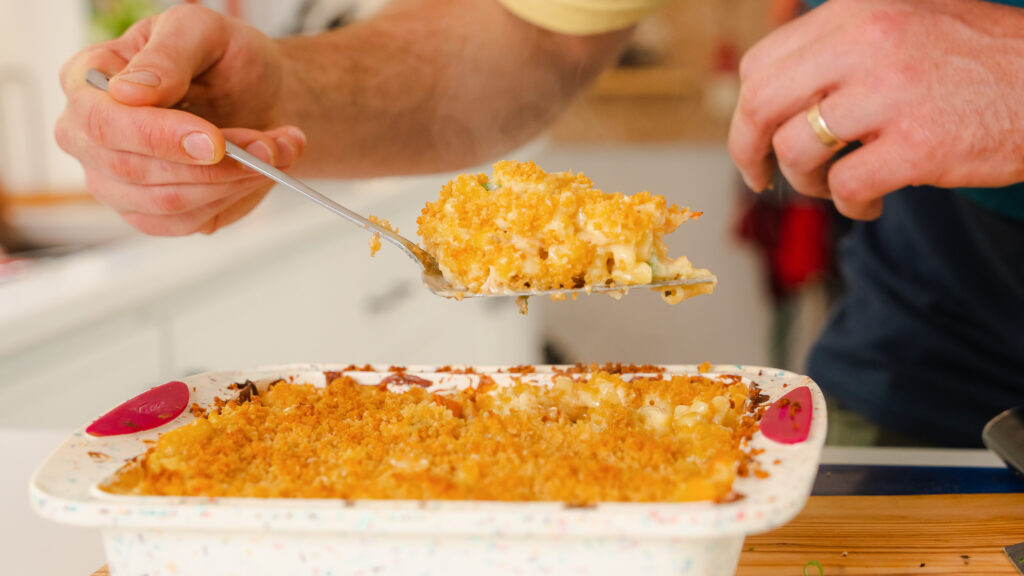 The last pieces of the puzzle here is the crunchy panko crust and the pasta itself. For this recipe I used elbow macaroni to keep things simple. You really can use whatever your favourite kind of pasta is! For the crunchy topping, it really couldn't be simpler. I added some melted butter, a touch of shaved parmesan, and fresh pepper to panko crumbs. Mix everything together and lightly cover the top of the pasta before baking.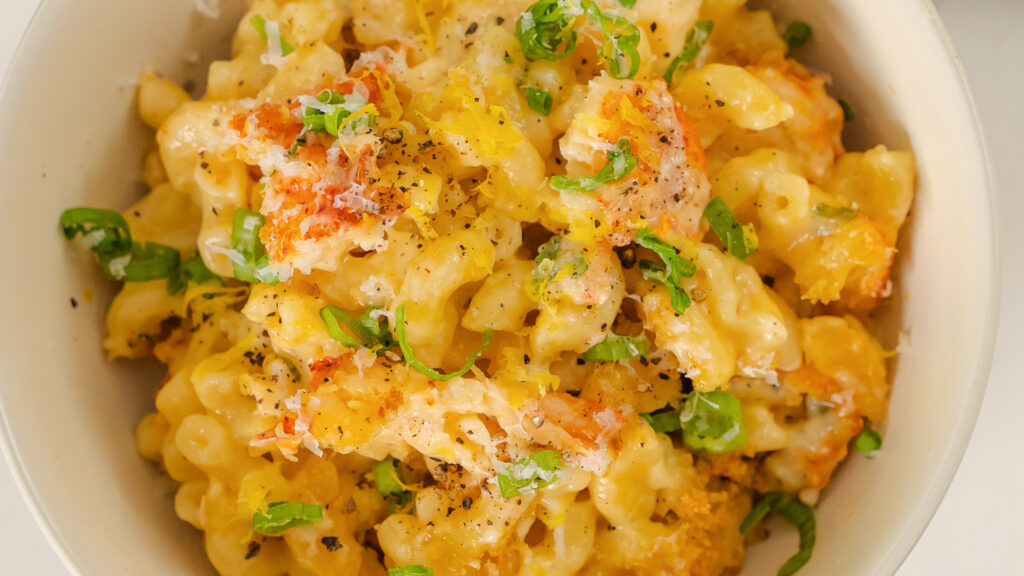 Lobster Mac and Cheese
Print Recipe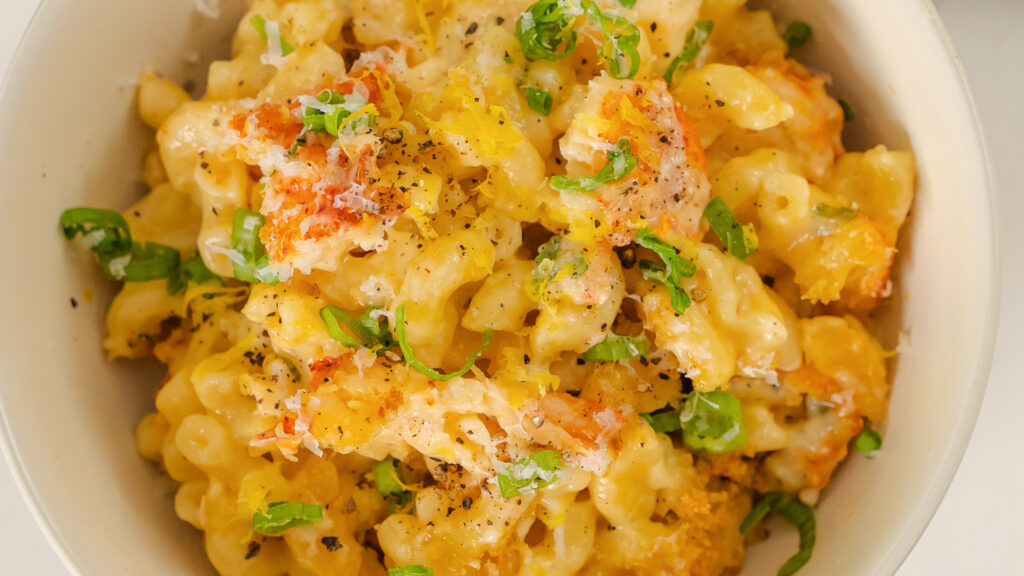 Ingredients
1 1/4

lb

lobster, steamed and remove from shell

3

cups

elbow macaroni
Cheese Sauce
1/3

cup

butter

1

clove

garlic, minced

1/3

cup

flour

3

cups

whole milk

2

cups

cheddar cheese, shredded

2 1/2

cups

swiss or gruyere

1/2

tsp

paprika

1

tsp

garlic powder

1

tsp

pepper

1

tsp

salt

1/2

cup

parmasean, grated

1/2

cup

green onion, sliced
Panko Topping
1/2

cup

panko or bread crumbs

2

tbs

butter, melted

2

tbs

parmasean, grated

1/2

tsp

pepper
Instructions
Remove all meat from lobster, chop into bite sized chunks and set aside.

Place the macaroni into a pot and over with water. Place over high heat and boil for 10 minutes or until pasta is softened. Strain out the water and add a tsp of olive to the pasta and stir. This will stop it from sticking together. Set aside.

Now let's start on the cheese sauce. Place a medium sized pot over medium high heat. Drop in the butter, and minced garlic. Allow the butter to melt. Once melted drop in the flour and stir. Allow the flour to "cook out" for about 3 minutes to remove any taste of raw flour. Now pour in milk and whisk. Keep an eye on the mixture on continue to whisk. As the mixture gets warmer it will begin to thicken quickly.

Once sauce is thickened, remove from heat and drop in paprika, garlic powder, pepper, salt, cheddar cheese, swiss cheese, parmasean, and green onions. Mix everything together. The cheese will melt into a velvety smooth sauce.

In a small bowl mix together the panko crumbs, melted butter, parm, and pepper.

Drop cooked pasta and the chopped lobster meat into a 9X9 Inch brownie pan. Pour on the cheese sauce and mix together. I had about 1/2 cup left over cheese sauce which i used to pour over broccoli the next day. Mix the pasta, lobster, and cheese sauce together. Sprinkle the panko crumbs over the top of the of the pasta and then place tray into the preheated oven and bake for 24 minutes.

Once done cooking, remove from oven and allow to cool for 5-10 minutes so you don't scald your mouth! Top each serving with pepper, parm, and some lemon zest. Enjoy!
Print Recipe
(Visited 12,257 times, 1 visits today)