I've really enjoyed doing these nostalgic East Coast baked goods the last couple of weeks. The chocolate-dipped peanut butter oat cakes seemed to really hit a nerve. Both based on Instagram engagement, but also by becoming the most viewed page on my website – and rightfully so! They are amazing!
Following the same theme, I remember having these wonderful treats as a kid when my Mom would bring Purity Jam Jams home from Newfoundland. I also remember having them on road trips when stopping at roadside bakeries throughout the Maritimes. A dead easy cookie that definitely brings on the nostalgia. The whole recipe comes together quickly and is a great way to use last summer's homemade jam you have in the fridge. Enjoy with a cup of tea.
Newfoundland Jam-Jams. A old school classic.
Print Recipe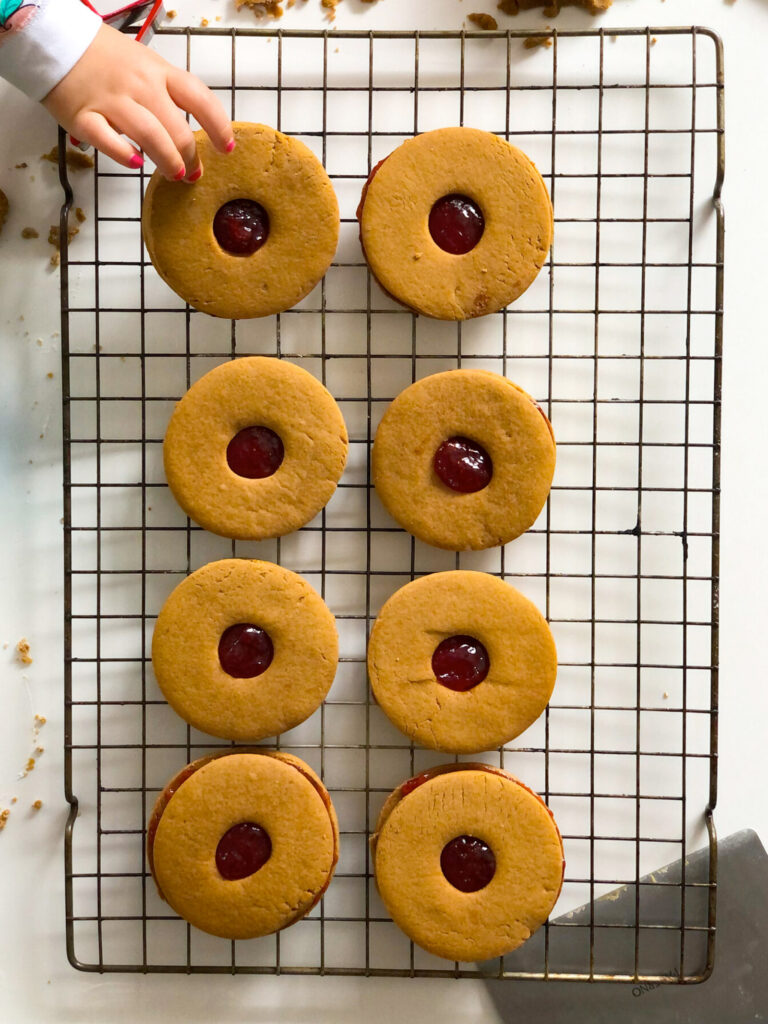 Ingredients
1

cup

butter, room temperature

¾

cup

white sugar

½

cup

molasses

1

tsp

vanilla

2

tsp

baking soda dissolved in 1/4 cup hot water

½

tsp

ginger

½

tsp

cinnamon

½

tsp

salt

3½

cups

flour, plus some for dusting

½

cup+

jam (peferably homemade)
Instructions
Preheat oven to 400 and line 2 baking sheets with parchment paper.

In the bowl of a stand mixer add butter, molasses, vanilla and sugar. Using the paddle attachment, beat the mixture on medium to cream the butter, sugar, vanilla and molasses. After 1 minute add the baking soda water mixture. Let mix for another minute. Scrape down the sides of the bowl if needed.

To bowl add in flour, salt, cinnamon, and ginger. Mix together until everything comes into a crumbly dough. Mixture should easily squeeze into a shape and stay.

On a lightly floured surface, roll out dough to 1/4-1/8 inch thick sheet. Using a round cookie cutter cut out cookie shape. Using a smaller circle, cut out centre holes in half the cookies.

Place cookies on parchment-lined baking sheets and bake for 11-12 mins. Remove from the oven and cool for 5-10 minutes (do this step with all cookies; it firms the bottom crust). After 10 minutes you should be able to assemble the cookie 'sandwiches.'

Now get the jam out. Using a spoon, place a dollop of jam in the center of the cookies without a hole. Spread the jam to the edges but make sure there is still a mound of jam in the centre of the cookie. Place second cookie (with centre hole cut out) on top and lightly press. You want the jam to fill the centre hole.

Put on the kettle. Pour a cup of tea. Have one of these, would ya?
Print Recipe
(Visited 15,331 times, 2 visits today)