I always look for how customizable it can be in a recipe. The flavours I'm crazing on this week might be what I want this week! So when I came across these puff tarts, my brain started to turn, thinking about all the flavour combinations we can make with these crispy, buttery savour (or sweet) little treats. You'll want to follow along as we create incredible bites with these Puff Pasty Tomato and Cheddar Tarts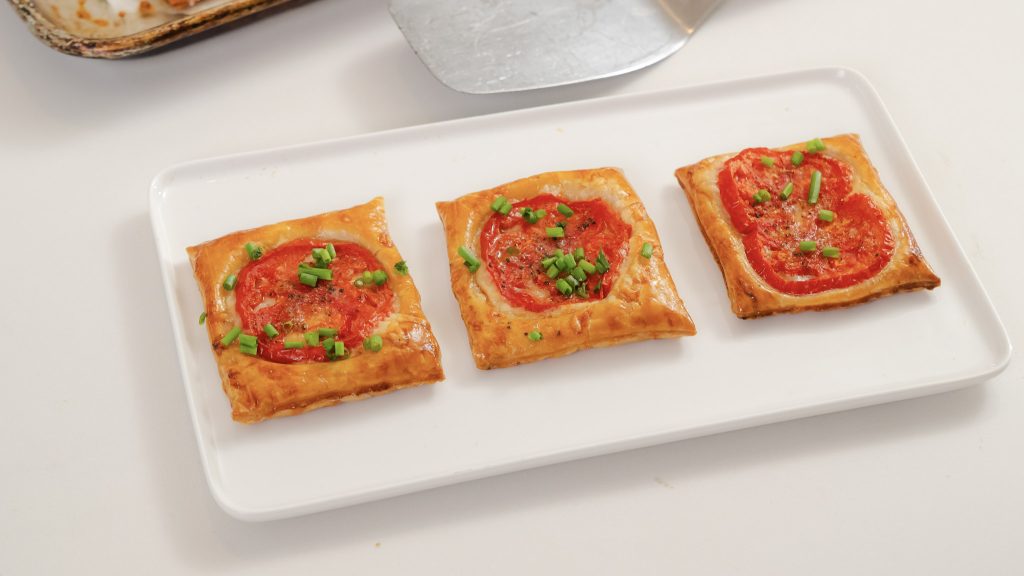 Key ingredients for these Pastry Tomato and Cheddar Tarts
For this specific recipe, I found some beautiful heirloom tomatoes from my local farmers market. With a recipe as simple as this, you will want to ensure you get the highest quality ingredients so they can shine! That usually means looking for beautiful, local and ripe veg. These tomatoes have more flesh and less liquid than store-bought tomatoes, making them perfect for roasting.
We used a smoked cheddar for this recipe; I like how the smokey creaminess balances the fresh bite of the tomato mixed with the buttery/flaky puff pastry.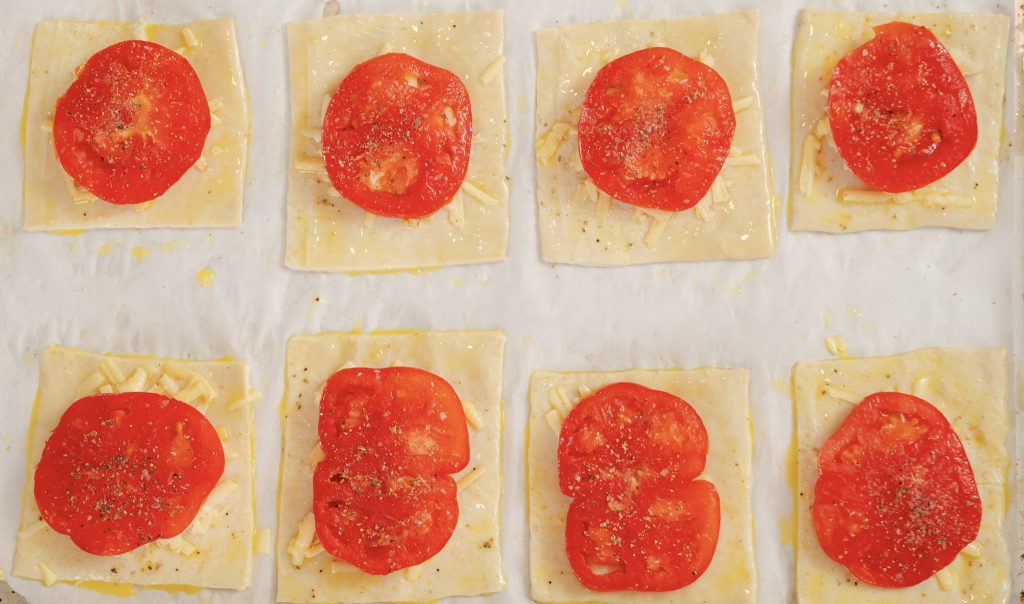 Keys to nailing these Pastry Tomato and Cheddar Tarts
A quick and easy recipe doesn't mean there aren't tips and tricks you can do to make them the best version they can be! Follow these few steps, and you'll have the perfect bite every time.
Drain your tomatoes. We want to remove as much water as possible to ensure the party gets nice and crispy and keep it from going soft and underbaking. Sprinkle it with salt, and use lots of paper towels!
Frozen pastry won't puff. If your pastry is still frozen, you risk cracking or releasing liquid when baking, making it difficult to achieve an even bake. Pull it the day before and let it thaw overnight in the fridge.
Egg wash supremacy. We want beautiful colour and texture on our pastry; the only way to achieve that is to use a healthy amount of egg wash.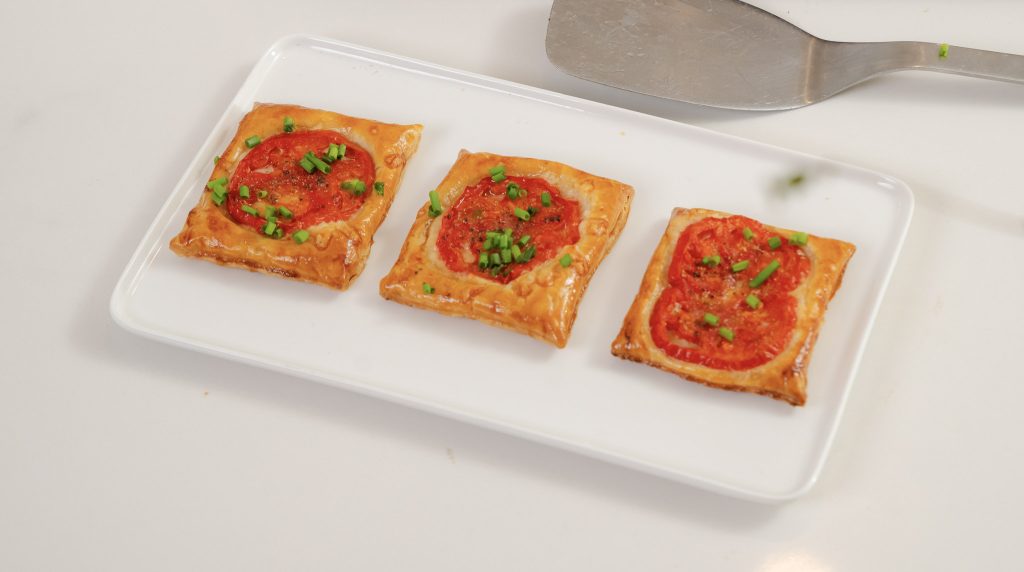 Choose your own adventure!
As we said above, a recipe like this is perfectly customizable; you can make it your own, from the cheeses to the veggies. Just make sure nothing is overly wet or frozen, and you're good to go!
Even think about some sweet variations, like brie, honey and pistachio- that sounds like a winning combination to me!
These little guys are perfect for build your own pizza parties for the little ones (or for the child like adults in your life).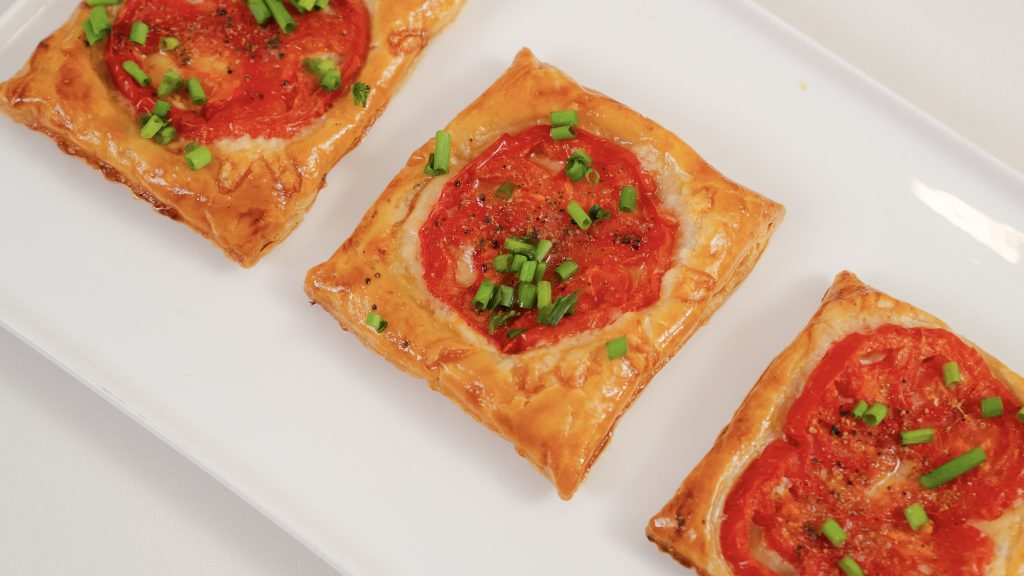 Other recipes we think you should try out!
If you liked the sound of these Pastry Tomato and Cheddar Tarts, here are a few other recipes we thin you should check out!
Boursin, Broccoli, Mushroom, White Pizza.
Puff Pastry, Tomato and Cheddar Tarts
Print Recipe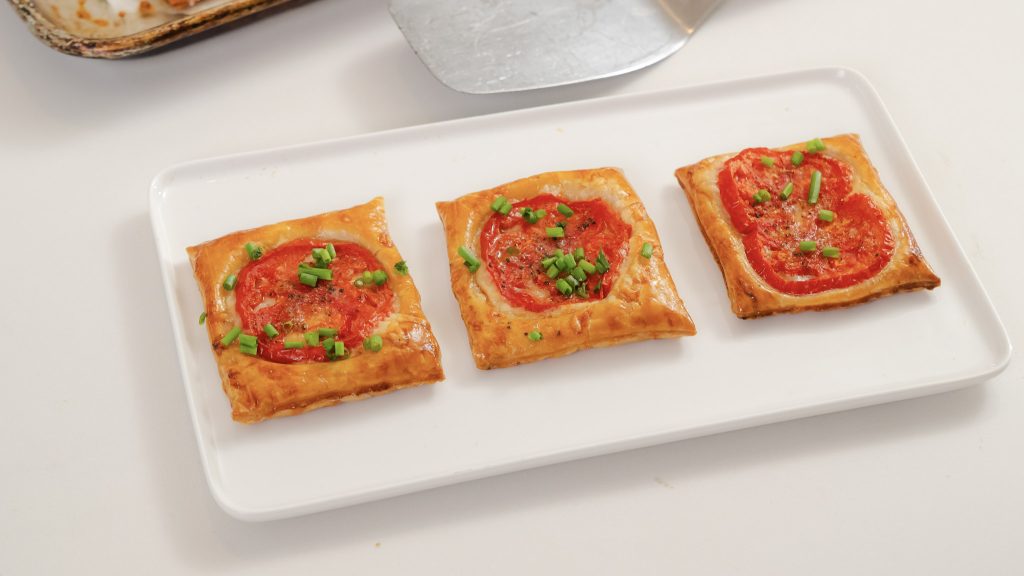 Ingredients
1

large

Sheet of puff pastry

Store bought

1

large

Heirloom tomato

1 1/2

cups

Smoked cheddar

Shredded

1/2

cup

Fresh chives

Thinly sliced

1

tbsp

Kosher salt

1

large

Egg

Scrambled
Instructions
Preheat oven to 400F.

Slice tomatoes and salt generously on both sides. Place slide tomatoes on paper towel and cover with an additional piece. Allow the tomatoes to sit for 15 minutes. This removed moisture and is a key part to ensure best results.

Roll out puff pastry and cut into squares.

Place a large pinch of shredded cheese in the center of each pastry square and then top with tomato. Make sure there is an outside edge of the pastry with no cheese on it.

Using a pastry brush, brush the edges of the pastry with your egg wash. This will ensure it turns a beautiful golden brown in the oven.

Bake Tarts for 25min and golden brown.

Top with chives and enjoy!
Print Recipe
(Visited 1,028 times, 1 visits today)