Kick your hummus game up a notch with this Shawarma Chickpea Hummus. The perfect balance of sharp/crisp freshness with round and warm spices. Perfect for summer gatherings or as a quick snack. Serve with some freshly steamed pita bread and you have yourself a new favourite hummus!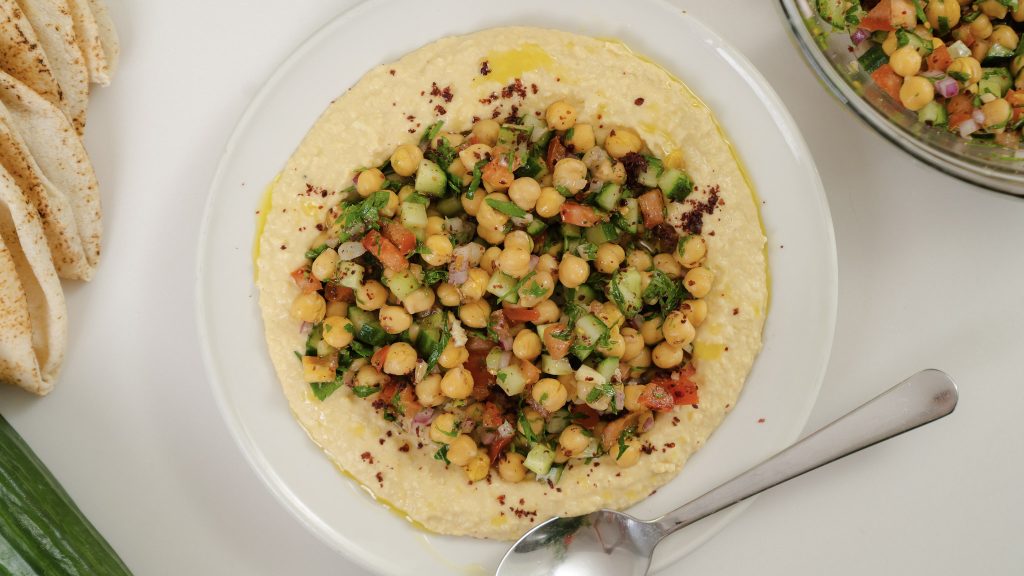 The spices are important
This Shawarma Chickpea Hummus has a few spices you might have at home, and a few you might need to go out and find. We're confident if you stop into your local Middle Eastern or specialty spice store you'll be able to find them.
Za'atar – A blend of different aromatics. Super classic in much of the middle east. It's made of dried thyme, marjoram with sumac and toasted sesame seeds. It's floral, tangy, nutty and acidic. Well worth the trip to the store.
Sumac– A dried flower, super tangy with a fresh lemon kind of flavour. This is one of the elements that really bring this recipe to life.
Cumin– This is what gives this recipe its warmth. It'll balance out all of the citrus and freshness and really round things out.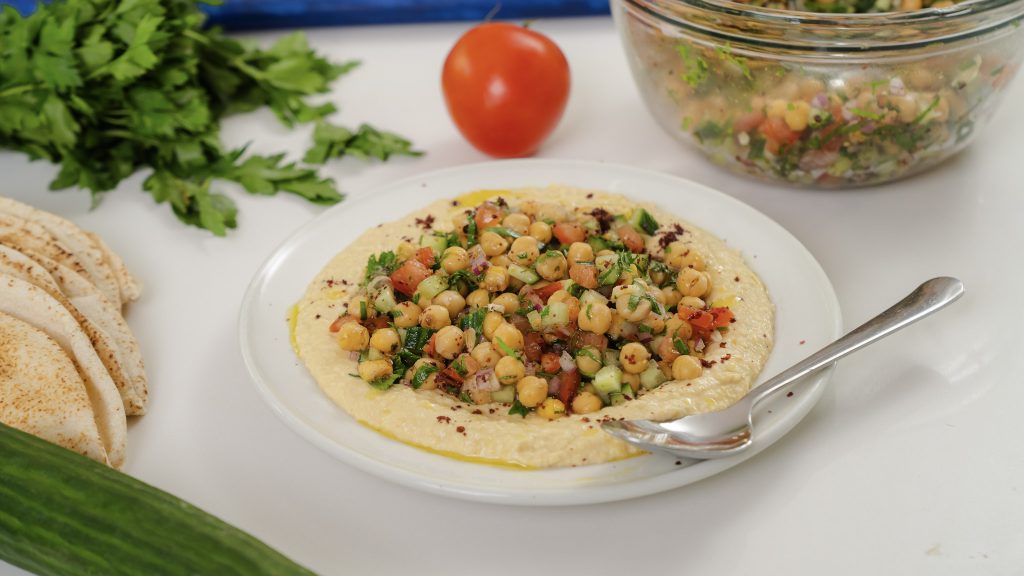 Keys to nailing this Shawarma Chickpea Hummus
This recipe has two main components: The Hummus and the Salad.
For the hummus you really want to make sure you get an even blend of the chickpeas. Really make sure to all of the ingredients are evenly blended and emulsified. You want an end product that is creamy and light, not dense and chunky.
The salad is all about consistency, cut the veg in the same small dice and your guaranteed to get a have a bit of everything in each bite.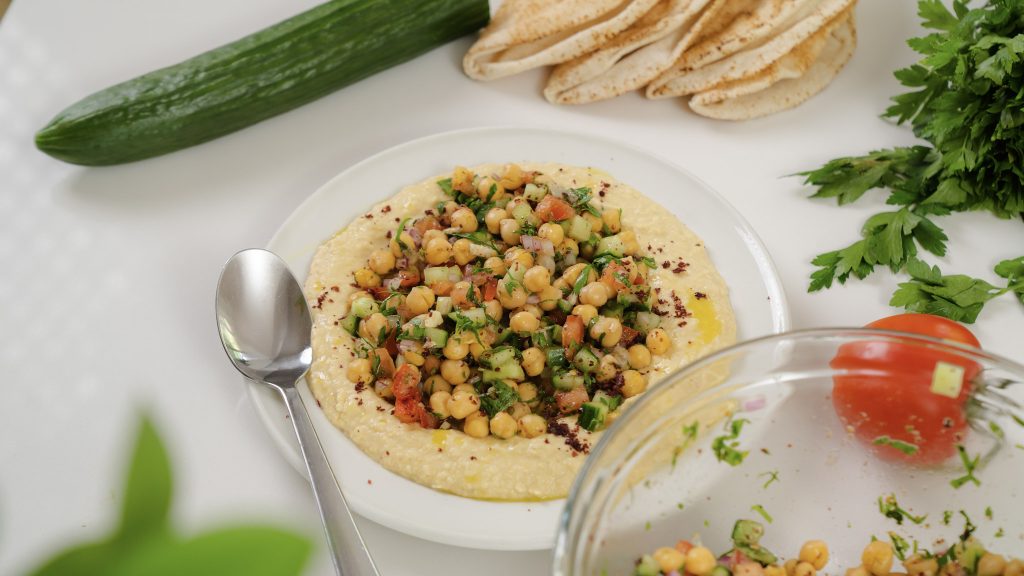 The final touches for this Shawarma Chickpea Hummus
Depending on how you want to serve it (be it with crackers, cut veggies or pita chips) we think fresh pita is best. The best way to soften store-bought pita so it's stretchy and chewy is to either steam it for a minute on each side by placing a wire rack over a simmering pot of water; or by simply placing it in the microwave for a few minuets.
Other recipes you should check out
If you liked the sound of this Shawarma Chickpea Hummus, here's a few other recipes we think you should check out!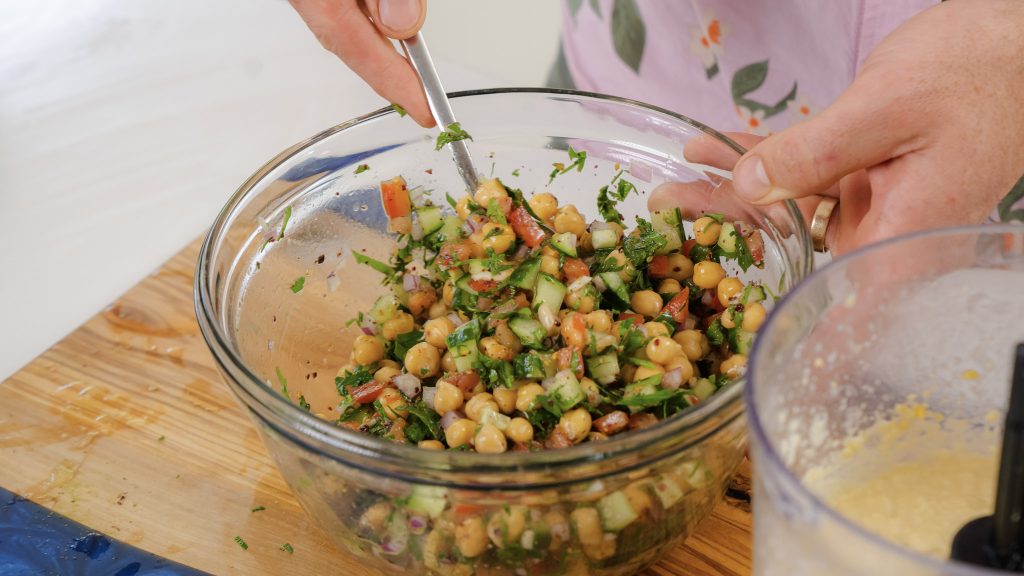 Shawarma Chickpea Hummus
Print Recipe
Ingredients
For the Hummus
1

can

Chickpeas

Drained and rinsed

2

tbs

Tahini

1

large

Garlic clove

1

large

Lemon

Juiced

1

tsp

Salt

1

tbs

Olive oil

3

tbs

Water
For the Shawarma Chickpea Salad
1

large

tomato

Diced

1/2

cup

Cucumber

2

tbs

Red onion

Diced

1/2

cup

Parsley

Chopped

1

large

Garlic clove

Minced

1

can

Chickpeas

Drained and rinsed

1

tbs

zaatar

1

tbs

Sumac

1

tsp

Cumin

1

tsp

Salt

1

large

Lemon

Juiced

2

tbs

Olive oil
Instructions
In a food processor or blender add chickpeas, tahini, garlic, lemon juice, salt, oil, and water. Blend on high until smooth. Remove from blender and set aside.

In a large bowl lets make the salad. Mix together chickpeas, tomatoes, cucumbers, red onion, parsley, garlic, zaatar, sumac, salt, lemon juice, and olive oil.

On a large plate, spoon a large dollop of hummus onto a plate and using the back of the spoon smear to the edges. Top with chickpea salad and serve with fresh pita bread!
Print Recipe
(Visited 2,856 times, 5 visits today)