We all want to start eating a bit healthier. At our home, we always crave something light but satisfying. This spicy, crunchy and craveable Southwest Chicken Salad is the kind of salad that eats like a meal! With its quick and easy prep, this salad will fit right into your busy weekday dinner schedule. It's guaranteed to be one of your new favourite salads, so lets get cooking!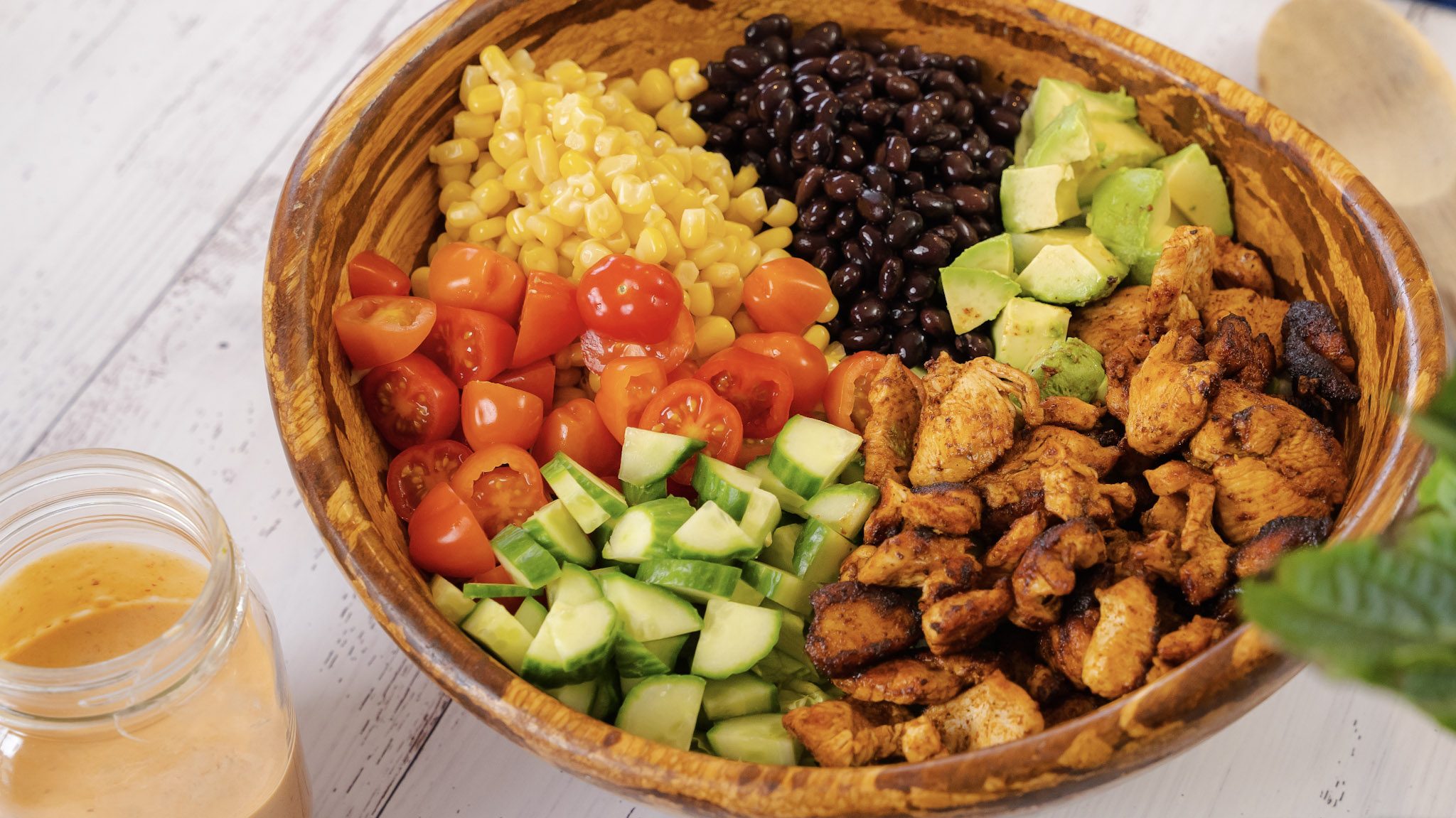 The perfect summer salad!
The Southwest chicken salad is perfect for the summer months. Smokey, spicy and creamy but still packed with a ton of fresh veg. It's all about balance, we like to think of this one as the perfect summer salad and meal. This salad is all about keeping it simple. We always want to be eating the freshest food possible, but in a pinch canned products work perfectly! This is another recipe that's so versatile. Give a look through your pantry or local farmers market and see what you come up with.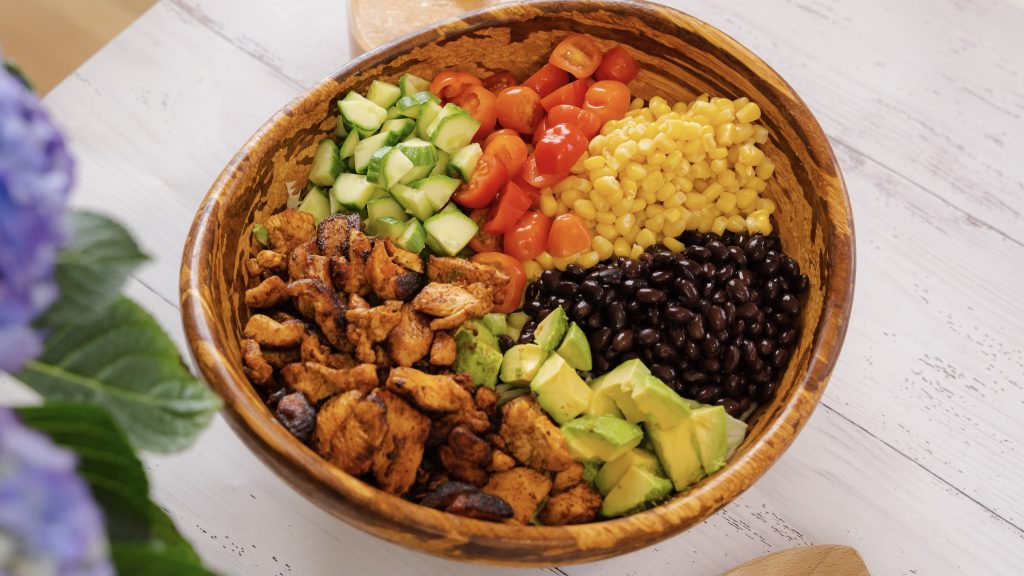 Key ingredients to nail this South west chicken salad
Here's a few ingredients we think go great together!
Cherry Tomatoes – When it comes to keeping thing fresh, juicy cherry tomatoes brighten the salad and add a slight acidity that really brings it all together.
Diced Avocado – We love adding fresh avocado to salads like this. The added creaminess of a ripe avocado can't be overlooked!
Fresh Cucumber – A staple of many of our salads. Fresh and crunchy, you cant go wrong.
Canned Black Beans – A really easy way to add a little extra protein and fiber to your meals.
Canned or Fresh Corn – We can't always get fresh corn or produce year round. When you can use fresh and local we always recommend it. But in a pinch a can of corn isn't a bad thing, use what you have available!
Iceberg Lettuce – The superstar of this salad. Theres something about iceberg lettuce we just cant get enough of. So crunchy and fresh, it just tastes like summer, but you can use any lettuce you have available.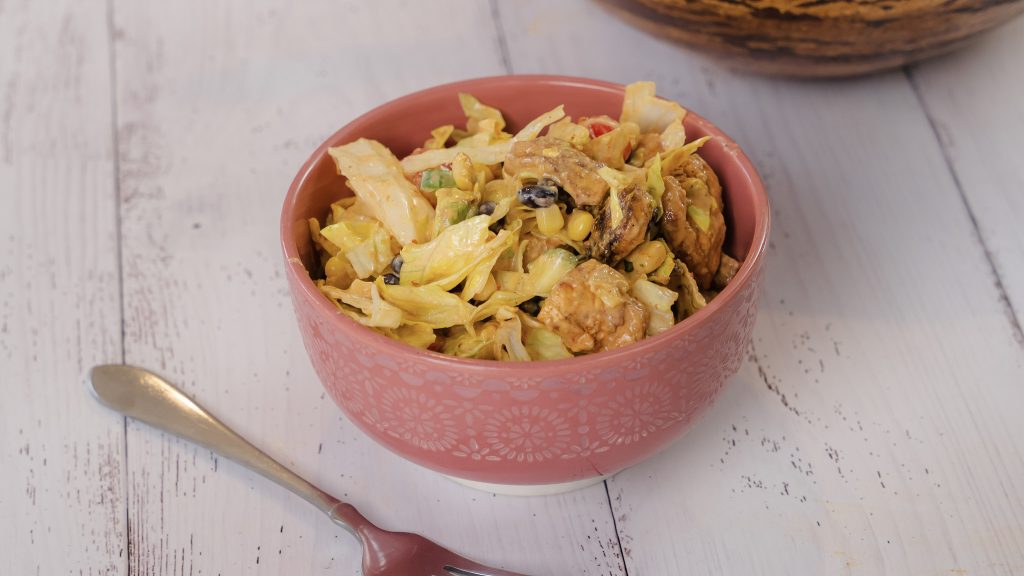 If you're liking what you're seeing, check out a few more of our salad recipes and blogs that are similar to the Southwest Chicken Salad. There's always something new to try!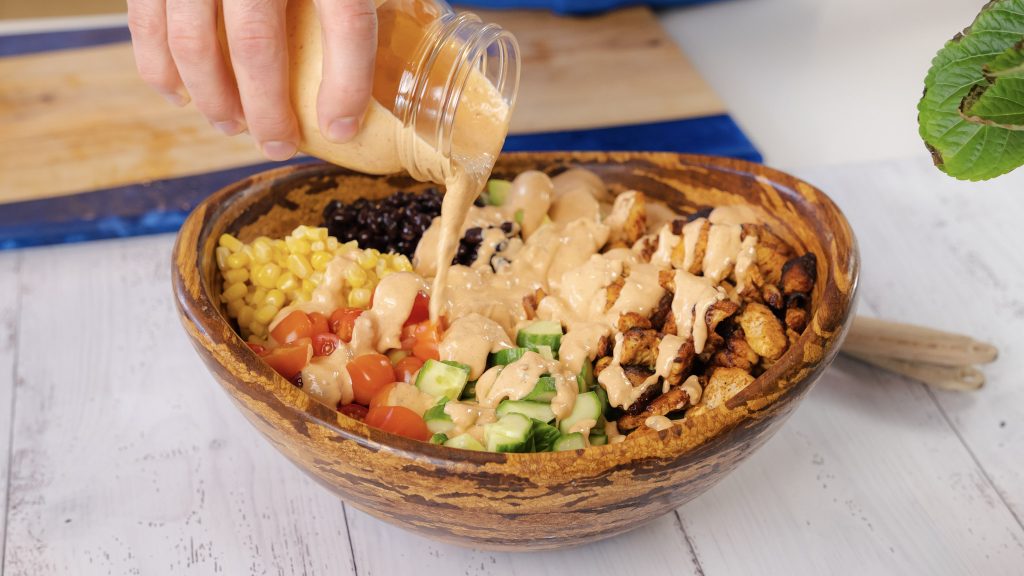 It's all about the dressing!
When making the Southwest Chicken Salad and meals like it, it's so important to have the dressing or sauce pack a huge punch. This Adobo sauce is mix of all the great flavours. It's spicy, smokey, tangy, bright and creamy. Adobo is a type of sauce made from marinated chipotle peppers. Deeply marinated this smokey and spicy ingredient mixed perfectly with the greek yogurt, taming its heat and balancing the spice. The best part about this one is how easy it is to make. Just 5 simple ingredients and you're ready to add this to your dressing repertoire. Use it for more than just this salad, add it to your tacos for some extra kick, or liven up the crudité board at the next staff party.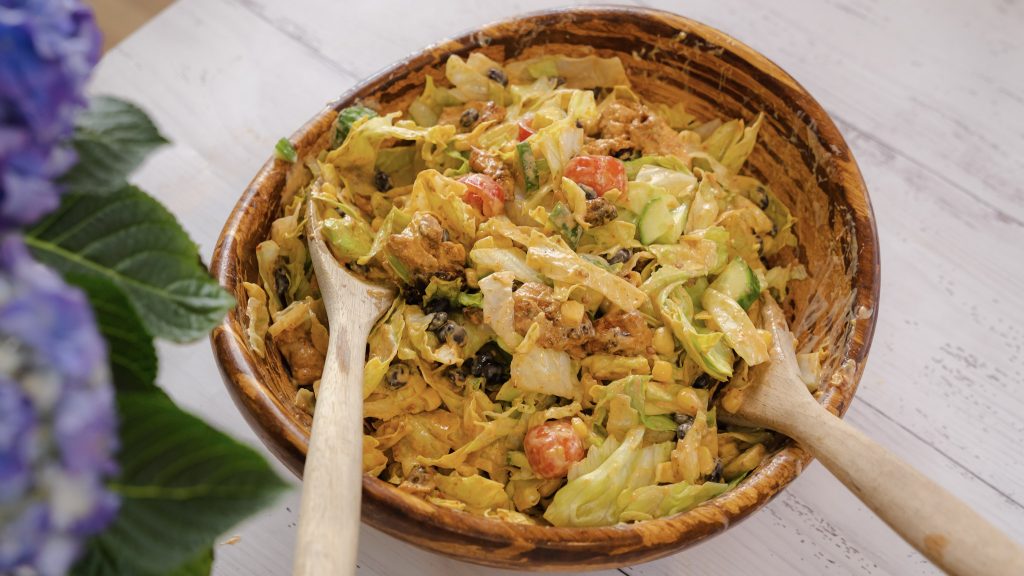 Southwest Chicken Salad
Print Recipe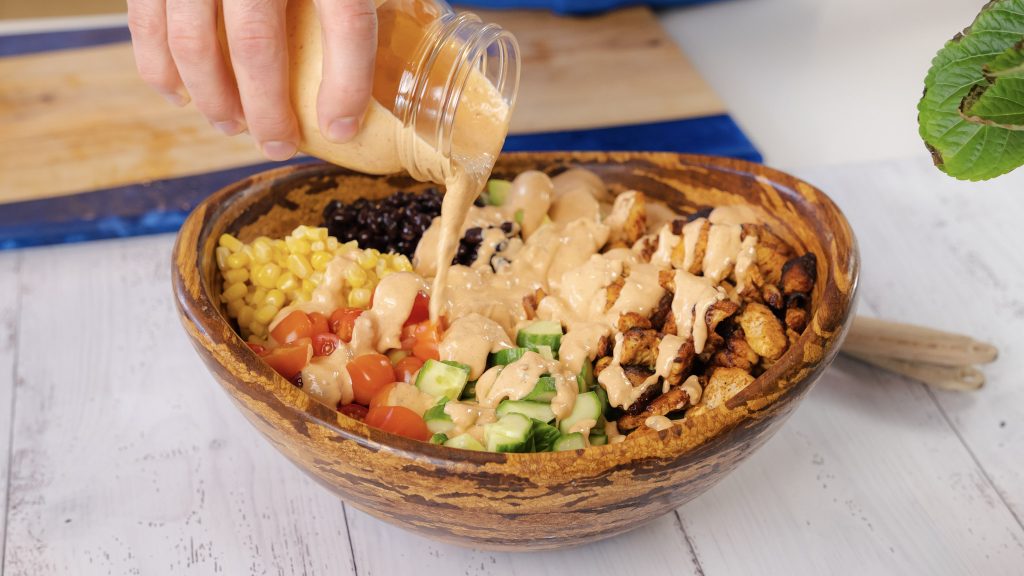 Ingredients
For the chicken
2

large

Chicken breasts

Thinly sliced

1

tsp

Salt

1

tbsp

Smoked paprika

1

tsp

cumin
For the dressing
1

cup

Greek yogurt

2

large

Limes

Zested and juiced

2

Chipotle peppers in adobo

1

tbsp

Adobo sauce

1

tsp

Salt

1

clove

Garlic

1

tbsp

Water
For the salad
1

cup

Cherry tomatoes

Sliced

1

large

Avocado

Diced

1

large

Cucumber

Diced

1

cup

Canned Black beans

1

cup

Fresh or canned corn

3

cups

Iceberg lettuce

Chopped
Instructions
Toss chicken in spices and then cook in a pan over medium heat until chicken is browned and fully cooked. Set it to the side.

Into the bowl of a blender or food processor add in the greek yogurt, juice and zest of 2 limes, chipotle peppers, adobo sauce, salt, garlic, and water. Blend until smooth. Set aside.

Now let's assemble the salad. Add the lettuce to a large salad bowl, gently layer all of the prepped veg and chicken on top. Drizzle your sauce over the salad and toss table side or mix together and store in the fridge.
Print Recipe
(Visited 9,349 times, 3 visits today)