These Peanut Butter and Jelly cookies are going to take you right back to recess time. I am telling you, these cookies really did something for me. LOVE THEM. It's well documented that I am a peanut butter fiend, and these cookies just do it for me! Chewy, peanut buttery, soft, maybe even perfect?!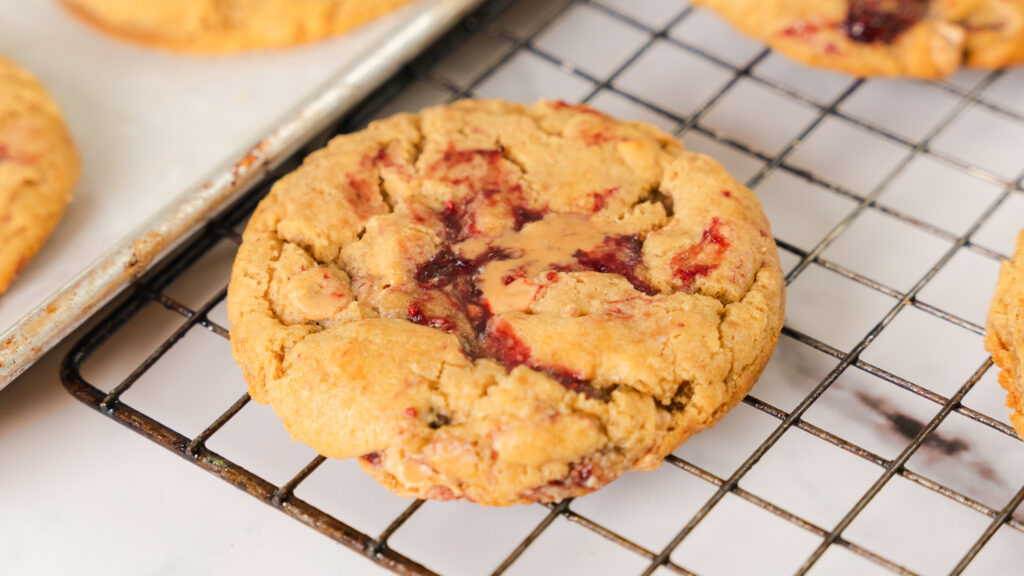 Stuffed Peanut Butter and Jelly Cookies
What makes these cookies that much more over the top is that they are stuffed with peanut butter and jelly. That's what gives you that gooey centre. So how do I stuff the cookies? Glad you asked.
Step one: Spoon about twelve 1 tsp scoops of creamy peanut butter onto a baking sheet and place it into the freezer while you make the dough.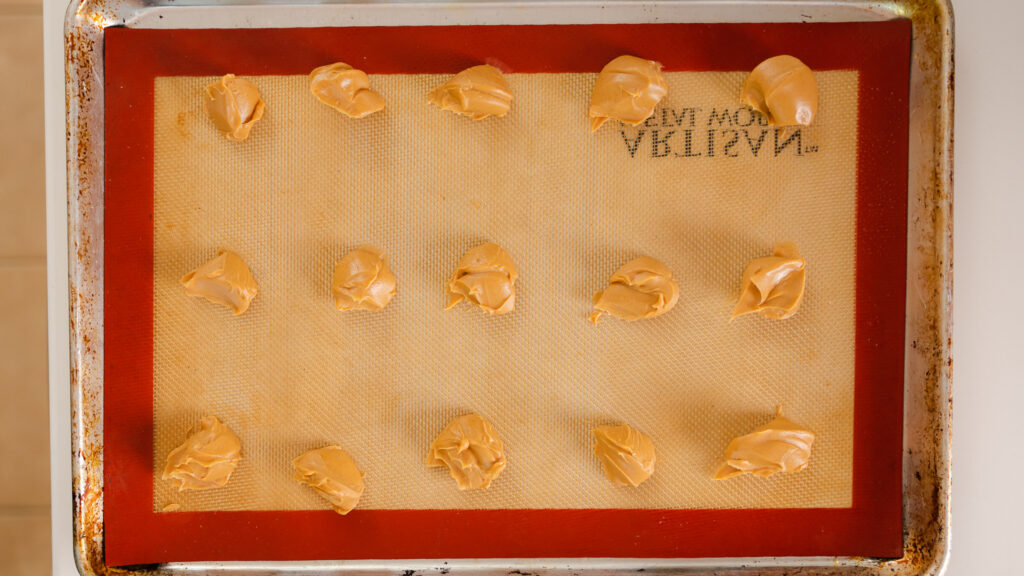 Step 2: Make the dough. Full recipe below. Once dough is made scoop out golf ball sized scoops of dough and then flatten them.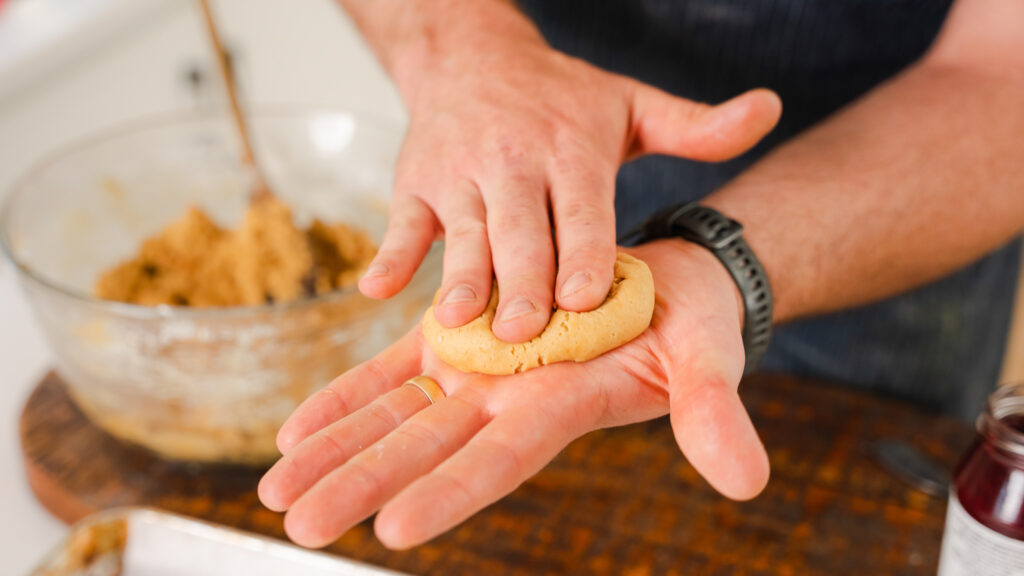 Step 3: Scoop on 1 tsp of your favourite jam or jelly. Then drop the cold peanut butter scoop on top. From there you use your hands to fold all of the sides of the cookie over the peanut butter and jelly centre.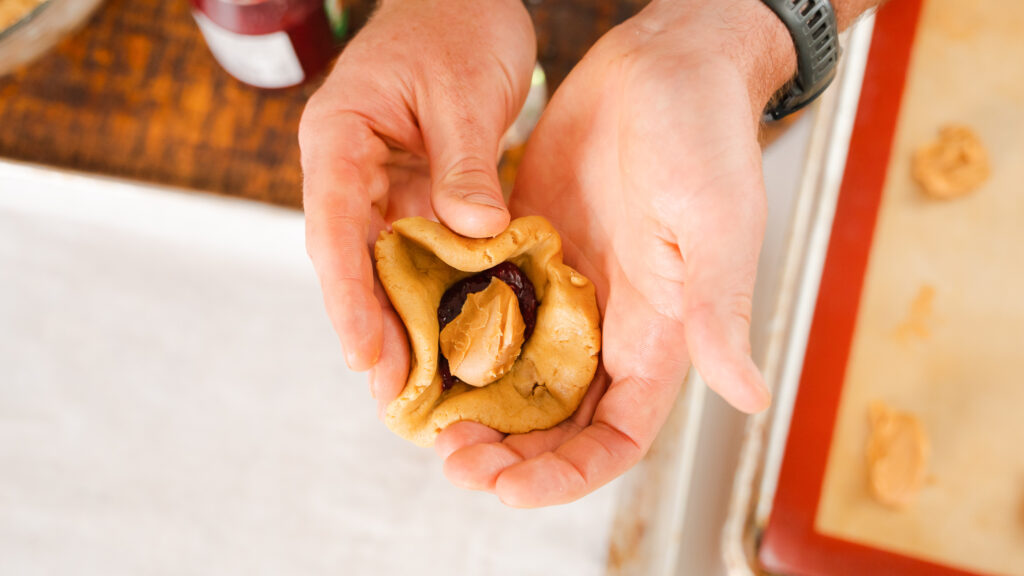 Boom. You now have stuffed cookie dough balls. For best results I suggest popping the dough balls into the freezer for 20 minutes. If you don't have the time or patiences, no worries you can fire the cookies into the oven now.
Tips for nailing these Stuffed Peanut Butter and Jelly cookies
After forming the dough balls I suggest popping the them into the freezer for 20 minutes. This results in extra gooey cookies.
These are big cookies so give each ball lots of room to spread.
Let the cookies rest on the pan for 5-10 minutes after taking them out of the oven. This is an important step for any cookie as this gives the bottom time to firm and crisp up.
After 10 minutes on the tray, I suggest letting the cookies cool for another 5-10 minutes on the cooling rack. I am not just saying this to force you to wait. This cooling period gives the cookies time to congeal so they don't break apart when you pick them up.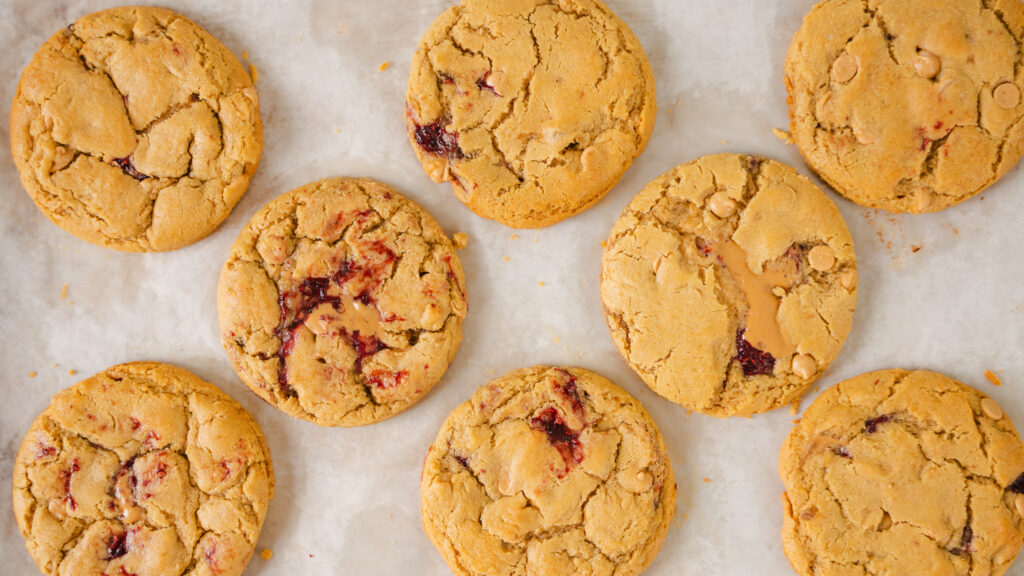 Stuffed peanut butter and jelly cookies
Print Recipe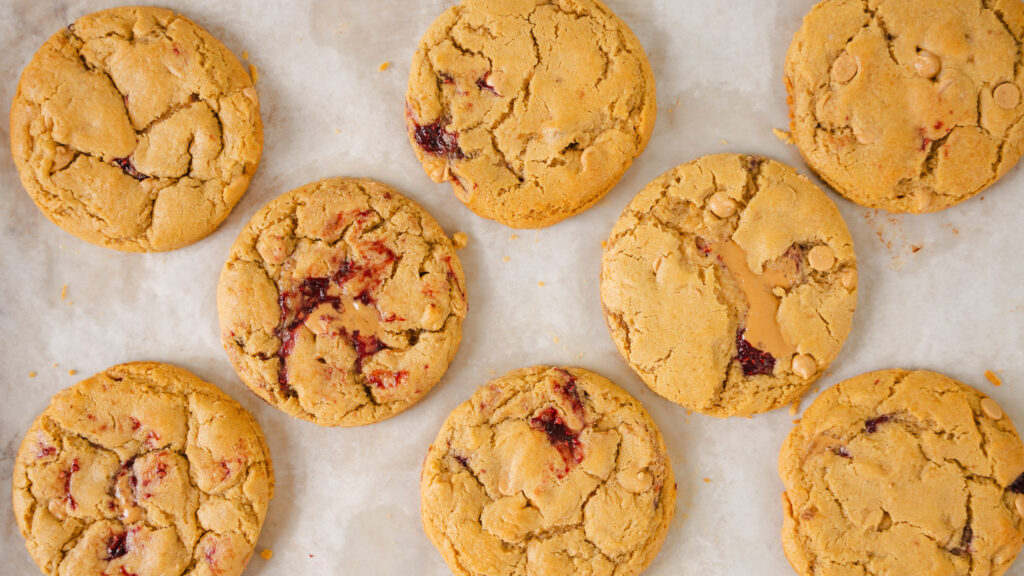 Ingredients
Wet Ingredients
1/2

cup

softened butter

1/2

cup

smooth peanut butter

Natural peanut butter don't work well for this recipe.

1/2

cup

white sugar

1

cup

brown sugar

2

eggs

1

tsp

vanilla
Dry Ingredients
2

cups

flour

1

tbs

baking soda

yes, tablespoon

1/2

tsp

salt

1

cup

peanut butter chips

I used reeses pieces chips
Stuffing
1/2

cup

smooth peanut butter

1/2

cup

Jelly, used your fav!
Instructions
Preheat oven to 350F and prepare a baking sheet with parchment paper.

Spoon out twelve 1 tsp scoops of creamy peanut butter onto the prepared baking sheet and pop it into the freeze for 15 minutes. Use the peanut butter for the "stuffing" around 1/2 cup.

In a bowl mix together the butter, peanut butter, sugar, and brown sugar. Do not rush this process. Use a stand mixer with a paddle attachment or use a hand held mixer. You want the sugar to really dissolve into the butter. Mix for about 3 minutes.

Add in eggs and vanilla and mix until smooth.

Now pour in the flour, baking soda, salt and mix. Do not over mix here. We are just looking to have the flour totally incorporated. Once flour is mixed in, add the peanut butter chips and stir until they are incorporated.

Using a ice cream scoop or large spoon, scoop out a golf ball size scoop of the dough and place in your hand. Using your palm, flatted the dough ball until its about 1/8th of an inch thick. Now spoon 1 tsp of jelly onto the flatted dough ball and then drop one of the chilled peanut butter scoops on top of the jelly. Now using your hands fold all edges of the cookie over the peanut butter and jelly. Now in the same way you would form a snow ball, lightly press and roll the dough ball. Place on a parchment lined baking sheet.

Key tip here. These cookies spread. Do not over crowd!!! Give 3 inches between each cookie. These are biggggg. Better to cook two batches then have them all melt together.

Bake cookies for 18-20 minutes. After 20 minutes remove from the oven and let cookies sit on baking tray for 10 minutes. This is really important for any cookie as this allows the bottom to crisp.

Now transfer the cookie using a spatula to a cooling wrack. This will allow the cookie to congeal a little bit more and make it less likely to break apart when you pick them up.

Ok. You made it. These are amazingly delicious. I truly, truly hope you love them. I know I did. Happy Baking!
Print Recipe
(Visited 14,953 times, 7 visits today)