This one is pure nostalgia, folks. When I'm making this West African Peanut Soup at home, the aromas and flavours remind me of heading down to the café in College. Something about the ultra-warm and creamy texture feels so right on a fantastic fall day. Break out those immersion blenders, and let's get cooking!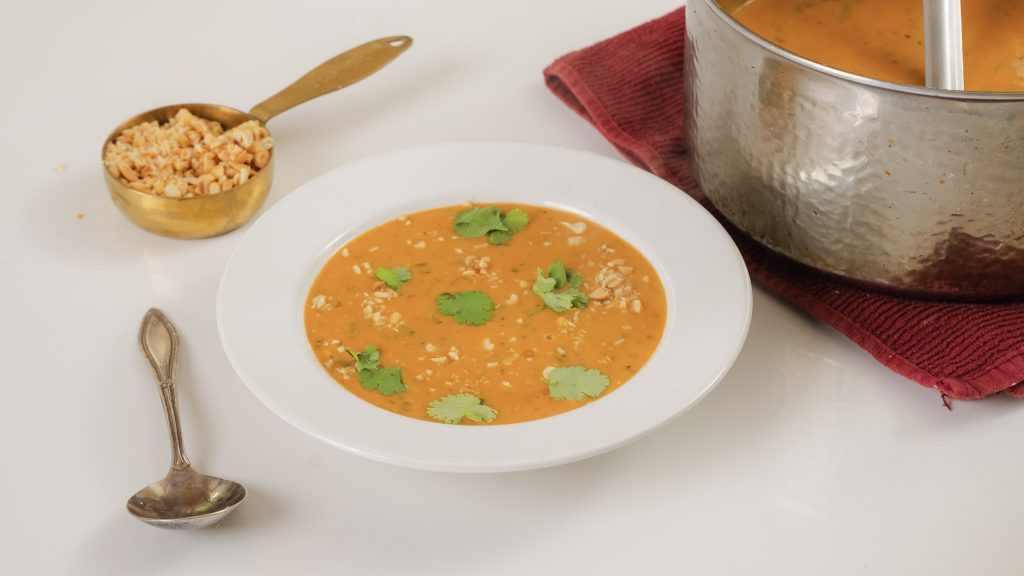 Key Ingredients for this West African Peanut Soup
This is a definition of super simple but with complex flavours. Here are the main ingredients that help build off of these great flavours.
The aromatics– The onion, ginger and garlic play a vital role in creating the base of this soup. Each is just as important as the last. You might be tempted to buy pre-crushed or diced ginger and garlic paste, but trust me, fresh is what you'll want here.
The Potato- Sweet potato is one of the stars of the dish. It gives the soup its signature body and balances it with its natural sweetness.
Peanut butter- It wouldn't be a peanut soup without it. The nutty, salty and creamy flavours round everything out.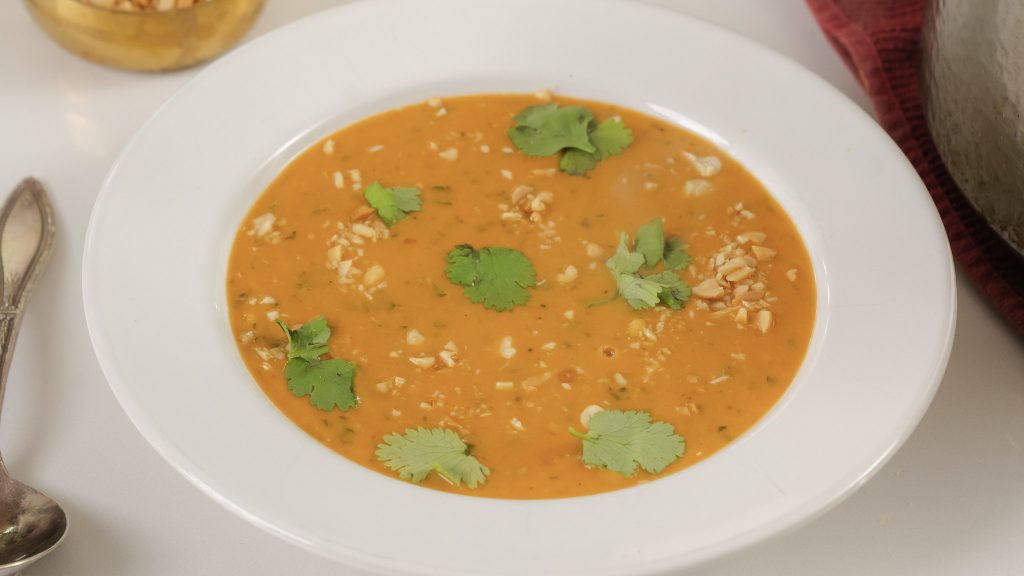 A little on the history of this dish.
This is a version of a super-important and ancient dish called Maafe. Traditionally, the plate comprised different jams and ground nuts, with the North American peanut being introduced much later in its history. It's important for us to know the history behind the dishes so that we can appreciate the entirety of what we're making, eating and sharing!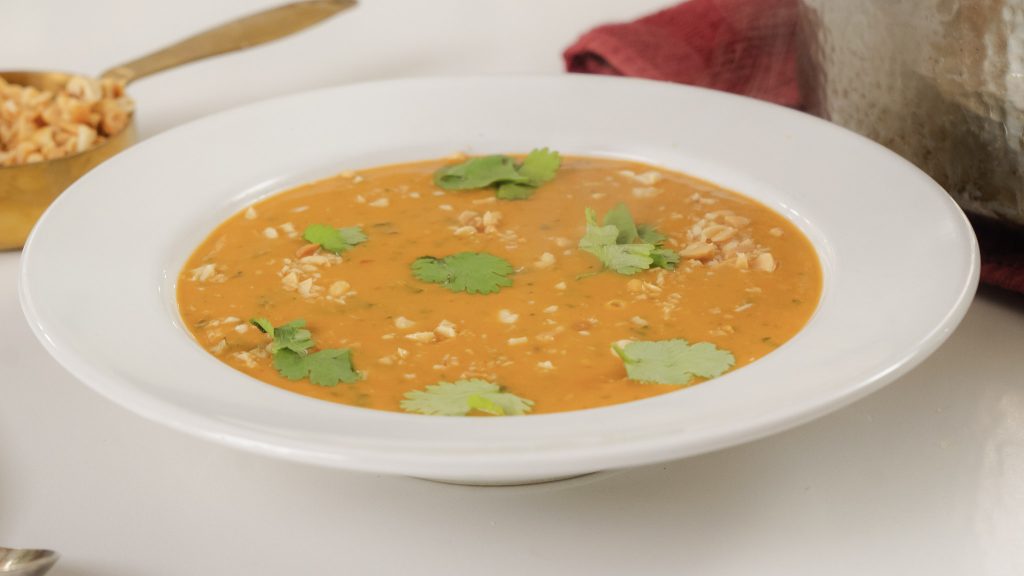 How to nail this West African Peanut Soup
If you nail these simple steps, I guarantee it'll be perfect every time.
Make sure your onions, garlic and ginger are all finely diced. We want to have those lovely aromatic flavours distributed throughout the soup.
When you cook with tomato paste, you'll need to cook it out. That means letting the sharp and acidic tomato flavours mellow and soften. You can tell the difference between a dish with raw tomato paste and a properly cooked-out paste.
When we blend the soup, we need the sweet potato to be ultra soft. Before blending, please take a few of the larger chunks and test that they are ready. If not, you run the risk of having a gritty soup!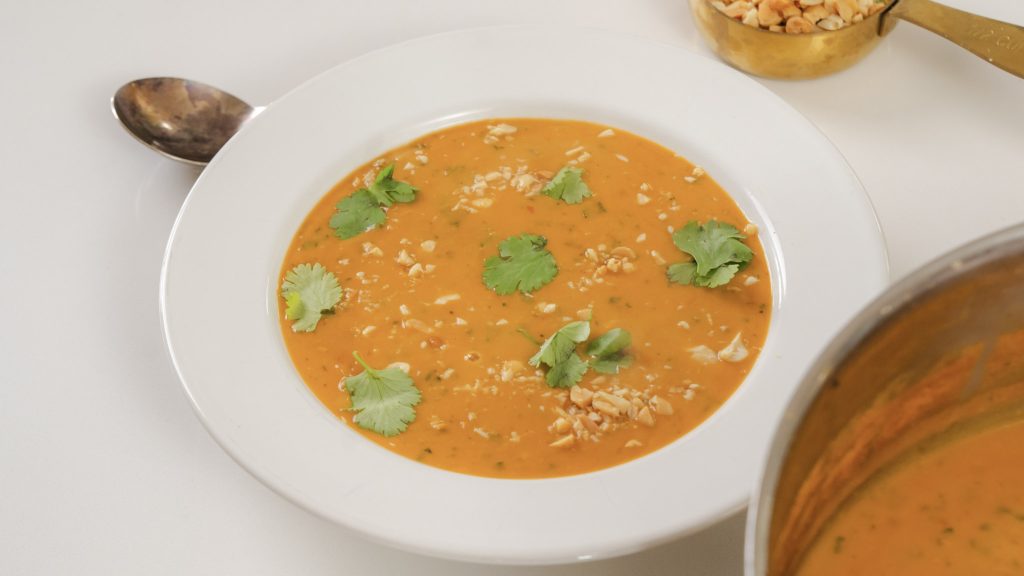 Other recipes to check out!
Curried Butternut Squash, Carrot, Sweet potato soup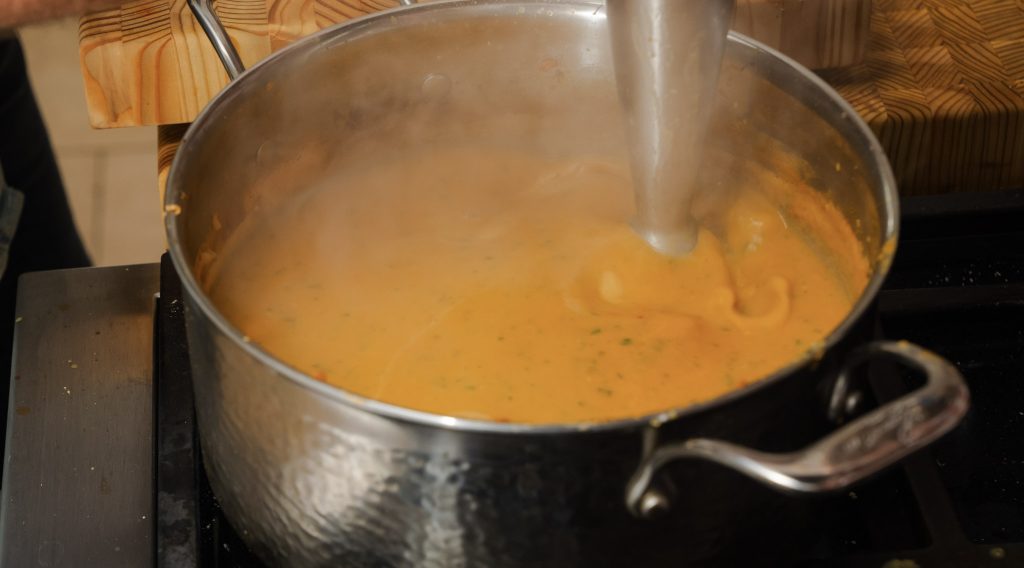 West African Peanut Soup
Print Recipe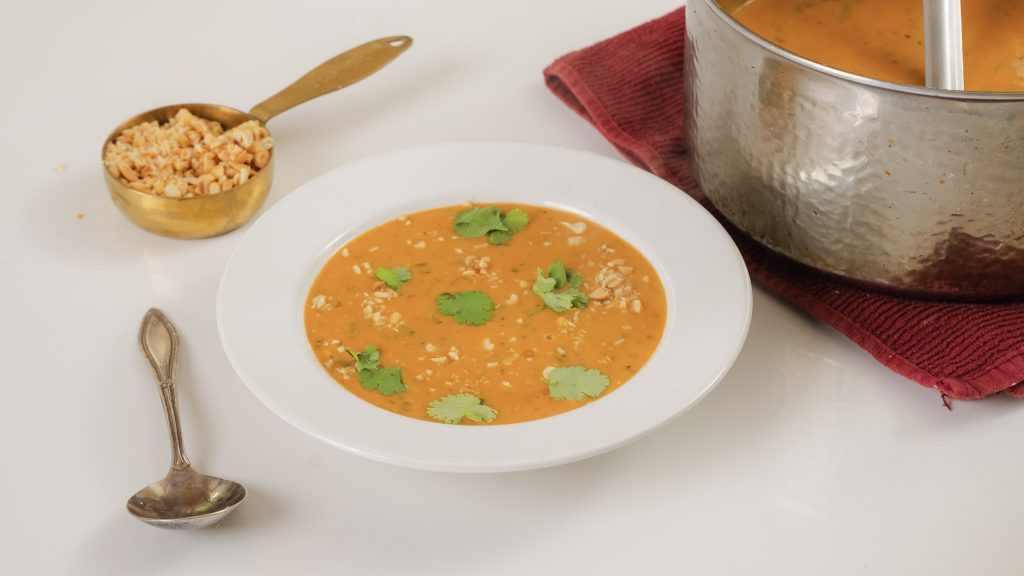 Ingredients
1

large

White onion

Diced

2

tbs

Fresh ginger

Diced

4

large

Garlic cloves

Diced

2

cup

Kale

Chopped

1 1/2

large

Sweet Potatoes

Diced

1/2

cup

Tomato Paste

1

L

Vegetable stock

2

cups

Water

3/4

Cups

Peanut Butter

1/2

tsp

Chilli Flakes

Salt

Black Pepper
To Garnish
1/2

cup

Peanuts

Chopped

Fresh Cilantro
Instructions
Heat 1 tbsp of oil in a large pot over medium heat.

Once warm add in your onion, ginger and garlic and saute for 2-3 min. Once translucent, toss in your kale, and sweet potato. Saute for another 2-3 min.

Next add in your tomato paste and cook down or another 2-3 min. Once cooked down slightly, add in your peanut butter, stock and water. Allow the peanut butter to dissolve into the stock and bring to a boil for 15-20 or until the sweet potato is nice and soft.

Once your sweet potato is nice and soft, use an emersion blender to puree the soup, making sure to leave some of the sweet potato whole for some added texture.

Garnish with crushed peanuts and cilantro and enjoy!
Print Recipe
(Visited 13,369 times, 16 visits today)