We're back again with another vegetable stuffed baked good that we know you are going to love. It's summer time and the zucchinis this time of year are just too good not to put in everything. If your area has a local farmers market, you're definitely not going to want to miss out on these Banana Zucchini Muffins. Packed with rich banana flavour, and filled with the extra veg our bodies crave. Even the pickiest of eaters will want a second!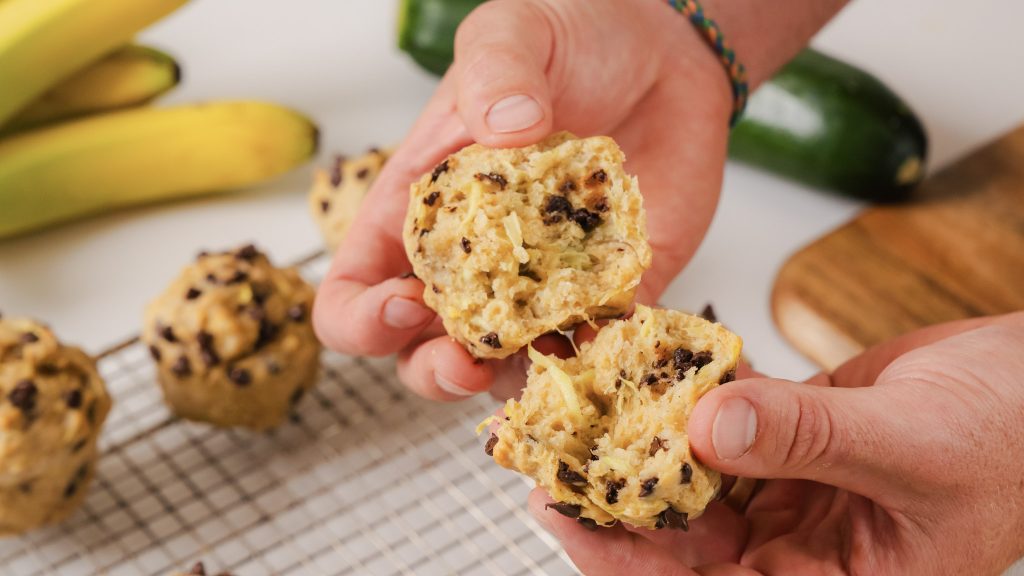 Packed with everything you need.
These muffins are a hit in my family for a reason, they're delicious AND they are packed with healthy ingredients and very low in sugar.
Each batch of muffin has three whole bananas which are an excellent source of potassium, fiber, vitamin C and of course, great flavour and texture.
These muffins also include 2 whole fresh zucchinis, which are a new favourite baking ingredient in our house. They're packed with antioxidants, minerals and low in fat, and sugars.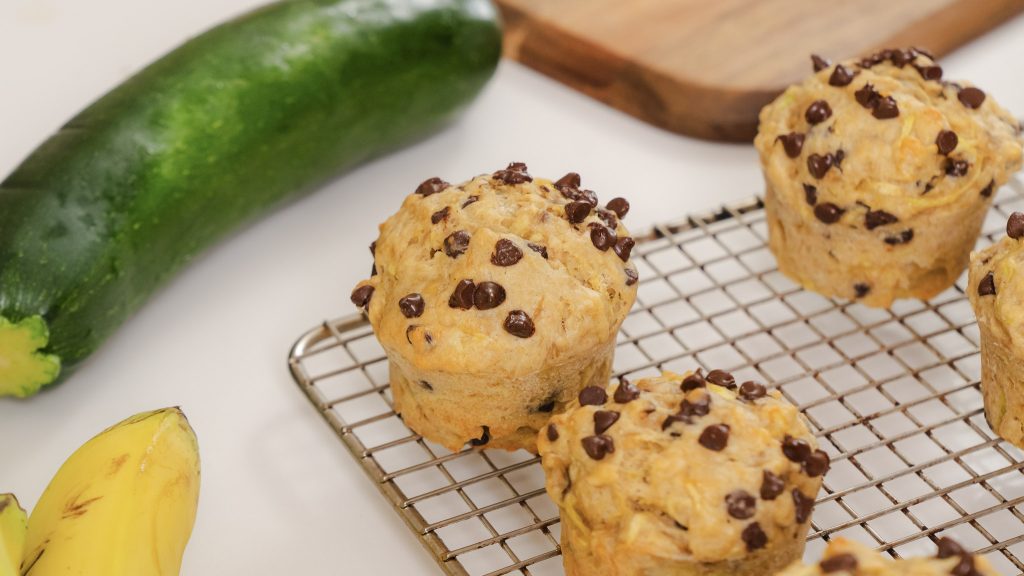 Tips on nailing these Banana Zucchini Muffins.
Muffins are historically a very simple thing to make, but we've all had sad, dry, unappealing muffins before. If you follow these simple tips, we're sure you won't want to use any other recipe ever again!
Mix and then mix again– When it comes to muffins, you have your wet ingredients and your dry ingredients, it's super important to make sure each are fully combined and incorporated before you mix them together. This is going to help them bake more evenly and ensure you get the best product every time.
Stab and test– When baking, it can be hard to tell when your recipe is done, or near done. Everyones oven heats, and bakes differently, so it's important to be able to know when done really means done. Using a cake tester or a bamboo pick is a great way to test. Gently stab the center of the muffins, once you remove the stick, and if there is no badder stuck to the stick, you're good to go!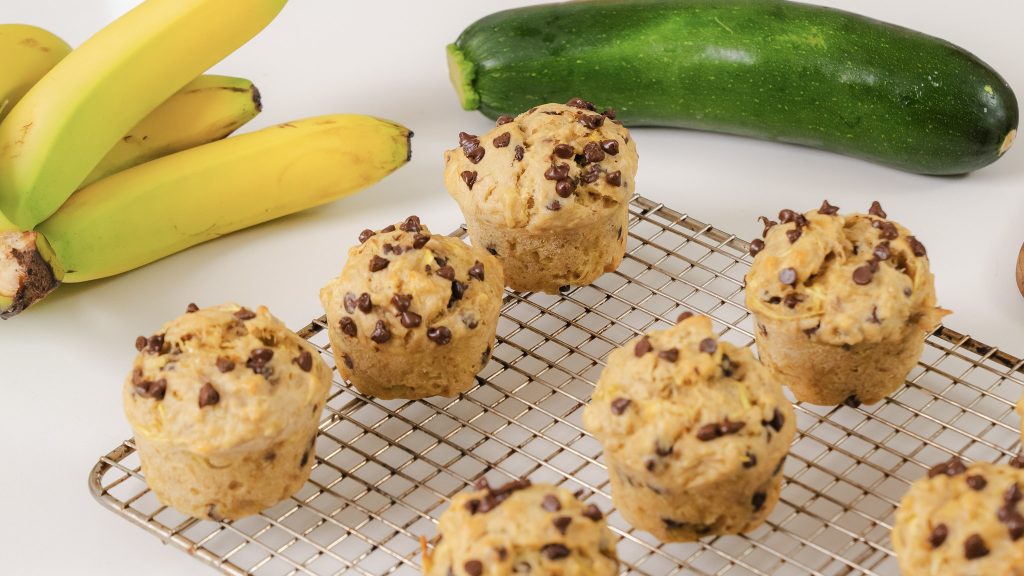 Make, freeze it and enjoy it again.
The best thing about recipes like this, is how receptive to freezing they are. If you have a bunch of bananas or zucchinis that you don't want to go to waist, and you're looking to make a few batches instead of just one, the freezer is going to be your best friend.
Simply lay them flat in a ziplock bag, or individually wrap in plastic. When you're ready for a treat, pull a muffin from the freezer, pop it in the microwave with a touch of butter and you're ready to enjoy!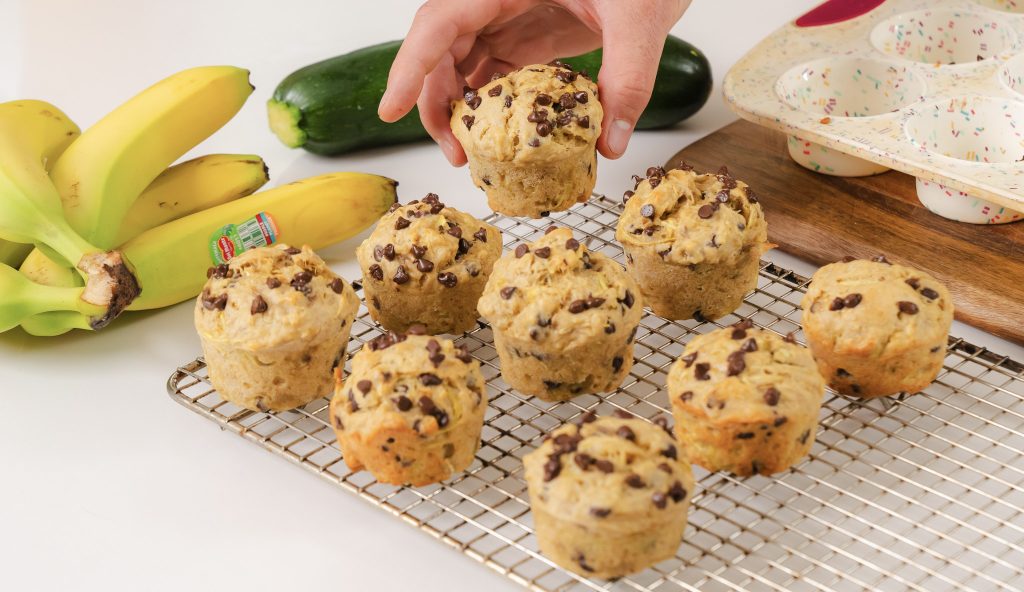 Other recipes we think you should check out.
If you liked these Banana Zucchini Muffins, here are a few other baked goods we think you should try, you might just find your new favourite.
Banana Peanut Butter Cinnamon Rolls
Easy Blueberry Breakfast Cookies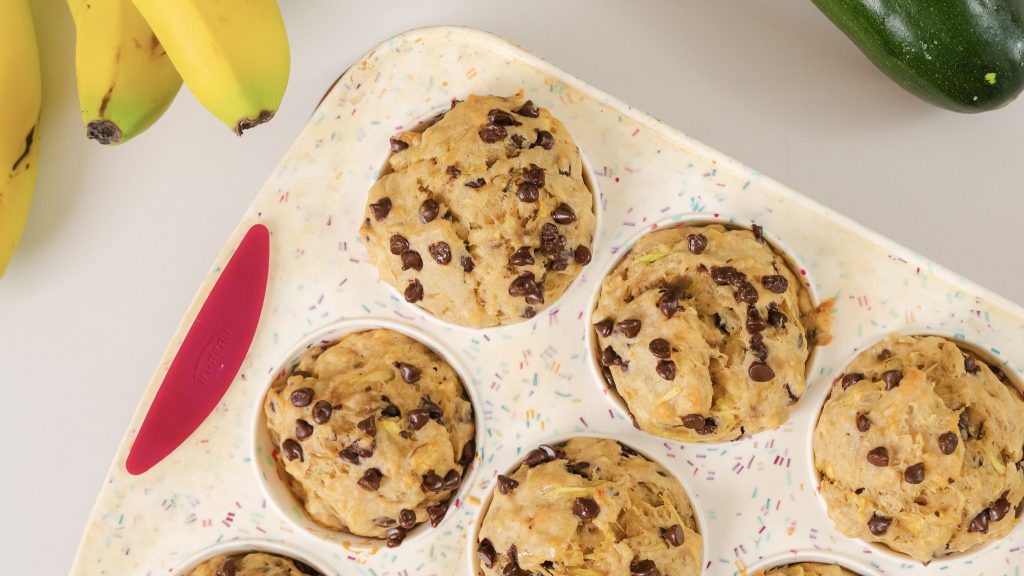 Banana Zucchini Muffins
Print Recipe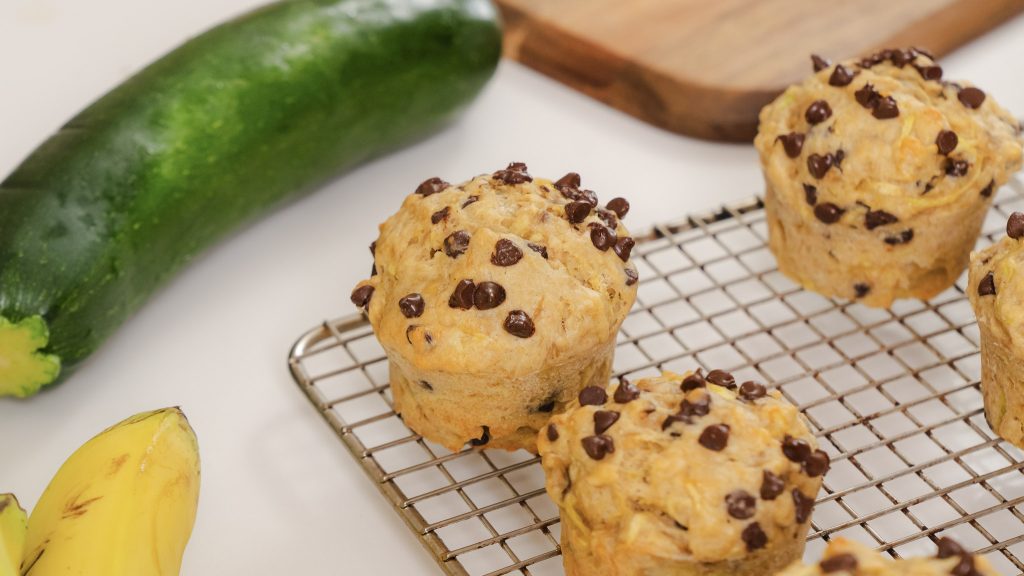 Ingredients
For the wet ingredients
1 1/2

cups

Ripe bananas

Mashed

2

cups

Shredded zucchini

All liquid drained

3

large

Eggs

1/3

cup

Maple syrup

1

tsp

Vanilla

1/2

cup

Olive oil
For the dry ingredients
1 3/4

cup

Flour

2 1/4

tsp

Baking powder

1

tsp

Cinnamon

1

pinch

Salt

1

cup

Chocolate chips
Instructions
In a mixing bowl, combine all wet ingredients and fully mix. In another mixing bowl, combine all dry ingredients and fully mix. Gently add your dry into your wet ingredients and mix until no dry spots are left.

Once combined, bake in your muffin tin of choice (This recipe is perfect for 12 equal sized muffins).

Bake at 425F for 6 min. After 6 min, reduce heat to 300F and bake for an additional 30min. Remove from oven, allow to cool before removing them from the tray and enjoy!
Print Recipe
(Visited 3,666 times, 10 visits today)