This one pot vegan coconut chickpea curry is budget friendly and guaranteed to become on of your favourite weeknight meals. The perfect combination of creamy coconut, warm spices and fresh herbs. Like a warm hug in a bowl! Serve as is or with a side of beautifully cooked jasmine rice.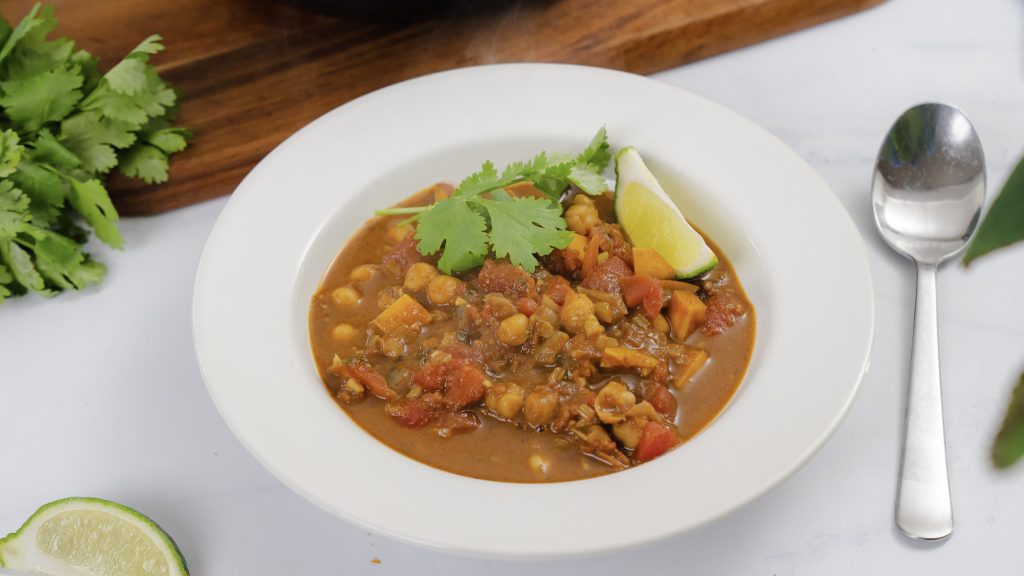 Key ingredients for coconut chickpea curry
Spices – The warm and round spices are the true stars of this dish. The cumin adds this rich, earthy and warm flavour we really love. The garam marsala adds a beautiful floral/peppery note. Lastly the curry powder just fills in the gaps and rounds out the full flavour of the soup.
Coconut milk – If you're looking to add body and sweetness to a dish coconut milk if your best friend. It has a magical ability to both carry and calm lifted spiciness.
Zesty limes – You always need a bit of acidity, it helps balance out the richness and elevate the round flavour of the spice blend.
Fresh cilantro – So much more then a simple garnish, It adds freshness and colour that is very much needed.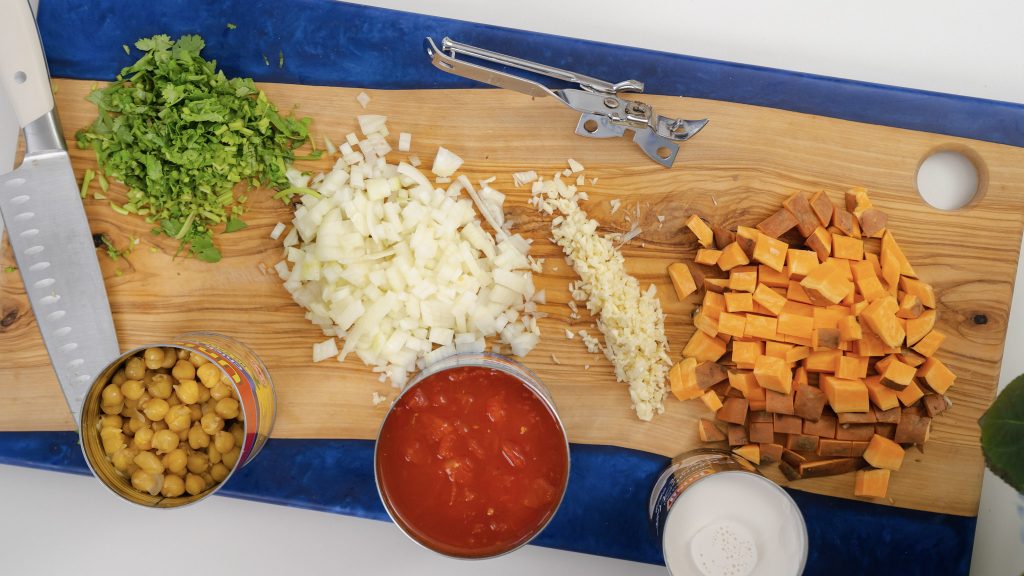 Tips on nailing this coconut chickpea curry
Make sure your sweet potato is cut evenly. We've all made stews or soups where we got a mouthful of undercooked potato or veg. If you keep your vegetables the same shape and size you'll get an even cook every time!
Bloom your spices!!! When you add your spices make sure you give them a little a little toast in the pan. This is going to ensure you develop all of their flavour and give you the most out of them.
Rinse your chickpeas. We don't want to add the aqua faba (the chickpeas liquid) as it might overpower the other flavours and water it down.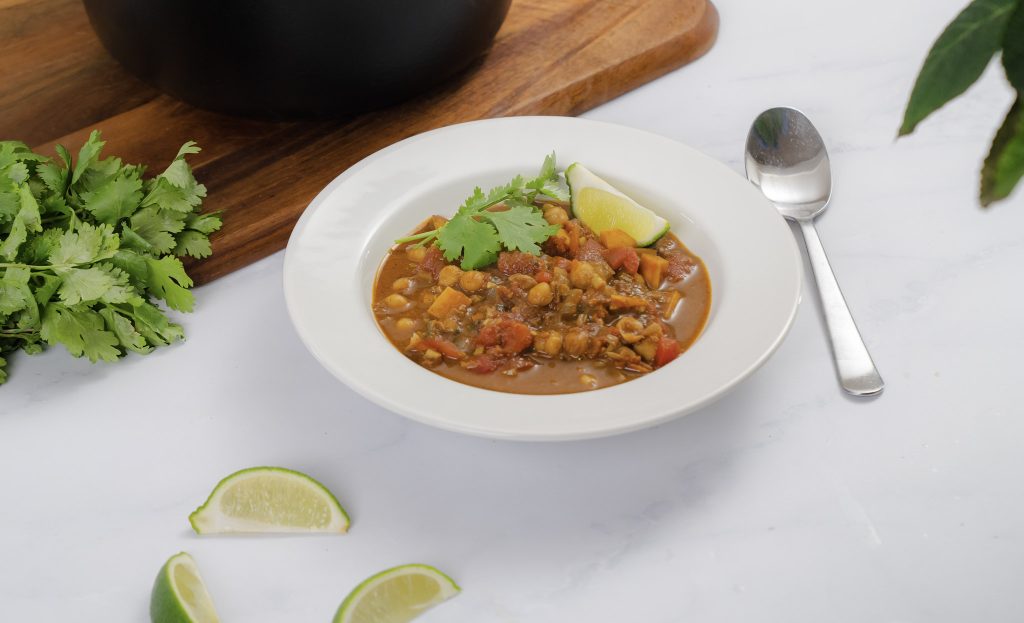 Ways to serve
We love a warm and hearty soup just straight up in a big bowl. The great thing about this dish, is its ability to pair with a few different things. Like we said above, a perfectly cooked bowl of jasmine rice goes a long way. Soaking up all of those warm spices turn this soup into a meal! We also think serving it with a warm toasted side of naan bread really takes it home!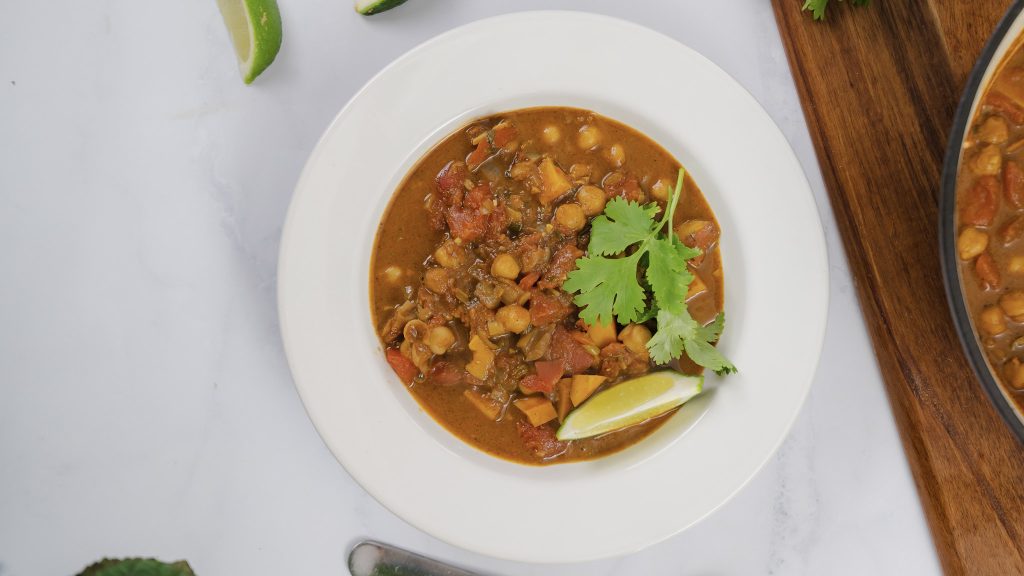 Other recipes we think you'll like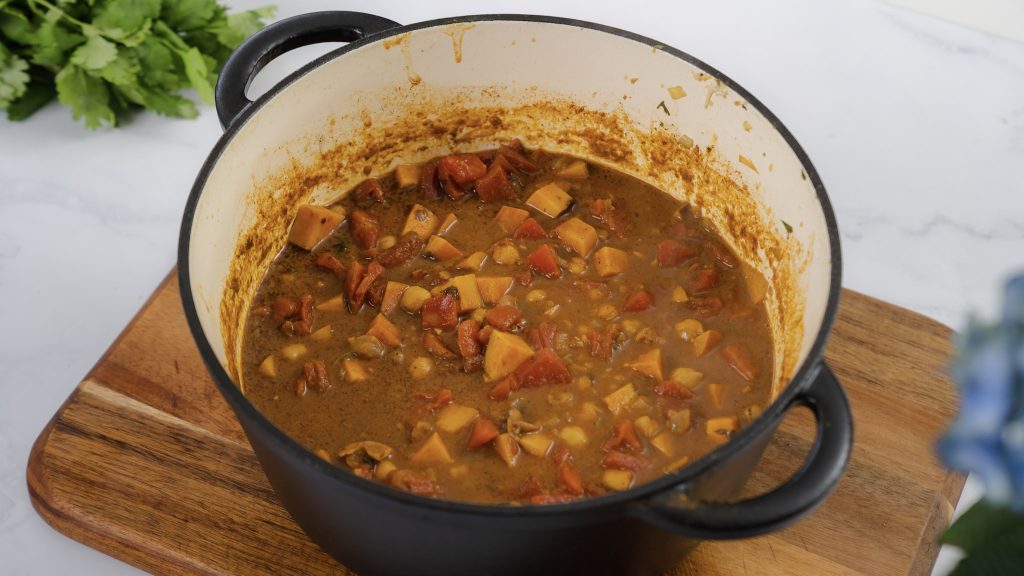 Coconut Chickpea Curry
Print Recipe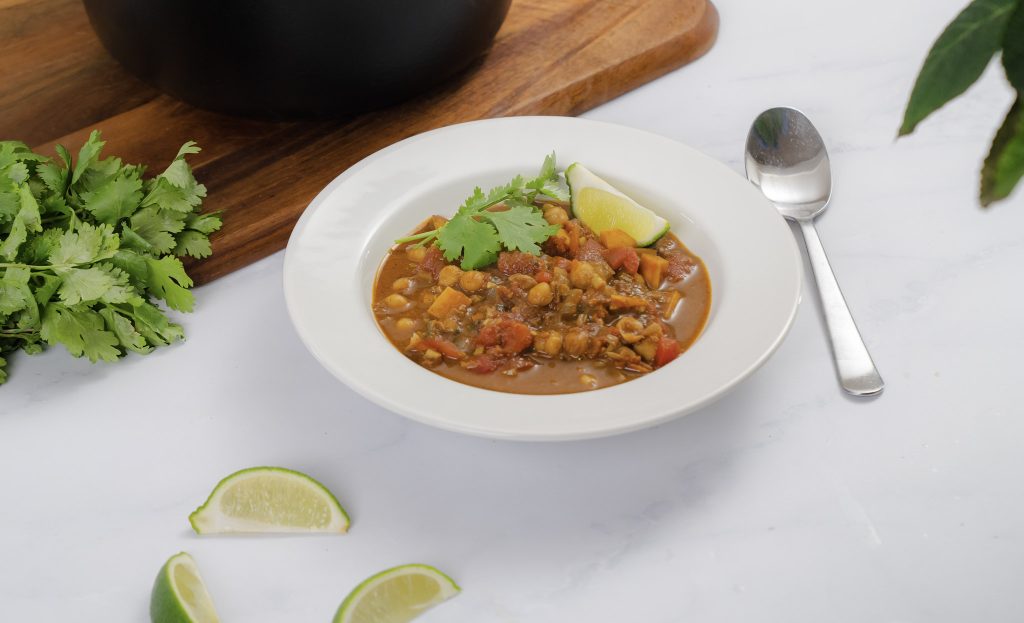 Ingredients
2

tbs

Olive oil

1

medium

White onion

diced

3

large

Garlic cloves

minced

1/2

cup

Cilantro stems

1

cup

Sweet potto

diced

2

tbs

Garam masala

2

tsp

Curry powder

1/2

tsp

Cumin

1

tsp

Salt

1

tsp

Black pepper

28

oz

Diced canned tomatoes

19

oz

Canned chickpeas

Drained and rinsed

1

400ml

Coconut milk

1

large

Lime

Juiced
Instructions
In a pot placed over medium heat add in 2 tbs of olive oil followed by onion, garlic, and cilantro stems. Sauté for 2 minutes and then toss in the diced sweet potato.

Add in the garam masala, curry powder, cumin, salt, and pepper. Stir and bloom for 2-3 min or until very fragrant.

Pour in the rinsed chickpeas, canned tomatoes, and coconut milk. Increase the heat to bring to a boil. Once boil has been reached cover and lower to a simmer for 15 minutes.

Squeeze in lime juice prior to serving.
Print Recipe
(Visited 5,122 times, 1 visits today)