This Chickpea Burger is wildly good. It's heavily spiced, with an amazing texture coming from the addition of cottage cheese. Packed with energy and flavour, this Chickpea Burger is likely to land itself in your weekly meal rotation. Easy to make, cheap, and delicious. What's not to like?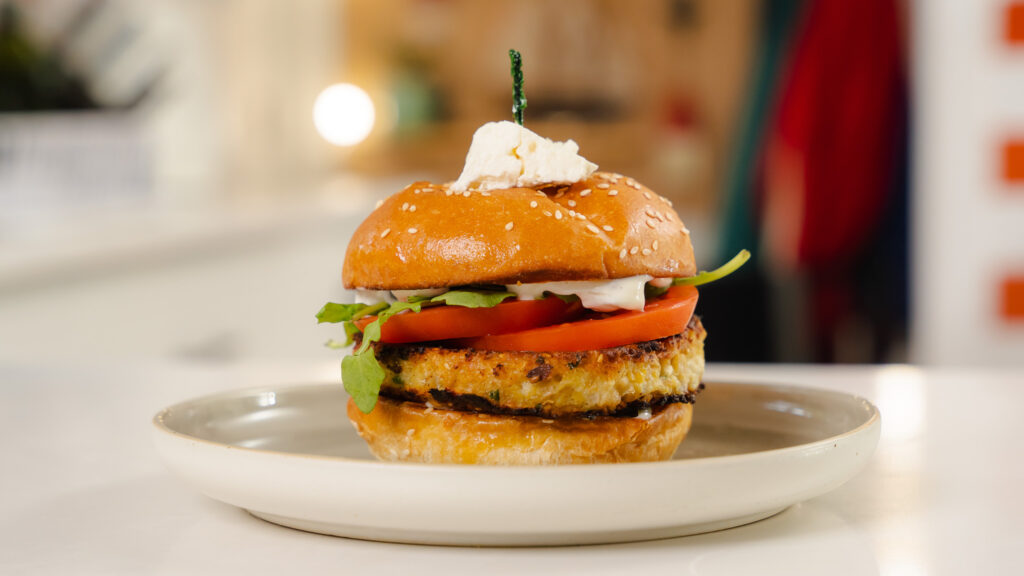 This protein-packed veggie burger is one of my favourite recipes to date. Veggie burgers are a tricky thing to make as you are always comparing them to the traditional burger. This chickpea base burger is really awesome. The great crispy texture and solid structure, and SLAMMED with protein. I can't wait for this burger to become one of your family favourites.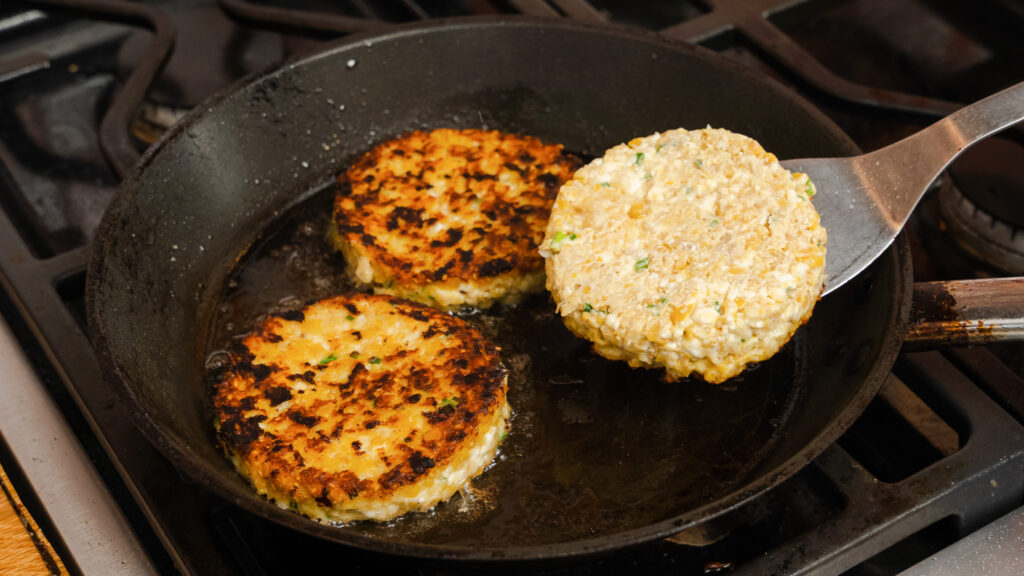 Tips For Nailing This Burger
Don't over-pulse the chickpeas. I drained, rinsed, and added 2 cans of chickpeas to my food processor and pulsed 5-7 times. You do not want to form a paste!
After the burgers are formed, toss them into the freezer for 10-15 minutes. This will help them hold together while cooking. 
The key ingredients for the burgers are chickpeas, eggs, and cottage cheese. You can take the flavouring in any direction but don't skip those ingredients.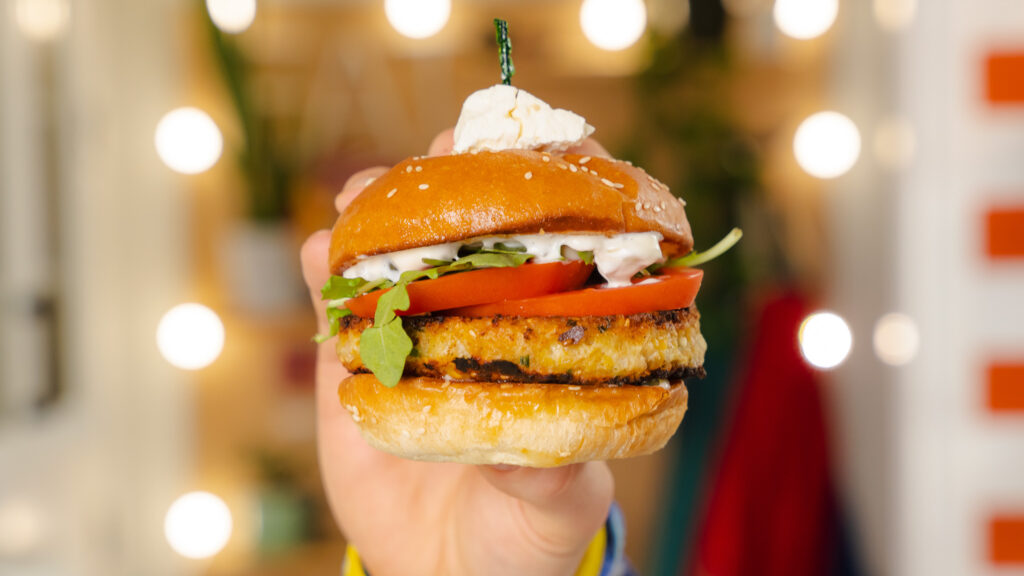 Let's Breakdown The Ingredients!
This burger is just as tasty as any traditional burger but also highly nutritious.
The main ingredient of this recipe is chickpeas. I love cooking with legumes, and these chickpeas may be one of my favourites to work with! They are high in antioxidants, vitamins, and minerals and are a great source of plant-based protein.
An ingredient in these veggie patties is cottage cheese, it is slightly salty with a unique flavour and texture. Since this ingredient has a higher fat content, it adds a milky taste to the burger.
To help combine all the ingredients and to keep a circular shape, I used egg. It is also another great way to add more protein to this plant-based meal!
Of course, in every meal, I must add some spices! I used cumin, garlic powder, salt and pepper in this recipe! Cumin is a spice I love to use in many of my recipes! It's rich and hearty and adds warm, earthy flavours to each dish.
Garlic powder has a sweeter and milder taste than fresh garlic, but it still adds a ton of flavour! And always remember to season salt and pepper to your taste!
Rice flour added to the patty lets the burger have a crispy exterior! But any flour will do the same trick!
Now, this is an optional choice, but you can add tahini as a condiment to your burger. It has a nutty flavour, is earthy, and has a bit of sweetness to the bitter taste. You can check out my recipe for Tahini Sauce here!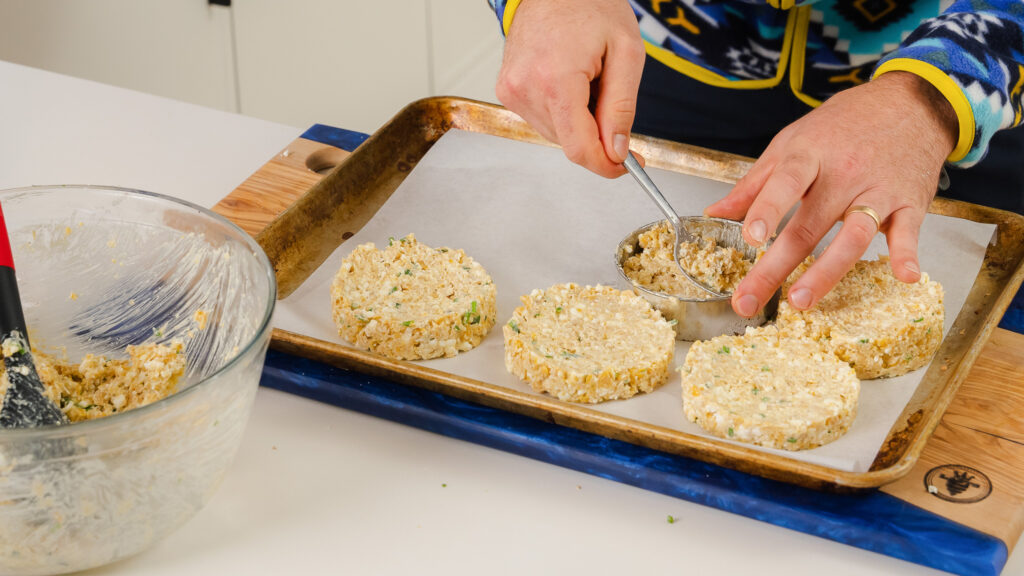 Herb Chickpea Burger
Print Recipe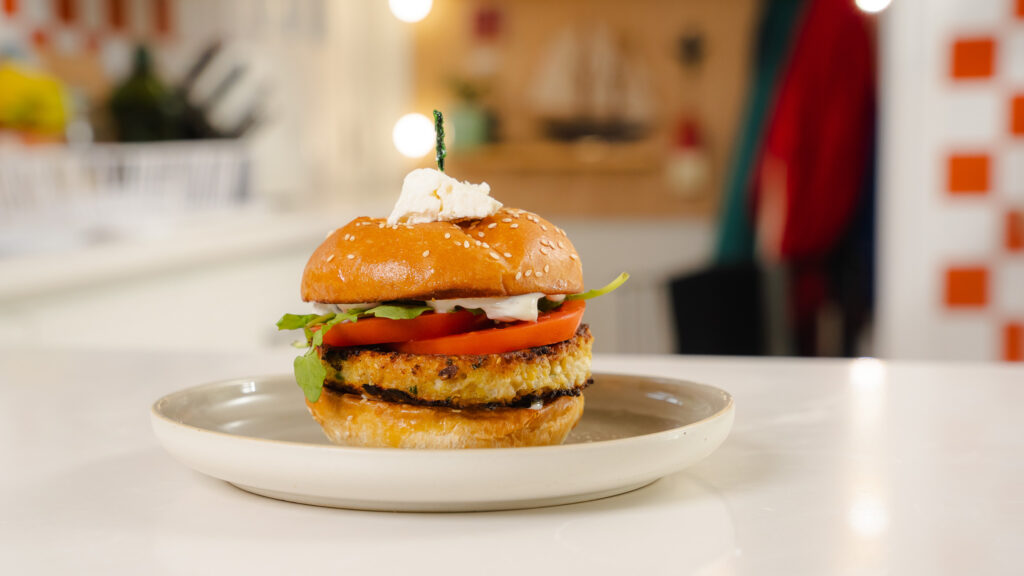 Ingredients
Burgers
2

cans

chickpeas, drained and rinsed

2

cloves

garlic minced

½

cup

green onions, sliced

1 1/2

cup

full fat cottage cheese

zest of a lemon

2

tbsp

tahini

½

cup

feta cheese

2

tbsp

toasted sesame seeds

1

tsp

salt

1

tsp

pepper

1

tsp

cumin

1/2

cup

rice flour

1

tsp

garlic powder

1

egg

2

tbsp

olive oil
Burger Sauce
1

dill pickle diced

10

capers minced

½

tsp

grainy mustard

2

tbsp

mayo

½

tsp

lemon juice

1

pinch

salt and pepper
Instructions
Drain & rinse chickpeas then pulse them in a food processor. Do not over-blend. You want the chickpeas to remain chunky and not form into a paste.

In a large bowl mix all of the burger ingredients together until everything is combined. Form into burger patties. If you want to be fancy, use ring molds…but they are totally unnecessary.

Let the formed burgers sit in the fridge for 10 minutes.

Heat a well-oiled pan over medium high heat and then place the burgers onto the pan. Fry on both sides until a deep brown crust is formed.

While the burgers are frying mix together the burger sauce and slice the tomatoes.

Once burgers are done frying, assemble and enjoy!
Andy's Notes
Healthy Chickpea Burger
Here are a couple of quick tips on nailing this burger:
Don't over-blend the chickpeas. I place the drained chickpeas into a food processor and pulse. You want there to still be chunks as this adds to the texture. Don't have a food processor? Use a potato masher or a fork to mash them up.
Use a hot pan. Oil a pan and place over medium-high heat. Fry the burgers until they form a really nice crust. Not only is the crust delicious, but it also provides more structure to the whole burger.
Feel free to use spices that you have on hand. Don't worry too much about using the exact spice blend if you are missing something. Get creative!
Print Recipe
(Visited 9,789 times, 1 visits today)